From the glaciers and mountains of Patagonia to the jungles surrounding Iguazu Falls, Argentina is an incredibly beautiful and diverse country! It resembles European elegance with South American beauty. It is pretty rare to see penguins walking on glaciers, monkeys swinging through jungles, and locals sipping mata all within the same country!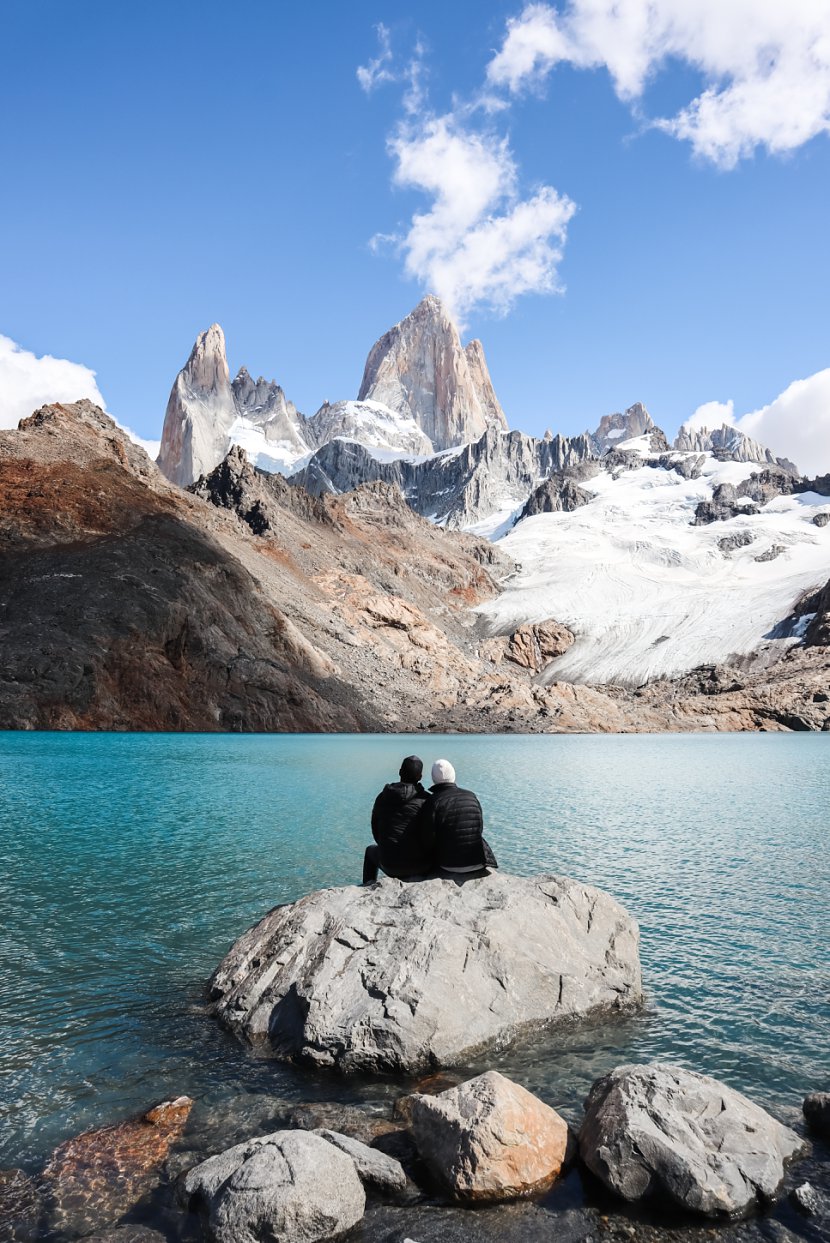 Because of its iconic areas such as Buenos Aires and Patagonia, Argentina was one of the countries that I was most looking forward to visiting in South America. It certainly did not disappoint!
There is something for everyone in this beautiful country. You can find beautiful beaches, massive glaciers, iconic mountains, and modern cities. Here are a few of our favorite things to do in Argentina.
Iguazu Falls
The story goes that when Eleanor Roosevelt first saw Iguazu Falls, she said "My poor Niagara!" Whether true or not, this quote attracted the attention of United States tourists. Iguazu Falls are 1.5x taller than Niagara and almost 3x as wide. Like Niagara, Iguazu falls separates country borders. There is the Brazil and the Argentina side.
Brazil's side has a great viewpoint of Devil's Throat, the heart of the falls. However, Argentina's side is better known for its beautiful hiking trails and 1100 meter catwalk overlooking the top of the falls. Both sides have their advantages so we decided to visit both!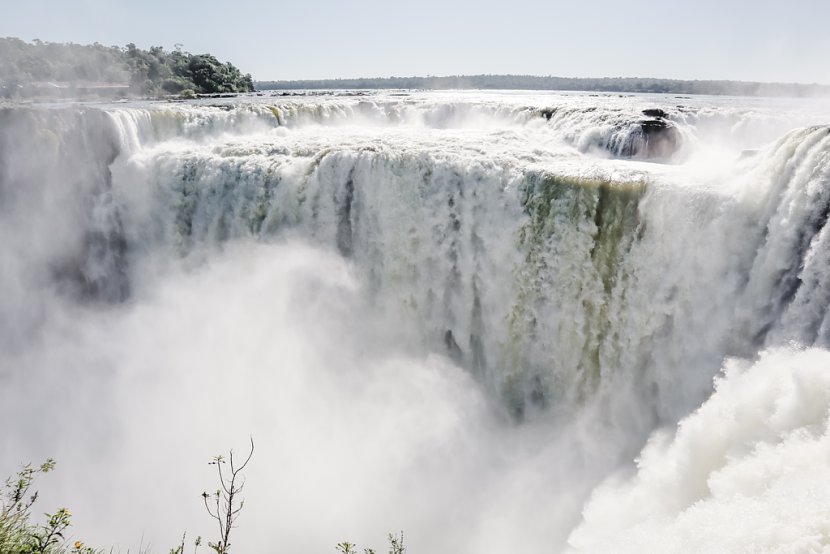 Iguazu Falls Boat Tour
One of our highlights was the boat tour on the Argentina side. Some of the most breathtaking views of the falls were from the boat! It is like the real life version of an amusement park's canyon river rapids rides, complete with the drenching under a waterfall! It is obviously too dangerous to go near Devil's Throat, the main drop of the falls, but there are still plenty of incredible views of this area from a distance. And the boat literally goes under some of the smaller falls! It was probably the most beautiful and fun boat tour I have ever been on!

We got our tickets through IguassuFallsTour.com and would highly recommend the tour. (Just be prepared to get completely drenched! But feel free to bring your camera or phone. The tour provides a dry bag. We only took our GoPro, but wish we took our main camera too because our guide did a great job of telling people when they should make sure their cameras were in the dry bag.)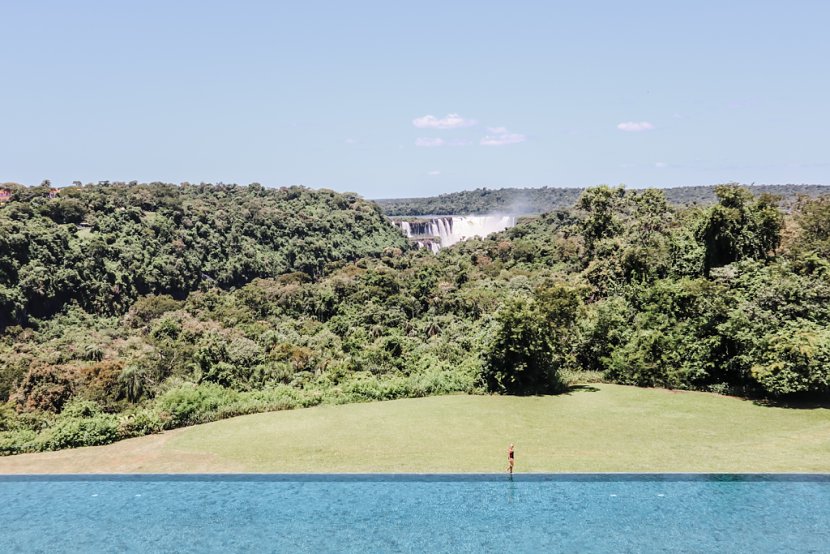 Hotel Gran Meliá Iguazú
But the absolute best way to experience the falls is to stay in the only hotel in the Argentina national park: Hotel Gran Meliá Iguazú. The picture of a balcony overlooking an infinity pool and Iguazú Falls was enough to sell us on the experience!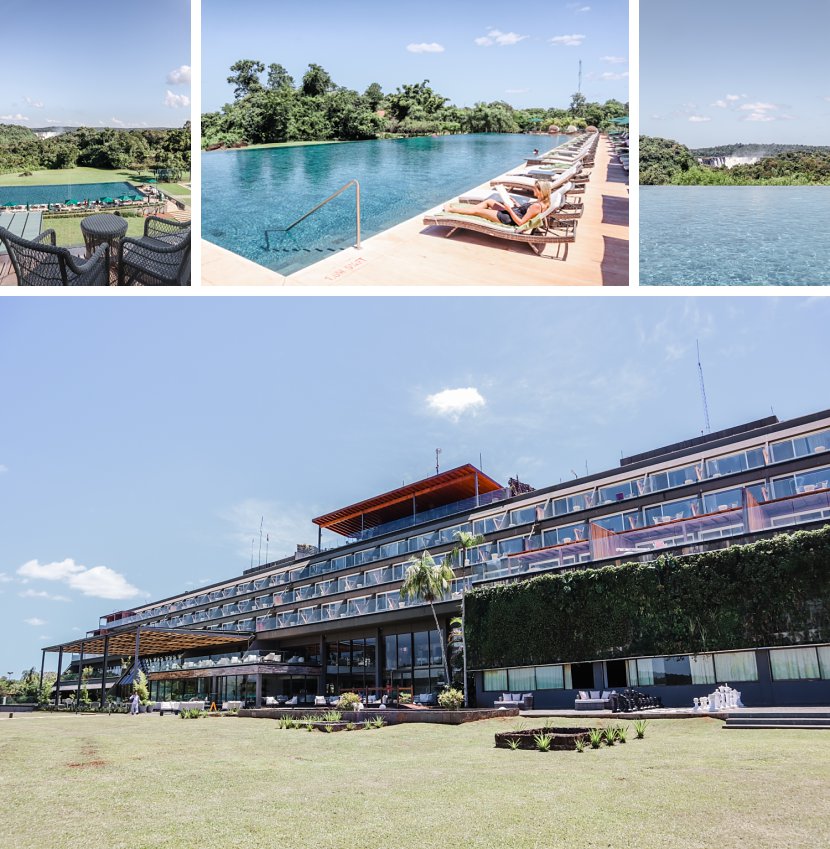 The hotel offers incredible food, a relaxing spa, rooftop bar, and most importantly breathtaking views of Iguazú Falls. It is hands down the best hotel room view that we have ever experienced! The hotel is absolute luxury in a remote location. It is so remote that in the evening we were greeted by about eight capuchin monkeys on our room's balcony!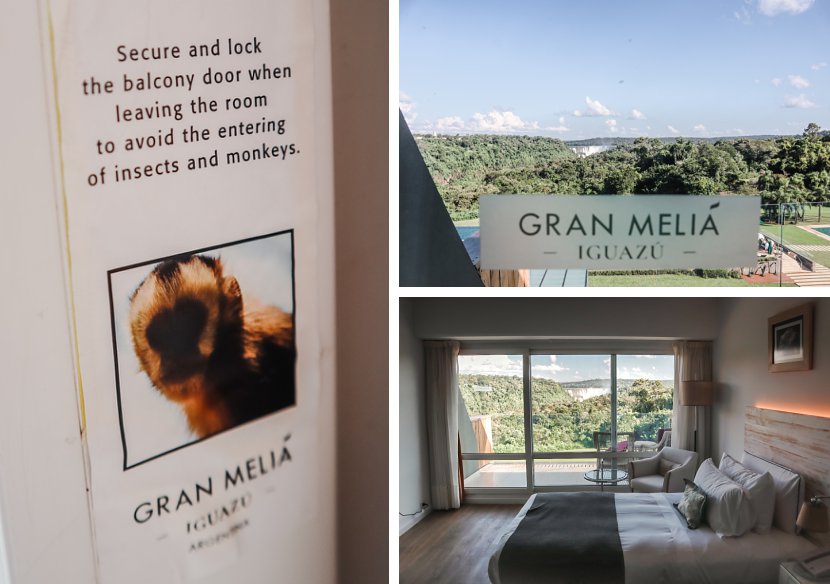 Also, the closest city is at least 40 minutes away, giving the hotel guests a head start on the falls trails! Walking through the jungle in the morning, we even spotted a couple of toucans!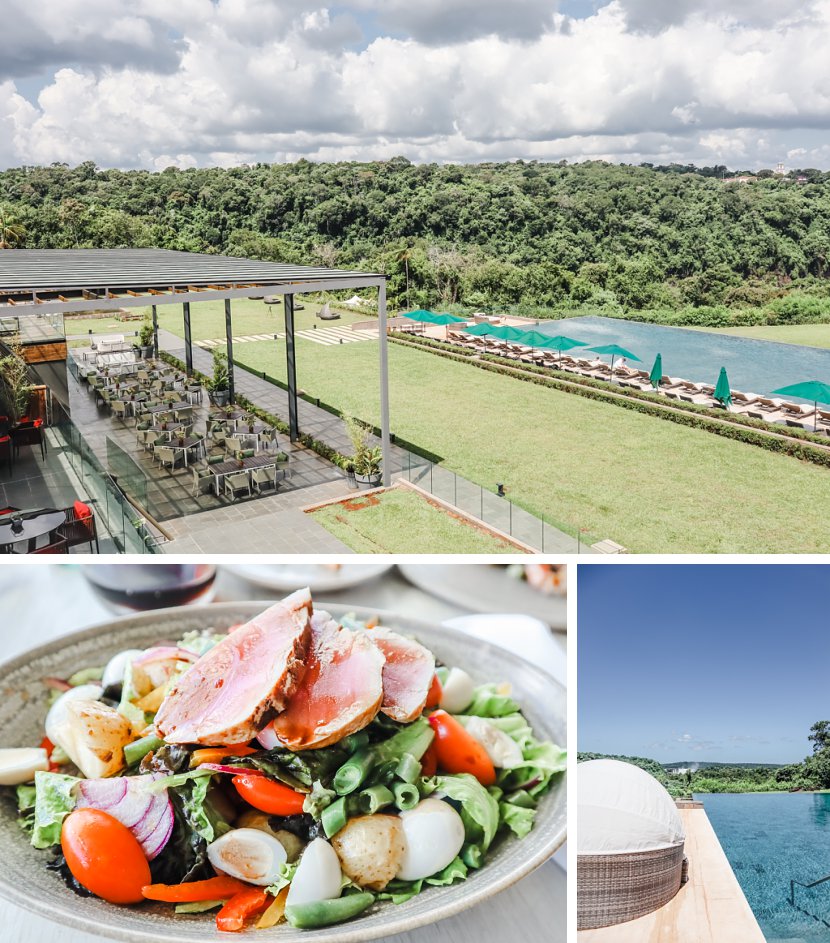 It is hard to find a better hotel view and experience as we had at Hotel Gran Meliá Iguazú. Em really did not want to leave and said it was her favorite place she's ever stayed! We only had two nights at the Argentina falls before we had to catch our flight to Buenos AIres, but I'm pretty sure Em would say this was one of her top highlights of our Latin America trip.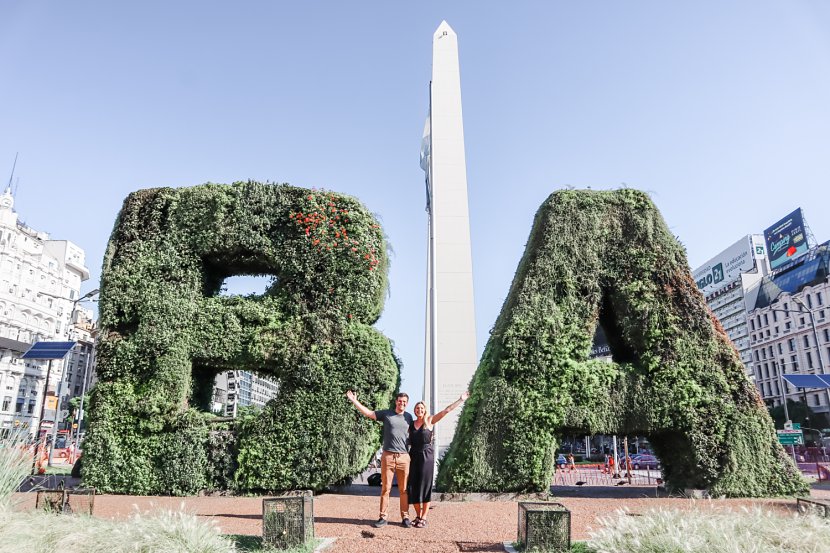 Buenos Aires
Nicknamed the "Paris of the South," Buenos Aires is the most visited city in South America. It's also probably the most modern city of the continent. Although it may lack a world famous icon like the Eiffel Tower or Statue of Liberty, there are still so many reasons to visit!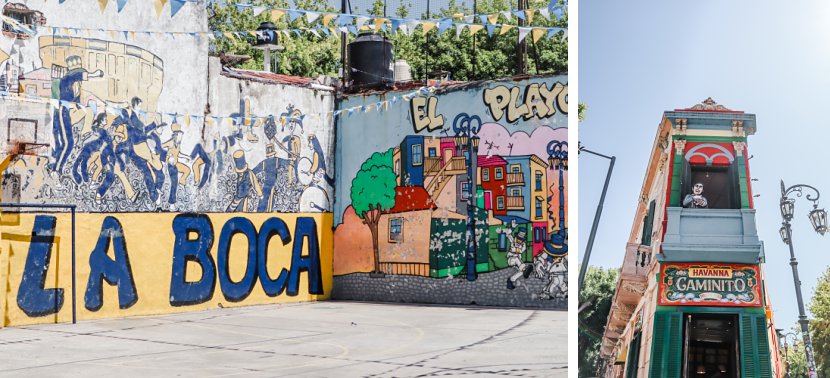 Some of the main things that we went to visit were La Recoleta Cemetery, Palermo, La Casa Rosada, La Boca and many other incredible places.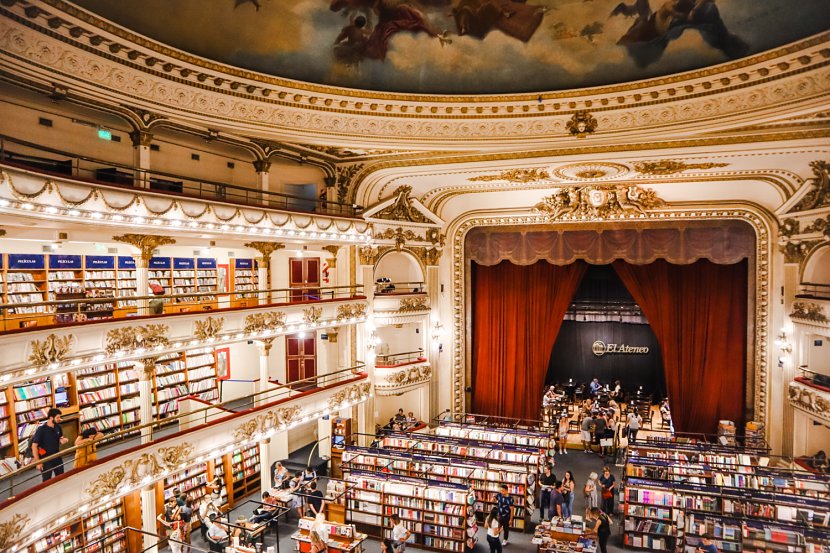 The city has the second most bookstores per person in the world and it seemed like there was a bookstore on every street corner! The most impressive bookstore that we saw was El Ateneo Grand Splendid, a grand theater turned bookstore.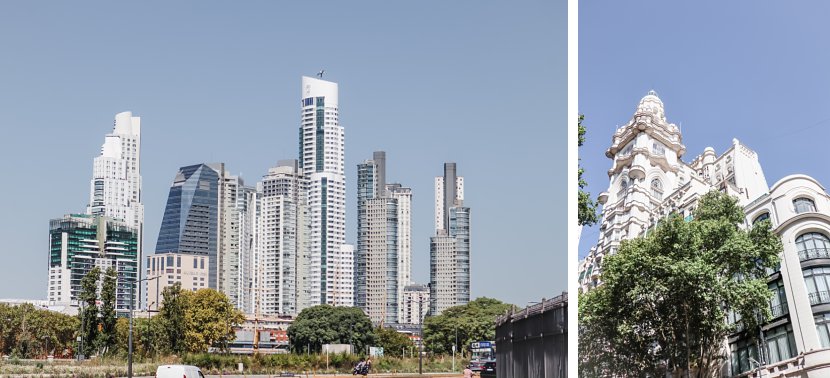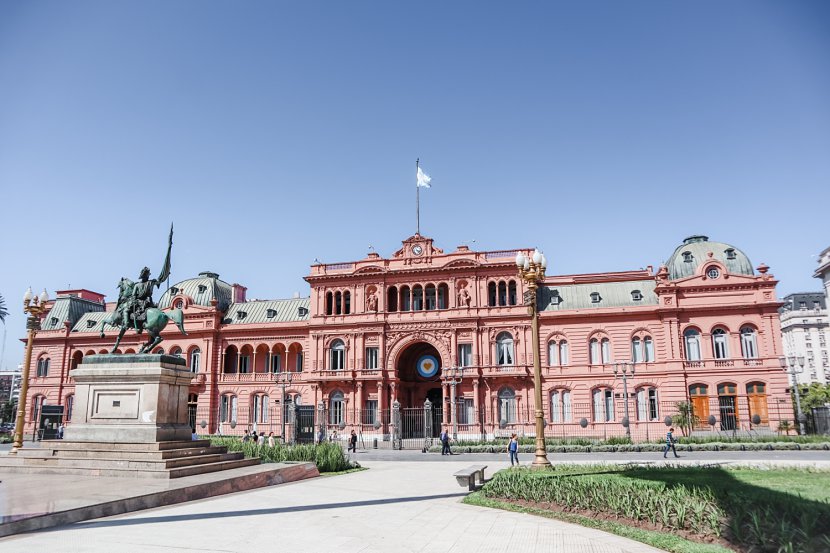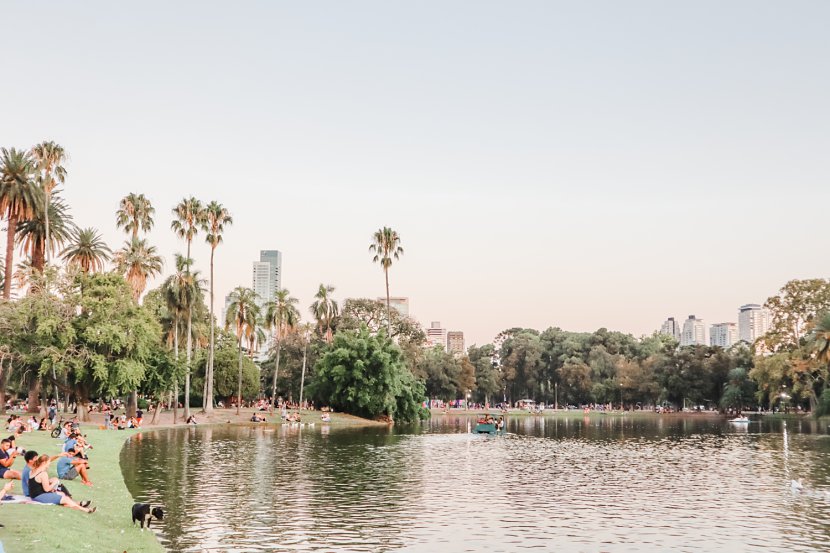 The two things at the top of our list to experience in Buenos Aires were a tango show and a delicious steak dinner! Below are some more details about why we were so excited for these particular experiences.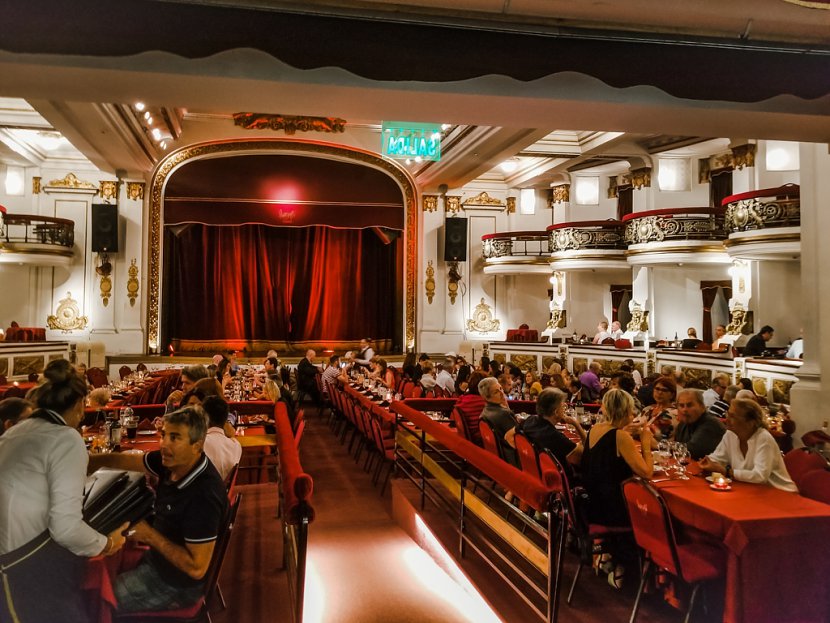 Piazzolla Tango Show
Argentina is considered the birthplace of tango! And I am probably the furthest thing from a dancer, but I figured at least I could go make some people laugh! The Piazzolla Tango Show had tango lessons, delicious dinner, and a world-class tango performance. Unfortunately, we missed the tango lessons due to our Uber driver making a wrong turn (long story, but I promise I didn't tell him to miss the dance lessons on purpose! =) The food was amazing and the dancers were unbelievable! The performance was held in a beautiful 100 year theater and was the perfect way to be introduced to Argentinian tango.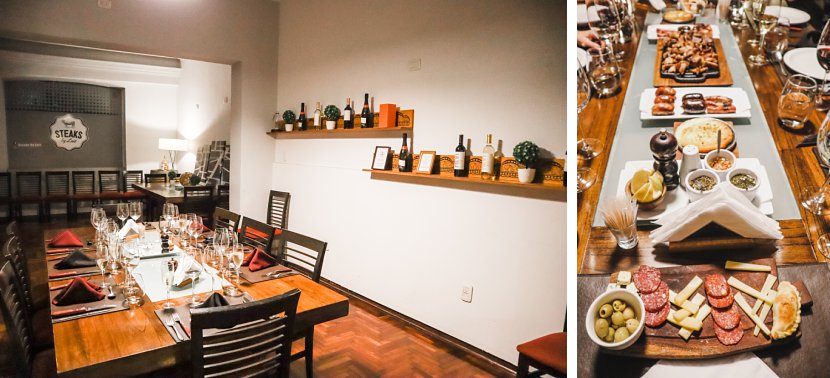 Steaks By Luis
One of the best cities in the world to find a great steak is Buenos Aires. Being big steak lovers, we decided to go all-in and book a meal with Steaks By Luis. It is a 5 course, premium "asado" dining experience. Asado is a popular Argentinian tradition that refers to a social gathering of grilling meat. It is kind of like a barbecue in the US, but a whole lot different than just throwing some hamburgers on a backyard grill!
Keeping with the asado tradition, we dined with other fellow travelers at a large, family-style table! It was really fun getting to meet new people from all over the world and share in this amazing feast! Luis, the chef is a master "asador," who has spent his whole life perfecting his grilling techniques. All five courses and their wine pairings were phenomenal! The Steaks By Luis experience makes for a great way to be introduced to Argentina's incredible food and culture!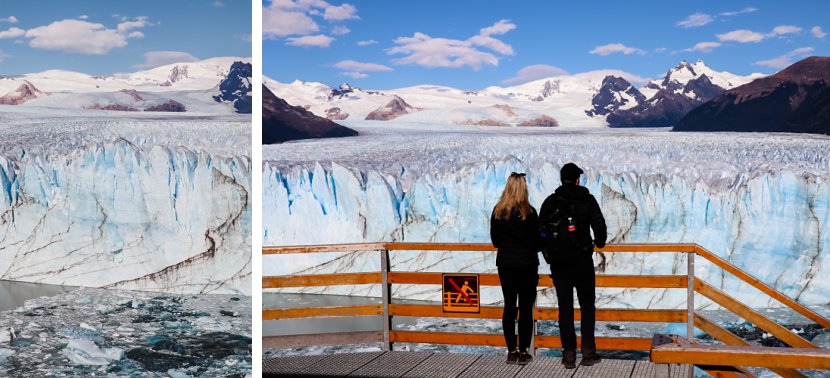 Patagonia
Patagonia is the southern region of both Argentina and Chile. It is a HUGE area with countless things to do! We visited both Argentina Patagonia and Chile Patagonia, but our experiences only touched the surface of all the amazing things there are to experience in Patagonia. Here were some of our favorite things to do in Argentina Patagonia!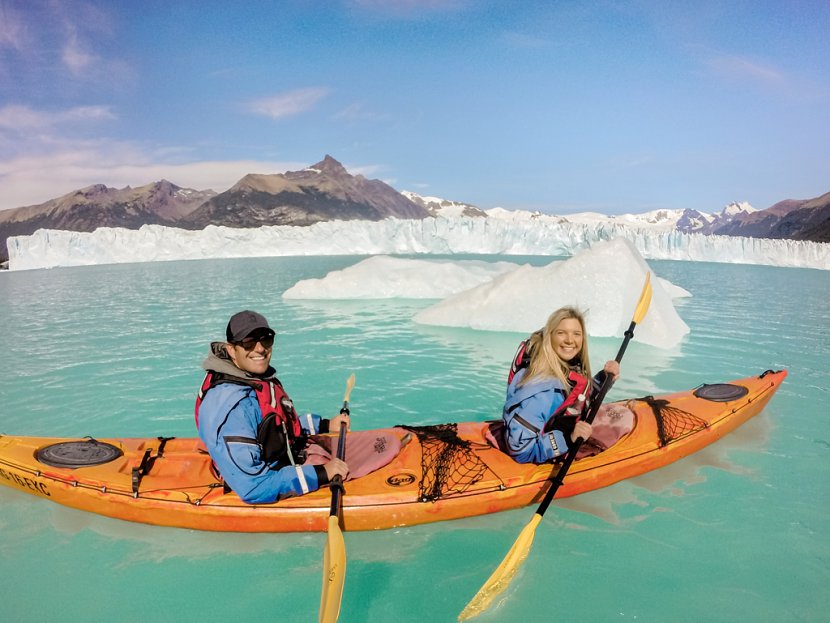 Kayaking at Perito Moreno Glacier
So there we were, sitting in a 13 foot long kayak and peering up at a 240 foot cliff of ice. The Perito Moreno Glacier is one of the most famous glaciers in the world. When researching the glacier, I saw that Atlas Obscura said "If you only visit one glacier in your life, Perito Moreno would be a good one to pick."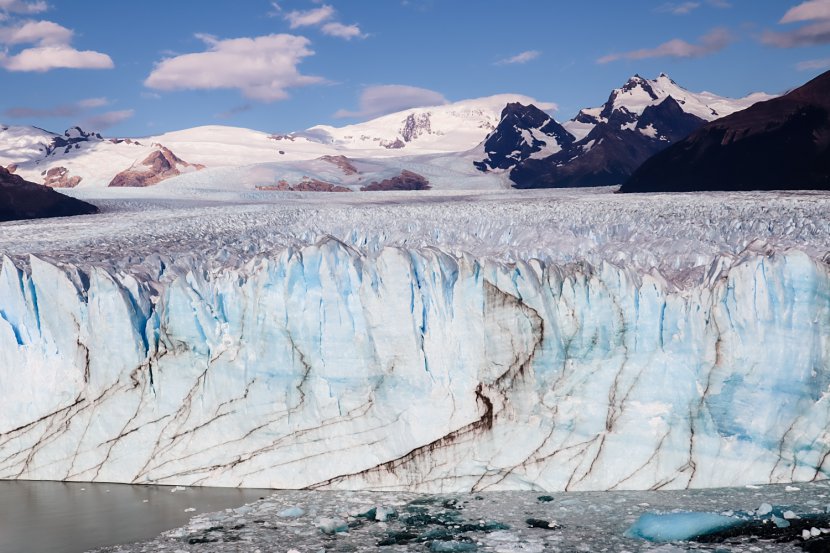 The Perito Moreno Glacier is part of the Southern Patagonia Icefield, which is the third largest water reserve in the world. This is the most impressive glacier that I've ever seen. What makes this glacier special is its massive wall of ice that is easily accessible. There are several miles of trails that overlook the expansive ice wall, you can take a boat tour, you can go ice trekking, and you can also go kayaking at Perito Moreno.
It was a truly incredible experience kayaking on the glacier lake in front of the 240 foot ice cliff. My favorite part was hearing the loud crashes of ice chunks breaking off and hitting the water. Although we didn't get too close to the glacier for safety reasons, there were gigantic ice chunks floating in the lake around us. And we didn't have to worry about going thirsty on our ride as the filtered glacier water is so clean and clear that we always had ice cold water to drink!

We were very thankful for the provided dry suit and kayak skirt…I was actually warm floating on the nearly freezing water! It really made me appreciate the sheer size of the glacier looking at it from a little tiny kayak, and it was a really fun experience. We booked both the glacier tour and the tango show (as well as our Argentina Patagonia bus transfers) through Daytours4u, a company that provides day tours all across Latin America. It was great booking multiple different experiences and knowing that we were receiving a reliable, quality experience, and browsing the tours on their website is also a great way to get ideas for the best things to experience in Argentina. We probably never would have known about glacier kayaking if it weren't for them!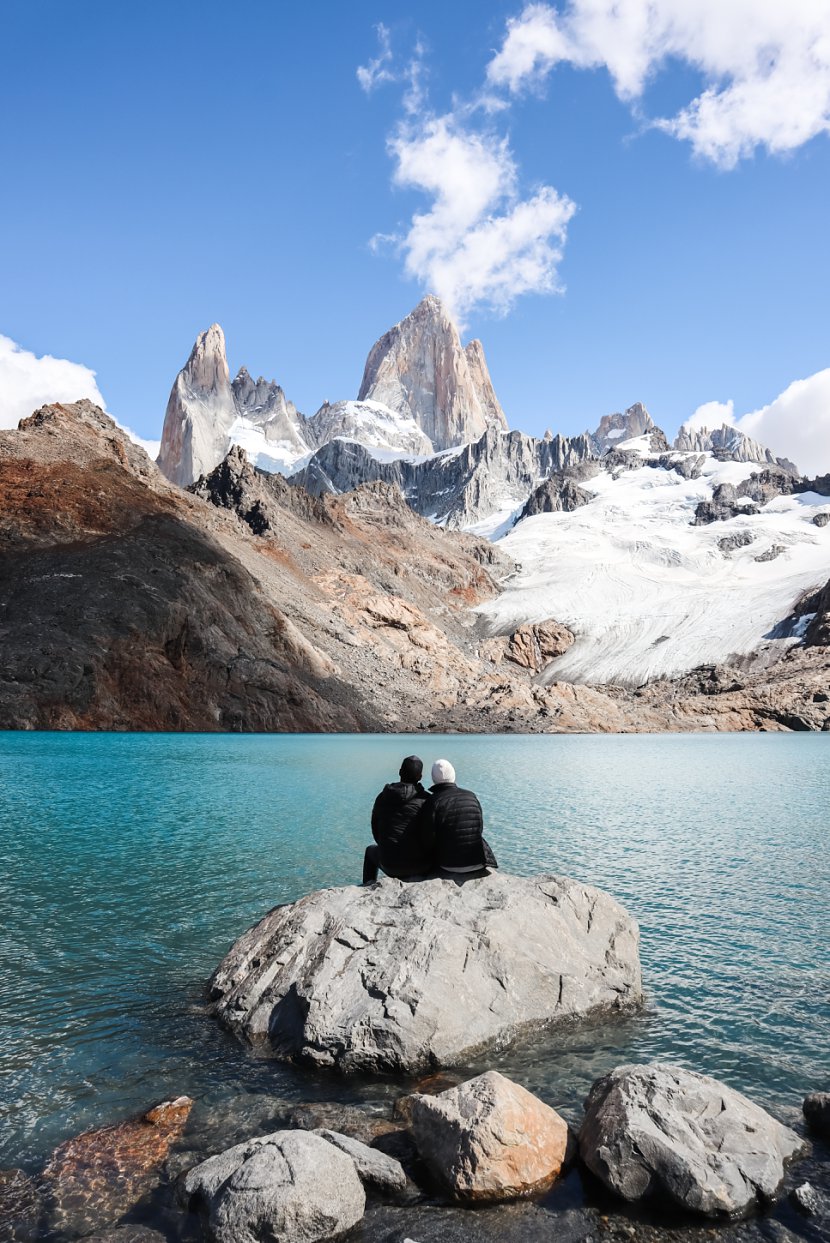 Laguna de Los Tres (Fitz Roy) Hike
There are several, breathtaking, world-class hikes around Patagonia. Possibly the most iconic view in Argentinian Patagonia are the towering peaks of Fitz Roy. This view is so impressive that it is actually the logo of the outdoor clothing company called Patagonia.
Em and I are pretty much the opposite of professional hikers. We really enjoy short hikes, usually to a beautiful overlook or for food! :) But from our research, we heard that there is a must-do day hike in Glaciers National Park in Argentina Patagonia called the Laguna de Los Tres hike, which takes you to the base of the Fitz Roy peaks. It's about a 12-13 mile (7-10 hour) round trip hike, which is a pretty far way for us to walk with no food involved!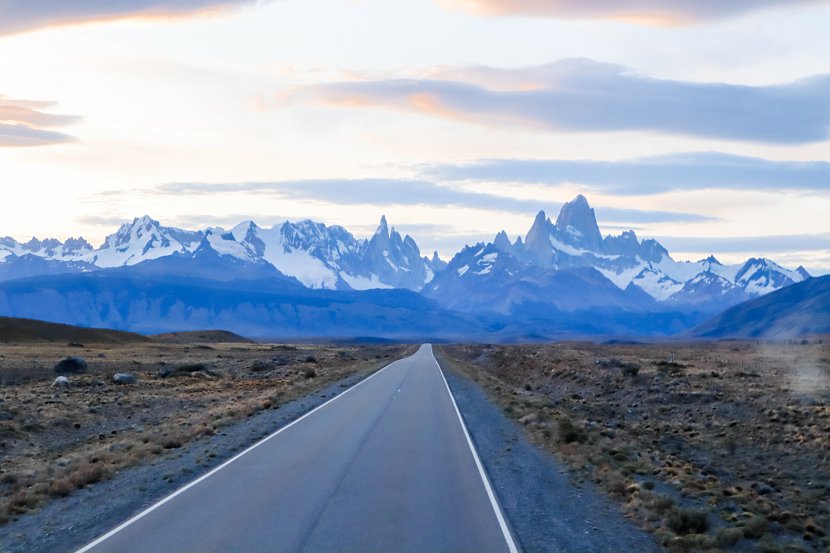 To get there, you first have to bus (or drive) 2.5 hours from El Calafate (the bigger town we flew into from Buenos Aires) to El Chalten, a small hiker town. This is worth it for the bus views alone…just make sure to book early so you can reserve the front row seats on the second level for the best view!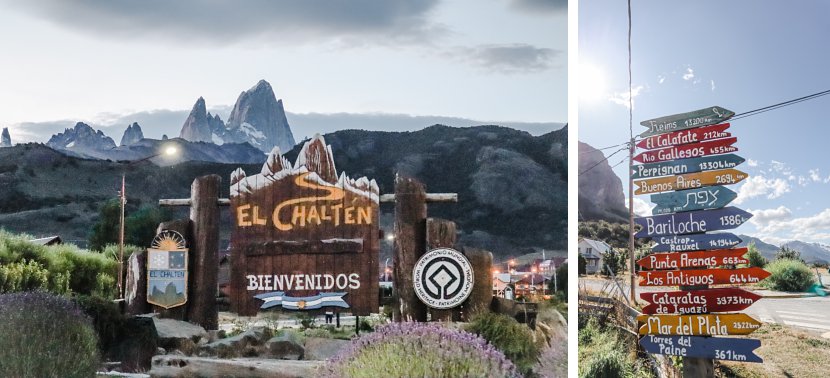 We started the Laguna de Los Tres hike early the day after we arrived and it was definitely worth it. The pictures really do not do this incredible view justice! Except for the beginning and end of the hike, most of the trail is fairly flat and full of incredible views (as long as it isn't raining…which it was for us :) Just be sure to save your energy for the last kilometer of the hike. It is a longggg last kilometer and is full of rocky switchbacks all the way up the side of the mountain! But the view is well worth it when you get to the top!!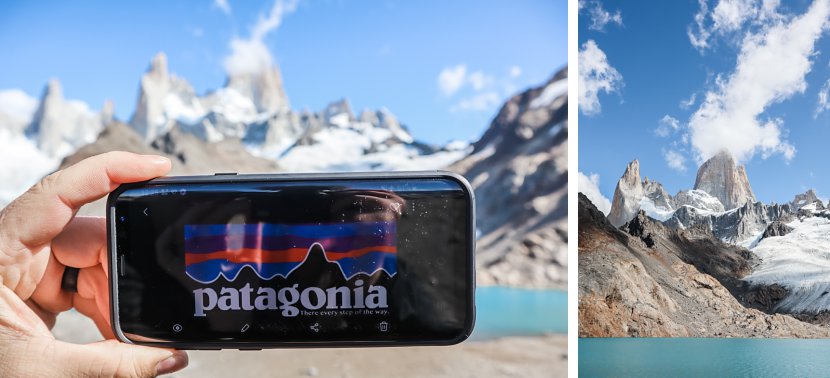 The Laguna de Los Tres hike to Fitz Roy (located in Argentina) is very similar to the Torres del Paine Base Tower hike (located in Chile), so we were excited to do them both and be able to compare (check out our Chile travel guide to read about the other hike)! These are the two most popular day hikes in Patagonia, and even though we aren't hikers, we were glad we experienced them both.
Argentina is very diverse and full of so many incredible experiences. With only such a short amount of time in this beautiful country, there are many things that we researched and wanted to see that we were not able to. Ushuaia, Mendoza, Bariloche, Cordoba, Salta, and Tigre are some of the highlights that we would someday love to get back to Argentina and see! But we're grateful for the time we had there and the incredible people we met and experiences we had.
The post Best Things to Do in Argentina appeared first on Hudson and Emily.