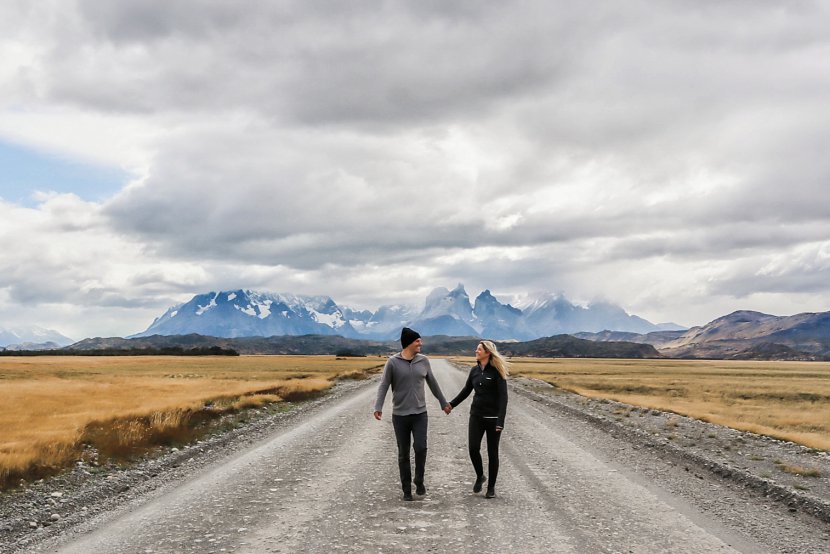 The longest country in the world, Chile stretches through several different climates and environments. Pretty much no matter where you are in the country, you are just a day's drive away from both a beautiful beach and a magnificent mountain :) Haha bad alliteration but what I mean to say is that there is something for everyone in Chile! Some of our favorite highlights in Chile included world-famous hikes, glaciers, mountains, and diverse wildlife…and those were all just in Patagonia! Even the capital city, Santiago, is surrounded by mountains.
Unfortunately, we only had enough time to explore a very small amount of this beautiful country. Hopefully we can make it back soon, but for now, here are some of our favorite things to do in Chile. We spent the majority of our time in Chile exploring Torres del Paine, so the majority of the experiences we recommend are based in that area!

Torres del Paine
Torres del Paine is the most popular National Park in all of Patagonia (both Argentina Patagonia and Chile Patagonia). The park is best known for its world-famous multi-day hikes: the "W" and "O" treks. However, if you are like us and not quite up for a 5-10 day trek, there are still plenty of incredible things to see.
Since Torres del Paine National Park is such a big area, we decided to partner with ChileTour Patagonia for their W Trek Alternative Tour. This is a five day tour that includes a one-day guided trek to the base of the famous towers, a full day driving around the park, a boat tour to the Grey Glacier, and the opportunity to stay in tiny homes just outside the national park!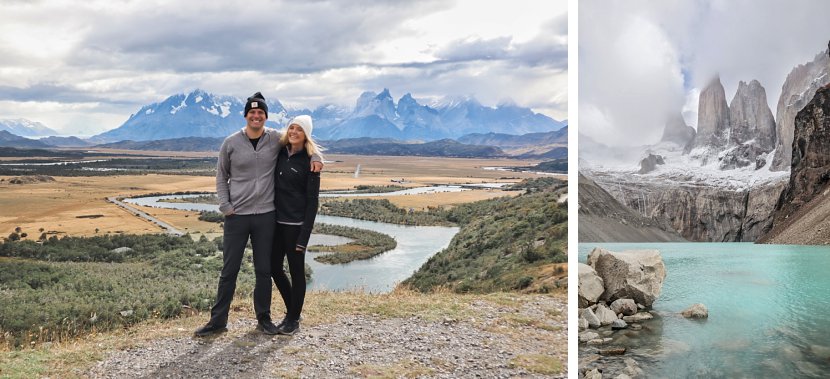 Torres del Paine Base Hike
The most iconic view of Torres del Paine is the three gigantic granite towers. Fortunately, this view is accessible through a 7-9 hour day hike. This was a perfect way for us non-professional, lazier hikers to stretch our legs and experience the park without having to spend 5-10 days on the more popular "W" or "O" treks.
This hike is almost identical to the Laguna de Los Tres hike to the base of Fitz Roy outside of El Chalten in Argentina Patagonia. It starts out uphill, then is fairly flat until the last kilometer, which is a one hour uphill climb. But the view at the top is incredible and photos can't really do it justice!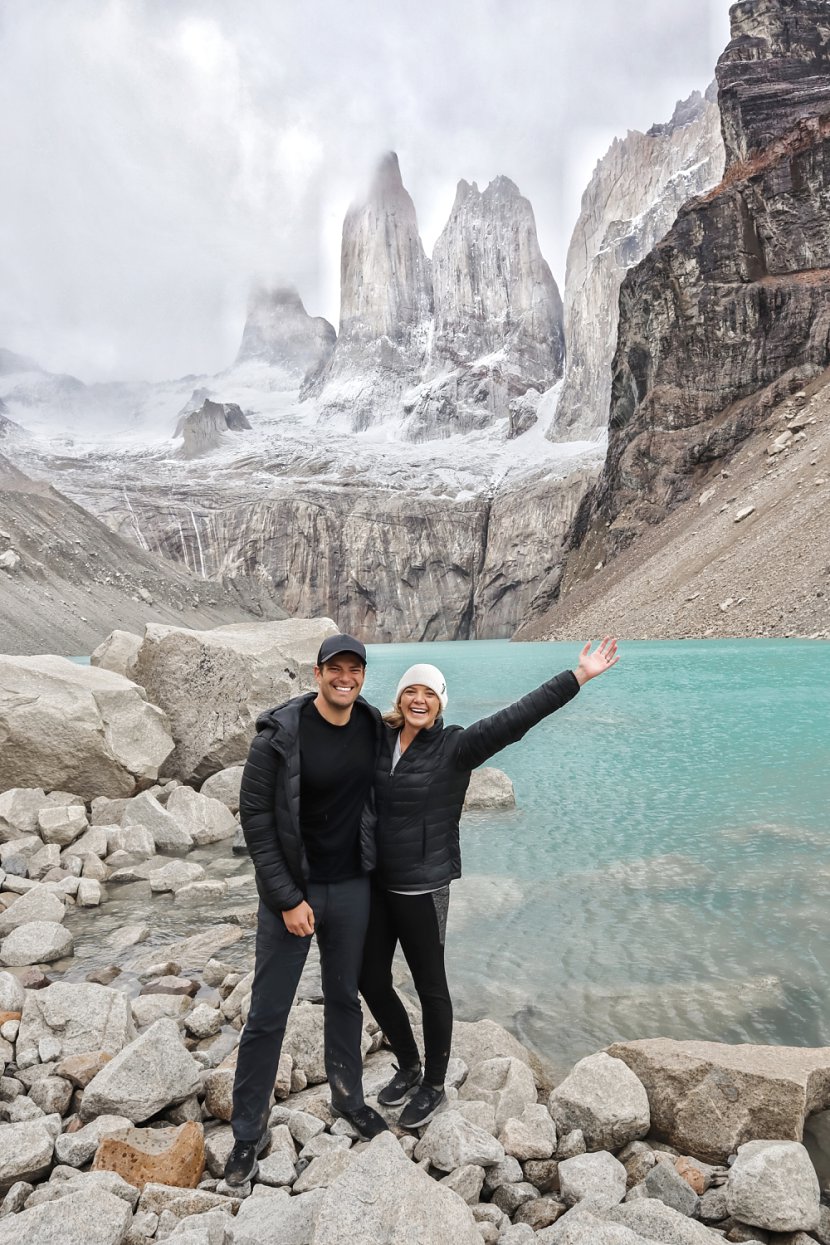 The hike is doable by yourself, but we went with a guide. We learned during our hike that our guide has done the hike over 320 times in the past two years and completed the hike within 3.5 hours! (We did it in about 9 hours with all our stops and photos, so I don't think we are going to be setting any trekking records anytime soon!)
It was raining for a good part of the hike, so we were thankful the clouds cleared enough for us to be able to see the towers. And we were very thankful our guide provided everyone with trekking poles for extra grip (we didn't have hiking shoes, which was doable without slipping, but probably not the best idea!)

Driving Around Torres Del Paine National Park
Torres del Paine National Park is massive and diverse. It is home to glaciers, lakes, hikes, waterfalls, mountains, and tons of wildlife. And the mountain range, also called Torres del Paine, is the most impressive mountain view I have ever seen!
The day after our hike, we spent a full day being driven around the park and exploring various areas. This was Em's favorite day of our time in Chile because we got to see many of the areas of Torres del Paine that people hike days to see while on the "W" and "O" treks…without having to take more than a couple steps! Haha it was again perfect for non-hikers like us to be able to enjoy the beauty of such an incredible place.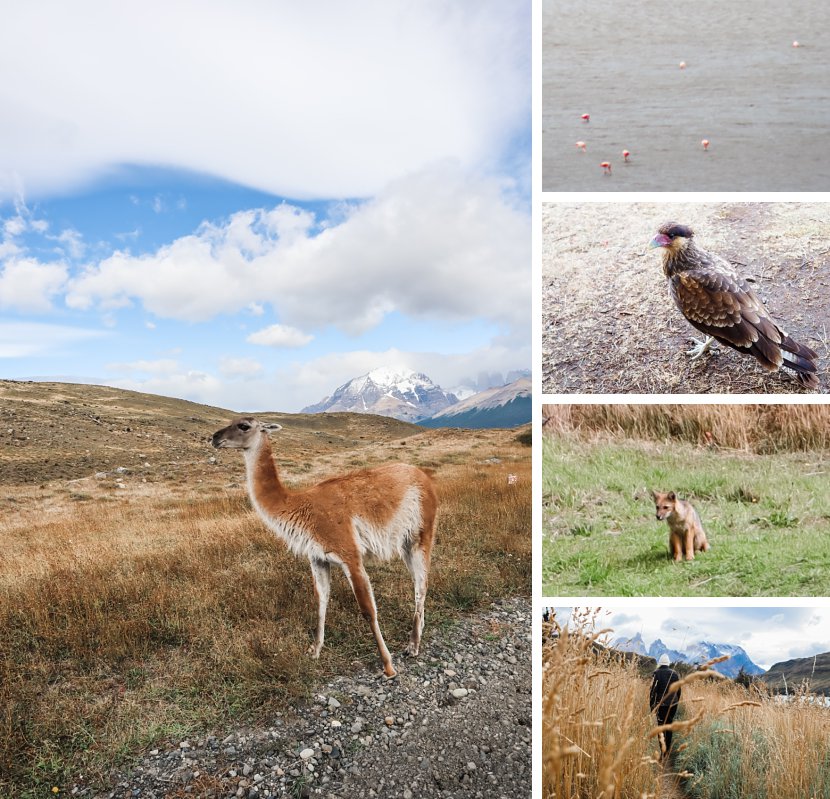 Besides the mountain views, my favorite was all of the wildlife! We saw condors, a weird chicken bird thing, flamingos, fox, deer, sheep, and dozens of guanacos (mix between a llama and a camel) all in one day – it was amazing!
Our hike was guided by a professional trekker, so it was amazing to hear all of his stories and learn more about the park from someone who spent countless days exploring it.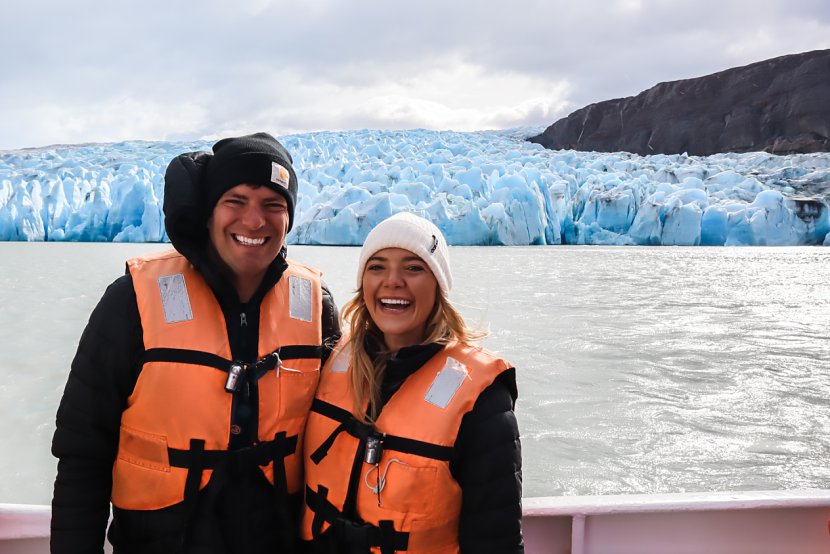 Grey Glacier Boat Tour
The largest and most popular glacier in Torres del Paine National Park is the Grey Glacier. As part of the Southern Patagonian Icefield, which is the third largest freshwater source in the world, the Grey Glacier is huge.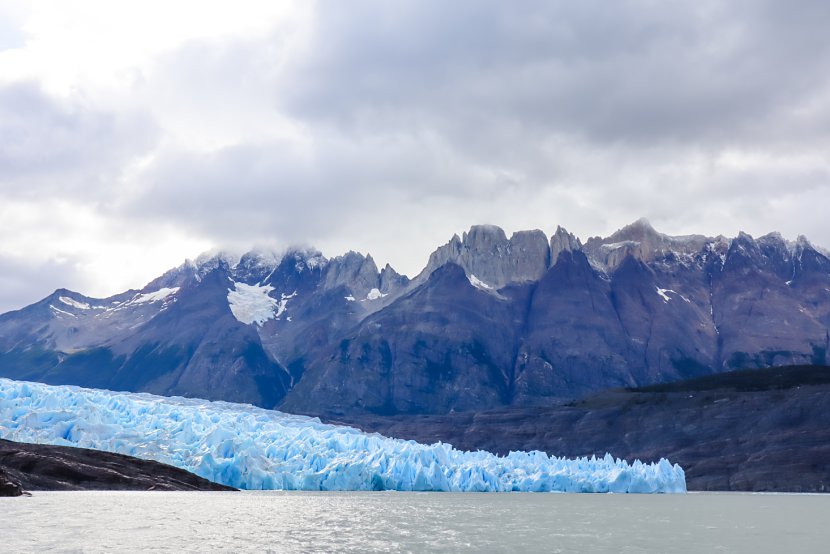 You can see this glacier as part of the "W" or "O" treks. But for people like us who are not up for a multi-day trek, you can still view the glacier by doing a boat tour. The boat was really nice and warm inside and had several different vantage points to get the best view of the glacier.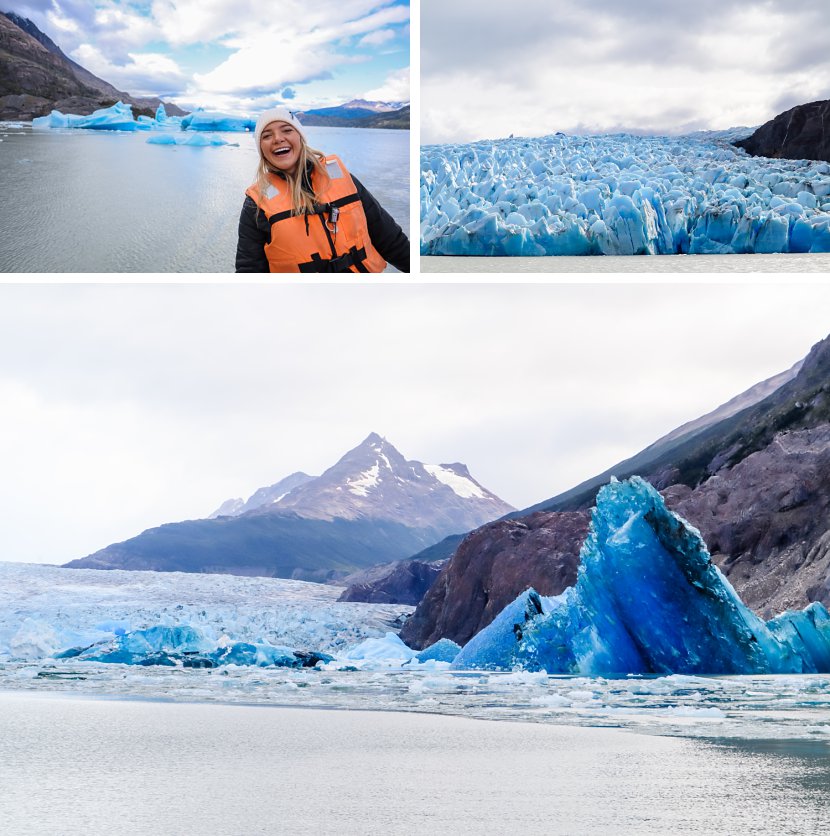 Although the Grey Glacier doesn't have as impressive of a cliff face as the Perito Moreno Glacier in Argentina, the boat tour does go very close to some massive icebergs. And when we were visiting, there was this gigantic deep blue iceberg that had just recently broke off the glacier!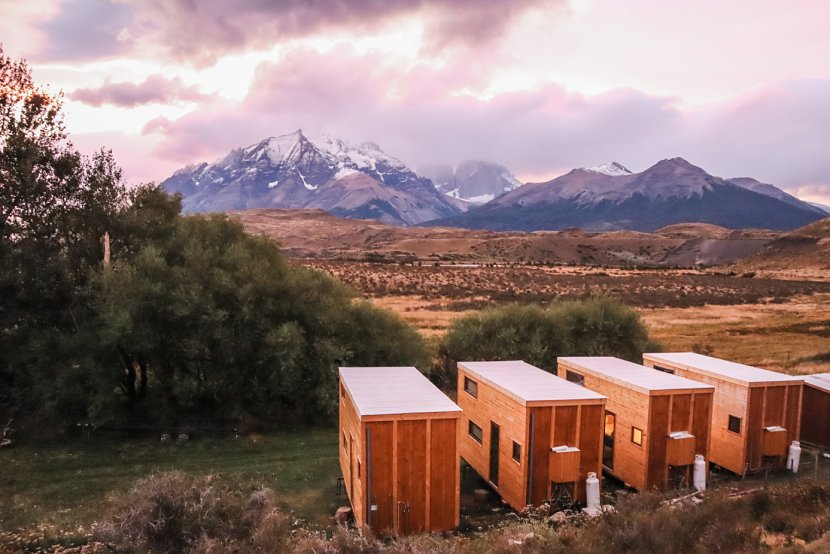 Torres del Paine Accommodations
There are some incredible options of where to stay around Torres del Paine National Park! It's an amazing place for both adventure seeking couples and for honeymooners looking for a place to relax. The problem is that accommodations within the park are really expensive, and accommodations in Puerto Natales (the closest main town to Torres del Paine) are 1.5 hours away from the national park.
Thankfully, the company we toured with – ChileTour Patagonia – has several incredible accommodation options that are included in their tour packages. And every day, they provide their tour guests with a spectacular hot breakfast and dinner, and then pack you a boxed lunch for the day! It was so nice to not have to think about booking tours and accommodations, or finding food or transportation. So if you're a person who likes all the details to be taken care of, you might like their tour packages, and if you're just looking for a place to stay you can also book their accommodations individually.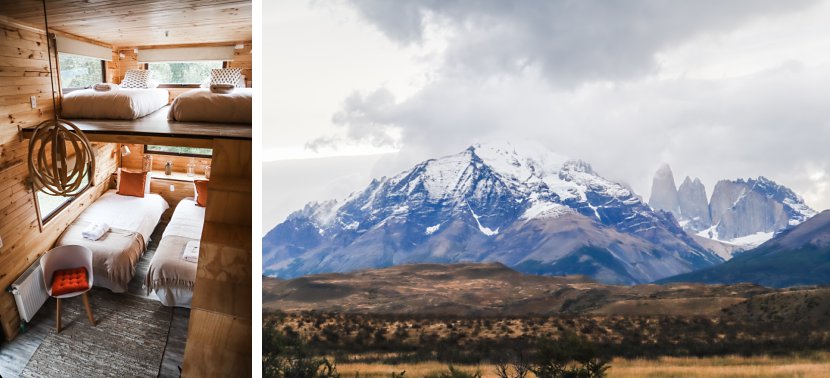 We spent one night just outside the national park at Tiny House Torres del Paine, which was one of my favorite hotel views of all time! After a long day of hiking, it was really rewarding to drive only a short distance to a brand new (they just built them in November 2019!) and clean tiny home with this spectacular view overlooking the three towers.
The next morning, we woke up to a beautiful pink sky and hot breakfast prepared by the on-site staff. The owner said they plan to create a gourmet food truck and outdoor eating area outside overlooking the Torres del Paine towers, so hopefully we can go back again someday soon! The tiny houses are the perfect blend of luxury comfort and connection with the outdoors!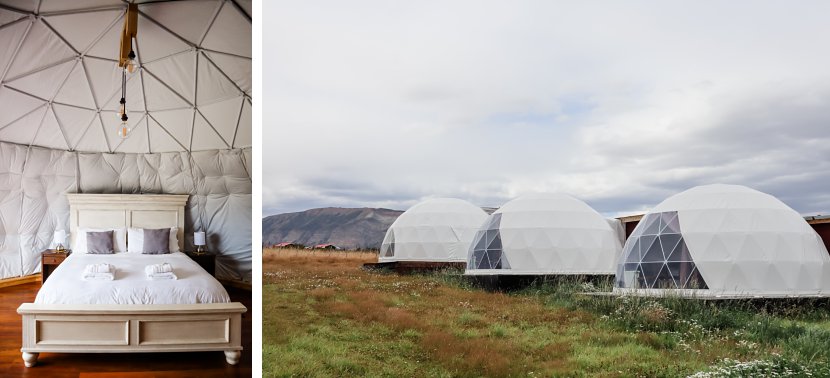 The rest of our time in Chile Patagonia, we stayed in Puerto Natales (about 1.5 hours from the national park) at the Garden Domes. These take glamping to another whole level! The transparent, rounded domes felt like we were in a tent with a perfect view of outside. But the similarities to camping pretty much stop there. These domes are fully equipped with heating, electric, a private bathroom, and possibly the most comfortable bed I have ever slept in!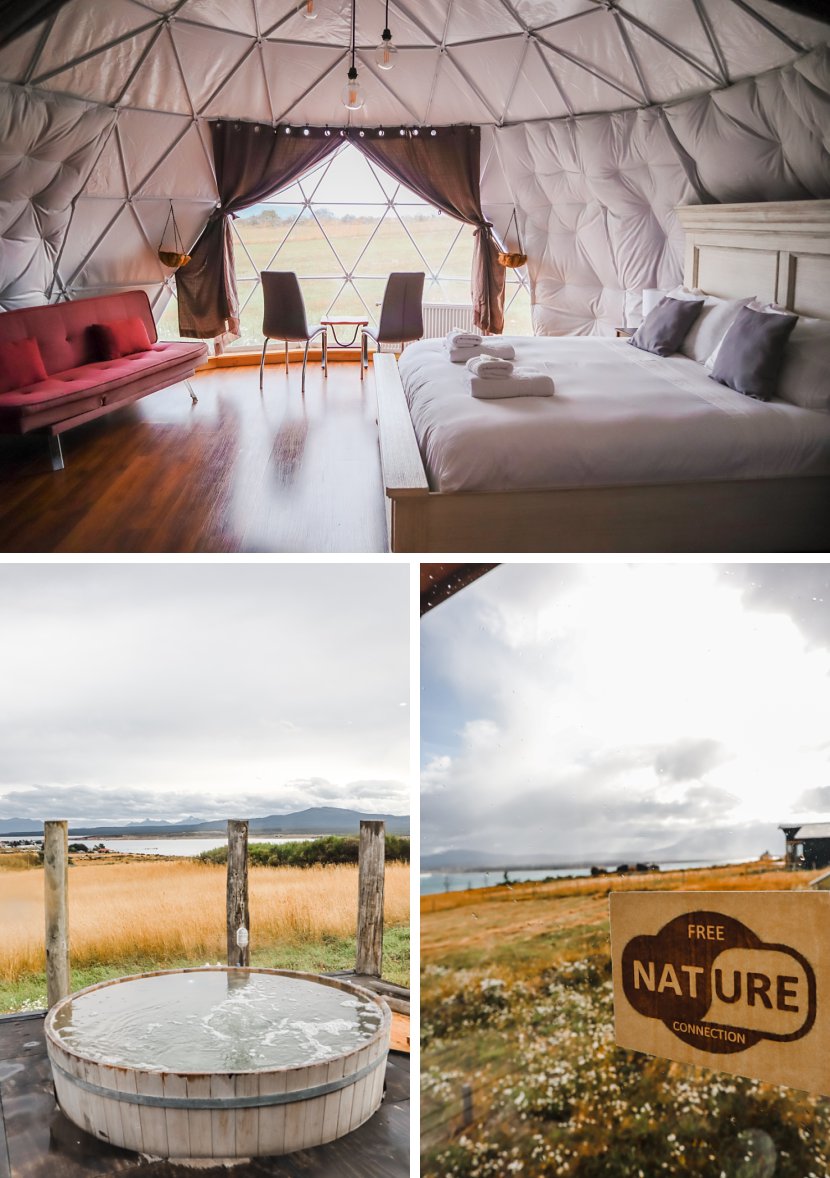 The Garden Domes are a truly unique experience, and on the same property there are also 2 bedroom cabins with the best view of Puerto Natales. These are spacious and have huge windows with an amazing view of the fjord, and you also have access to a shared outdoor hot tub with a beautiful view. There are also shared reading and dining domes on the property, and every night we had a delicious meal that highlighted the local cuisine.
The Garden Domes and Torres del Paine Tiny Houses were incredibly unique experiences that made our time in Patagonia extra special!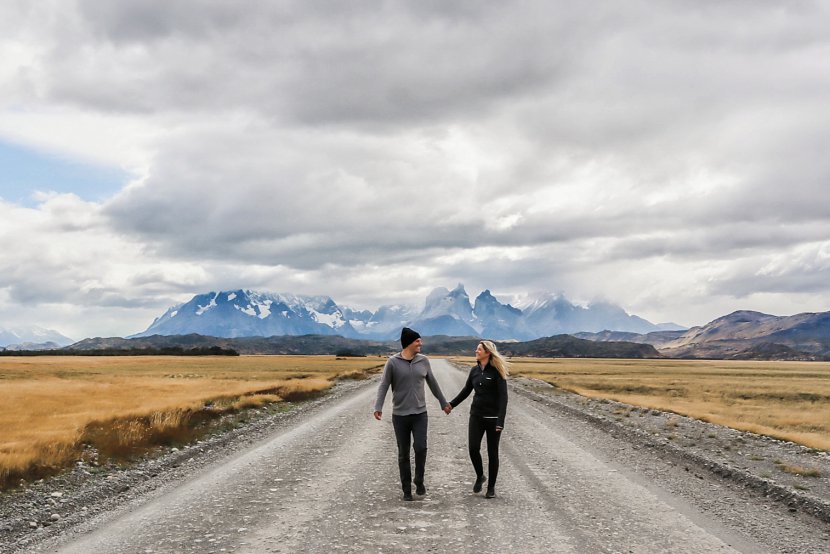 How to Book a Torres del Paine Tour
Torres del Paine is a massive national park with so many different experiences. We were so happy to partner with ChileTour Patagonia because they took of all the details – from food, lodging, tours, and transportation…even transportation to/from the airport and the national park.
We booked ChileTour Patagonia's W Trek Alternative package, but they have several different expedition options to fit your schedule. All of the tour guides were park experts, catered their tour to our specific interests, and made our time in Torres del Paine really special!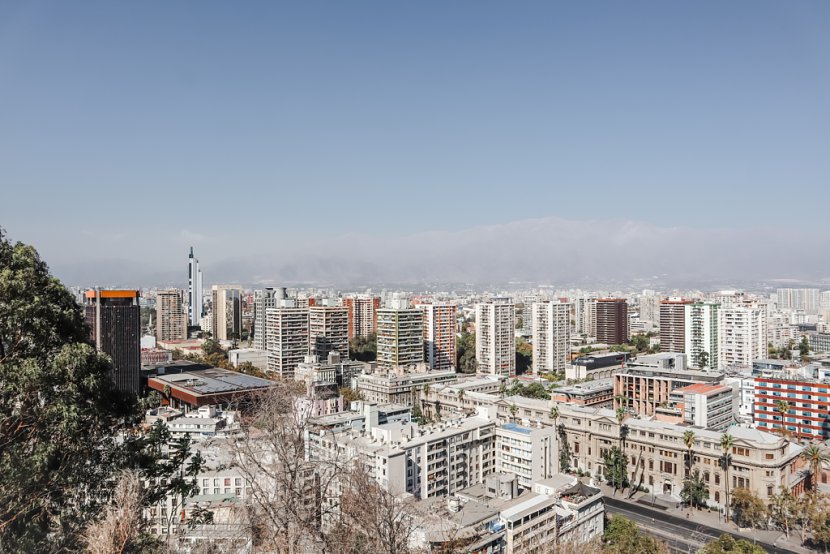 Santiago
Santiago is Chile's capital city, and over 40% of Chile's population live near it. One of the things that makes it so special is that it is surrounded by the Andes Mountains. It is also home to South America's tallest skyscraper. And within a day's drive of Santiago, you can visit world-class skiing or lounge at the beach!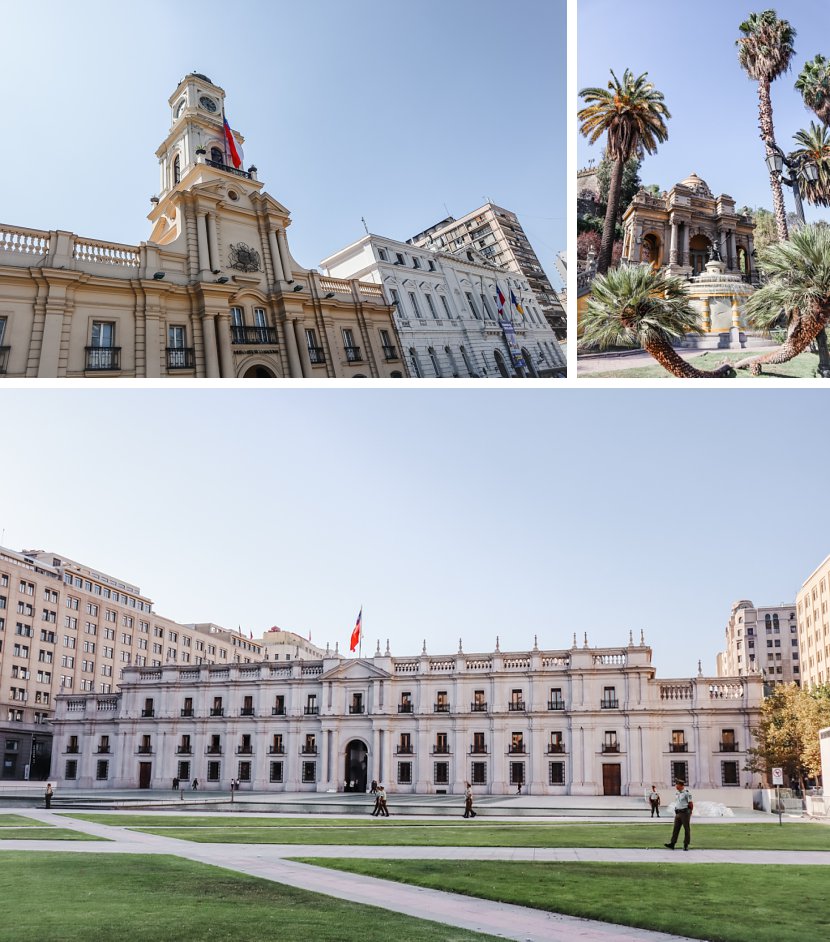 We were going to just have a short layover in Santiago, but decided to extend our stay for a few days. It definitely wasn't a lot of time, but enough to get to explore some local markets, eat delicious food, and play the part of photo-happy tourists!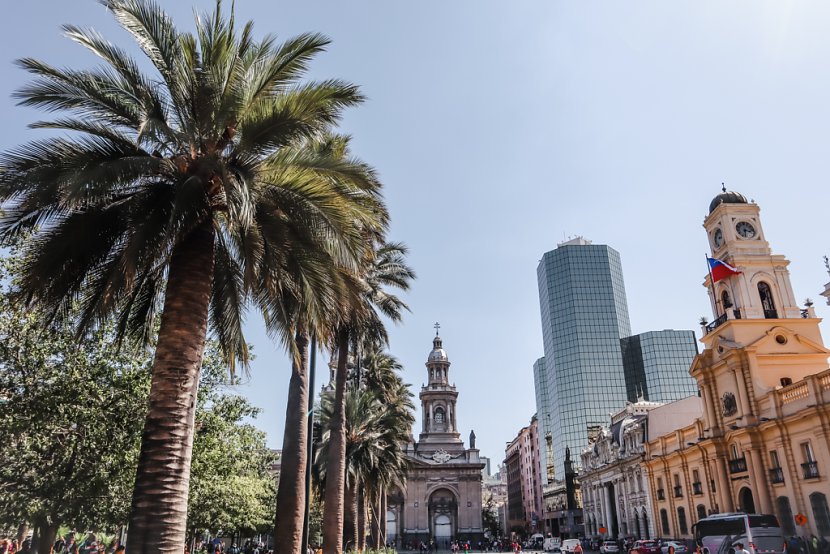 With only a little over a week in Chile, we weren't able to even scratch the surface of things to see and do. Someday we'd love to go back and visit Easter Island, the Atacama Desert, and see penguins at Isla Magdalena! We are so grateful we had the opportunity to visit this beautiful country, and hope we can go back someday soon!

The post Our Favorite Things to Do in Chile appeared first on Hudson and Emily.