Peru is the home of rich history and incredible beauty. Before traveling to Peru, I had heard of the Incas and of Machu Picchu, but I had no clue about how many incredible sights can be found in this beautiful country.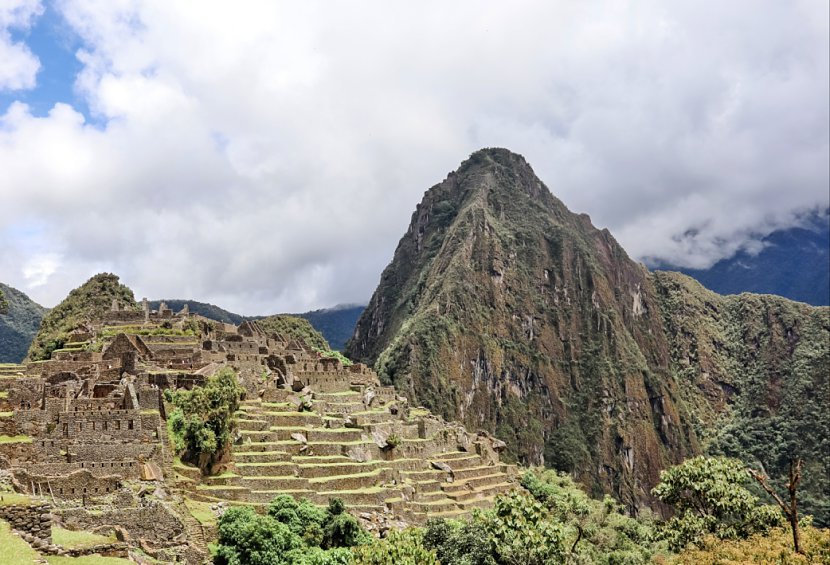 Peru is home to the Inca's largest and most powerful South American civilization. It is also home to the oldest South American civilization (the Norte Chico civilization) dating back more than 5,000 years. It is also home to the deepest canyon in the world (2x deeper than the Grand Canyon) and the world's tallest sand dunes. Peru is the center point of the Andes, the world's longest mountain range. And the majority of the country is made up of the Amazon, the world's largest rainforest. Peru has the second biggest city in South America (Lima) and yet also has ¾ of the world's alpaca population. Peru is pretty cool. :)
How to Plan a Trip to Peru
There is SO much to see in Peru that you could spend months traveling around and still feel like you missed out on things to see! So when visiting Peru, it is best to choose no more than three areas of the country to dedicate your time. For us, we chose Cusco, Lima, and Iquitos as our three main areas.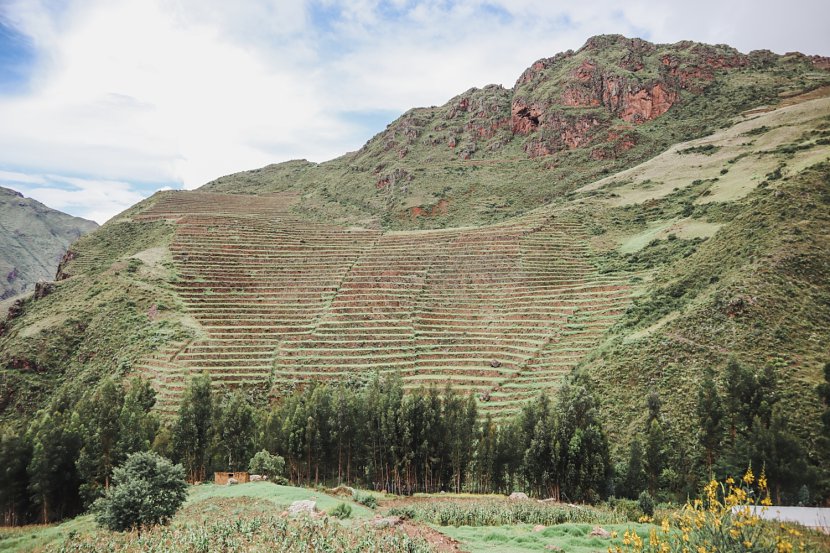 One of the things we quickly realized is that we REALLY want to visit Peru again…and hopefully soon. Arequipa, Nazca, Huacachina, and Paracas are some of the many places we didn't have the chance to visit, and of course we would love to spend even more time in Cusco, Lima, and Iquitos!
When researching the best Peru itinerary, we had no idea how we were going to see all the things we had planned – especially in Cusco. So in order to make the most of our time in the "Land of the Incas" we decided to partner with Sun Gate Tours. They are an adventure Tour operator with more than 11 years of tailor-made Peru tours. Sun Gate offers a number of affordable Peru tours as well as private, custom Peru tours. We chose their Colorful Machu Picchu tour and had such an incredible experience! From hotels, trains, and even airport transportation, we never had to worry about making it to our next destination.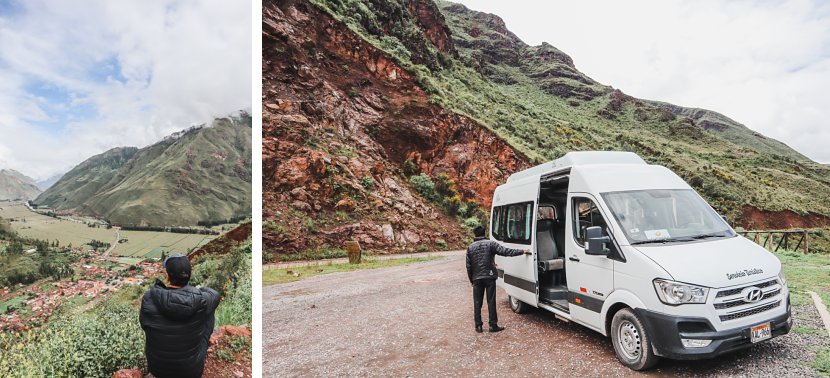 We usually aren't tour people because they are typically too crowded and spend too much time at places we aren't super interested in. But Sun Gate was the exact opposite of that – we had a private, custom tour! The reason we chose to work with Sun Gate Tours was because of their experience, reviews, level of professionalism, and customization of the tour to your interests. With Peru's tourism greatly increasing every day, there are more than 3,000 tour companies located in Cusco alone. However, only 20 of those 3,000 companies are professionally certified – and Sun Gate Tours is one of them. So choose wisely before booking your trip with a travel company in Peru.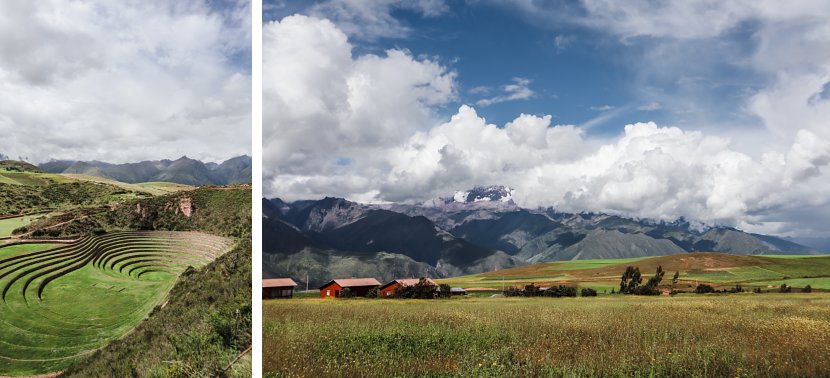 The thing that we loved most about Sun Gate was our extremely knowledgeable, friendly, and patient tour guide Richard! After four days together, we felt like we made a new lifelong friend. Richard was an expert in almost every category. He has hiked the Inca trail dozens of times, given tours for Machu Picchu vacations hundreds of times, and was born in the city of Cusco. I don't think there was a question that we asked that he didn't already know the answer to (and we definitely asked a lot)! It was incredible learning about Incan history from a Quechua-speaking guide! At the end of our toru, we were really sad to not only leave Peru, but also to say goodbye to our guide Richard!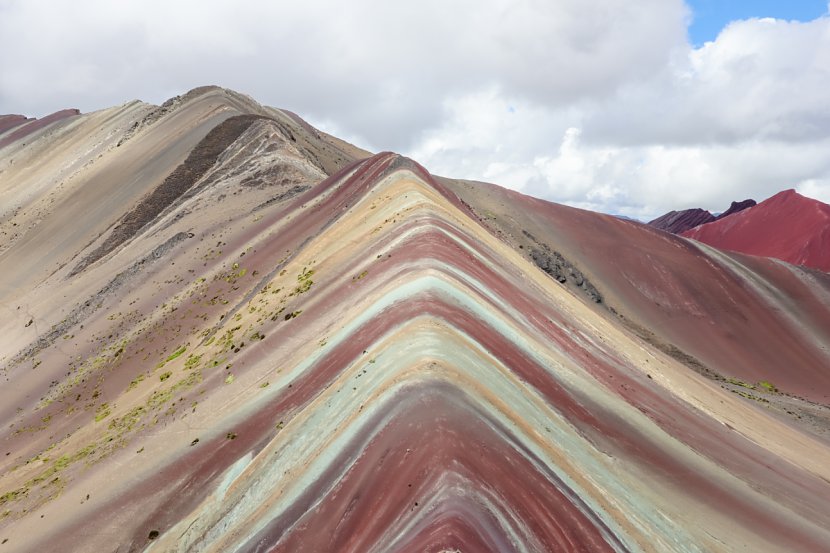 The Best Things to Do in Peru
Like us, many people come to Peru to see Machu Picchu, one of the Seven Wonders of the World. But between the Andes Mountains, Pacific Coast, and the Amazon Rainforest, there are countless amazing and diverse things to experience. Here are some of our favorite things we got to experience in Peru!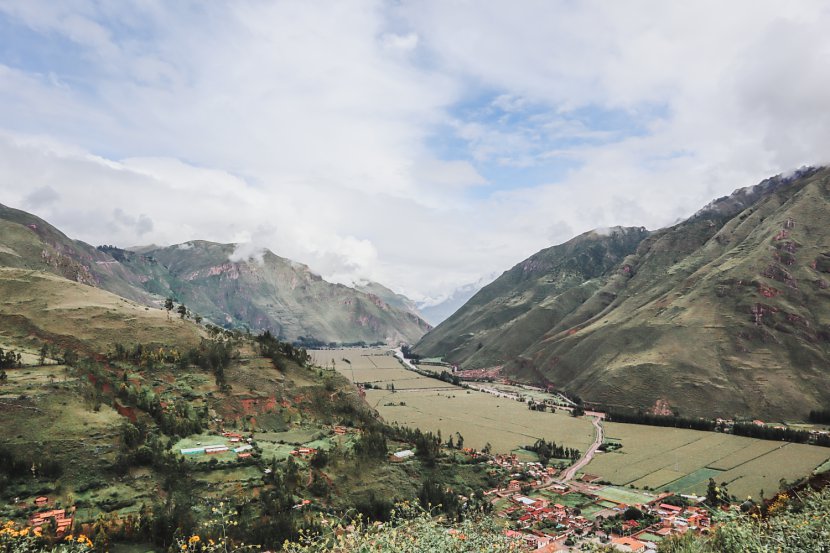 Cusco Area
We began our trip by flying into Cusco, and spent four full days touring around places within a few hours distance of the city. Here are our highlights in the Cusco area!
Sacred Valley Tour
We spent our first full day in Peru touring through the Sacred Valley. This was probably our favorite day of our trip! We had heard so many amazing things about Machu Picchu (which we visited the following day) but had no idea how beautiful the entire Sacred Valley is! Here were some of our favorite things to do in Peru's Sacred Valley.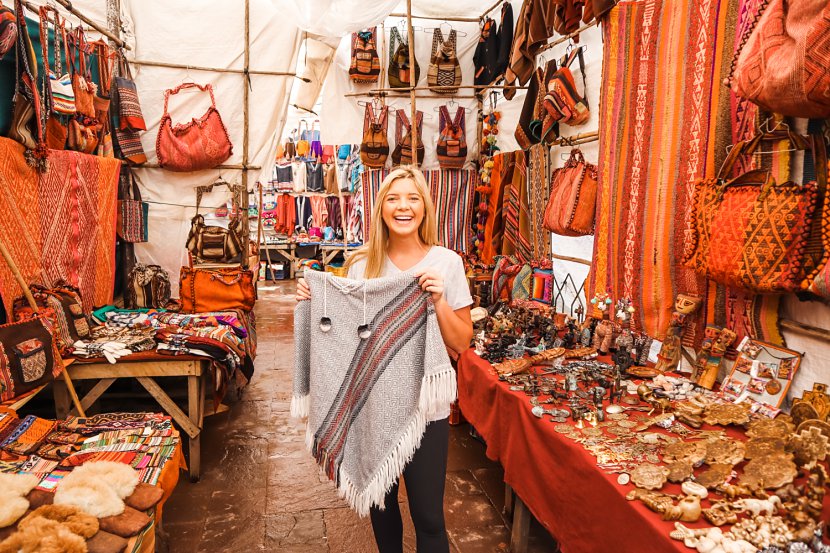 Písac Market
Our first stop on our tour of the Sacred Valley was to the Písac market. This market is full of colorful ponchos, Peruvian souvenirs, and even guinea pigs (for eating, not for petting – it's called "cuy")!
The biggest market day is on Sunday, but it is also active on Tuesday and Thursday. It is one of the best known markets in all of Peru and has become such a popular experience that you can now find vendors most days of the week (just not as busy as on Sunday).
This is a great place to purchase some Peruvian souvenirs. Bartering is customary throughout the market. Em had a lot of fun talking with the store owners and picking out her favorite poncho from the hundreds of different options!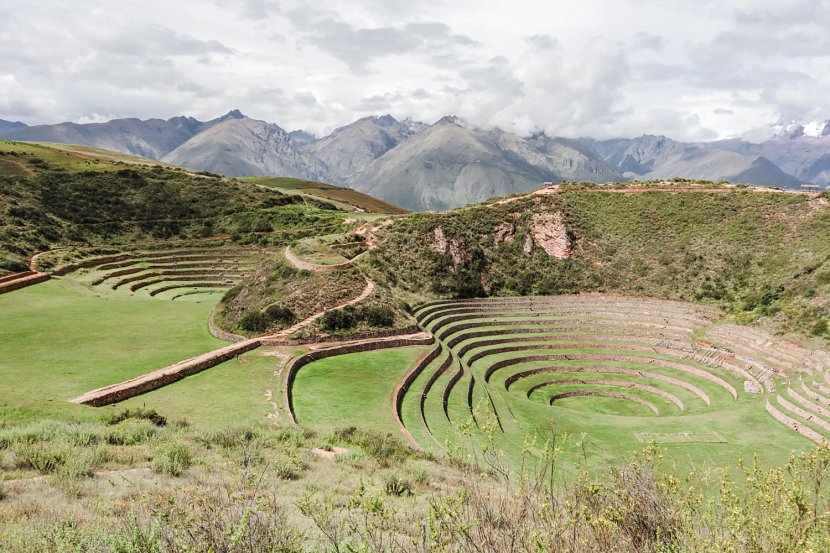 Moray Terraces
Once the largest group of people in South America, the Incas were master farmers. Their expert agricultural skills can be seen in locations like Moray Terraces. These circular shaped terraces look like something from out of this world, and for good reason. They were likely built inside a meteor crater. The primary purpose of these terraces is to test different farming techniques in various micro climates.
I may sound like I know what I am talking about, but in reality I am just trying to remember some of the incredible facts that our guide Richard told us. The most amazing part of this experience was hearing Richard play the quena (a traditional wooden flute-like instrument) as we stood overlooking the Andes mountains and Moray terraces.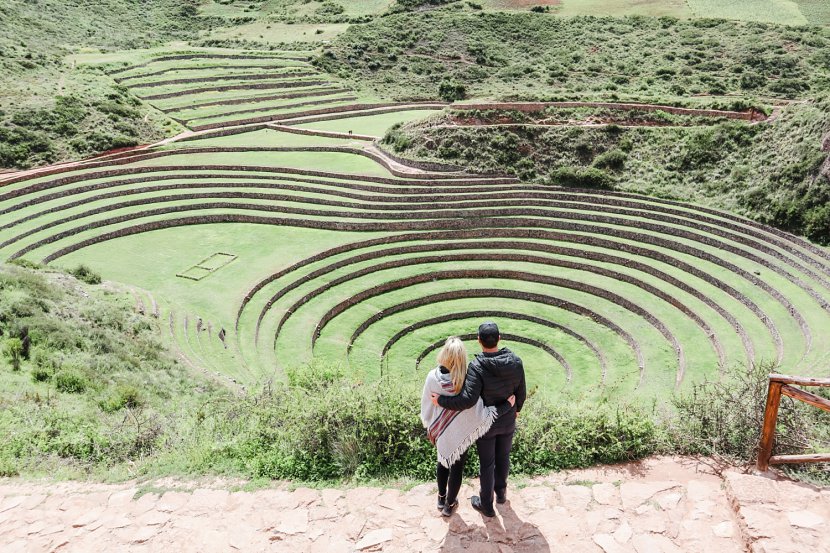 Before you go… I don't think that I would have wanted to drive a rental car back to this remote location. The road is in decent shape, but there is a decent amount that isn't paved. It was definitely a huge bonus being driven there by a tour company!
Maras Salt Mines
Salt was considered extremely important in Inca civilization. One of the only places where salt is still mined in the ancient Inca fashion, Maras Salt Mines are unlike anything we have ever seen. The 3000+ pools are individually owned and mined by the local people in the town of Maras. (The pinkish colored Maras salt has some health benefits and is gaining popularity around the world). Our guide explained to us how the Incas dug little channels to guide the spring into the various man-made pools and wait for the dry season to harvest the salt. It is an incredible engineering feat and also a great place to take some amazing photos!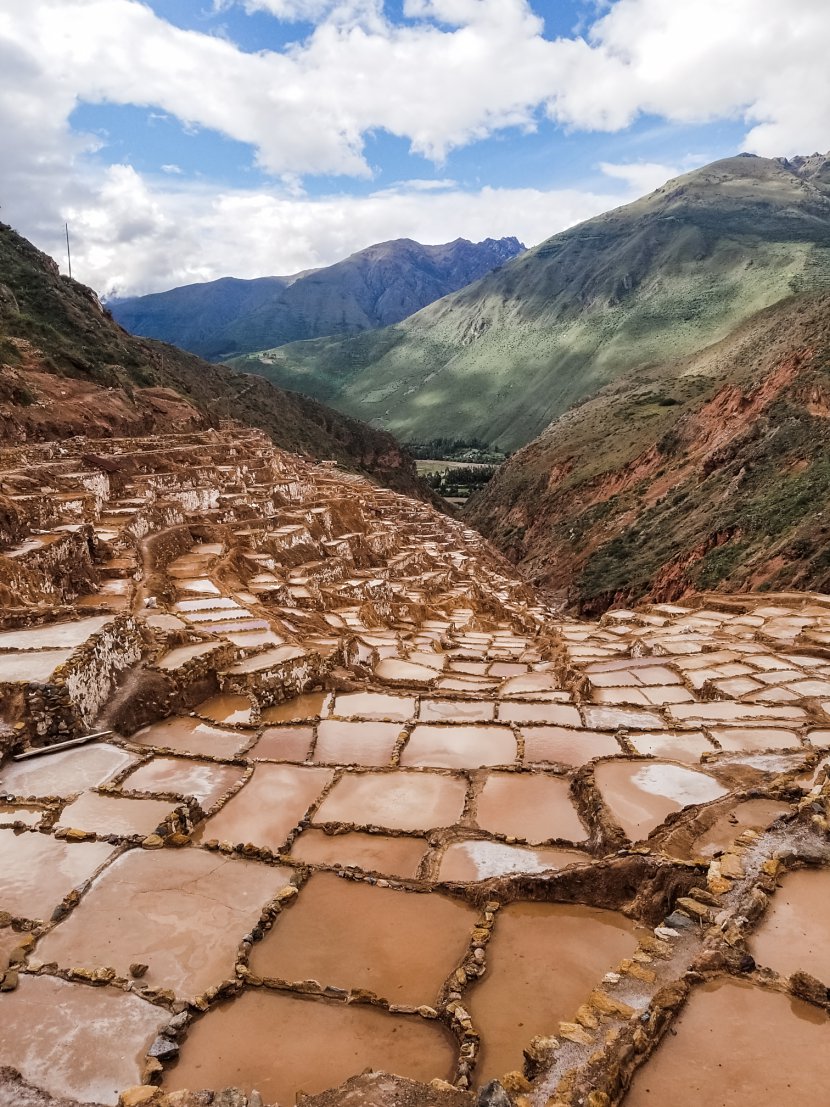 We visited during the rainy season, but the dry season is the best time for photos. Then, the salt pools are more of a white color and you can get a little closer to the actual pools. You might even be able to witness some of the locals mining their family's salt pool. During the rainy season, the pools are more of a brownish color, but it is a lot less crowded and the surrounding Andes mountains are very luscious and green.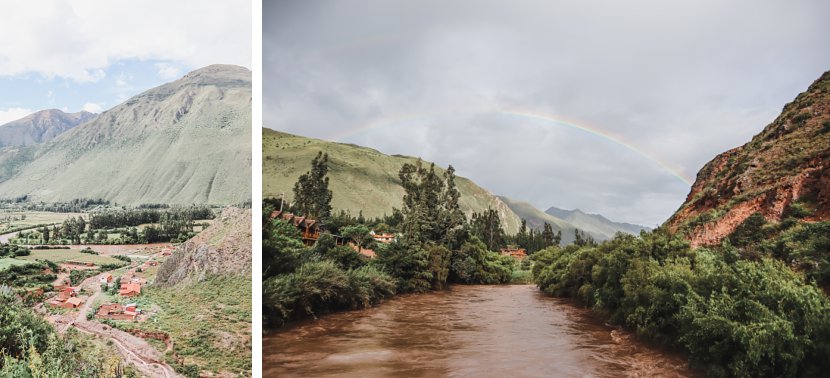 The salt mines are in the same general area as Moray Terraces and are great to visit on the same day. But again, some of the roads aren't paved. It is doable to drive yourself, but definitely a lot easier and more enjoyable to arrange transportation.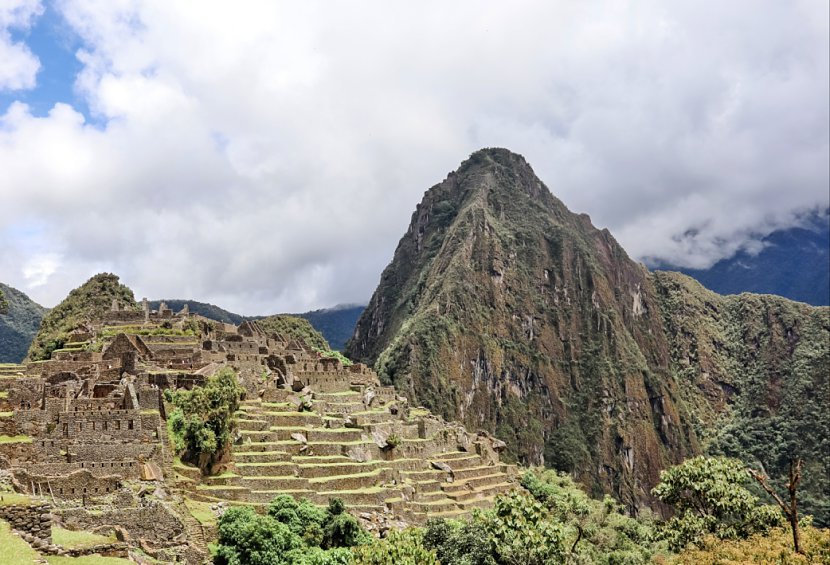 Machu Picchu
One of the 7 Wonders of the World, Machu Picchu is one of the most amazing things that we have ever seen! The mountains and surrounding landscape are breathless in their own right. But it is almost incomprehensible (big word for me, I know =) to think of the Inca's building this temple city on the side of a cliff with no modern tools…just horses, wheeled carts, and materials from hundreds of miles away! It is one of the 7 Wonders of the World for good reason! The Andes Mountains surrounding the ruins of Machu Picchu are breathtaking.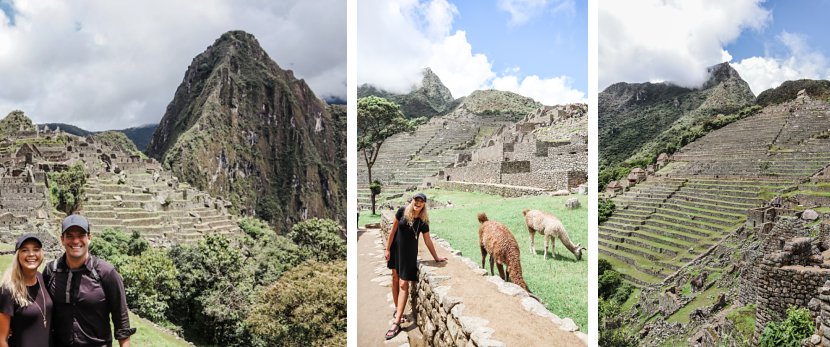 There are many different ways to experience Machu Picchu. You can hike and camp on the ancient Inca trail. You can explore the peaks of the nearby Machu Picchu and Huayna Mountains for a bird's eye view of the ancient city. You can tour it by yourself or with a guide.
I may be a little biased, but I think the best way to experience Machu Picchu is through a private tour. Richard, our guide, seemed to know every rock in the area. He used to be a Machu Picchu guide, giving up to 3 tours a day! We learned so much and even though there are up to 5000 visitors a day, he knew where to go to escape the crowds.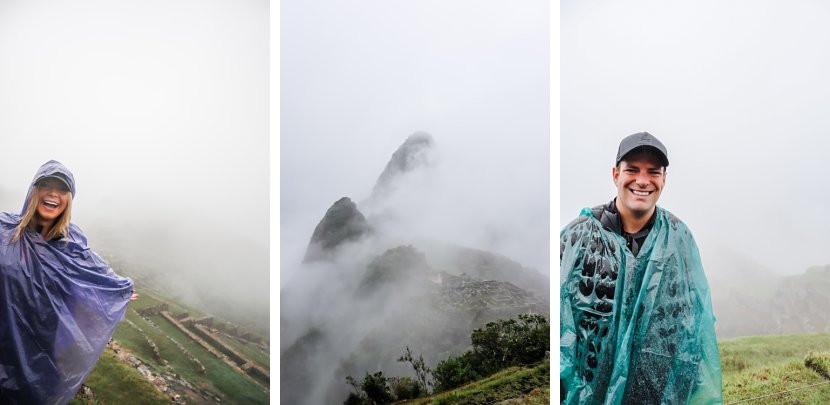 The morning we arrived was rainy and overcast – but thankfully after a couple hours the sun came out and it ended up being a beautiful day!
There is way too much info to include here about getting there, where to stay and what to see that I'll have to write another whole post on it sometime.

Downtown Cusco
Cusco (also spelled Cuzco) was once the capital city of the thriving Inca Empire. Many tourists best know Cusco as the city to fly into to visit Machu Picchu, but this historic city is so much more than that! What Rome was to the Romans, Cusco was to the Incan civilization. (Embarrassingly, before visiting Peru, I always assumed Machu Picchu was the capital.) Our guide told us that during its peak in the 1500s, Cusco was likely twice as big as the 1500s Paris! Some people believe that Cusco might have been the "El Dorado" or "Lost City of Gold" that the Spanish were searching for but never realized it.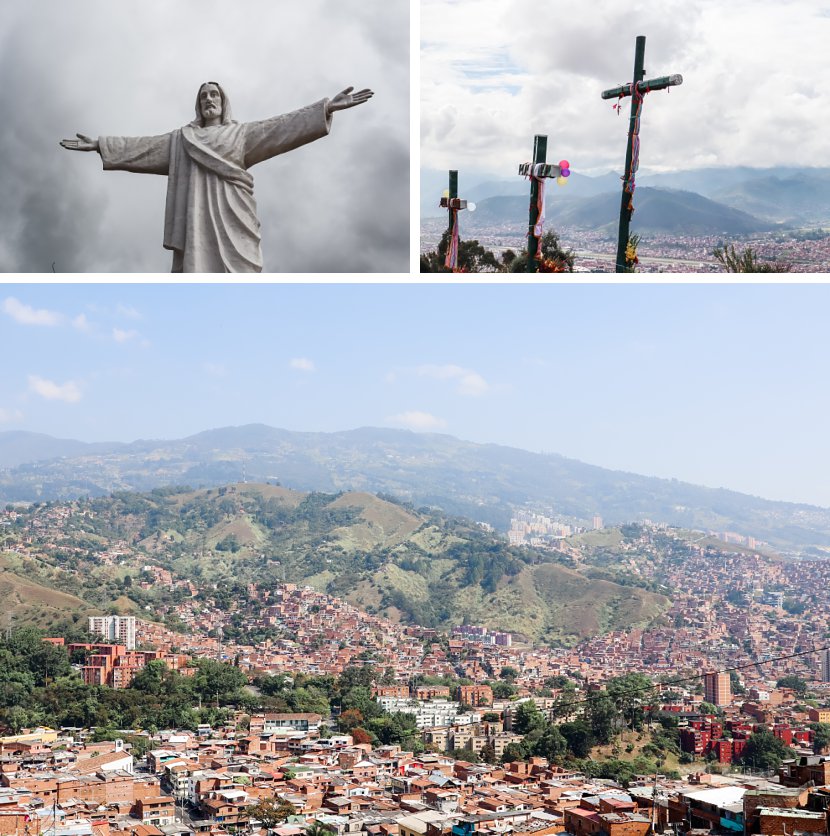 But the city's history predates the Inca civilization. It is the oldest living city in the Americas, dating back more than 3000 years. Although Cusco is most famously known for its Incan roots, but traces of ancient civilizations can be seen all around the city. One of the most popular ancient structures is Saksaywaman (try to say that one 5x or even 1x fast!).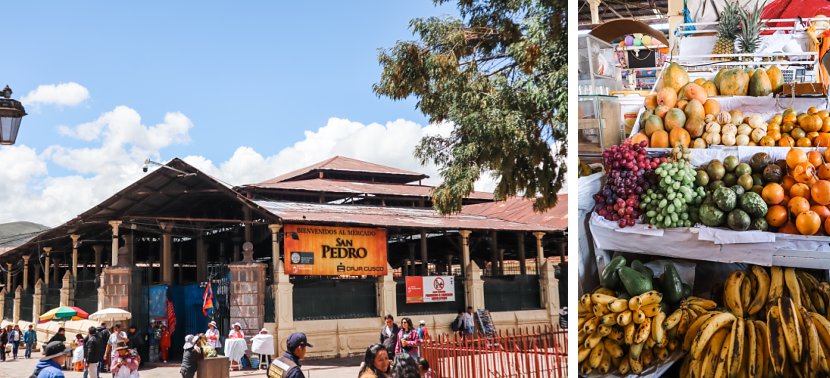 Today, the most popular attractions to visit are:
Coricancha: one of the most important Incan temples (also known as the Golden Temple)
Plaza de Armas: the city's main square that today is a mix of Incan and Spanish history (Unfortunately, when the Spanish invaded Cusco, they destroyed much of the ancient Incan locations and replaced them with their own structures. Cusco Cathedral is a beautiful Spanish cathedral that unfortunately was built over the location of a prominent Incan temple.)
San Pedro Market: the largest local market in Cusco, it has everything from ponchos, fresh juice, and almost anything else you can think of.
It is definitely worth walking around the city and seeing the vast variety that Cusco has to offer!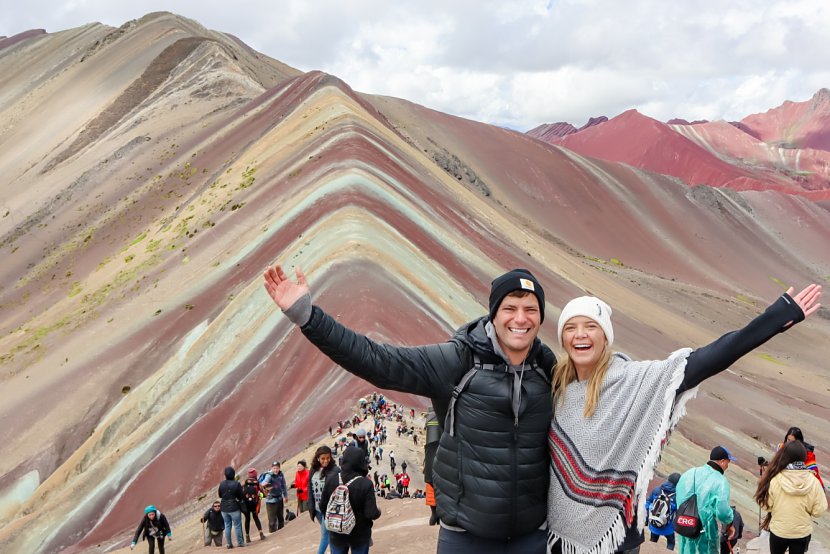 Rainbow Mountain
Ever wanted to walk on a rainbow? About 3 hours away from Cusco is Vinicunca Mountain, also known as Rainbow Mountain. Although these layers of colorful sediment are a little different than rainbows in the sky, we figured that this was the closest chance we'd ever get. And as high up as Rainbow Mountain is, it is pretty much the same thing as walking on an actual rainbow!
After doing some research online, we discovered that Rainbow Mountain is over 17,000 feet high! That is more than 3x higher than Denver, Colorado!
There is a lot to say about this incredible place, but here are the basics….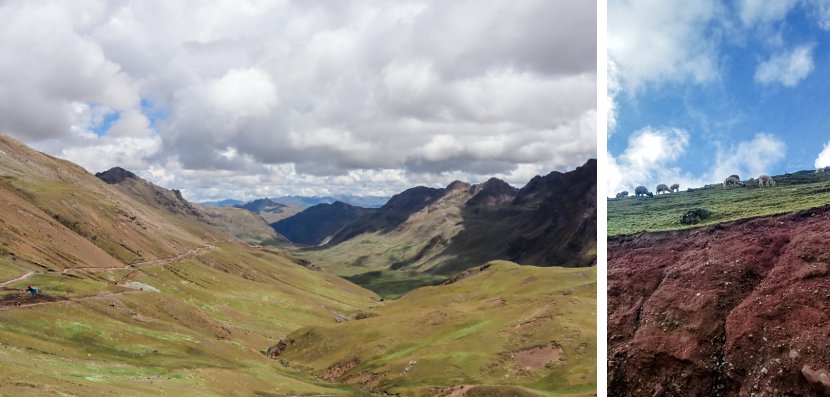 It's a really beautiful drive (although very bumpy, definitely go with a tour!) and hike filled with views of mountains, valleys, glaciers, and alpacas! The trail itself is only 4 km one way, 8 km roundtrip. (It used to be 7-8 km one way, but they updated the road to be longer so that the trail is shorter) and is not too steep or difficult. But the altitude is no joke! (Em and I were fine on the actual hike. Our guide was a pro and made sure we took it really slow. But on the bouncy drive back home, we had awful headaches and felt miserable for about a day.)
The actual Rainbow Mountain of course isn't as colorful as some photos online, but it does actually have really drastic color changes and is well worth the hike on a sunny day. Go early or expect to share the narrow peak with hundreds of other tourists.

Red Valley, a short hike away is also totally worth the view and a great place to escape the crowds! If you get a chance go, the hike and views may be a bigger highlight than the actual rainbow part!

Lima
After visiting Cusco, we continued our Peru adventures with Sun Gate Tours to Lima.
The capital of Peru and one of the largest cities in South America is Lima. With somewhere between 8-11 million people, this massive city is filled with a lot of history, culture, and great ceviche!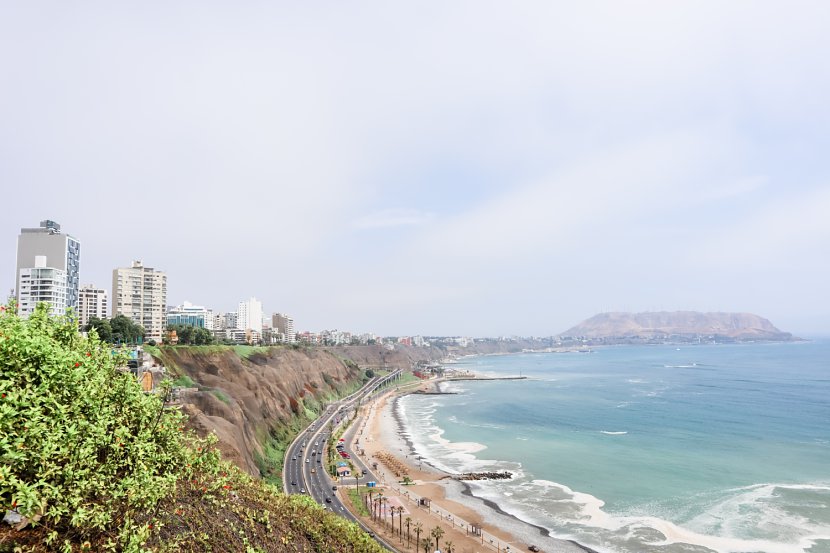 The city is so large that you really can get a completely different experience depending on where you are. Two of the most popular tourist destinations are Miraflores and Barranco. These areas are known for their beautiful cliff coastline and upscale restaurants. Just walking around these two neighborhoods is a lot of fun!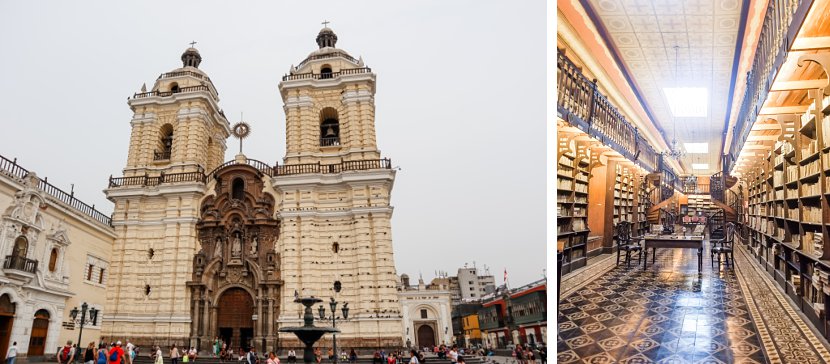 We only had a couple days in Lima, so we took a downtown city tour to make the most of our short stay. There are many beautiful and historic buildings downtown, but one of the most interesting parts of the city are the catacombs which you can tour at San Francisco de Lima Basilica. In the 1600s, most of the downtown churches buried the deceased under the building. These underground tombs were connected through tunnels, making an entire underground city filled with over 100,000 buried bodies.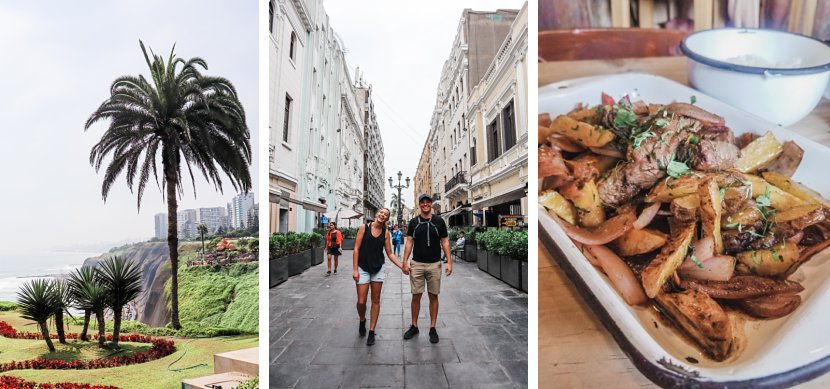 We also did a food tour in Lima, which was a great way to taste local favorites! Some of the many amazing foods and drinks to try are ceviche, lomo saltado, and a pisco sour. Being on the coast, there is a lot of great seafood in Lima! Although there is some cuy (guinea pig) here, it is more well known in the Andes mountain region like Cusco.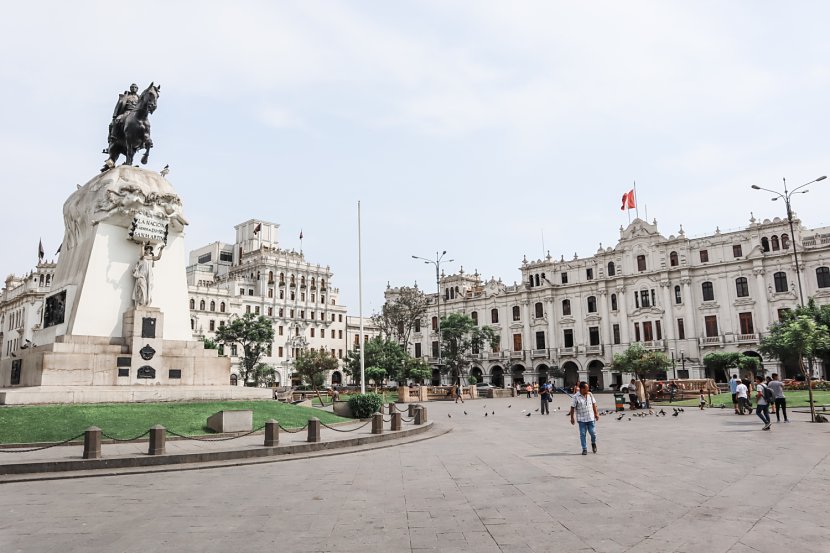 We had awesome weather when we were in Lima and really enjoyed our experience there! When planning your trip, I would recommend dedicating more time in the Cusco area than in Lima, but Lima is a great place to relax and explore for a couple of days!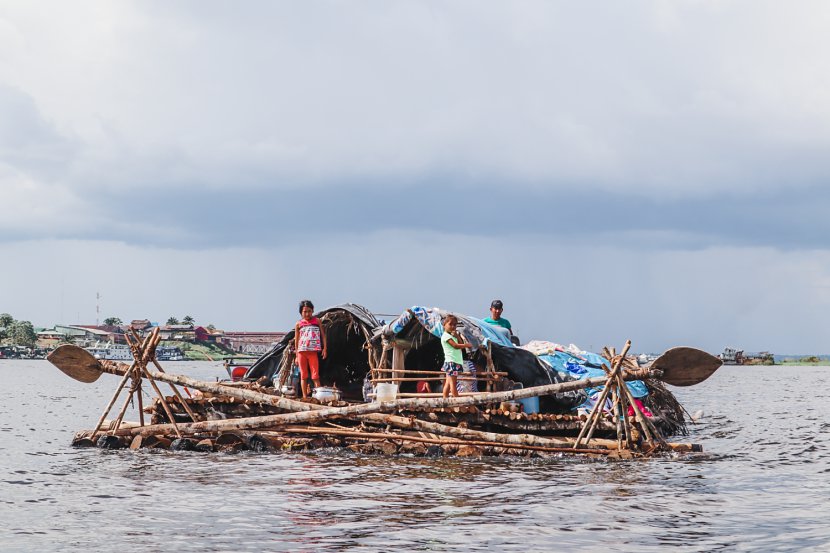 Iquitos (the Amazon)
One of the easiest access and best places to experience the world's largest rainforest is in Iquitos, Peru. When I first think of the Amazon Rainforest or the Amazon River, I think of Brazil. But the Amazon is so large that it actually spans over 9 different countries across South America! Over 60% of Peru is covered by the Amazon Rainforest.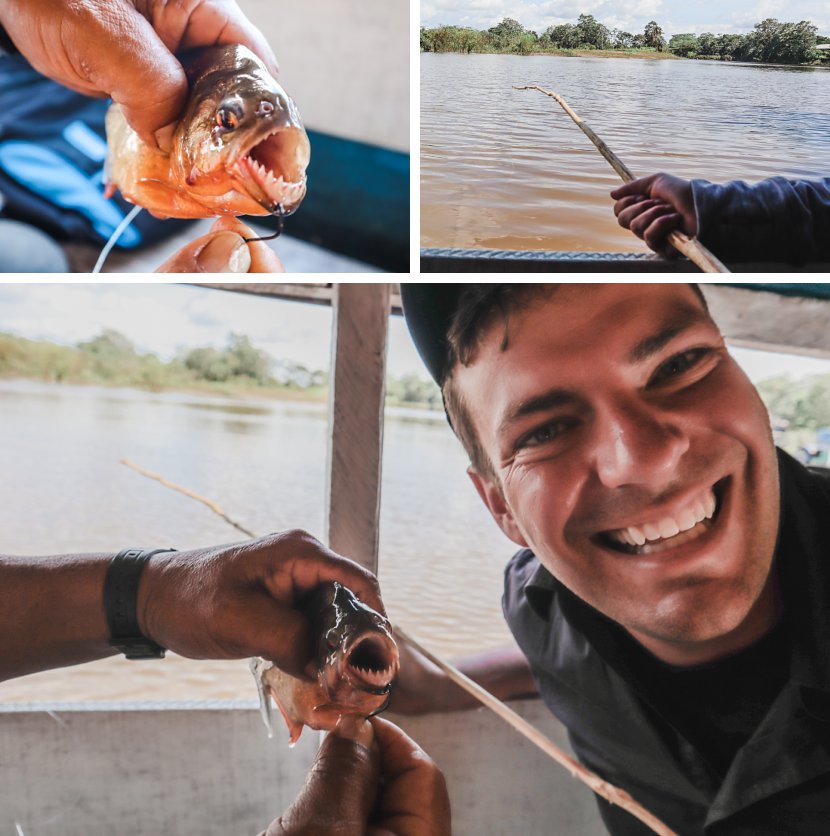 Even though we only had time for a day trip, we heard so many amazing things about Iquitos that we knew we had to experience it. Here is a blog post I wrote with more information about how to take a day trip to Iquitos, Peru – piranha fishing and all!
Final Thoughts about Planning a Peru Itinerary
Our eight days in Peru was definitely not enough time to experience this ancient, diverse, and beautiful country! Hopefully this travel guide will help you better know how to plan a trip to Peru according to your preferences and plan for a little more time than we did. We can't wait to return to Peru and are so thankful for the opportunity to experience this incredible country!
The post Our Favorite Things to Do in Peru appeared first on Hudson and Emily.