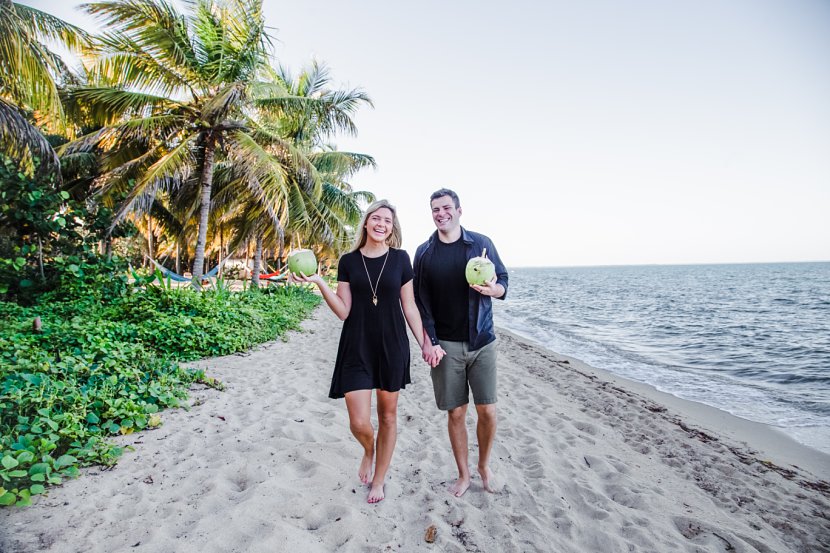 9 x 14 x 22 inches. That is the dimensions of an airplane carry-on bag.

When prepping for our 2 month trip around Central and South America, we knew we had to be a little more careful about what we took. Now we are by no means minimalist packers. We like our little luxuries and each pack in a carry-on and backpack rather than fitting everything into a 60-liter backpack. But we still have to fit everything that we need for 2 months into 2 little bags (well little to me).

So we did our research, read from more veteran travelers, and chose our favorite 10 items for Travel. In this post I'm not going to talk too much about clothes because everyone has a different preference. Instead, I'll try to point out some things that we have loved while traveling.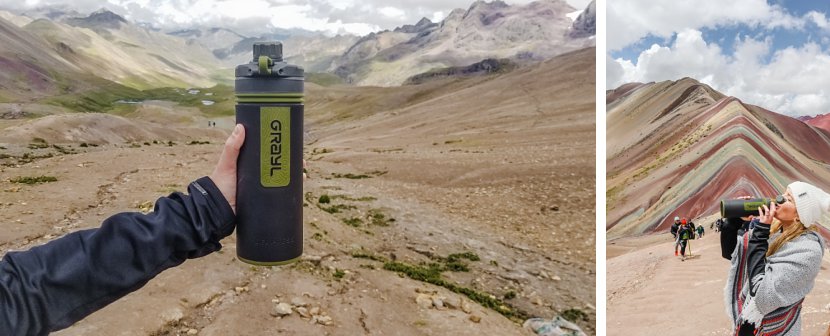 1. Grayl Geopress Water Purifier
Clean water is always essential. However, in most countries it isn't okay to drink tap water. It can start to add up if you are buying bottles of water throughout the day, so Em and I decided to do some research and look for an alternative solution to bottles of water. That's when we found Grayl Geopress Water Purifier. This 24oz water bottle can eliminate 99.99% of waterborne pathogens (viruses, bacteria, protozoan, cysts) from hotel sinks to muddy rivers. So that means, within 15 seconds, we can turn pretty much any water into drinking water.

There are many different filters out there, but this filter purifies the water by pressing rather than sipping. This allows us to use the water for brushing our teeth, cleaning dishes, or anything else. It has been an incredible help on our trip around South and Central America.
2. Google Fi
Whether it is navigation, translation, Uber, AirBnB, or searching for food and local recommendations, being connected to the internet has become an almost vital part of travel (or at least makes it a whole lot more convenient!)

There are a lot of different options out there, but after doing a lot of research, and talking to expert travelers, we decided to try out Google Fi.

The best part about Google Fi is that when you land in a new country, all you have to do is turn your phone on and go! There is no switching sim cards and you get to keep your original phone number. It costs $60 a month (plus taxes) for the two of us and includes 22GB of high speed data each. For our trip, Google Fi has been an amazing solution!
3. Tripped Travel Gear Backpack
During the day, we usually take a lot of little things with us: our camera, batteries, cords, chargers, sunglasses, and water bottles. Nothing too big, but definitely too much to fit into our pockets.

We used to empty out one of our big backpacks and use that for the day. But then we met our friends and fellow travelers Tim & Fin who own Tripped Travel Gear.
They make an awesome lightweight travel backpack. It has easy access pockets, a fleece lined sunglasses pocket, two water bottle holders, and 35 liters of storage! The best part is that the bag is so small and compact that when we aren't using it, we are able to throw it into our suitcase and forget about it!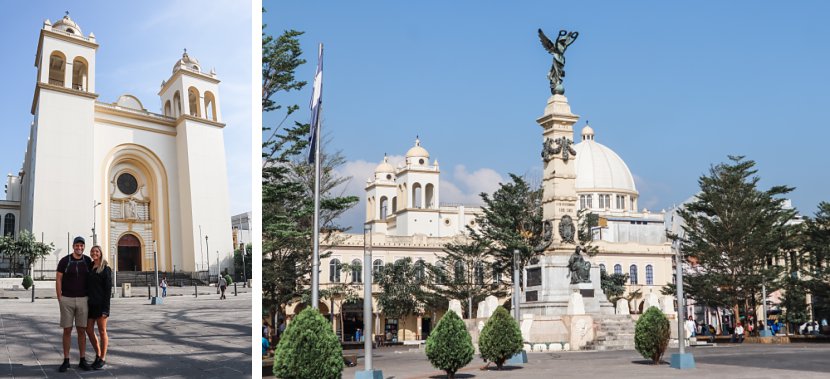 4. Merino Wool Anything
Since we only have so much room in our carry-ons, we wanted to be sure that we could make the most out of each piece of clothing we packed. We are traveling through the Southern Hemisphere during their summer. So that means we are traveling through some pretty warm areas. And after living in Mexico for a year, I learned the scientific fact that sweat can really start to stink!
I did some research to try to find what fabric would do the best at wicking away sweat and getting rid of odor, and I found Merino Wool. This wool is a lot finer than traditional wool and also a lot less itchy. It is like a magical fabric that gets rid of sweat and doesn't stink (Em said this is TMI, but after almost 1 month of wearing the same shirts and socks with no wash I can confirm that merino wool is pretty incredible! Haha I wouldn't suggest not washing your clothes, but I had to do it for science ;)
The only problem with merino wool is that it is reeeeeally expensive. (Some t-shirts can cost as much as $120!) Merino wool comes in a bunch of different levels and qualities, but here are some decent merino wool t-shirts and merino wool socks I found on Amazon. (They aren't the best quality merino wool and are kind of itchy the first couple of wears, but they are a lot cheaper than other alternatives and fit a little better too).


5. Humangear GoToobs
3.4oz (100ml) of liquid. That is the maximum bottle size of liquid that you can pack in a carry-on bag. In the past, we've just gone to Walmart and bought travel size toiletries. But the bottles are hard to use and so much of our toiletries ended up wasted.
So we reached out to Humangear to try out some of their "GoToobs." They are silicone based, easy-squeeze toiletry bottles that are perfect for maximizing the amount of toiletries we can take in our carry on. I was skeptical at first, but they are the perfect size and so easy to use. We don't have to worry about squeezing too big of a glob of wasted shampoo or have a bunch extra left in the bottom of the bottle. The newest version of GoToobs also comes with a very helpful hanger. I like to attach them to a lanyard and hang them over the shower rod!
Humangear has a bunch of other travel related products too. They also sent us reusable plastic utensils, which have come in handy several times eating leftovers!
6. Away Carry-On Bags
It's almost a cliche to talk about travel and mention Away luggage. If you look around the airport, there is a good chance that you will spot a few of these hard-shelled luggage bags. When I first heard people talk about Away Luggage, I was definitely a skeptic. I thought a bag was a bag, so why should I pay so much more for a prettier looking bag. (I am a lot more about function over fashion. Remember, I'm the guy who wore the same shirts for a month ;)
But after my parents-in-law got me an Away bag for a Christmas present, I quickly found out what the talk was about. The bag just works better. The wheels are a lot smoother and the zippers are very strong. (I've broken a lot of luggage zippers in the past =)
But my favorite part about "The Bigger Carry On" suitcase is its sneaky size. Airports have a regulation carry-on size, but they leave a little extra room just in case. Away calculated the exact dimensions that can fit in a regulation carry-on slot and designed the "Bigger Carry-On" around that. It isn't that noticeably different, but those extra few inches make a world of difference when trying to pack for a long trip!
The bag isn't perfect, but it is definitely the best suitcase I've used.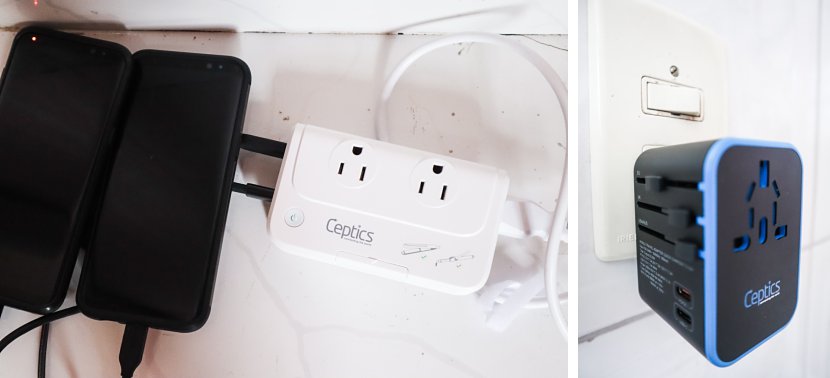 7. Ceptics Travel Adapter and Power Strip
Phones, laptops, batteries, portable chargers…the list of things that we have to charge on a regular basis while traveling is pretty astounding!
It is a lot of fun traveling internationally, but unfortunately there are many countries that don't use the same outlet as North America. We went looking for a compact adapter that could meet our high demand of charging multiple items.
After reading several reviews, we found the company Ceptics, who makes a compact wall adaptor and power strip. We reached out to Ceptics to test out these products and have found them extremely helpful!
Fortunately, some of the countries in Central and South America use the same outlet, but even in the countries that do the adapters have still come in handy in charging multiple items at once! I'm by no means an expert when it comes to all things electrical, so definitely check out Ceptics' Help Page. They have some great information about different travel adapters and voltage transformers.
8. Amazon Essentials Packable Puffer Jacket
Okay this is also an exception to the no clothing rule that I said at the beginning of this post. But this one is simple and straightforward. We are traveling to a lot of hot and some cold places. We don't have a lot of room to bring our favorite winter jacket and don't have the money to buy the latest lightweight down jacket. So we did some research to find the cheapest alternative to the Patagonia Nano Puff Jacket or the even more expensive Arc'teryx Cerium LT packable jackets, because $200 – $400 for a jacket we are only going to wear a few times didn't make too much sense!
After trying out a few different budget options, we both decided to go with Amazon Essentials Lightweight Water-Resistant Packable Puffer Jacket (here is the women's version and the men's version). It is a mouthful of a name, but it gets the job done. It isn't the warmest, stylish, or most packable jacket, but for $45 we couldn't really be too picky!
9. Cocoon Travelsheet
Em and I love to travel, but don't like spending massive amounts on hotels each night. As a result, we usually end up in some cheap AirBnb's that…let's just say don't quite meet Marriott's quality standards. At first I was fine as long as I was safe and had a bed to sleep on. But then Em pointed out to me that most of these sheets probably aren't washed at Marriott either =) After thinking about that, it started becoming a little harder to sleep at night. Eventually we decided to look for a solution.
We tried out a few different sleeping bag liners, but they were either too stiff, uncomfortable, or too big. That's when we read about Cocoon Travelsheet. I can't say that it's the most romantic thing looking like a couple of blue burritos in our individual sleeping bag liners, but at least we can feel a little cleaner when we go to sleep. When we bought our liners on Amazon they were $30 which I thought was pricey but I have seen them cost as much as $45. Check out the current price here.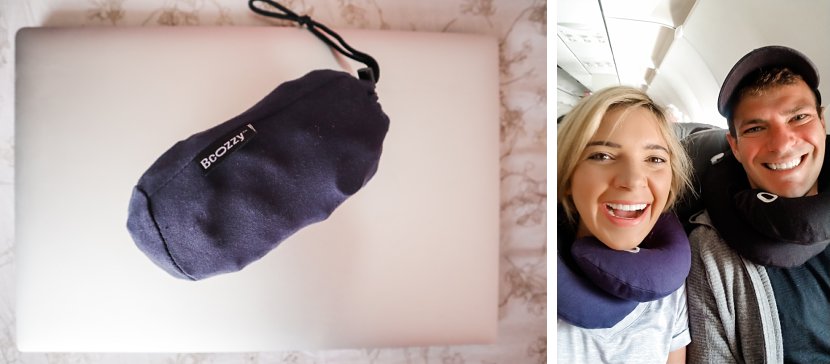 10. BCOZZY Inflatable Neck Pillow
I know many people don't consider a neck pillow an "essential," but there are just some luxuries that make a world of difference. As I am writing this, I am sitting in the middle seat next to two strangers (Em is in the middle seat behind me) and I am very thankful for my Bcozzy Inflatable Pillow.
I was skeptical at first, but after 4 or 5 flights of using it, this travel pillow has made its way into my top travel essentials!
When people hear "travel pillow" they probably picture the old, clunky pillows that seem like a great idea, but for some reason are never that comfortable. I have trouble sleeping on planes so I figured something is worth a shot. When I started researching, I found out that any and every version of a neck pillow you can think of has already been invented. From the ordinary to the very strange! But the reason I really like the BCOZZY pillow is that it improved the traditional neck pillow design
The pillow itself overlaps, which gives my neck more support. Their classic pillow is also very popular but we have the inflatable ones, and one of my favorite things is that it only takes me three breaths to inflate it! Then it is really compact when deflated. The pillow is extremely soft and the cover is washable.
11. Travel Credit Cards
Bonus! Something we always carry with us is our Chase credit cards :)
Thankfully because of them, were able to use points for the majority of the flights on this trip. We think they can be a really good thing if used with a good strategy…and it took Em a ton of research to create ours! She says the best thing is to think about what your goal is, then create a strategy based on that and on what you normally spend before applying for any. Here are our top two recommendations for beginners!
Best Travel Card: Chase Sapphire Preferred – $95 annual fee but get $600 cash back when you meet the bonus spend, and 2% cash back on travel & dining (1% on everything else) – plus get an extra 25% when redeeming points through the Chase Portal
Best No Annual Fee Card: Chase Freedom Unlimited – get $200 cash back when you meet the bonus spend, and 1.5% cash back on all purchases
If you have any questions about credit cards or any of our favorite travel gear, feel free to ask – we're more than happy to answer anything, and hope this is helpful for you as you prepare for your travels!
The post Our Top 10 Recommendations for Best Travel Gear appeared first on Hudson and Emily.