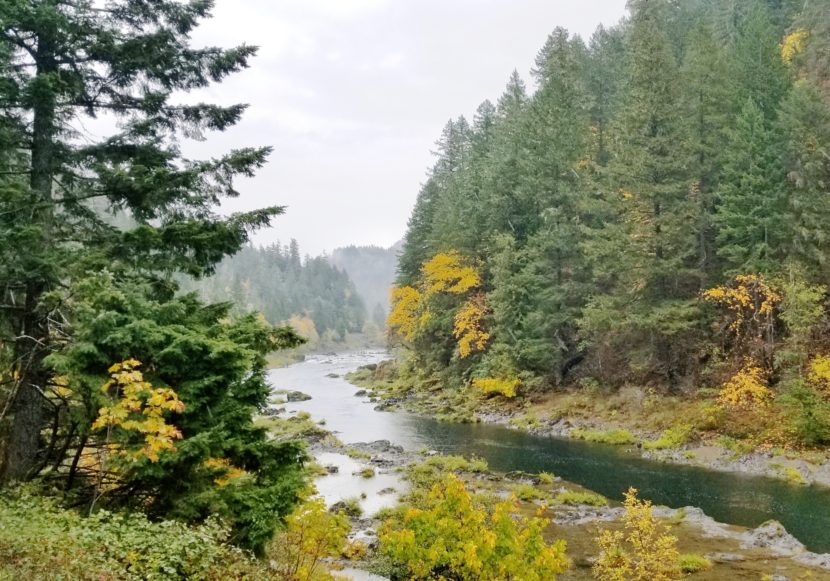 Like Washington, we split Oregon into two different parts of our trip. We did the east in September and the west side in October. Until we drove it, I didn't realize just how big the state of Oregon really is! It is the 9th largest state by land, and is super diverse. When we first entered Oregon on the east side it was 100 degrees, and then about 1 month later we were driving through snow! Here are some of our favorite things to do in Oregon.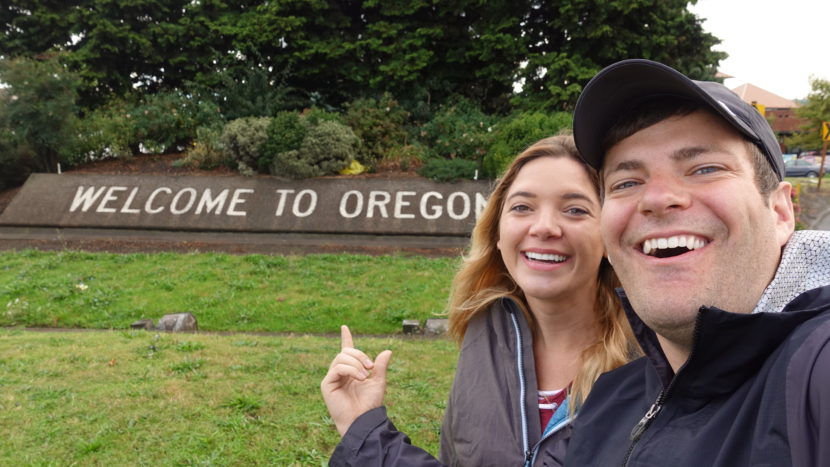 Oregon Trail
Our first stop in Oregon was the National Historic Oregon Trail Interpretive Center on the eastern side of the state. Here, we saw some of the actual wagon ruts that were made by the wagons on their 2,170 mile journey. It was truly crazy to think just what the nearly 400,000 settlers had to endure along the trip.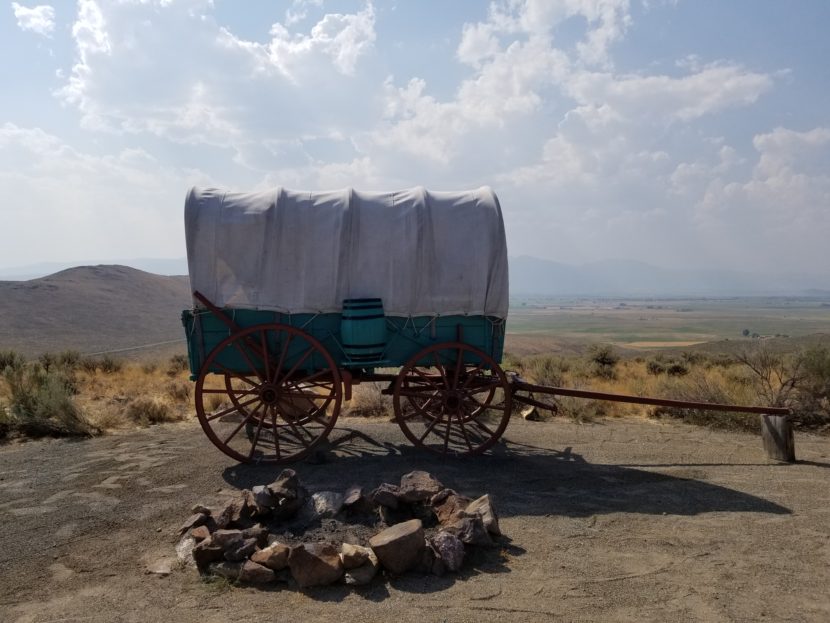 It really put things into perspective on our trip. Sometimes we break down, lose cell service, or run out of water. But these settlers faced deadly encounters on a daily basis. It wasn't like they could call a tow truck to come pick them up or take a plane back home if things got to rough. They were really incredible, determined, jack-of-all trade pioneers.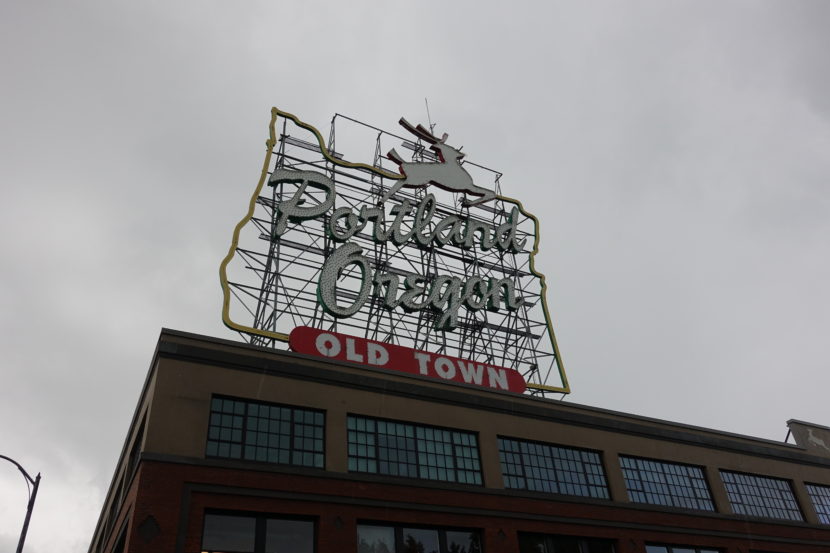 Portland
Portland was bittersweet because it was a really fun city but was also our last stop with my mom, who had joined us for a week in our RV traveling from Seattle to Portland. In Portland, we met up with one of her childhood friends who graciously allowed us to stay at their house and park our monstrous RV in their beautiful yard. One of the other awesome things was getting to experience the city with a local.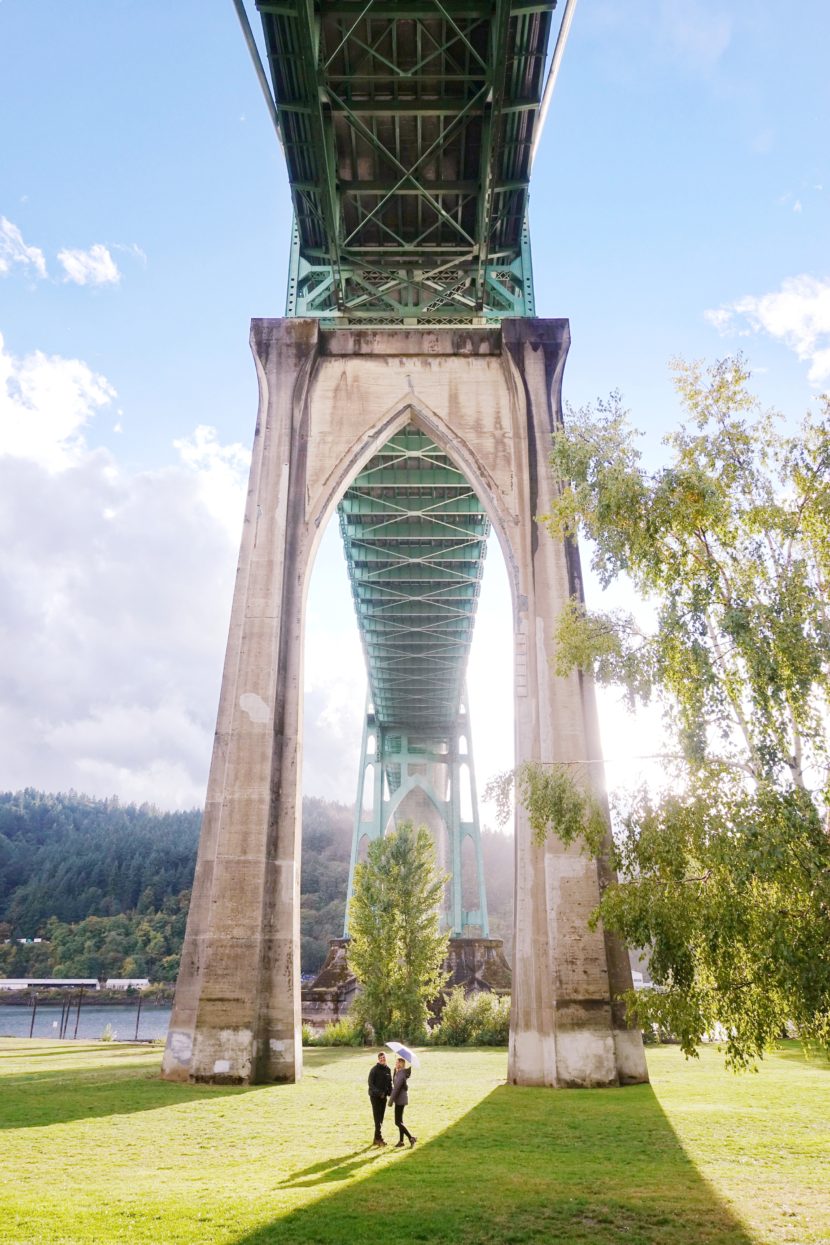 One of our favorite spots was Cathedral Park, where the bridge is designed to resemble a church cathedral. We also took our picture in front of the famous white stag sign, ate lunch from the endless food carts, walked around Powell's Books (the world's largest independent new and used bookstore), and had a taste test of the iconic Voodoo Donuts. Normally, no visit to Portland would be complete without trying all the various local artisan coffee shops, but since none us are coffee drinkers we will just have to take everyone's word for how amazing Portland's coffee really is!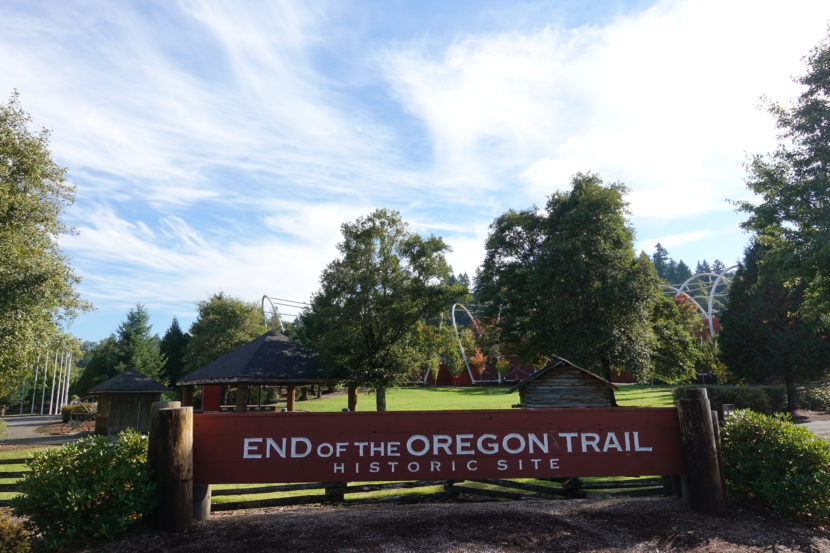 We also ventured around the outskirts of the city to see various company headquarters (like Nike and Adidas!), Oregon City (the end of the Oregon Trail!)…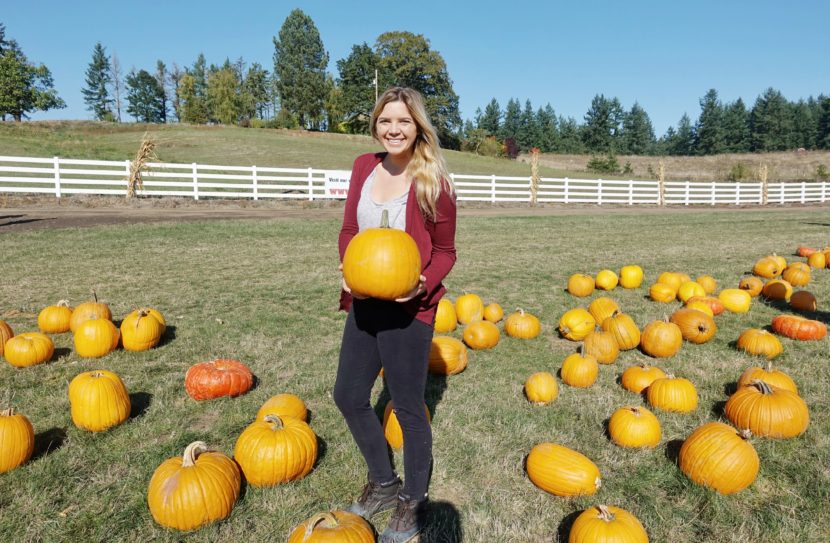 …Roloff Farms (from the TV show "Little People, Big World")…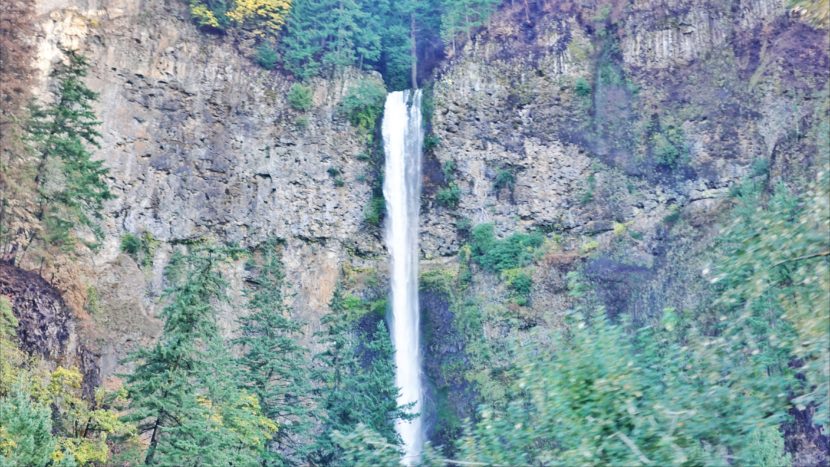 …Willamette Falls, and Multnomah Falls. Unfortunately due to the recent fire, we were only able to drive by Multnomah Falls and couldn't get out and explore the area, but it was still beautiful all the same!
One unique thing we did in Portland was "floating." A float tank, also called a sensory deprivation tank, is filled with about 10″ of water and 850 pounds of Epsom salt. The salt makes you literally float, and the tank is in pure darkness and quiet so that you aren't distracted by sights or sounds. We had heard about all of the health benefits that can come from floating, so while in Portland we visited Float On.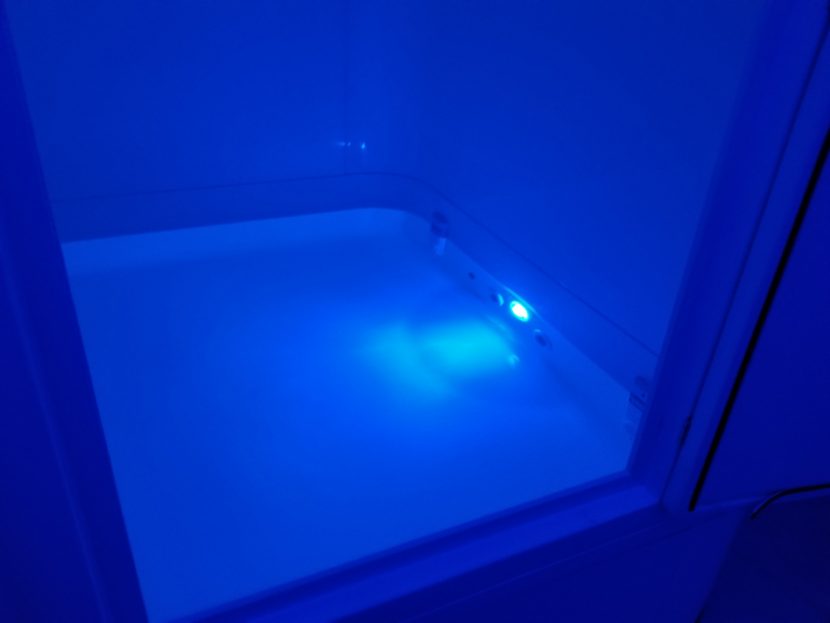 It was a very unique experience, and took a bit of time to get adjusted to (but you have 90 minutes in the tank, so there is plenty of time), but the Float team On did a great job of explaining everything and making us feel comfortable. Our muscles were very relaxed during the float, so we felt super energetic afterwards, didn't have any aches or pains at all, and felt like the "juice" had been restored to our internal batteries! We're really glad we experienced floating, and wish we could find a way to fit a big bathtub like theirs in our RV! :)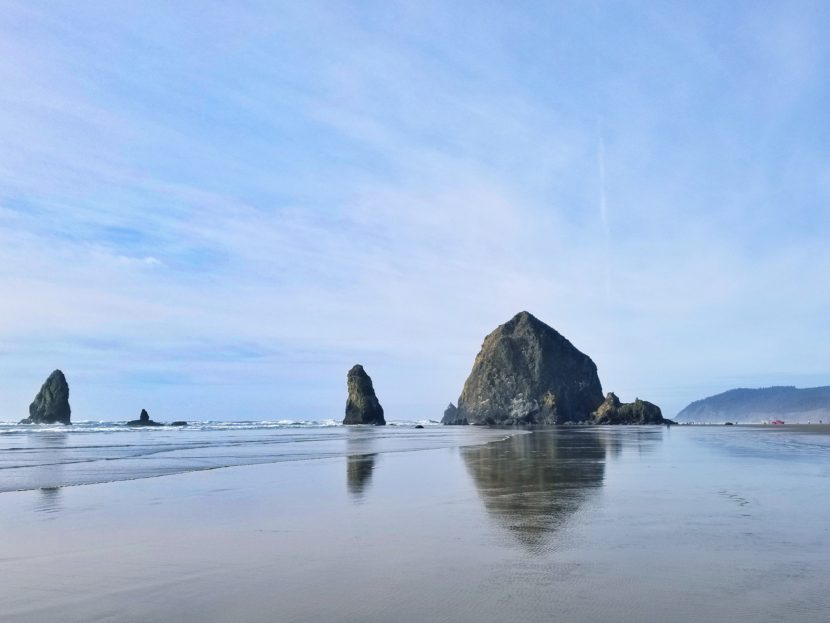 Cannon Beach
After experiencing Portland, we decided to do the beautiful drive down the Oregon coast! Possibly one of the most iconic beaches in Oregon is Cannon Beach. The massive 235 foot tall haystack rock towers on the beach, making for the perfect picturesque Oregon Coast photo. Because of how many photos we have seen of this beach, we were kind of expecting it to be a huge tourist attraction. Although there were several people close to the rock, the majority of the beach was pretty deserted and the town felt like any other small beach town. We had a lot of fun walking down the beach right up to the massive rock. It is about 1.5 hours away from Portland, but when you grew up 3000 miles away from the west coast, 1.5 hours doesn't seem quite as long. :)
Salem
We started out our RV trip across America by accidentally driving through a lot of the state capitals. So we kind of unofficially decided to visit as many as we could. So we drove a little out of the way to swing through Oregon's capital Salem on our way "down the coast."
Thor's Well
Our next stop back on the coast was Thor's Well. This is a 20 foot deep hole on the rocky Oregon coastline. It is formed in a way that makes it look as if the entire ocean is draining into this bottomless sinkhole. In addition to Thor's Well are a lot of other awesome rock formations with crashing waves. It is really incredible to watch the power of the ocean swell into these small inlets and send water 20 feet up into the air. We had a lot of fun taking pictures, but on our way back to the RV I had this grand idea to take one last photo of me standing in front of a crashing wave. So I set the camera on the tripod without even thinking about the big gusts of wind that were strong enough to push us off balance. Sure enough, as soon as I walked away from the tripod a big gust of wind came in, knocked the tripod over, and broke the camera (for the second time on our trip). It was not my brightest moment, but I guess the 3rd time's the charm. ;)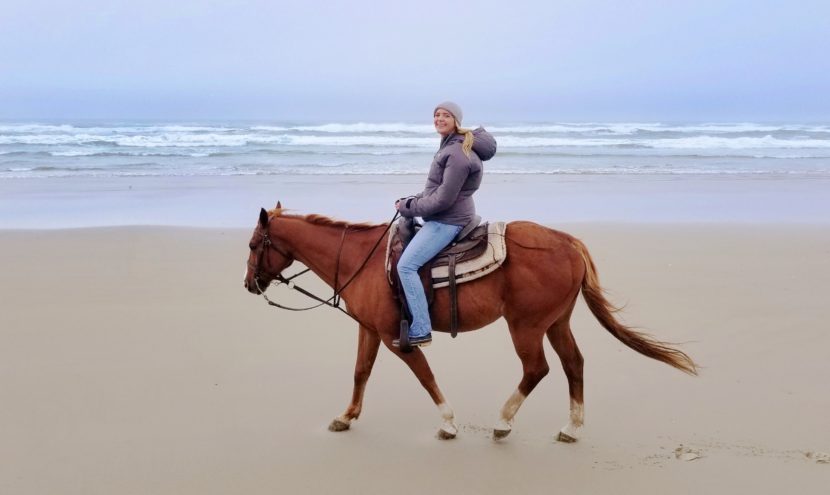 Horseback Riding
Something that Em has wanted to do since the start of our trip is go horseback riding. However, we wanted to wait to go riding in an area that was really unique and special. So when we found out that there was a place we could ride horses on the Oregon coast, we knew we found the perfect place.
Located in Florence, Oregon, C&M Stables has been operating for almost 40 years – and, due to the temperate climate along the Oregon coast, they are open 365 days out of the year! We had a wonderful guide who loved the horses and did a great job on educating us in addition to allowing us to just have fun!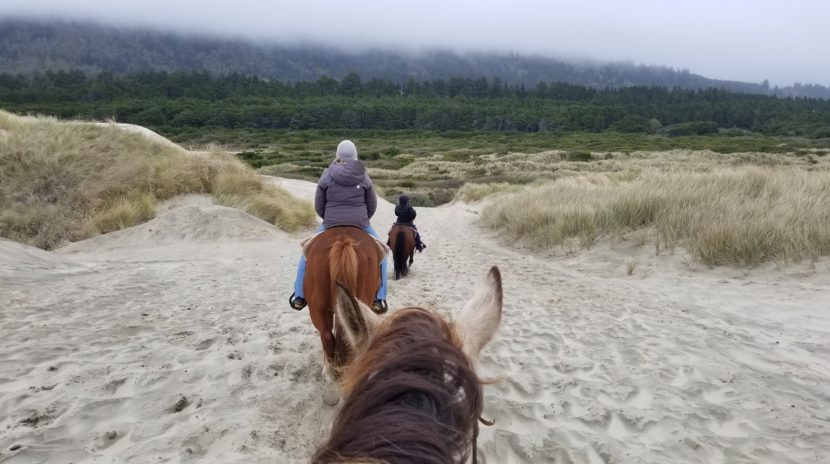 Not only did we get to ride on the beach, but our guide also took us through woods, sand dunes, and even a temperate rainforest. It is probably one of the most scenic and diverse landscapes that you can experience on a two hour horseback ride! Both of our horses were super, and really well behaved. It was a really incredible feeling getting to trot along the beautiful Oregon coast on such amazing horses!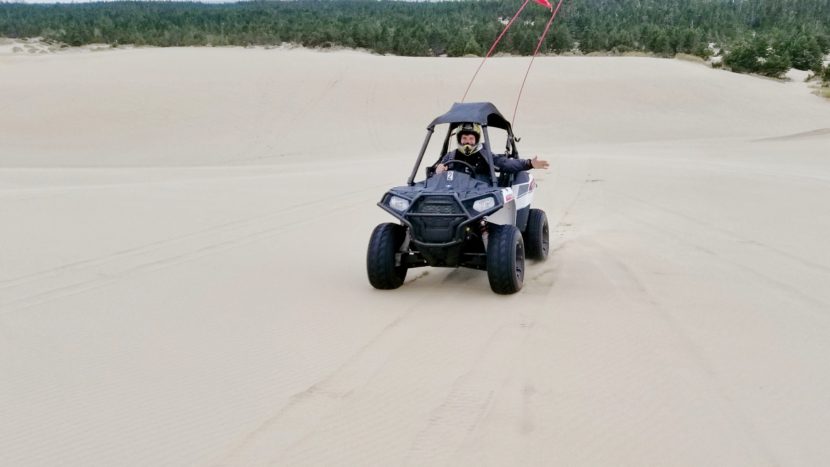 Sand Dune ATV Riding
We have been able to experience a lot of fun, new things on this trip, but one of my absolutely favorites was definitely getting to ride ATVs on the Oregon sand dunes. I had such an awesome time that afterwards I started trying to plan how we could live next to the dunes so we could ride every day!
We have our motorcycles, but they can be a little tricky to keep your balance on shifting sand, and we didn't want to have to find a place to clean them off. So we headed to Spinreel Dune Buggy and ATV Rentals near Coos Bay, and hopped on a four-wheeler and dune buggy. The Spinreel team made the whole process super easy and we were out on the dunes in no time.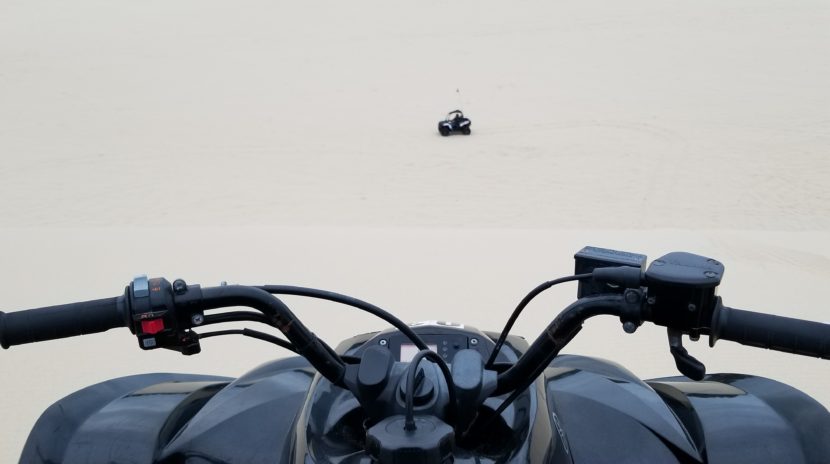 The Oregon Dunes are the largest expanse of coastal sand dunes in North America. The stretch of dunes that we were riding seemed to go on forever, and we were the only ones on the dunes! I was so amazed at how easily the ATVs dashed up over each dune. I don't think that I stopped smiling the entire time that I was riding. This would definitely be on my top 5 must-do repeat experiences of our trip so far!!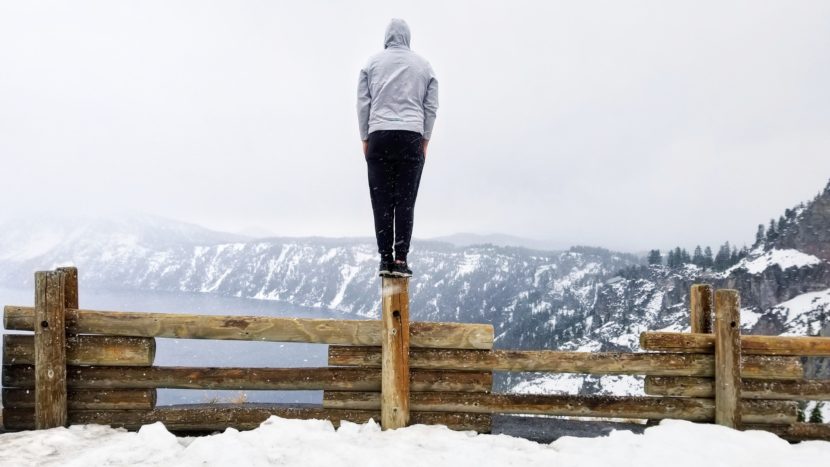 Crater Lake National Park
If you ask an Oregonian what are some of the prettiest areas in the state, you will likely hear the answer Crater Lake. This national park is so popular that it has even made it onto the Oregon state quarter, and for good reason. At nearly 2,000 feet deep, Crater Lake is the deepest lake in the United States! It was created by rain and snowfall filling up a caldera that was created by a massive volcanic eruption.
Em and I decided to take a detour off the Oregon Coast to see Crater Lake National Park. We were really looking forward to seeing the impressive body of water, but we were actually blown away long before we ever even saw the lake. The drive there winded along this beautiful creek. The rushing water, changing fall leaves, and rolling cliffs made for one of the prettiest drives of our trip. Each turned seemed to be even prettier than the last!
Our plan was to drive along West Rim Drive until we made it to Rim Village in Crater Lake National Park. However, we only made it about halfway before it started snowing pretty hard. Also, a really big fog set i,n so it made it difficult to see the lake. Fortunately, we made it to an overlook before the heavy fog hit us, so we did get somewhat of a glimpse of the beautiful lake. It was crazy to go from 70 degree weather one day to jumping through piles of snow at the top of Crater Lake, but totally worth every minute!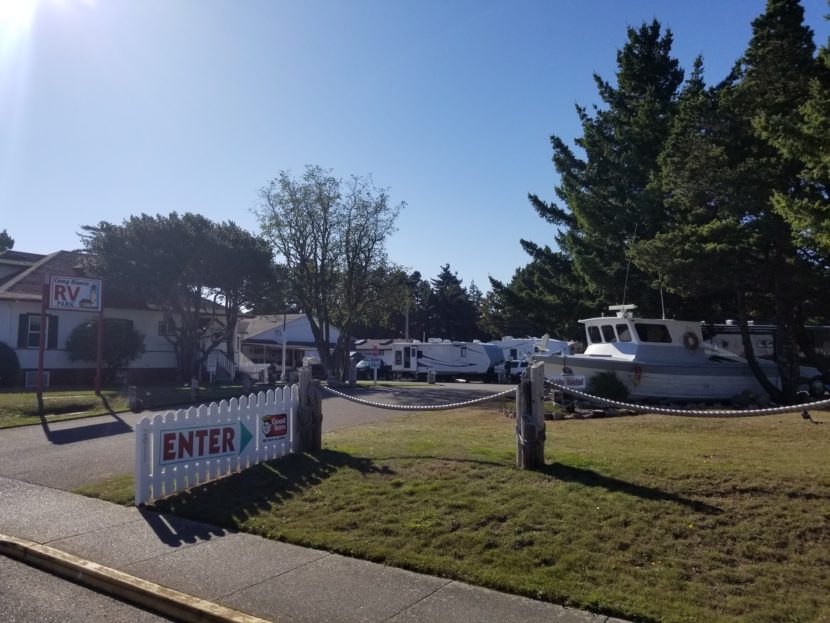 Camp Blanco RV Park
In the past year of our trip, I don't think we slept in the same area for longer than a week. There is just so much to see and do that we just don't like to sit still. However, after over 16,000 miles of driving we decided to take 8 days and just relax in the same spot. And what better place to relax than the beautiful Oregon coast?!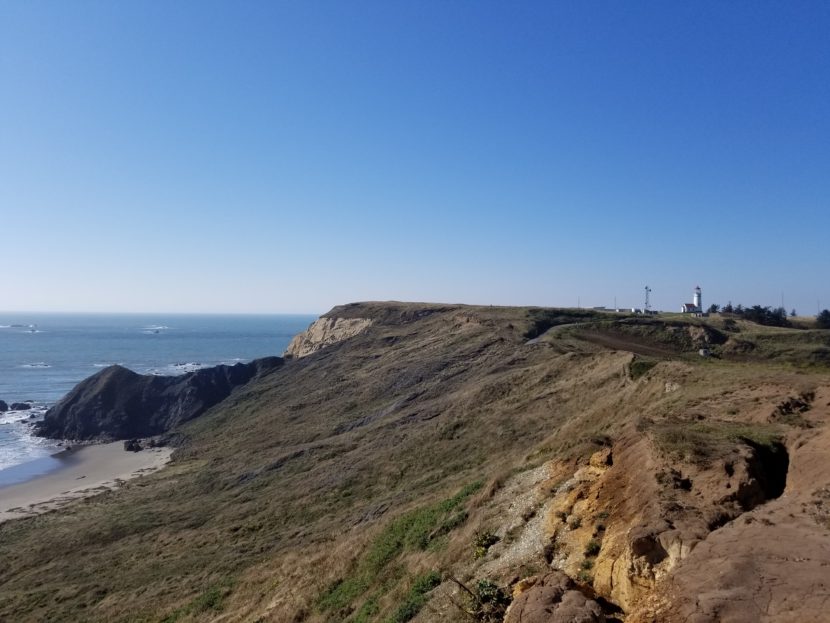 We found on the map a beautiful little coastal town called Port Orford. The town sits right on the ocean and is surrounded by a lake and several rivers. We read wonderful reviews about Camp Blanco RV Park, and were SO glad we decided to stay there. We have met nice campground hosts before, but the owners (Jeff and Angie) and host (William) of Camp Blanco RV Park were the kindest we've ever met! They went above and beyond to make us feel welcome.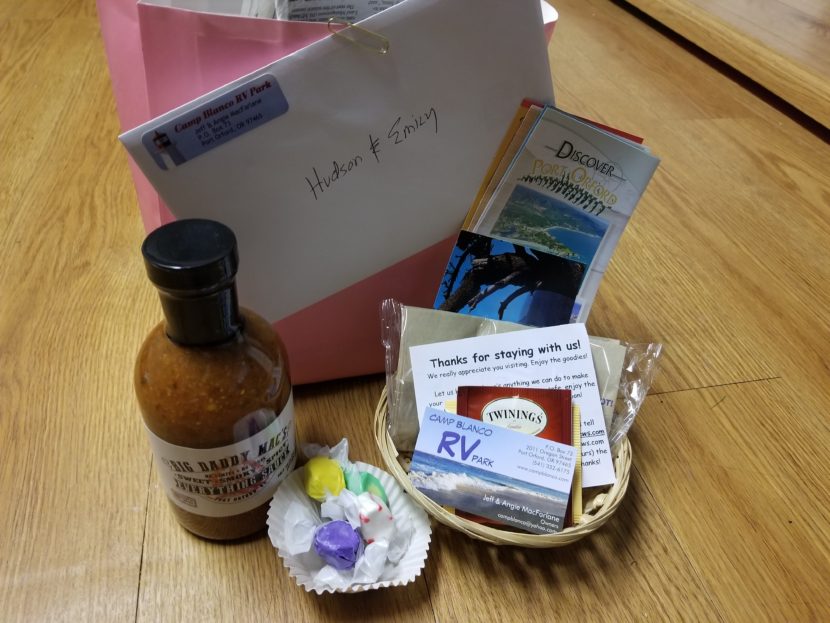 They greeted us with a gift basket filled with a map of the town, playing cards, candies, their "Big Daddy Mac's Everything Sauce" (check it out here – it is SO delicious!), and an assortment of other amazing treats. They showed us where the best places to eat and explore were in the town and right away we felt at home! We even had RV issues during our stay that they helped us with, which was SO incredibly kind.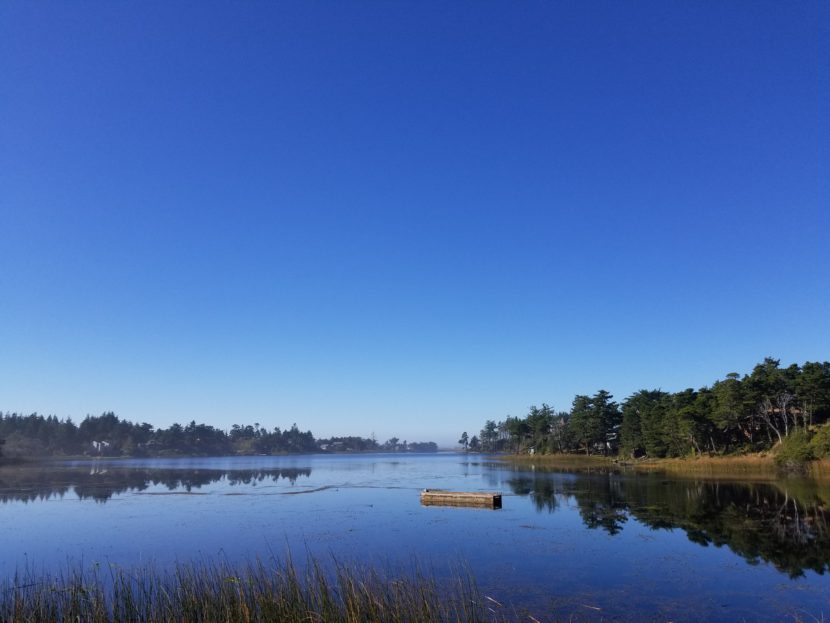 The RV park was right across the street from a laundromat, car wash, and a Dollar General, so everything we needed was less than 500 feet away from our RV! It was a real treat to be hooked up to unlimited water and electric, and just about every day we would run to the coast – talk about the most beautiful sunsets! After this amazing experience, I think we might look for other small towns to stop and take some time to just relax and enjoy along our trip! But I don't think anything can beat the people of Camp Blanco RV Park!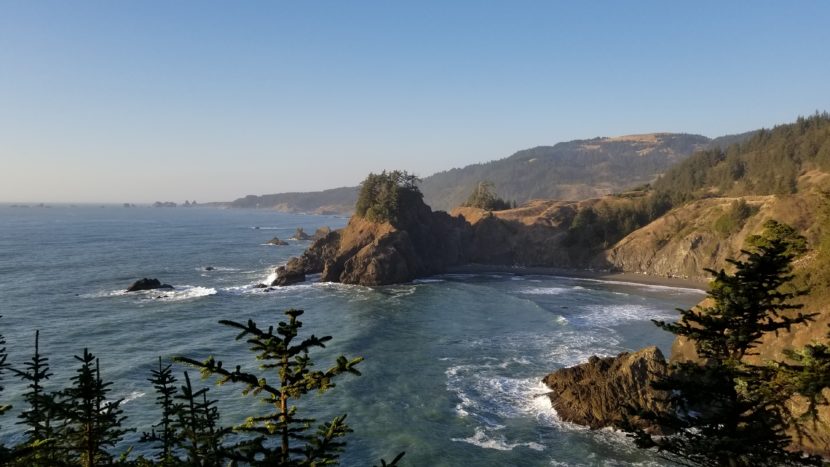 The Beauty of the Oregon Coast
The Oregon Coast is named "The People's Coast" because it is 100% public land, which is really incredible. It makes it so easy (and free!) to access, and is SO incredibly beautiful.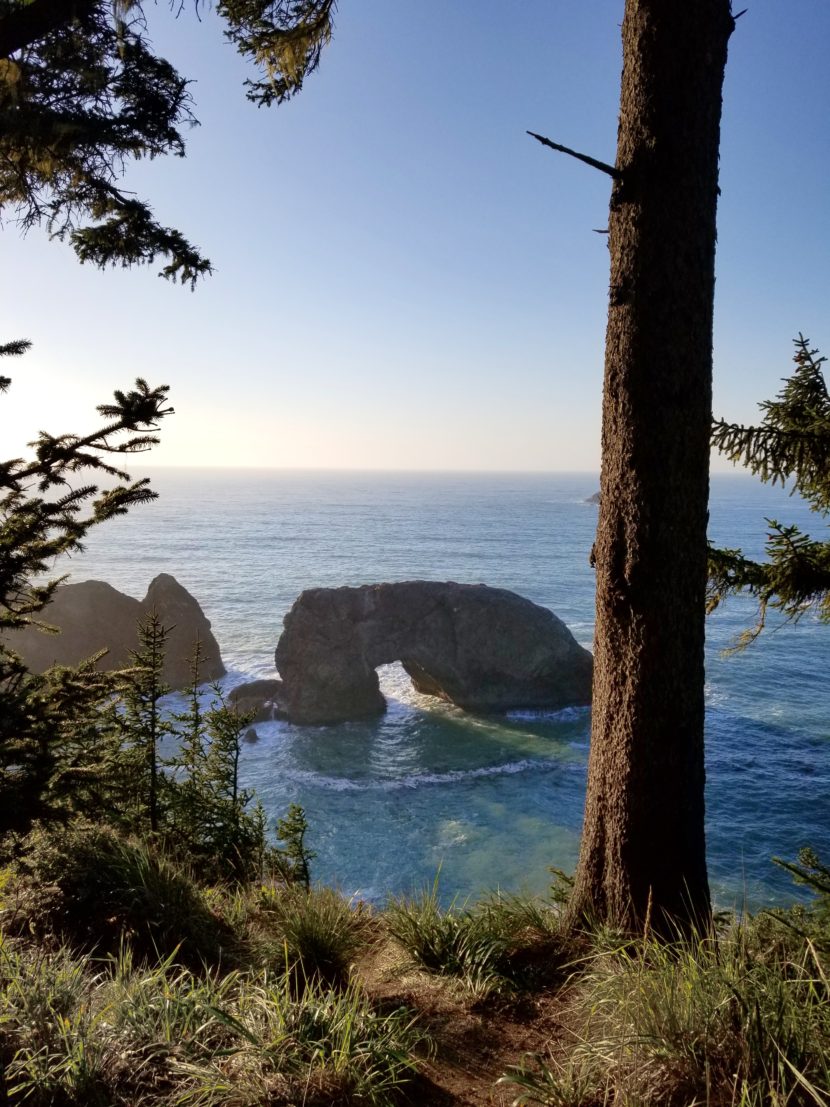 We saw the majority of the coast – from Cannon Beach all the way to California – and our favorite stretch of it was the southernmost 12 miles. There are so many rock formations and just unbelievable views – we kept pulling over with the RV (not an easy task) to take pictures and enjoy God's incredible creation!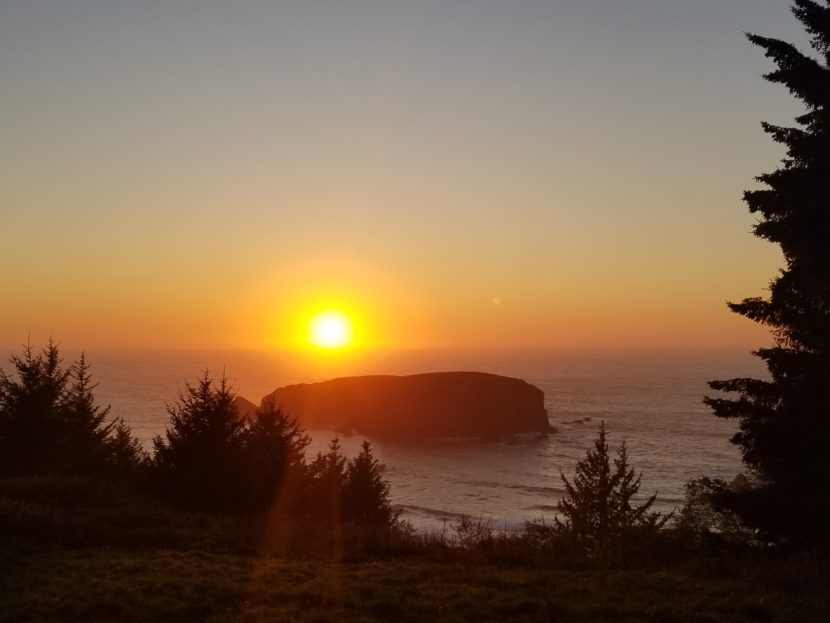 It was a wonderful way to end our time in Oregon, and we're grateful for the opportunity to have experienced so much of the coast! If you've been to Oregon, we'd love to hear what your favorite things to do in Oregon are!
The post Oregon appeared first on Hudson and Emily.