People love weddings! So give your guests something to rave about with one of these fabulously Personalized Wedding favors.
We can't get enough of Beau-Coup's incredible range, so we've partnered with them to bring you the creme de la creme of wedding favors!
So without further ado, let's dive into our top picks!
1.) Personalized Stemless Wine Glasses
We love these gorgeous glasses!
What could be better than toasting eternal happiness and joy with the wedding favors you bought for your guests?! Fun, practical and oh so cute.
Luckily for you, Beau-Coup can personalize these glasses in a variety of designs and colors, so you're sure to find something that compliments the theme of your wedding.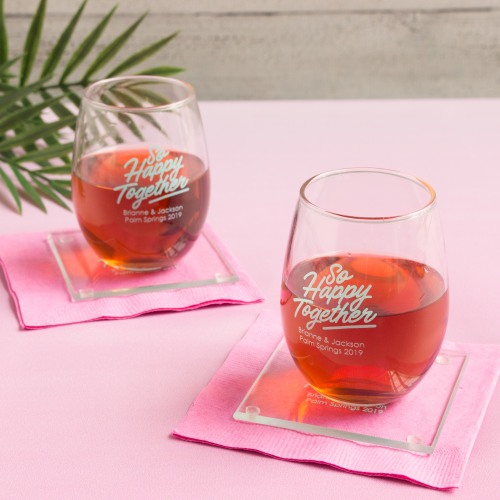 2.) Printed Mini Mason Jars
In the voice of Chandler Bing: Could these mini mason jars be any cuter? To which we respond, no, no they can't- they're divine!
Fill these beauties up with your favorite candy, nuts, bath salts, mints, etc. – whatever floats your boat! These are ideal if you're looking to give your wedding a unique personal touch.
Each pretty glass jar comes with an imprinted message that you can customize (screw-top lid included).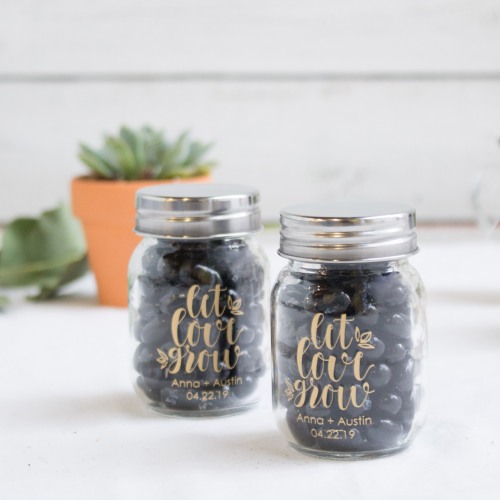 3.) Personalized Wedding Themed Candy Jars
If you're planning a vintage themed wedding- these are the perfect wedding favors for you!
These candy jars are crafted using durable glass and come complete with a metal screw-on lid.
You might want to consider using these wedding favors to add a splash of color to your wedding reception. You could use candies that compliment the general theme of your decor. Or, use alternating brightly colored sweets to spice things up!
Beau-Coup allows you to personalize each jar with one of several fabulous lid designs. You can also add the names of you and your partner to these pots, as well as the date of your wedding.
Or, you might want to print a short message to your wedding guests- whichever you prefer!
All you need do is simply peel and stick the labels onto each lid, and fill the jars with the candy of your choice. Then voila you've created the perfect personalized wedding favor!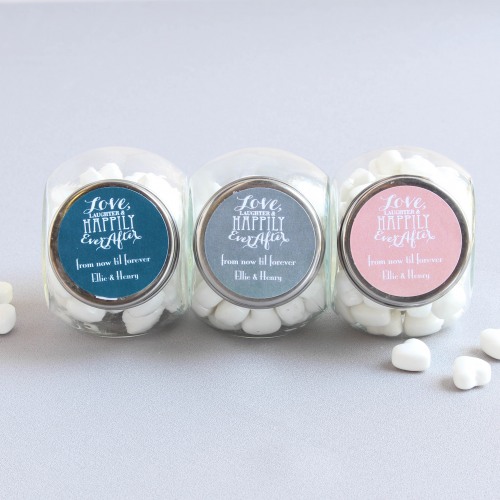 4.) Sunglasses with Personalized Labels
Sunglasses make for ideal wedding favors if you're hosting an outdoor wedding or heading off to an exotic destination ceremony.
Not only is this a gorgeously unique idea, but sunglasses are super practical. This model offers 400UV protection!
Needless to say, your guests will love them, and they'll make for fun photos- your wedding guests won't be forgetting your big day anytime soon!
So, this is how it works. You choose what you want personalized on your sunglasses and then it's printed on a sticky label.
When you receive your personalized wedding favors, all you need to do is peel off the label and stick it onto the sunglasses!
Simple, easy, and incredibly stylish- what's not to love?!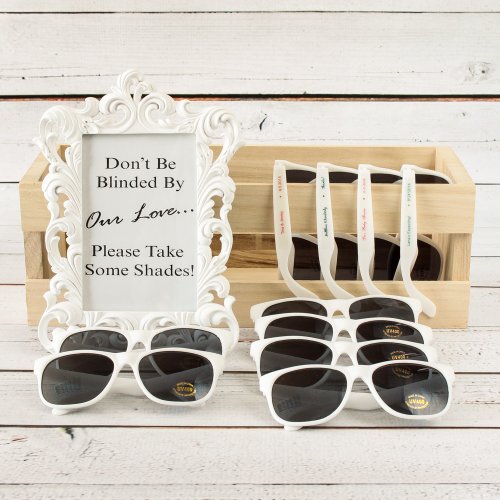 5.) Personalized Can Sleeve
Personalized can sleeves scream festival wedding!
Picture this. You and your wedding guests partying the night away on a warm summer's evening, under a flurry or fairy lights and moonlight- it really doesn't get much better than that!
A personalized can sleeve hits the tone of this ceremony bang on- drink, dance and be merry!
Plus, Beau-Coup gives you the option of choosing a wedding-themed icon to print on you can sleeves. Alternatively, you can provide your own custom artwork!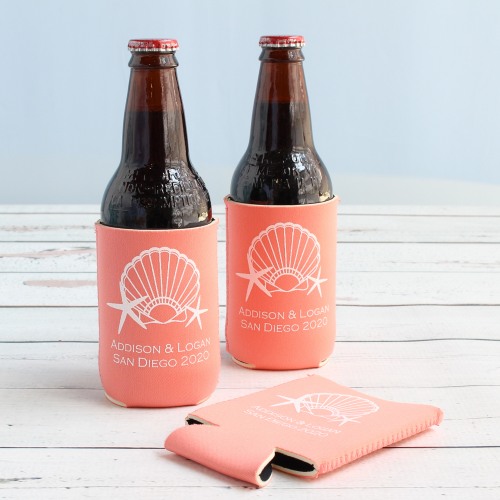 6.) Personalized Aluminum Top Bottle Stopper
Are you and your partner famous for being a pair of wine buffs? Or, do you just enjoy a drink? Either way, we're sure these personalized bottle stoppers will go down a treat with your wedding guests!
The shiny aluminum makes for a stylish finish on an oh so practical gift for your guests. These always come in handy and you can never find one in your kitchen drawer!
Plus, you can choose the color, so we're sure it'll compliment your wedding theme!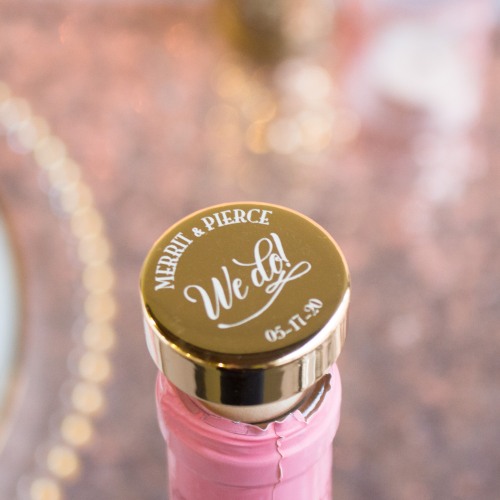 7.) Personalized Cork Coasters
Cork is so in right now! Especially, if you're hosting a rustic, barn, or shabby-chic themed wedding reception.
These coasters are made out of 100% natural cork and can be personalized by your choice of design and message. Utterly beautiful!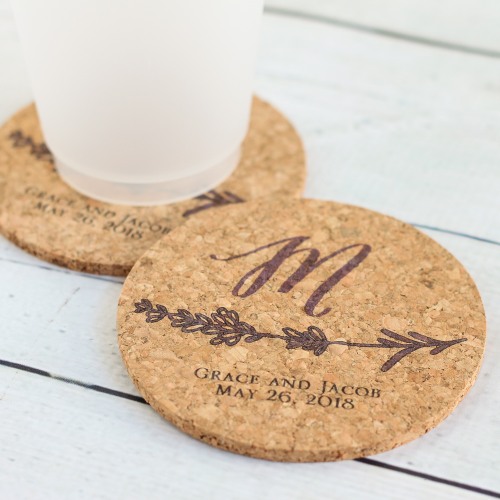 8.) Personalized K-Cup Coffee Favors
If you love your morning cup of coffee as I do, then you'll love these personalized K-Cup® coffee favors.
This gourmet roast is sure to tantalize the taste buds of your guests while providing a sentimental reminder of your special day.
You can choose from loads of designs and insert a thoughtful message to your guests,
We recommend throwing these cuties into a little wedding favor box. This certainly rounds of this fabulous treat!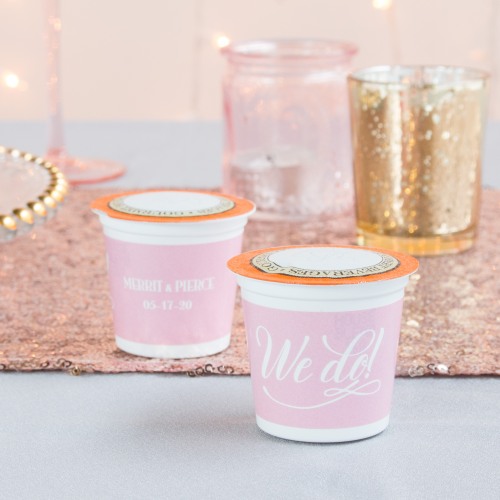 9.) Personalized Jam Favors
We can't get over how adorable these miniature personalized jams are! These are a must-have if your wedding venue is on a farm.
These favors come in a choice of sizes, all of which are pre-filled with the jam flavor of your choice.
There's an insane amount of jams to choose from. They virtually have everything from traditional strawberry to the inventive blackberry with chocolate! If you're finding it hard to pick a flavor, don't worry too much, because they're all utterly scrumptious!
Plus, you can select the label style. As well as your names and wedding date. You can also opt for even prettier presentation in the form of decorative paper and raffia ribbon (this option seems like a no-brainer!)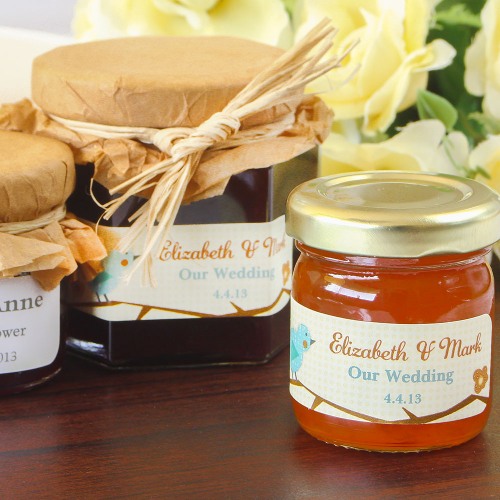 10.) Personalized Popcorn Boxes
If you and your partner are complete movie geeks, then this wedding favor is a fabulous hat tilt to your passion for cinema.
These brightly colored and patterned popcorn boxes are a great conversation starter for your wedding guests.
They can be crafted in the color and design of your choice. Plus, you can personalize the label.
However, our favorite feature is the scalloped edge across the top of the box. This provides an elegant touch to a fun-filled wedding favor.
All you need to do is load these bad boys up with your favorite flavor of popcorn!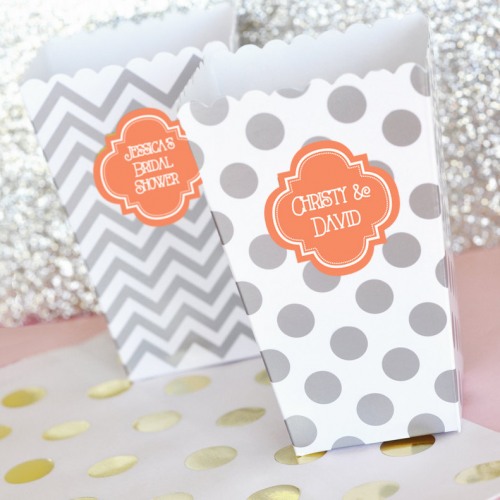 11.) Personalized Candle Tin
These customized candle tins are utterly swoon-worthy!
Each candle is placed in its own tin and comes complete with lid and a corresponding label.
Similar to the previous favors discussed in this post, your sticky label will be printed in the design of your choice.
All you need to do is type in the name of you and your partner and the date of your marriage (when ordering these delights). Then, when these lovely looking candles come in the mail, just peel off the label and stick it onto the lid of the tin. Simple!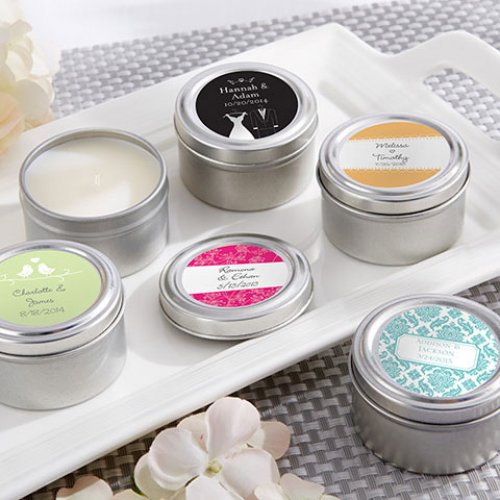 12.) Personalized Wedding Tea Bag Favors
One of the best things about this style of wedding favor (other than the fact they look super cute) is that they have a shelf life of two years!
So, if you're a bride to be who prides herself on her organizational skills, you can have these paid, ordered, and delivered well in advance of your special day.
Plus, this personalized wedding favor is an utterly unique gift to give your wedding guests and an excellent way of remembering a truly happy occasion.
What could be better than your loved ones reminiscing about your big day over a steaming hot cup of tea- provided by yours truly!
These bags contain a traditional blend of black tea, tightly sealed in a white glossy foil envelope. This locks in the flavor and keeps the tea fresh.
Plus it provides the perfect canvas for your adorably personalized labels.
(A small amount of assembly is required- like some of the previous examples).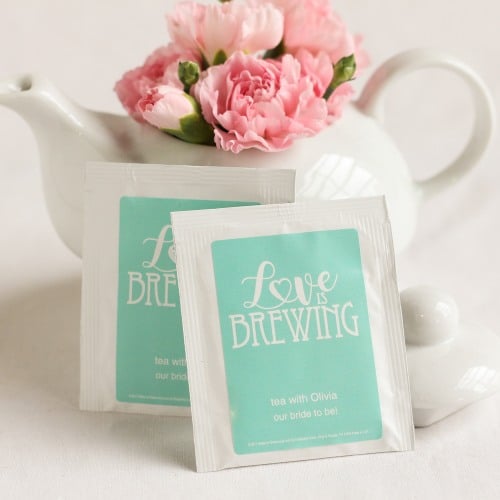 13.) Custom Macarons
If you're looking for a wedding favor that compliments a Parisian theme or, if you want to add a dash of class and splendor to your special day, you're in the right place.
Customized macarons ooze elegance and sophistication. These light and airy treats are available in a range of colors, flavors and custom messaging.
Please note, these wedding favors are only available for shipping via the 1-day or 2-day delivery option if you're ordering between April 15th and September 30th.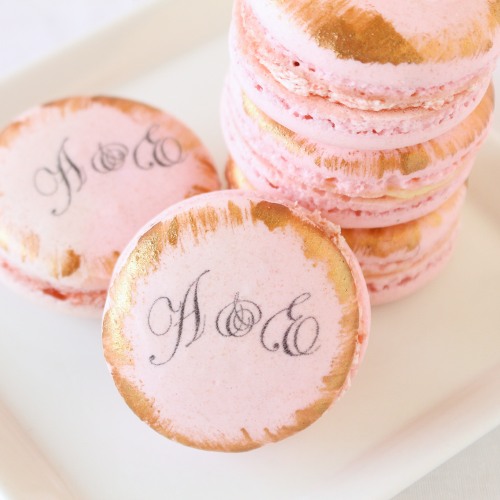 14.) Personalized Watering Can
This is another fabulous choice if you're hosting a rustic or barn themed wedding. Or, if you and your partner are avid gardeners!
This adorable set comprises a mini watering can and a pouch of seeds- it doesn't get much more unique than this folks!
The packet of seeds rests inside the watering can, making the appearance look neat and tidy. Whereas, the outside of the can adorns your pretty and personalized custom label.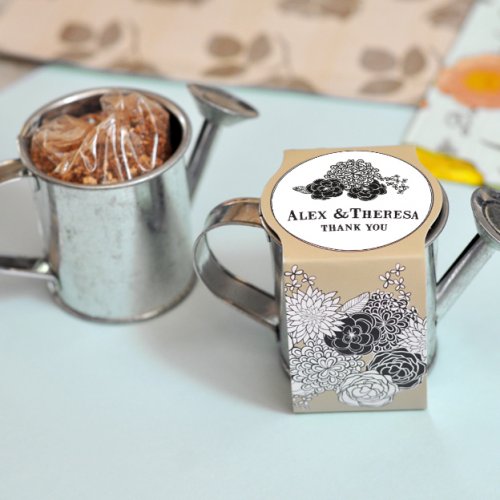 15.) Compass Favor with Personalized Label
Have you and your partner traveled together? Or, are you considering upping sticks and heading off around the world soon?
If so, these wedding favors provide the perfect opportunity to incorporate you and your partners shared experiences with one another. An utterly thoughtful and endearing touch to your special day!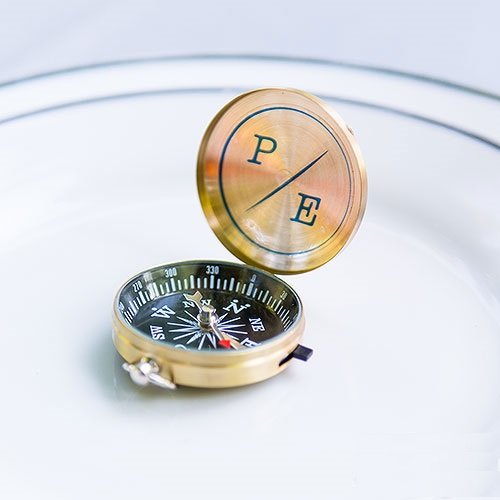 16.) Personalized Bath Salt Bottle
These customized bath salt bottles are a charming way of thanking your wedding guests for being part of your special day.
You can choose from 11 different scents (each with a coordinating color), so we're sure you'll find something that suits your surrounding decor.
17.) Personalized Wedding Themed Cookies
These are simply amazing!
These beautiful custom-designed cookies are baked using a traditional butter cookie recipe, with a touch of almond flavoring (be cautious of anyone who may be allergic to nuts).
They're hand decorated with royal icing which forms the delicious sweet and crunchy topping.
Your custom cookies will be lovingly wrapped in cello bags and tied using curling ribbon. This means your guests have the option of indulging there and then or alternatively, they can take their cookie home and enjoy it later.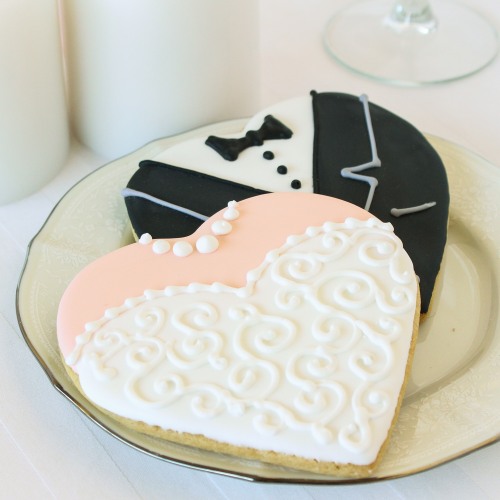 18.) Custom Wedding Fortune Cookies
These customized wedding fortune cookies have been overwhelmingly popular with brides to be.
Fortune cookies are not only yummy, but they're fabulously original! What better way to say something from the heart than by printing it on a message inside a fortune cookie?
Each cookie is made using the finest ingredients and carefully dipped in milk chocolate. After that, it's garnished with either mini sprinkles or a wedding-themed decoration of your choice.
Plus, you can choose the color of the chocolate base, up to two shades of sprinkles, and one out of several themed decorations.
Like the wedding-themed cookies above, these fortune cookies also arrive in individually wrapped and sealed cello bags.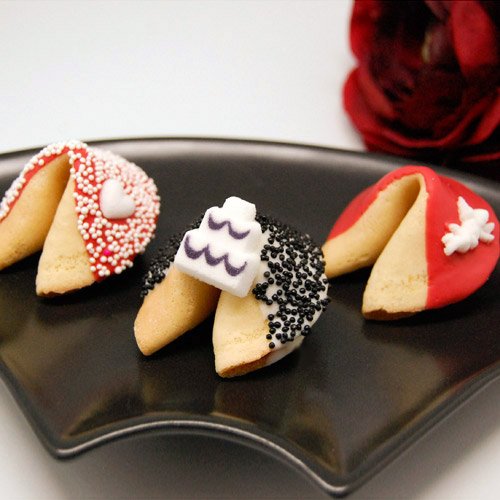 19.) Personalized Sunscreens
If you're looking for the ultimate wedding favor for your destination wedding, then look no further. We've found the ideal gift for your wedding guests.
Cue, little-personalized sunscreens!
Each bottle contains 1.5 ounces of fresh, tropical scented sunscreen- jam-packed with organic aloe vera and vitamin E.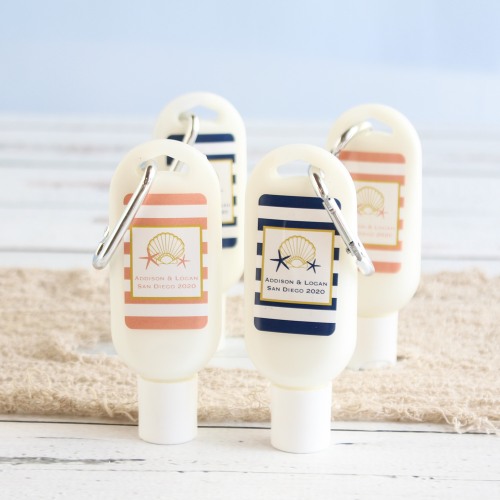 20.) Personalized Two Tier Mini Cakes
Yes, that's right- we've saved the best till last. Let us introduce to you, these two-tier miniature cakes!
It's almost as if each of your guests gets to cut and eat their own mini wedding cake!
These goodies can be baked in either a vanilla flavor or double chocolate pudding- whichever you prefer. Then coated with white chocolate icing (in the color of your choice).
All you have to do is choose the design of the cake and the color of your frosting, and your cakes will be cooked to order!
Plus, you can personalize the top tier of the cake with a three-letter monogram or, with two lines of text.
These favors arrive elegantly packaged in clear cellophane with your choice of ribbon (just like the cookies we just spoke about).
Please be aware this item is only available via 1-day shipping between May 1st and September 30th, and 2-day shipping the rest of the year. Also, Tuesday deliveries can only be done on the 1-day shipping service. We also recommend selecting the optional $15 cooler fee if you're ordering these favors during the summer months.
This is the best way to ensure your cakes stay fresh and intact for your special day!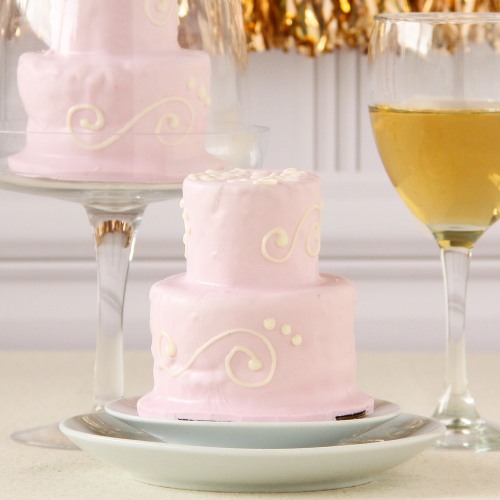 We hope you loved reading this post on personalized wedding favors as much as we enjoyed writing it. Please feel free to let us know in the comment which one's your favorite; we'd love to hear from you!
*In the spirit of full disclosure our affiliate links have been used throughout the article but we only ever endorse products and companies we have complete faith in and fully endorse. Happy planning!
The post 20 Uniquely Personalized Wedding Favors Every Bride Should Consider appeared first on Cake and Lace | a wedding blog.