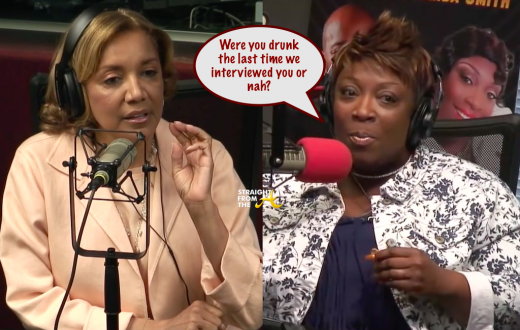 Former Atlanta television Anchor Amanda Davis was recently put on the spot by V-103's Wanda Smith of the Ryan Cameron Morning Show.
Davis, who retired from her top anchor spot after obtaining several DUI arrests, paid a visit to the popular morning show to promote her CBS46 three-part special which focuses on her alcohol addiction and depression.
While Cameron played nice, Smith was given the task of 'keeping it real' with Davis. A task which Wanda certainly took to heart as she blasted the embattled anchor live on-air about showing up for a previous interview inebriated.
Details + video below… (more…)
Related Posts
Atlanta Radio Tea: Frank Ski Returns to V-103 (Should Ryan Cameron Be Worried?)…
Mugshot Mania – Fox 5 Atlanta News Anchor Amanda Davis Busted For DUI…
Atlanta News Anchor Amanda Davis Announces Retirement After DUI Arrest… [VIDEO MESSAGE]
Atlanta Radio TEA! Miss Sophia Calls Former Friend Wanda Smith "FAKE"… (VIDEO)
Atlanta Radio Tea – Franks Ski is 'Out' Ryan Cameron Is 'In' – The End Of The Frank & Wanda Morning Show… [CONFIRMED]
Kordell Stewart Speaks Out About Divorce from Porsha & Gay Rumors… [VIDEO]
ON BLAST! Actress Janet Hubert 'Outs' #RHOA Kenya Moore's Hot Mess Production…
Attorney Phaedra Parks Provides Mentorship on "Wednesday's Child" [PHOTOS + VIDEO]
Mugshot Mania – Atlanta Media Personality Elle Duncan Arrested For DUI…
FACEBOOK FAIL! Bobbi Kristina's Cousin Blasted For Lying About #Pray4BK Tribute Video Funds…
Straight From The A [SFTA] - Atlanta Entertainment Industry Gossip & News