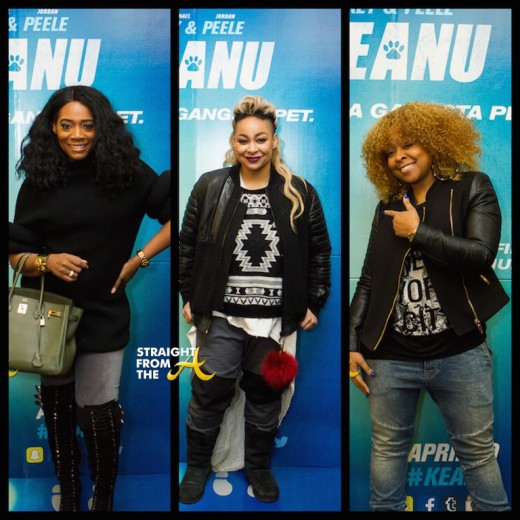 Yandy Smith (Love & Hip Hop NY), Raven Symone (The View) and Monifah (R&B Divas) were a few of the celebrities who attended the New York screening of the new film KEANU last night (April 28, 2016).
[FLASHBACK: T.I. Hosts KEANU Private Screening In Atlanta (PHOTOS)]
Several New York influencers were invited to AMC 19th Street to enjoy a special screening of the flick, which was hosted by VIBE Magazine.
Details + photos below… (more…)
Related Posts
#RHOA Nene Leakes Explains Why She Labeled 'The View' Hosts 'Mean Girls'… [VIDEO]
VIDEO: Raven-Symone Admits She's 'Discriminatory' Against Black Names + #BlackTwitter Responds…
In Case You Missed It: Nene Leakes Talks #RHOA & More on 'The View'… [FULL VIDEO]
"Love & Hip Hop: New York" Season 6 Reunion (Part 2)… #LHHNY
ICYMI: Love and Hip Hop: The Wedding… [PHOTOS + FULL VIDEO]
EXCLUSIVE VIDEO! Celebrity Hairstylist Derek J Does Drag! 2012 Stars of the Century Turnabout Show [PHOTOS]
Hot or Not? Raven-Symone's Mismatched Swag… [PHOTOS]
SPOTTED: Actress Raven-Symone 'Out' With Her New Boo… [PHOTOS]
Single Again: Raven Symone Comes OUT to OUTFest WithOUT Her Girfriend… [PHOTOS]
Raven-Symone Prefers Thick Thighs Over Her New Thin Figure…
Straight From The A [SFTA] - Atlanta Entertainment Industry Gossip & News