The Steve Harvey Show is promoting relationships this week in honor of Valentine's day and in doing so, he conducted an interesting social experiment involving how superficial some women can be.
Steve sets up two blonde lacefront wearing twin sisters from Atlanta on dates with two men that meet all of their qualifications, but wait! There was a twist!
The men were totally disguised during the date, giving the illusion that they weren't as attractive as they are in 'real life'!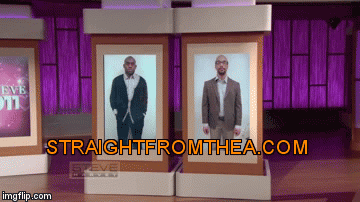 Details + watch video below… (more…)
Related Posts
Kyle Norman (Jagged Edge) & Wife Discuss Domestic Abuse on The Steve Harvey Show… [VIDEO]
WATCH: Bishop T.D. Jakes Helps Angie Stone & Daughter Diamond Mend Tumultuous Relationship… [FULL VIDEO]
Make it Stop! ~ Steve Harvey & Friends Go Shirtless
On Blast: Steve Harvey's Ex-Wife Mary Spills the T.E.A. [VIDEO]
FOR DISCUSSION: Is Facebook Ruining Your Relationship Status?
Steve Harvey Reportedly Robbed By Clark Atlanta Intern…
An Ode To 'Old School' Valentine's Day… [PHOTOS]
Nightline Face-Off: Why Can't Successful Black Women Find A Man? [VIDEO]
♥ A Valentine's Day Salute to My Favorite Atlanta Couples
Love & Taxes: Steve Harvey Reveals $20 Million IRS Debt Almost Ruined His Marriage…
Straight From The A [SFTA] - Atlanta Entertainment Industry Gossip & News