Disclosure: This post is sponsored by VerveLife in conjunction with Blog Meets Brand, and I have been compensated for my participation. All opinions are my own.
If you've been following my fitness goal story, my annual goal is to run 12 5ks in 2016! I LOVE 5ks just because they are fun; they give you an incredible adrenaline rush, and you feel great for the rest of the day. Mostly, I was interested in accomplishing 12 this year because I've always wanted to say, I did it before and who knows what else I can accomplish in my life if I can Finish this goal.

My Progress
While Running 12 5ks in a given year is a simple task, it is not easy. I am right on track having ran six 5ks so far this year. WooHoo! I can't lie it has been tough getting my butt in gear and showing up, let alone giving it my all in each Race. But I am already halfway there, and I have my 5k routine to thank for it. I have a set of rituals I do before each race to make sure I am mentally and physically prepared to run. Below I count the steps on how I prepare for a 5k.
Steps to prepare
The week before

-Get a few runs in for the week
The best way to accomplish any task is practice. Running is not something I do very often, but when I condition myself to believe that it's not a big deal, andI've done it before, I can accomplish my goal with ease.
-Stretch!
Stretching is the best way to prevent injury, and this is especially important to do to prepare for a 5k the week of a race. You are going to push yourself harder than you normally do once your adrenaline kicks in so stretch well to prevent you from hurting yourself.
-Get excited for your upcoming 5k
This may seem like common sense, but if you spend the week dreading the 5k as opposed to getting excited about it, you are less likely to go. Take some time to really get pumped up about it!
The night before
-Stay away from alcohol
One glass of wine may not make a huge difference in your performance, but why risk it? Take the day before to hydrate and drink at least eight glasses of water. Alcohol dehydrates you, so it's better to stay away from it the night before a 5k.
-Keep away from dairy products
I learned this old trick running track in high school. We were warned to stay away from dairy before a meet because it makes you cramp up. And sure enough, I would be a smart ass and have ice cream the night before anyway and cramp up. Don't do it to yourself. Keep the dairy at bay at least the day before to prevent cramps. You can thank me later for this tip because running when you get a cramp is the worst.
-Don't over-do-it at the gym
You want to be ready for the race and full of energy. So make sure not over to do it at the gym the night before to best prepare for a 5k the night before.
-Have your race gear ready!
I always take the same things to a 5k with me and prepare them the night before so I don't forget anything. My list includes:
A bottle of water
My phone equipped with 5k race playlist
My VerveRider Bluetooth earbuds
My Cell phone armband
A hoodie if it looks like rain or if it's chilly
My outfit for the race with bib and race day T-Shirt
Having the VerveRider Bluetooth headset is critical because there are many Bluetooth headsets that are not equipped for the 5k lifestyle. What I like about this pair is that it is sweat and waterproof, so you don't have to worry about it being damaged, even if you sweat a ton when you run like I do. It's wireless so you don't have to worry about getting tangled in the cords while you run and the contoured collar design is made to fit your body, so it hardly feels like you're wearing them at all.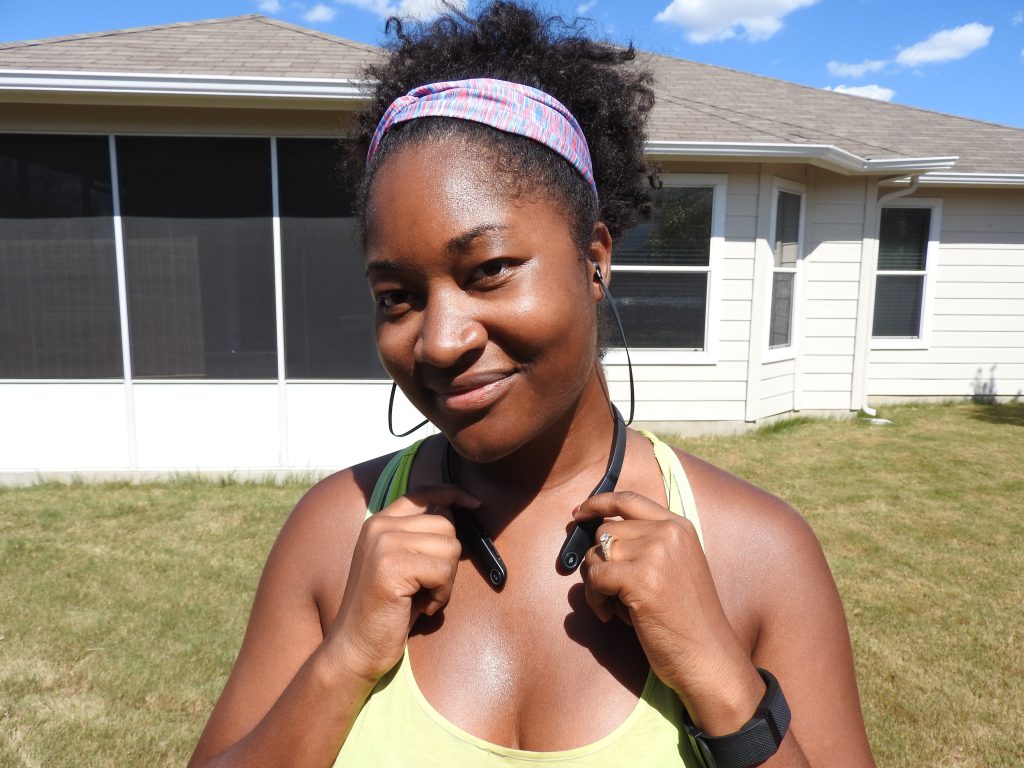 My favorite part of wearing the VerveRider Bluetooth headset as opposed to just headphones is that it has a dual mic with HD sound that enables your music to pause automatically for an incoming call. Once you finish your call, the music resumes once you hang up. Not to mention that they allow you to have 12 hours of playtime once charged.
VerveLife devices are designed for people like me: we revel in the challenge to rise to any occasion, test ourselves, stretch our abilities, and find out where our limits truly are. We pack a lot into our lives, just as I am packing 12 5ks into my year. I LOVE my Verve Rider headset.
The morning of
Once you reach the big day, it's important to follow the following steps.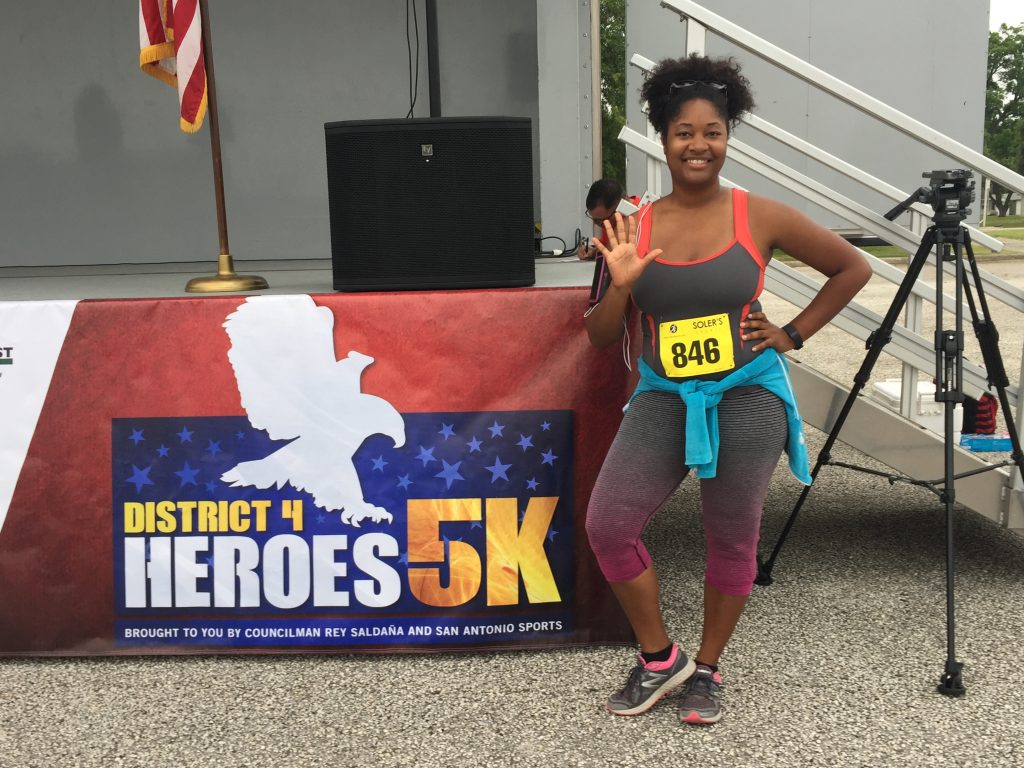 -Drink at least one bottle of water before the race, try for two
When you sleep, you've gone several hours without water. I try to drink at least one Bottle of water in the morning before I even leave the house. My goal is to have two bottles finished before a race. This way you know you are hydrated enough to run!
-Have a coffee
This may seem contradictory, but the caffeine will give you a much-needed boost when you start getting tired. If you are not a coffee drinker, I suggest tea, but the days that I have coffee as opposed to not having coffee makes a huge difference on how well I do.
-Have a banana
It's good to have something to eat before you run. I typically do not eat much since I am already filled with liquids. But if I finish my liquids in time I have a banana too. I try to stay away from a big breakfast before a race just because it weighs you down, and I also tend to cramp up before a race.
After the race
-hydrate
I know you had a ton of water in the morning, but it's good to replenish the water you lost while running. I usually drink about two bottles of water after running. You definitely want to finish at least one.
-eat
Once the adrenaline wears off you are going to be hungry. So make sure to grab something to eat after the race.
-Get ready for the next run
Once you finish a 5k, you remember why you love running them in the first place, which is exactly the thoughts that led me to my goal to run 12 in a year. 5ks are great because they give you a mental boost and a physical one. And I am all for anything that helps me grow mentally and physically. Stay tuned to learn more about my progress on my 5k goal.
Sources:
Verve Life
Twitter.com/avervelife
Facebook.com/Avervelife
Instagram.com/avervelife
Disclosure: This post is sponsored by VerveLife in conjunction with Blog Meets Brand, and I have been compensated for my participation. All opinions are my own.
The post How to Prepare for a 5k (And My Progress on Running 12) appeared first on Miss Millennia Magazine.