Home
For a while, I have noticed that many of the young women I see reporting the news or being interviewed for their humanitarian or intellectual contributions have been presented to viewers first as attractive women and second as professionals. Smart, attractive women appear on our screens wearing cute girly outfits, heavy mascara, and sparkly lip gloss. I often find myself distracted from their message, because I'm wondering why the hell they would choose to report about mass shootings while looking as though they're leaving immediately after the show to go have cosmos with their girlfriends. I have respect for these women. They are in a career that I often imagined having myself when I was younger. And I like makeup. I enjoy looking pretty. But in certain situations, makeup and pretty outfits just distract from our more substantial qualities. I mean that's what the makeup and bright colors and sparkles and jewelry are for, right? To catch attention? But if you've got something important to say, you probably want people to focus on your words rather than get lost in your gorgeous eyes. Or cleavage. 

An afternoon show on MSNBC called The Cycle attempts to present news and current events to twenty and thirty-somethings by way of lively conversation and four young, fun, relatable hosts. I get the premise. Regular news is dry and boring. The Cycle is to news what wine coolers are to alcohol. It's sweeter and more fun to sip on the bright and vibrant "Strawberry Breeze" flavor of Touré and Krystal than it is to swallow a big gulp of Chris Matthews's brand of potent Everclear. They're taking out some of the intensity. They're making it funner. Fine. But the guys still wear suits, not shiny pin-striped club shirts. The guys don't look like they're trying to conjure sex appeal. They look like they're at work. Why would it be so bad for the girls to have on a trendy women's suit? Or at the very least be wearing nothing sparkly?
The Cycle hosts (from left): Ari Melber, Krystal Ball, Touré, and Abby Huntsman
This work is licensed under a Creative Commons Attribution 2.0 Generic License.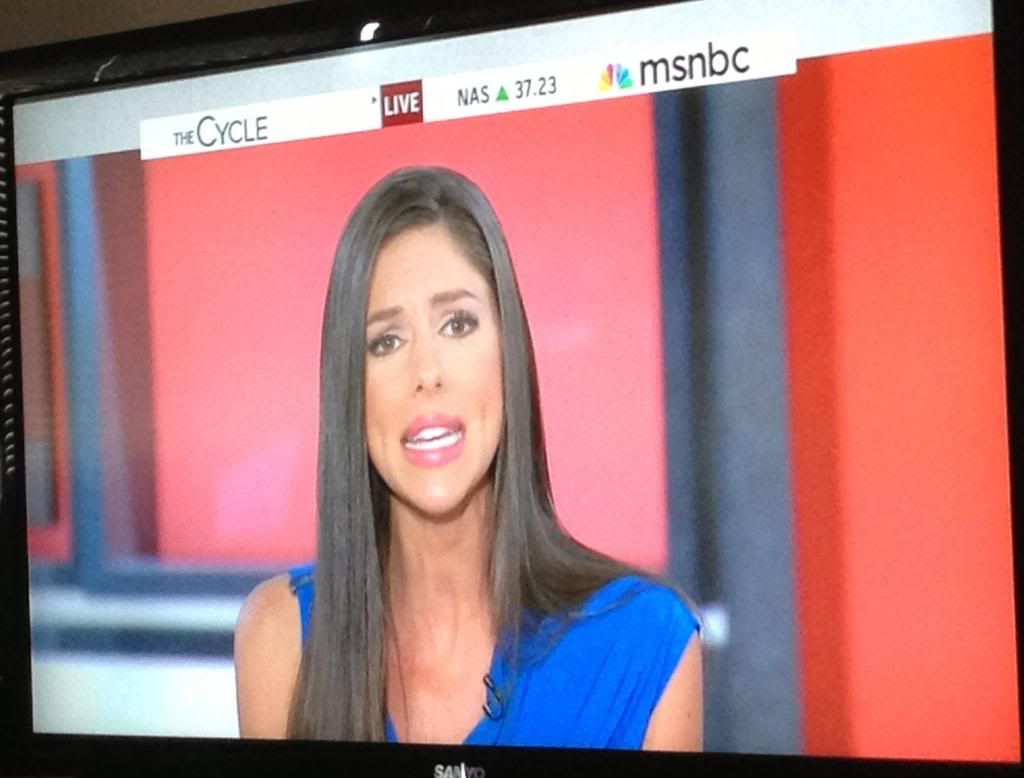 Abby Huntsman today on The Cycle, ready to hit the club after a long day.
The Cycle
isn't the only news show that thinks that women are best served hot. Fox News has more than their fair share of heavily made up female personalities, and they up the ante by displaying an obvious preference for blondes. When "Fox news makeup" is entered into a search engine, the results show that I'm not the only one who has noticed this. Check out this article, or this one, if you're interested. Another very capable and intelligent woman who seems to get more recognition for her looks than she does for her brain is Mandy Drury. It makes me sad because she's brilliant at reporting financial news in a comfortable and personable way, but when you google her name, half your results are about her looks:
Mandy Drury's Google results include her level of hotness and a video featuring her legs in high heels.
I'm not suggesting that women who are intelligent shouldn't also be attractive. Nor am I suggesting that intelligent women should not embrace style, femininity, or sexuality. I just feel like it insults everyone's intelligence to assume that a young woman will be more effective in her job if she looks like she's ready to go on a date with you. The amount of glittery lip gloss on these women feels a little bit weird and kind of embarrassing. They would be gorgeous without all the sparkles and makeup. They would still be sexy if they traded their pink sleeveless blouse or their tight, low cut shirt for a modest women's suit and opted for a natural lip color (or none at all) rather than slathering their lips in a magenta stain and and a gloss so shiny it looks like their mouth is covered in liquid latex. They would still be attractive; They just wouldn't look like they're trying so desperately to be, and people might talk a little bit less about how "fuckable" we women are and a little more about what we have to say.
This brings me to what I saw this morning, and what drove me to write this.
When it comes to politics, I'm not a fan of the Bush family. But this morning I turned on the TV to an interview with Lauren Bush, the granddaughter of Bush senior and the niece of George W. I had never heard of her before, but apparently she is a "model turned philanthropist," and she spends her time working with a project called Feed to fight world hunger. I have not researched her company other than a quick glance over the site, and I hadn't heard anything about it before today, but from what I understand they sell trendy items to people who have money and use some of the proceeds to feed people who don't. Based on my limited knowledge of the project, it sounds good. But I only caught the very end of the interview, so I want to talk about the other message Ms. Bush made during her interview. The way she presented herself was in stark contrast to many of the other young women I see on the news. It struck me as very interesting.

Lauren Bush is a very pretty woman. She has the wholesome good looks and bone structure one might expect from a pedigreed American political family. She's a former model and she's 29 years old; You might expect her to wear great gobs of mascara and a plunging V-neck blouse. You would be wrong. She went to this morning's interview looking clean and professional, with minimal makeup, simple hair, and a simple ensemble that included a buttoned, collared shirt that revealed nothing about her bust line. It came across that she was there to promote her
cause
, not her
self
, and because of this, I listened more carefully to what she had to say. Children dying of hunger is not a topic one should want to show up dressed to the nines to talk about, and I now take her more seriously for recognizing that. There's no question that she's attractive, but she presented her beauty as something secondary or tertiary to who she is rather than primary. Why can't we all do this? I speak from experience; I have felt pressure many many times to be pretty and sexy over all else, and I give in to that pressure regularly. But I hope that I would have the presence of mind to wear a pantsuit and leave the lip gloss at home if I ever had a job that required me to be taken seriously.
Now if we could just lose the BEAUTY BEATS HUNGER caption....

Home