I have these colors in my own home
Transform your home into a retreat with these calming timeless Coastal Paint Colors. Feel the relaxed and tranquil vibe almost like you're on vacation. We have rounded up 12 Benjamin Moore coastal paint colors that are proven winners. A few favorites I have in my house.
During this crazy quarantine time, it's ideal for painting and redesigning your home to create a peaceful, mindful home.
Transform Your Home Into A Tranquil Retreat with These Paint Colors
The first thing most people think of when they envision a vacation is a beach. So, why not use coastal paint colors to offer your home a relaxed beachy vibe? We all need a sense of calm these days.
The coastal paint palette is inspired by nature and is known to create a comforting aura, a mindful home. Soft whites, warm beiges, aqua and navy, work beautifully together, while coral colors play well with dark gray hues.
As you may already know, I designed and decorated my home with a Hamptons style interior with a predominately neutral color palette with crisp white walls and warm tones of sand, cream, ivory, and soft blue-gray.. These tones complement colors related to the ocean like navy, blue and white, soft blues, green, and turquoise.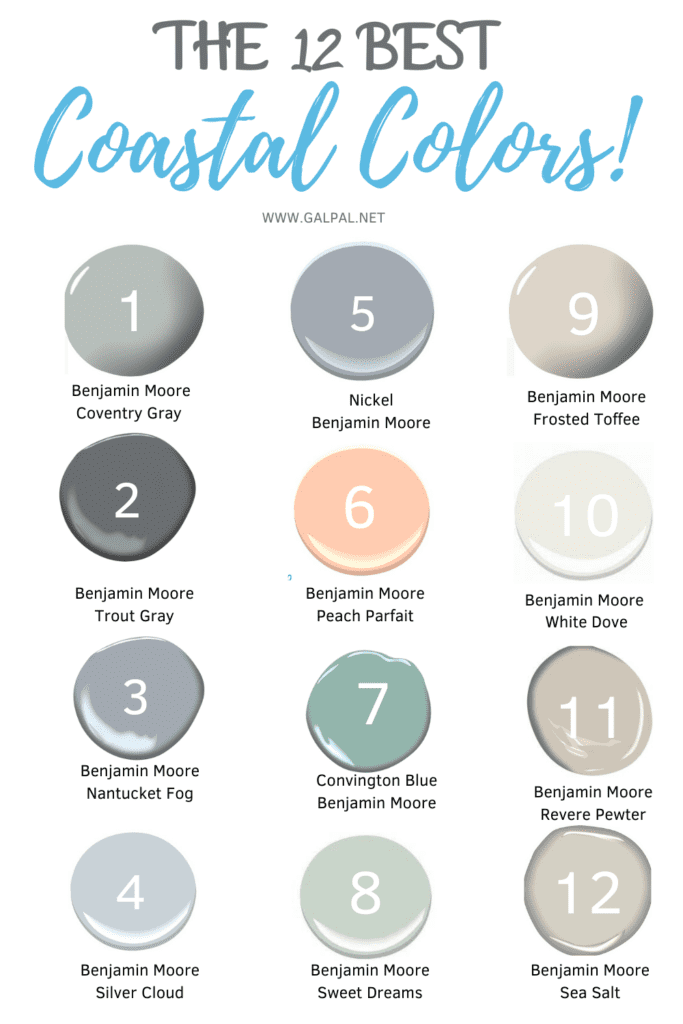 Benjamin Moore Timeless Proven Paint Colors
Benjamin Moore's Coventry Gray is one of the most popular gray colors on the market. Why? Because it is a very versatile mid-toned grays with a lot of depth. In spaces that do not have a lot of natural light, Coventry Gray will lean more warm. In spaces with less light you will see a slight hint of blue.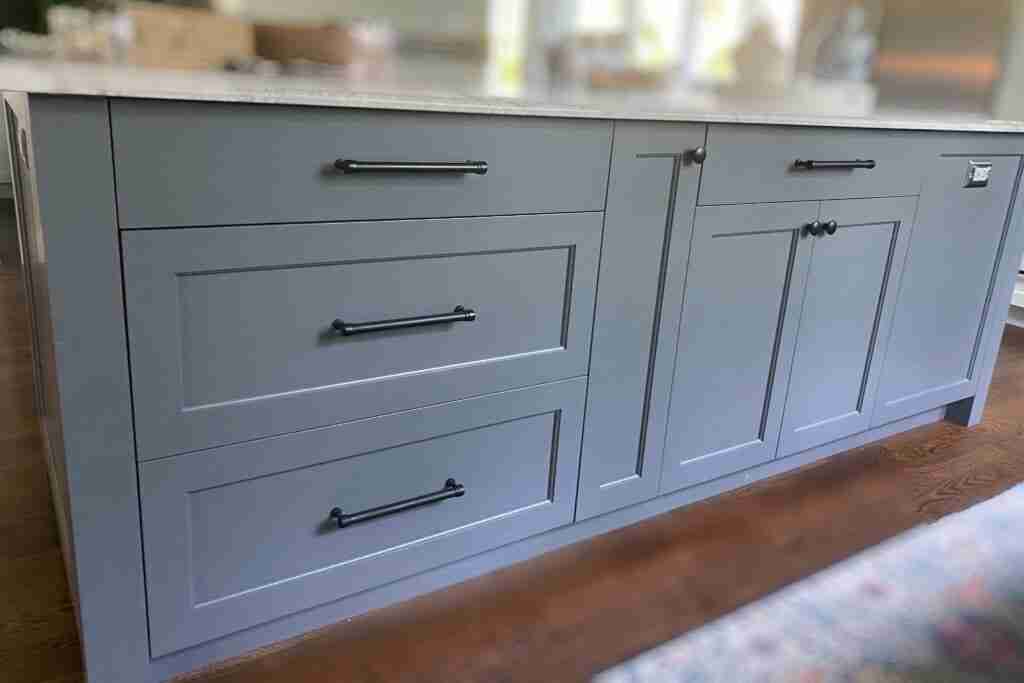 Trout Gray is an absolutely stunning dark gray with a slight warm undertone. A dark rich color like Trout Gray can really make cabinetry and built-ins the star and focal point in a space.We used this on our kitchen island (as seen here), bar, boys bathroom and laundry room cabinets. It has a unique blue-gray appearance that is gorgeous. I will never tire of it.
Also known as Santorini Blue 1634. A gorgeous blue gray that works well in bathrooms and bedrooms. Stunning with white trim.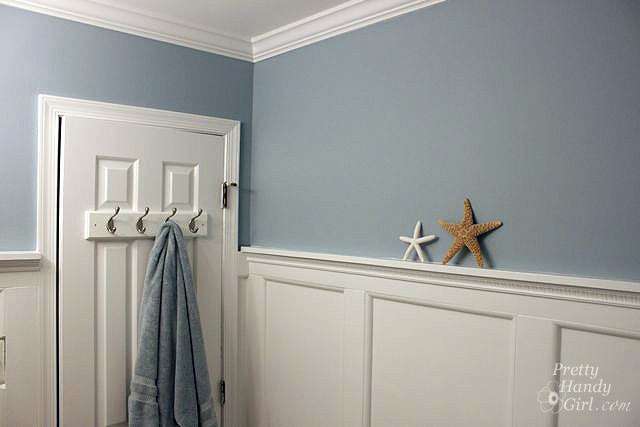 Silver Cloud is a light, warm, sandy gray with a brick undertone. It is a perfect paint color for a living room. We used this in our living room, kitchen and hallways. Love it! Pair it with white trim and coordinate deeper tones for contrast.
A sophisticated Benjamin Moore's Nickel is a gorgeous blue-gray paint color. Ideal for bathrooms with white trim and bedrooms. I used it in two bathrooms and in my son's bedroom. It can be masculine with the deep gray undertones.
Peach Parfait is a soft shade that reminds us of creamsicles and peach pie. It's one of Benjamin Moore's several versatile paint colors that brings warmth and can work well in any room in your home.
This color is part of the Historic Color collection. It deliver timeless color that can be used in traditional as well as contemporary spaces. Unveiled in 1976 to celebrate the US bicentennial, a collection of 191 colors inspired by America's historic landmarks. The color is much prettier when painted as opposed to just looking at the paint chip.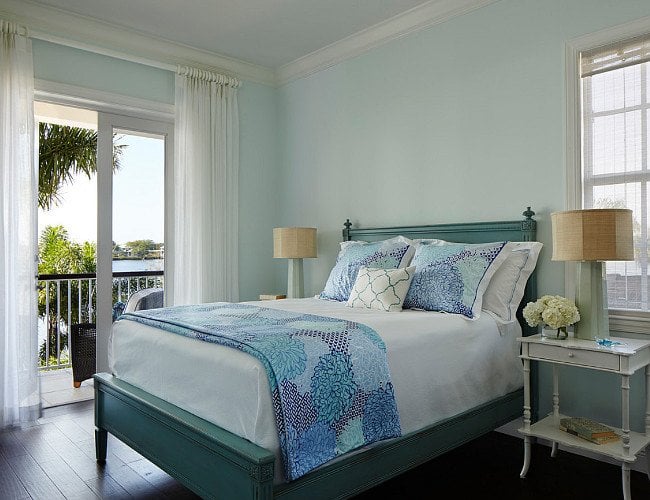 This timeless color is soothing and appealing as the name suggests. It complement styles from traditional to modern and everything in between. Ideal color for bedrooms.
Frosted Toffee is a warm neutral with a rosy glow. This color is the perfect example of a shade that is hard to describe- making it the ideal neutral for selling a home.
White Dove is a beautiful safe white by Benjamin Moore. It's a classic, shaded white. Many people use it on trim. We used it on all trim throughout our house.
We painted out kitchen and master bathroom cabinets in white dove. This white has made the space look so much bigger and brighter.
Lovely warm gray-beige. We used this color in three of our rooms and changed the depth of the color based on the natural light in the room. In other words, I used 50% more pigment in some rooms and 25% more in others. The bigger the room the more pigment you will want.
This is a great versatile paint color I found – Benjamin Moore Sea Salt. If you're looking for a pale gray color with cool undertones, this could be the one! Don't get this color mixed up with Sherwin Williams Sea Salt- two different colors.
Coastal Colors For Any Style Of House
No matter what kind of style your house is, modern, coastal, Hampton, farmhouse, Mediterranean, traditional or other, these subtle timeless paint colors will never go out of style.
Have fun changing the vibe of your home with color, furniture, art work, decor accessories or whatever it is that makes you happy.
Maybe just focus on one area like the entry way, the first impression of your home. Check out 7 Entryway Decor and Design Ideas Here.
If you end up using any of these paint colors, please send me pictures! Let me know if you have any other ideas or suggestions on topics similar to this post.
Cheers to you all!
The post Benjamin Moore's 12 Timeless Proven Coastal Paint Colors appeared first on galpal-Lifestyle Blog.