Top Comforting Mother's Day Gifts & Virtual Ways To Celebrate Mom
The spread of coronavirus might keep you from leaving your home to visit with relatives and friends. Still, it can't stop you from celebrating the mothers in your life. Whether you're isolating together or, unfortunately, apart, there are plenty of fun ways you can show mom how much you love her.
The following Gal Pal Gift guide provides fantastic deals and the best comforting gifts for Mom during a time difficult time. You can't go wrong with any of these gift items that are affordable, unique, special, and meaningful.
A quarantine Mother's Day doesn't have to be depressing. We've created a list of comforting gifts and virtual celebration activities to bring your whole family together.
Fun Ways To Celebrate Mother's Day Virtually
If you can't see your mom in real life, this one's for you! Just because you are not able to spend quality time in-person with your mom or grandmother, does not mean that you can't have fun and celebrate with her.
You can virtually celebrate mother's day all thanks to technology. Here are several ideas:
Do a virtual DIY wine tasting

Plan a virtual

Netfix Party – Watch a movie together

Try doing an Airbnb online experience with her

Mail her a heartfelt handmade letter

Throw a virtual surprise party with all the people who mean so much to her in one place

Send her the items she needs for a spa day- see Gift Guide for products

Order her favorite meal

Collect beautiful photos of your mom and place them in the background of your Zoom call

Get your mom her new favorite book

Set up a call to virtually bake or cook together
Get shopping today and take advantage of these amazing deals! 10 Top Mother's Day Gift Items that will comfort mom and make her feel very loved.
Mother's Day Gift Guide For Gal Pals- Top 10 Ideas That Will Comfort Mom
1. The Gal Pal Box-By Crown Linen Designs

Only $65
Retail:$98

A special offer for Gal Pals!!! This Gal Pal Box includes a velvet " I Love You" decor pillow and medium Kindness Candle at over 30% off!
SHOP HERE
2. Rosanna Designs Charm School Mother's Day Items

All Items 25% Now!

You can never go wrong with a gift from Rosanna Designs. Each item comes in a gorgeous box that is just a special as the actual gift item. Whether you are looking for a gift for mom, grandma, cat or dog mom, she has you covered. So many items to feature!
SHOP HERE
3. Italian Gold 14K Italian Gold Double Circle Interlocking Necklace

Only $129
Retail:$249
14-karat yellow gold; weighs 1.85 grams
Pendant measures 0.8in in diameter
Chain approximately 17in long and 1in extender
Spring ring clasp
Made in Italy
SHOP HERE
4. Rosanna's Comforting Bloom & Arcadia Collection For Mom

All Items are now 25% off!
From river rocks to organic forms to abundant hand-painted blossoms, Bloom helps us live closer to nature, heal from it, and marvel at the beauty right at our fingertips and outside the front door. Also, soothe your soul with the delicate, yet wild natural forms of Arcadia. These gift items will soothe your mama's soul this holiday. She will feel the love.
SHOP HERE
5. The BEST Non Toxic- Clean Skin Care! - Violets Are Blue Skincare-

Gal Pal's Get 10% off!
Award winning Violets Are Blue skincare is my all time favorite especially the serum, it's unbelievable. Check out the line of products by clicking on the picture on right.
SHOP HERE
6. Bond No. 9 New York Saks Fifth Avenue For Her Body Cream Color -No Color

$125.00

Bond No. 9 is my most favorite products ever!! A gal pal gave me a jar of this lush cream that smells like a Hawaiian vacation. It's a classic gardenia eau de parfun, with notes of sparking jasmine vetiver and smooth vanilla. HEAVEN!
SHOP HERE
7. Crosley Cruiser Deluxe Turntable

Now:$89.95
Retail: 54.99
This is the coolest retro gift ever! The Cruiser was the original modern-day turnable trendsetter and Crosley has been bringing stylish music to the people for over 20 years. This record player has everything you need built right in it's compact suitcase shell stereo speakers, pitch control, headphone jack, and RCA outputs. Music always brings comfort, ideal gift for these times.
SHOP HERE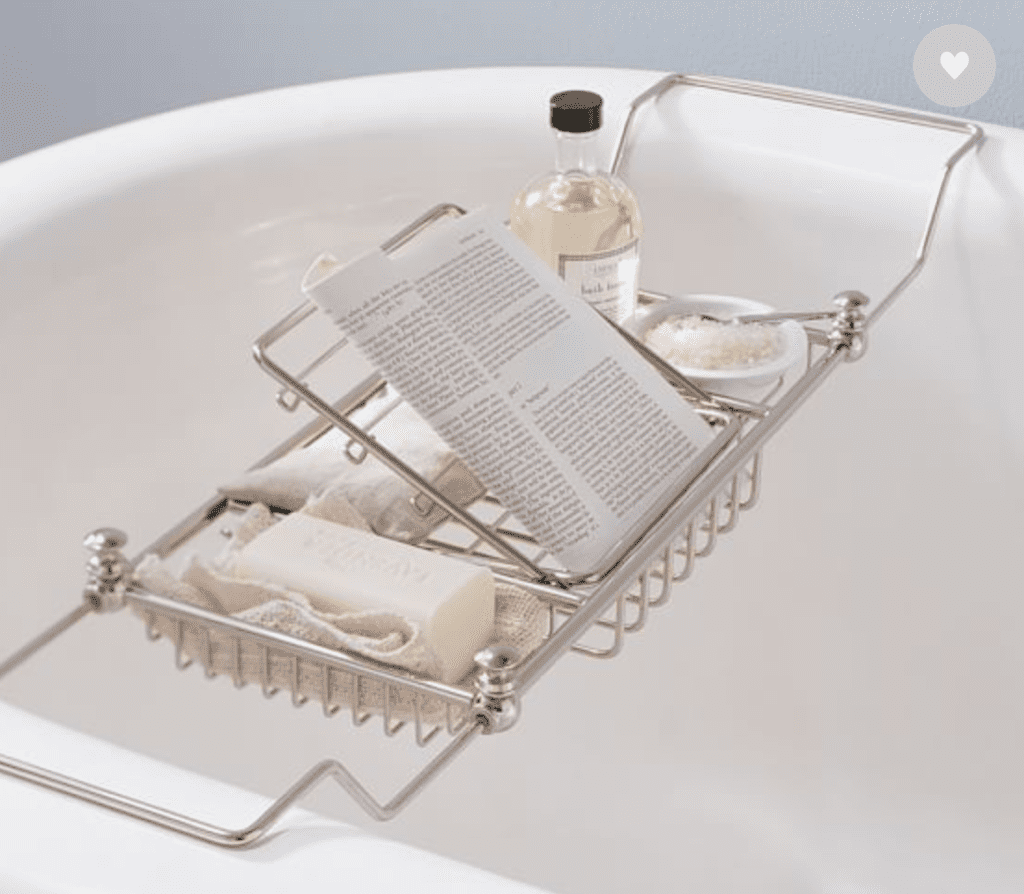 8. Mercer Bathtub Caddy

$89 25% Off with Code EARTHDAY
Pamper your mom with a self-care routine that takes it up a notch with the Mercer Bathtub Caddy from Pottery Barn. This caddy keeps a book, washcloth and your favorite extras within easy reach.
SHOP HERE
9. K. Hall Washed Cotton Bath Elixir Set

$65
25% Off with Code EARTHDAY
Pamper yourself with a soothing spa treatment. Crafted with natural plant extracts and soothing botanicals, The K. Hall Washed Cotton Bath Elixir Set layers dreamy lavender with calming chamomile for a luxurious, therapeutic experience that's as cozy as freshly laundered cotton.
SHOP HERE
10. Idiom- Heart of Gold Bangle- KARE SPADE NEW YORK

$38

A slim, stackable bangle plated in lustrous 12-karat gold hides a meaningful "heart of gold" engraving inside.
7 3/4′ inner circumference; 1/4″width
12k-gold pate
By Kate Spade New York
SHOP HERE
The Gal Pal gift guide includes select affiliate links that are safe and secure.
Cheers!
The post The Ideal Mother's Day Gift Guide & Fun Ideas To Celebrate Mom appeared first on galpal-Lifestyle Blog.