This post may contain affiliate links. Please see our disclaimer for more information.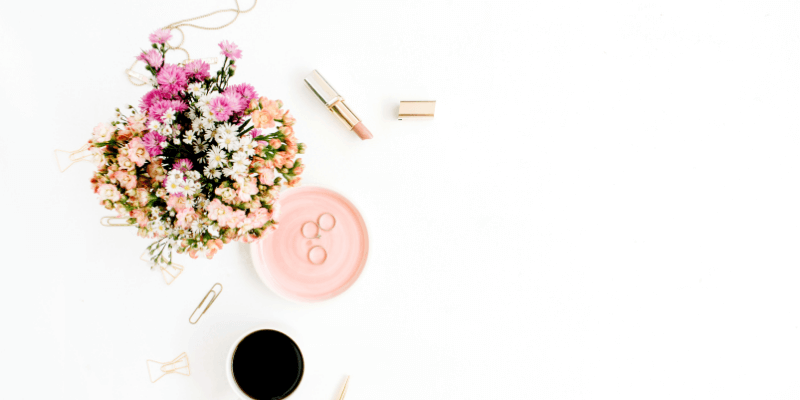 I think it's safe to say it's been a rough year for us all.
2021 is finally here and it's time to press that big reset button! Let's use these 18 ways to Glow up together!
I know we can't control most of the bad things that have been happening, BUT it's time to fix the things we can control.
We can still work on being our best selves. Especially now.
You may have been thinking you need a glow up, and now is the perfect time to start!
It's time to feel more confident than ever with these 18 ways to glow up Mentally and physically in 2021.
Don't forget to pin this for later!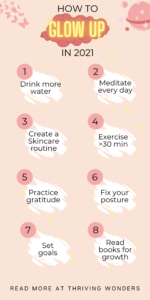 Before we get into it, I have a FREE 30 day self improvement challenge that will help you on your way to glowing up.
18 Ways to Glow Up Mentally and Physically
How to Glow Up Physically
There are quite a few things you can do to glow up physically and become more confident than ever. Keep in mind, this is all about you feeling amazing.
Drink more water
The first way to glow up in 2021 is to drink more water. I know, you've probably heard this a thousand times, but it's true!
You need water to function, so you'll feel so much better when you start drinking more of it.
Not only that, it's amazing for other things like clearing up your skin.
I always start off my morning routine with a glass of water.
Start a Skincare Routine
You all, I did not have an actual skincare routine until about a month ago.
I realized I was using all of the wrong products, so I ran to Walmart, got a ton of new (affordable) stuff, and I've stuck to my skincare routine ever since. I'm not exaggerating when I say my skin has never looked better.
Here is my new skincare routine-
AM
Rinse face with cold water
Apply vitamin C serum
Apply moisturizer
Use a jade roller
PM
Wash face with gentle foaming cleanser
Apply retinol cream serum
Apply anti-wrinkle under eye cream
Apply moisturizer
I've started my "preventing wrinkles" routine a little early (I'm 24), so I included some anti wrinkle and retinol products!
Recommended: Best Morning Routine for Success
Get some Exercise
You probably knew this one is coming.
A great way to glow up is to get more exercise if you're not already.
I'm not just talking about a physical glow up. I'm talking mentally. Exercise will boost your energy, improve your mood, and make you feel more confident.
You should get at least 30 minutes of exercise 5x a week.
Eat more Fruits and Veggies
Another way to glow up is to start incorporating more fruits and veggies into your diet.
This will make your skin glow and make you feel 10x better because you're getting more vitamins.
Slow down on the Junk Food
Junk food has the opposite effect compared to eating fruits and vegetables.
Junk food will make you feel bad, bloating, and might even be wrecking your complexion.
Try cutting back on junk food for a glow up in 2021.
Get your Hair Healthier
If you didn't already notice, we're trying to be healthier because THAT is what makes you your better self.
That includes haircare. It's time to do something about your damaged hair!
Try adding new serums (I love coconut milk oil), using less heat, and using shampoos and conditioners that are better for your hair.
A recent trend I've been seeing that makes your hair super healthy and shiny is rice water for hair.
Try New Makeup and Hairstyles
If you want to feel good, you need to experiment to figure out what makes you feel good.
Try new makeup and hairstyles. Maybe doing your makeup a certain way or having your hair a certain color makes you feel better about yourself.
Work on your Posture
If you're like me, you're probably slumped over with your head down looking at your phone or computer right now.
You need to fix your posture ASAP! First, this is just another way you can be healthier by supporting healthier bones and joints.
You'd also be surprised how much your posture can improve your confidence!
Chin up!
How to Glow Up Mentally
Meditate Every Day
One of the best ways to glow up mentally and physically is by meditating.
Meditating makes you more mindful, less stressed, and peaceful.
Keep in mind, meditating is a skill that you have to work on. Start just meditating for 5 minutes and work your way up. There are tons of guided meditations on Spotify and YouTube that are perfect for beginners.
Work on your Confidence
If you take anything from this, I want you to know that confidence is where it's at. If you want to glow up, the best thing you can do is learn to be more confident.
It doesn't matter what you do to be more confident. You could dye your hair blue or wear clothes that you love but have been afraid to wear.
Learn to practice self love and romanticize your life!
Do the Things you Love
Nothing screams glow up like finally doing the things you love.
I know, it's hard to find time. It's time to make a little time!
Start spending your time doing the things you love, whether that's watching Netflix or spending time with your family.
Recommended: How to Romanticize your Life
Surround Yourself with Positivity
If you want to be happier, you need to cut out the negativity in your life. Whether that's people, bad habits, your work that you hate, etc.
Start replacing all of these negative things with people who have a positive effect on you and good habits.
Of course, it's okay to not be positive 100% of the time cause that's just a charade. BUT if you find that there are specific things constantly dragging you down, cut it out.
Work on a Skill You've Always Wanted
Is there something you've always wanted to work on, but you just feel like you never have time to start? Now is your chance!
Start improving that skill you've always wanted to. It could be anything from drawing to learning a new language.
Glowing up is all about self improvement, which means improving our skills!
Set Goals for Yourself
How will you be able to tell if you've actually made any progress?
You can't unless you set goals for yourself.
Pull out that planner or journal and write down your weekly, monthly, and yearly goals to keep yourself on track.
Avoid making these mistakes when you're setting goals.
Practice Gratitude
Trust me when I say practicing gratitude will make you a much happier person.
Every morning I wake up, and I think of at least three things I am grateful for.
Practicing gratitude forces you to think about the good in life and changes your negative mindset to a positive one.
You can get this free daily gratitude planner here.
Read Personal Development Books
Over the past few months, I've had a lot more time on my hands. I got some of these Personal Development Books, and they've changed my life.
I highly recommend you to invest in some of these books. They're great for learning about the law of attraction, building your confidence, overcoming anxiety, and just improving yourself in general.
Out of these 18 ways to glow up, reading more of these self help type books has been my favorite.
One of the best personal development books I've read so far is The Power of Now.
Recommended: Best Personal Development Books to Read
Start Using Affirmations
Using affirmations is something I'm still working on.
Affirmations are basically positive statements that you say or write. If you say something enough, you slowly start to believe it. If you practice enough, these affirmations will rewrite the way you think- without you thinking about it.
For example, here are some daily positive affirmations for motivation and self-esteem.
Figure out Who You Are
There's so much in this world that influences us that it's hard to know who we even are.
Sometimes I feel like my whole personality changes based on a movie I watch or a book I read.
It's important to know who you are without being influenced by your friends and family.
What do you like when they're not around? I think the best way to figure out who you are is just to experiment. Try new things and figure out what you like and don't.
We're always changing, so it's important to keep experimenting and learning more about ourselves.
18 Ways to Glow Up Mentally and Physically Final Thoughts
Remember the ultimate goal of glowing up is all about how you feel.
It's not just losing or gaining weight and clearing up your skin.
It's about your mental health and confidence!
I hope you enjoyed these 18 ways to glow up mentally and physically in 2021!
The post 18 Ways to Glow Up Mentally and Physically appeared first on Thriving Wonders.