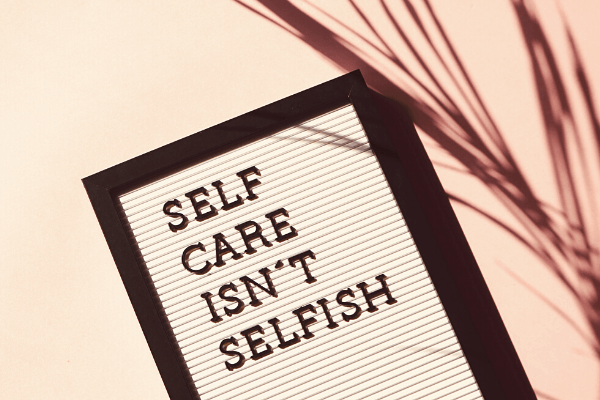 This post may contain affiliate links. See our disclosure for more information.
Do you struggle with confidence?
Have you ever seen those girls who just seem to radiate with confidence and wish you could be like that?
Me too.
Instead of constantly putting ourselves down, we need to build ourselves up.
It's hard to practice self Love. It's something that you have to work at like anything else.
Here are 30 self Love Quotes to boost your confidence and guide you on your way to practicing self love.
Why Self Love is Important
Before we get into the quotes, you may be wondering why self love is even important.
You might think it's cheesy or narcissistic, but I promise you it's not.
Self love is so important for our mental health. You need to make practicing self love a daily habit NOW.
You are responsible for your own happiness.
You can't depend on anyone else for your happiness. That's on you. The only way you're truly going to be happy is when you start loving yourself.
When you're treating yourself right, you're getting rid of all of those toxic things and replacing them with happy, positive things.
It's important to not be so hard on yourself. You can learn to set boundaries and have healthy relationships. You can learn to choose your own path. Not for anyone else. For you.
Once you become comfortable with yourself, you can learn to live the happy life you deserve to live.
If you're not sure how, here are ways you can start practicing self love today.
30 Self Love Quotes to Boost Confidence
"How you love yourself is how you teach others to love you."

Rupi Kaur
"Don't let your mind bully your body." – June Tomaso Wood

"Love yourself first, and everything else falls in line. You really have to love yourself to get anything done in this world." – Lucille Ball

"You are enough. You have nothing to prove to anybody." -Maya Angelou

"Talk to yourself like someone you love." – Brene Brown

"It takes courage to be yourself in a world where you are constantly told that who you are isn't enough. Being yourself is the biggest gift you can offer yourself and others. Be brave enough to show the world who you are without an apology." – Ash Alves

"The worst loneliness is to not be comfortable with yourself." – Mark Twain

"Be gentle with yourself, learn to love yourself, to forgive yourself, for only as we have the right attitude toward ourselves can we have the right attitude toward others." -Wilfred Peterson

"Love yourself instead of abusing yourself." –Karolina Kurkova

"I don't like myself, I'm crazy about myself." – May West

"Self-love seems so often unrequited." – Anthony Powell

"Rest and self-care are so important. When you take time to replenish your spirit, it allows you to serve others from the overflow. You cannot serve from an empty vessel." – Eleanor Brown

"Self-care is never a selfish act—it is simply good stewardship of the only gift I have, the gift I was put on earth to offer to others." – Parker Palmer

"You yourself, as much as anybody in the entire universe, deserve your love and affection." – Buddha

"If only you could sense how important you are to the lives of those you meet; how important you can be to people you may never even dream of. There is something of yourself that you leave at every meeting with another person." – Fred Rogers

"Self-care is never a selfish act—it is simply good stewardship of the only gift I have, the gift I was put on earth to offer to others." – Parker Palmer

"One of the greatest regrets in life is being what others would want you to be, rather than being yourself." – Shannon L. Alder

"To establish true self-esteem we must concentrate on our successes and forget about the failures and the negatives in our lives." – Denis Waitley

"Don't ask yourself what the world needs, ask yourself what makes you come alive. And then go and do that. Because what the world needs is people who have come alive." – Howard Washington Thurman

"No other love no matter how genuine it is, can fulfill one's heart better than unconditional self-love." – Edmond Mbiaka

"You have been criticizing yourself for years, and it hasn't worked. Try approving of yourself and see what happens." – Louise L. Hay

"You have to believe in yourself when no one else does – that makes you a winner right here." – Venus Williams

"We are each gifted in a unique and important way. It is our privilege and our adventure to discover our own special light." – Mary Dunbar

"To fall in love with yourself is the first secret to happiness" – Robert Morley

"I found in my research that the biggest reason people aren't more self-compassionate is that they are afraid they'll become self-indulgent. They believe self-criticism is what keeps them in line. Most people have gotten it wrong because our culture says being hard on yourself is the way to be." – Kristen Neff

"Love yourself enough to set boundaries. Your time and energy are precious. You get to choose how you use it. You teach people how to treat you by deciding what you will and won't accept." – Anna Taylor

"When I loved myself enough, I began leaving whatever wasn't healthy. This meant people, jobs, my own beliefs and habits – anything that kept me small. My judgement called it disloyal. Now I see it as self-loving." – Kim McMillen

"If you don't love yourself, nobody will. Not only that, you won't be good at loving anyone else. Loving starts with the self." – Wayne Dyer

"To love oneself is the beginning of a life-long romance." – Oscar Wilde

"People may flatter themselves just as much by thinking that their faults are always present to other people's minds, as if they believe that the world is always contemplating their individual charms and virtues." – Elizabeth Gaskell

"Find the love you seek, by first finding the love within yourself. Learn to rest in that place within you that is your true home." – Sri Sri Ravi Shankar
I hope you enjoyed these 30 self love quotes and start practicing self love to become your happiest self.
Let me know what your favorite quote about self love is, and don't forget to pin this for later!
The post 30 Self Love Quotes to Boost Your Confidence appeared first on Thriving Wonders.