This review of the Jambu Tangerine is sponsored by Jambu & Co. The opinions are completely our own based on experience.
When I travel, I prefer packing light. Packing becomes a fun, puzzle-like challenge when each piece you put in your bag needs to multitask. This is one reason I love Jambu's comfortable flats for women – they're terrific wardrobe multitaskers. I've packed for a 10 day sightseeing vacation with only two pairs of shoes – one pair of Jambu mary janes, and one pair of sneakers – and felt perfectly equipped for every occasion.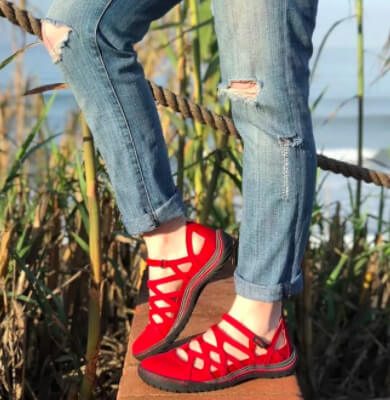 The new, gladiator-inspired Jambu Tangerine stays true to the brand's style roots: they're cute enough to pair with a skirt, but sporty enough to effortlessly play along with shorts, jeans or leggings. Soft leather linings and supportive, memory foam footbeds mean all day comfort, and Microban antimicrobial treatment (a feature of all Jambu shoes) keeps odor at bay and helps feet feel cooler and drier. The partially-recycled rubber outsole has good traction, so no matter what the conditions, you'll be sure on your feet.
Notice the pretty satiny-looking bands on each strap across the top of the foot? They're elasticized, making for easier on/off and a comfortable, customized fit.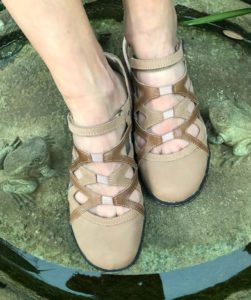 Whether you want terrific travel-friendly shoes, or simply want to maximize your wardrobe dollars by making each item in your closet as useful as possible, Jambu is a brand to look to. The Jambu Tangerine is available in four colors, sizes 6-11 and even comes in wide widths! Good news, Barking Dog Shoes fans–you can save 10% on any purchase now until 3/31/18 at jambu.com when you use code BARKING18 at checkout.
We've sung the praises of Jambu shoes for quite some time; now we'd love to hear from you! Leave a comment and let us know your experience with Jambu. Do you have a favorite style?
The post Jambu Tangerine: Meet a Magnificent Footwear Multi-Tasker appeared first on Comfortable Shoes for Women (1,304 shoes reviewed over 9 years).