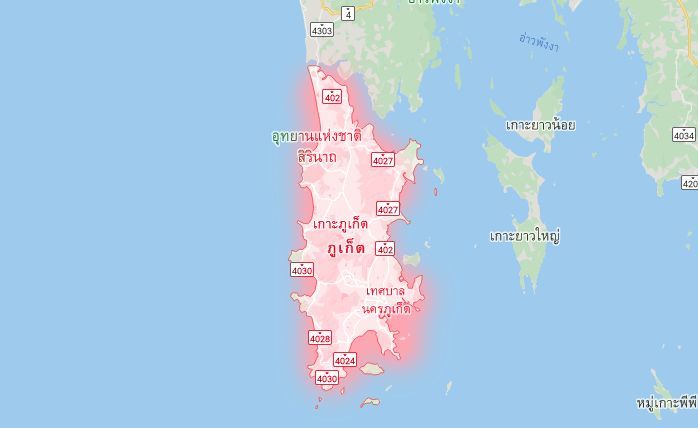 Phuket officially announces restricted travel between districts from April 13
Phuket prepares to close off every district on April 13, for 14 days. Phuket officials have already ordered the closure of more than 6 sub-districts includes Patong, Kathu, Rawai, Karon, Kata and Pla Klok Districts.
Pakpong Thawiphat, the Phuket Governor has given a live interview on MCOT, explaining in-depth that Phuket will close all the remaining sub-districts from April 13 for 14 days. He stressed that it is not a new curfew as people will still be able to travel within their own district.
The Phuket Communicable Disease Committee have also agreed that the remaining sub-districts should be shut down and all 17 districts will have a screening point along roads into their areas.
The reduction of movement from the locals will allow officials to help prevent further spread of the disease.
The announcement say that you are allowed to leave your house for important errands (including shopping for food and supplies, or medical care) but you must follow the 10pm – 4am curfew and not to travel between the districts. The Communicable Disease Committee Phuket say they hope that the situation would have improved by April 30.
🔴 #ด่วน❗️ #ภูเก็ต #ปิดทุกตำบลเริ่ม 13 เม.ย. นี่ผู้ว่าราชการจังหวัดภูเก็ต ให้สัมภาษณ์สดช่อง 9 MCOT เมื่อสักครู่ว่า ภูเก็ตมีทั้งหมด 17 ตำบล สั่งปิดไปแล้ว 6 ตำบล อีก 11 ตำบลที่เหลือ จะถูกสั่งปิดทั้งหมด ภายในวันที่ 13 นี้ (วันสงกรานต์คือ วันปิดเกาะโดยสมบูรณ์) เป็นเวลาทั้งสิ้น 14 วัน ผู้คนยังคงออกนอกเคหะสถานได้ แต่ออกนอกเขตตำบลไม่ได้ ให้อยู่แต่ในตำบลของตนเอง และภูเก็ตจะเป็นจังหวัดแรกในประเทศไทย ที่ใช้มาตรการนี้

Posted by เสียงประชาชน คนภูเก็ต Phuket People's Voice on Tuesday, April 7, 2020
SOURCE: Phuket People's Voice
The post Phuket officially Announces Restricted Travel between districts from April 13 appeared first on The Thaiger News.
This post first appeared on The Thaiger, please read the originial post: here