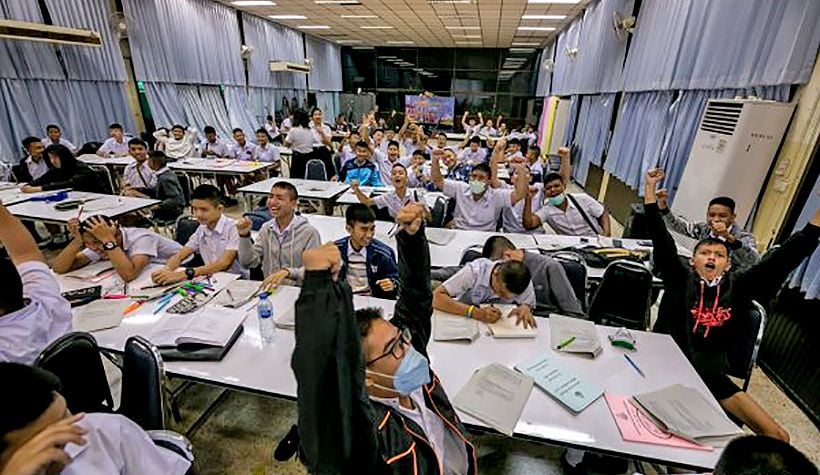 PHOTO: Thai PBS
At least one group of Bangkokians were happy today.
The Ministry of Education ordered all schools in Bangkok closed until at least this weekend. The situation will be reviewed after then.
Bangkok Governor Aswin Kwangkuang ordered all the 437 schools under the supervision of the City Hall closed until the weekend in order to prevent young school students from being affected by the smog, especially PM2.5 Dust particles. The Governor said the measure would also reduce the number of cars used by parents to send their children to schools.
The Pollution Control Department reported that smog problem in and around Bangkok has worsened today, with 39 areas affected by accumulated excessive PM2.5 dust particles beyond acceptable level, especially in areas along Rama II road in Muang district of Samut Sakhon where the level of PM2.5 particulate matter in the air has shot up to 141 microns this morning.
It also warned that the smog problem was likely to remain until February 4.
The Bangkok governor has also declared Bangkok a so-called "disturbance control zone" in which vehicles with diesel engines, burning of trash and other vegetation in the open and construction activities are targeted for strict checkings.
Those who burn garbage or other vegetation such as dried rice stalks in the open, diesel-engine cars that belch excessive smoke and contractors who cause dust pollution at their construction sites will face a jail term up to three years and/or a maximum fine to 25,000 baht.
SOURCE: Thai PBS
The post Bangkok Air Quality: PM2.5 dust particle problem closes 437 schools appeared first on The Thaiger Thailand news.
This post first appeared on The Thaiger, please read the originial post: here