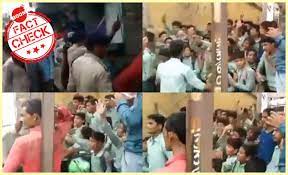 A video clip from Madhya Pradesh, wherein a group of students raised slogans in support of their School principal, is being shared on social media with a false claim that the students raised pro-Pakistan slogans.
The caption with this 30-second long video reads, 'the video is from Anjuman school of Mandsaur where young school kids are Chanting Pakistan Zindabad as soon as they stepped out of the school'.
(Hindi: वीडियो मंदसौर के अंजुमन स्कूल का बताया जा रहा है छोटे छोटे प्यारे बच्चे ने स्कूल से निकलते ही पाकिस्तान जिंदाबाद के नारे लगाए |)
You can watch the video here and its archived version can be accessed here.
Fact Check
A reverse image search on the video did not yield results so BOOM searched the internet with the keywords 'Pakistan Zindabad in Mandsaur' and found several news reports related to the same incident.
According to news reports, the incident is from Mandsaur, Madhya Pradesh, where the students of a Madrasa-cum-English medium school had taken to the streets in support of their Principal Saabir Sheikh.
The students were actually raising the slogans of 'Saabir Saahab Zindabad' and not 'Pakistan Zindabad'.
BOOM also contacted the Madarasa Anwar-ul-uloom. An official at the school told us that the incident was being shared with false claims.
"The students were chanting Saabir Saab Zindabad in support of their principal. The video was shared with fake claims," he said.
"Even the chief superintendent of police Narendra Singh Solanki has made it clear that no Pakistan Zindabad slogans were chanted by the students" — Md. Idris, Official at the Madrasa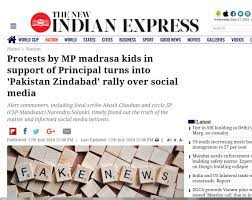 BOOM found several videos by local cable channels where the locals as well as officials have confirmed that the school children were sloganeering Saabir Sahaab Zindaabad. The incident is from July 15, 2019.
The incident was a result of internal dispute between the school principal Saabir Sheikh and the school's management, and the students feared that their principal would be sacked and raised slogans in support of him.