Top most romantic Bollywood couples: People always get attracted to celebrities and especially film actors and actresses. Younger generation draws inspiration from the celebrities' each and every move and follow them in real life. Now in the current generation when marriages are falling apart within days and weeks for silly reasons, many people that they we can look upon as role models could be found among the celebrities. N4M Review shortlists the top ten most Romantic Bollywood Couples who justify the adage, 'Love is Strong' and give inspiration to us all to lead a happy married life with Love, commitment and contentment.
Dharmendra – Hema Malini
Dharmendra was hailed as the original He Man of Bollywood. He had many female fans for his macho physique. He was already married but however he got bowled by the dream girl Hema Malini. Hema Malini who avoided him knowing his personal secrets as she didnot want to enter into any relation with a married person, however couldn't control his charms and advances. Finally she fell in love with Dharmendra on the sets of blockbuster film Sholay. Their relationship however reached a speedbraker when his wife Prakash Kaur, refused to sign the divorce papers and part ways.
During that time , Hema Malini was wooed by even stars like Jeetendra and Sanjeev Kumar. Hemamalini even planned to enter into wedlock with Jeetendra as Dharmendra remained silent and helpess spectator. Finally Dharmendra, decided to take a daring step and he converted to Islam and without leaving his first wife, entered into wedlock with Hema Malini. Both later embraced Islam in 1979 changing their names to Dilawar Keval Krishn and Aisha Bi R Chakravarthy to get married.
Amitabh Bachchan – Jaya Bachchan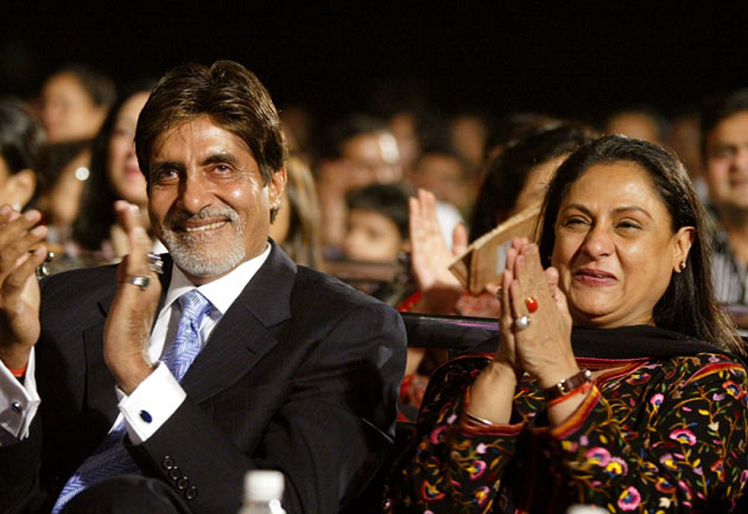 Big B Amitabh Bachchan and Jaya Bachchan are hailed and loved as the golden couple of Bollywood. Despite many differences, they with their strong bonding and understanding, withered off all the controversies and are enjoying their happy romantic life even now. All started when Amitabh , the tall, dark and handsome fell in love with gorgeous beauty Jaya Bhaduri and entered into wedlock on 3 June, 1973. While Amitabh justed tasted success with Zanjeer and got the craze as the Angry Young Man, Jaya whom he romanced in the film was already a star by then. Earlier in their marriage, they had their own share of problems due to the rumours between love affair between Amitabh and Rekha. Yash Chopra during Silsila shooting shocked all talking about Amitabh and Rekha's relationship which turned the atmosphere tense. Jaya however understood everything and supported her husband Amitabh all the way. Even during the Bofors scam, when his name came out linking him to the dark deals or when he landed in a whopping Rs 90 crs debt, Jaya Bhaduri supported him to the hilt.
Akshay Kumar-Twinkle Khanna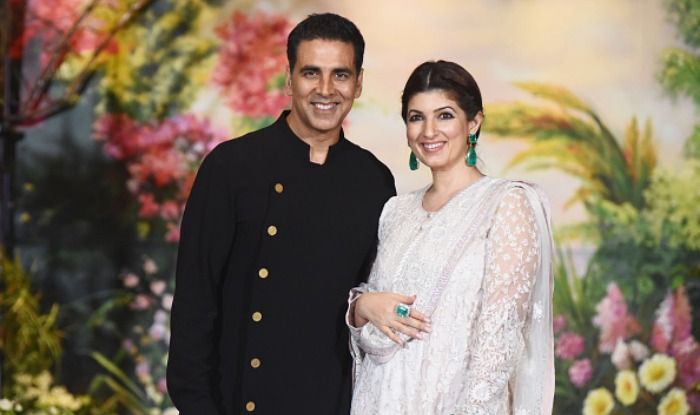 Akshay Kumar who is known for his dare devilry stunts and as a Khiladi in B-Town, is also renowned for his red hot affairs with the most stunning beauties. His name did rounds with Raveena tandon, Shilpa Shetty , Pooja Batra etc. However Twinkle Khanna fell in love with Akshay and they entered into wedlock in 2001. Twinkle though coming from the filmi background ,however had difficulty in finding all alone ,when Akshay continuously shot for three films every year and his name linked to all his co stars. However Twinkle didnot lose faith in her husband and she continued showering love. Both are enjoying their romantic life and Twinkle after quitting acting after marriage, turned into successful writer and interior designer.
Rishi Kapoor – Neetu Singh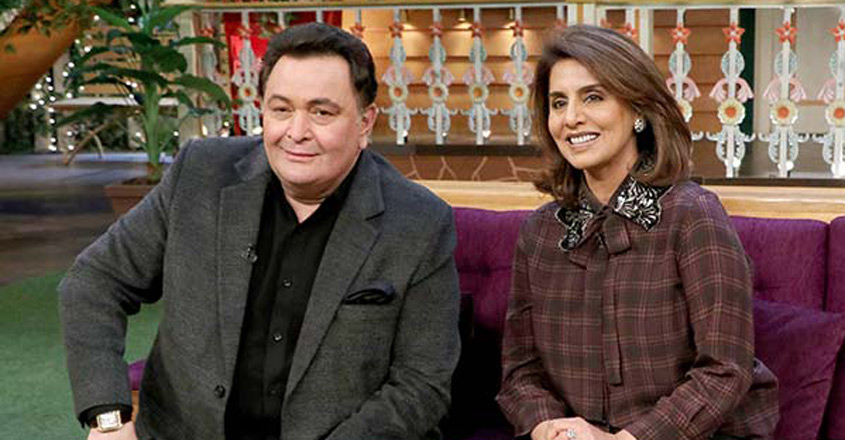 Bollywood original lover boy Rishi Kapoor cast his magic spell and charms on all females with his handsome and charming looks. However he fell in love with co star Neetu Singh. They not only heated the romantic atmosphere on screen but also in real life with their Khullam Khullar Pyar. Neetu who was the most sought after at the age of 21 ,however quit acting profession after marriage. Many rumours spread that Rishi Kapoor forced his decision on her, but she said that it was her choice. Neetu later made a comeback romancing her hubby in films like Love Aaj Kal, Do Dooni Chaar and Jab Tak Hai Jaan.
Dilip Kumar – Saira Banu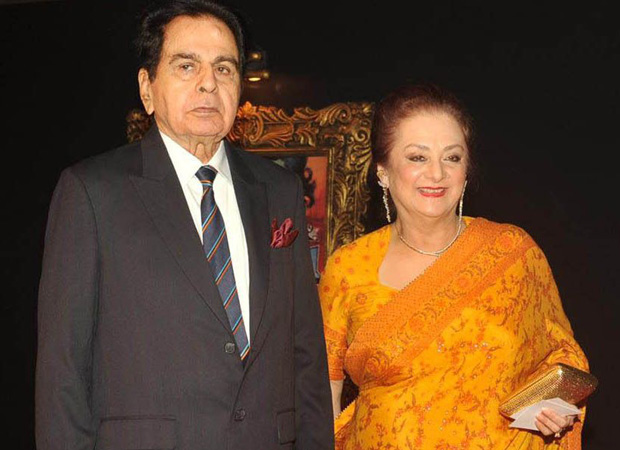 Despite the age difference of 21 years, Dilip Kumar and Saira Banu never let that affect their relation. Saira Banu fell in love with Dilip Kumar, the King of Tragedy but she never ever dreamed of marrying him. Many tried to woo beautiful Saira Banu and that included even Rajendra Kumar. But much to her shock, her mother Naseem, disapproved and instead approved Saira's marriage with Dilip Kumar. Saira entered into wedlock with Dilip Kumar at the age of 22 in 1966. She gave up acting with in few years after her marriage. Saira supported her husband even when his alleged marriage with a Pakistani girl Asma spread like a wild fire. Dilip Kumar was heartbroken and depressed coming to know that Asma was leaking their secrets to press. Saira supported her husband during these tough times and even now Saira lovingly calls him as Sahib.
Abhishek Bachchan – Aishwarya Rai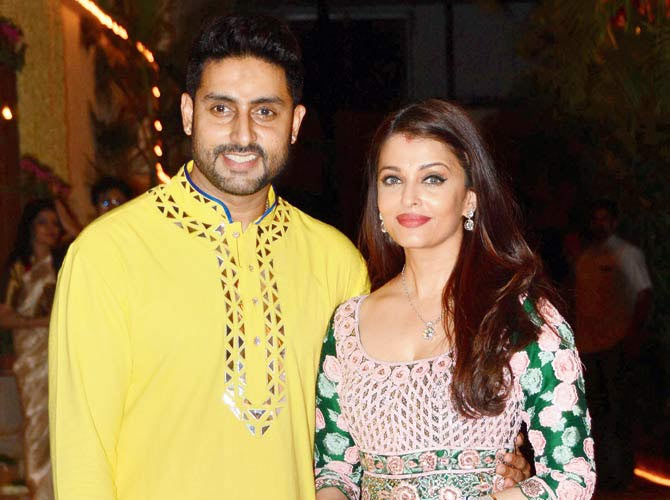 Abhishek Bachchan entered into wedlock with Miss World Aishwarya Rai after love blossomed between them in 2006-2007 when they were shooting simultaneously for three films. During the premier of Guru, Abhishek proposed to Aishwarya Rai. They had their own share of problems before marriage, when Aishwarya Rai's mangalic dosh delayed it and then the intense liplock between Aishwarya Rai and Hrithik Roshan in Dhoom 2, led to differences. In between a girl Janhvi Kapoor cut her wrist, shocking them claiming that Abhishek promised to marry her and Aish entered and separated them. Finally Aish and Abhishek entered into wedlock with each other in 2007.
Genelia D'Souza – Riteish Deshmukh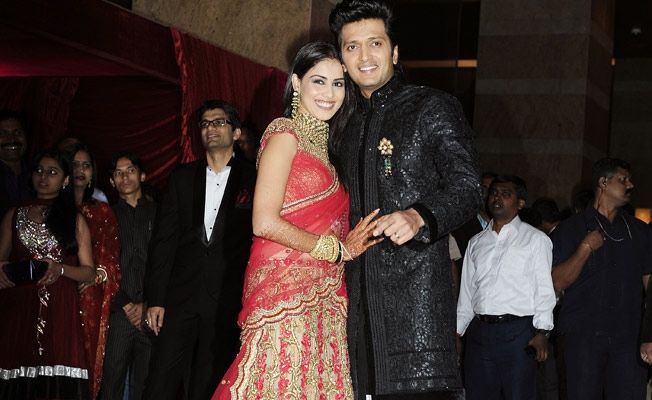 Made for each other, Genelia D'Souza and Riteish Deshmukh first met on the sets of the 2003 film Tujhe Meri Kasam. After romancing and dating for over 8 years, the couple finally got married in 2012. Blessed with two sons, Riaan and Rahyl, Genelia and Riteish have co-starred in various Bollywood films. Few outstanding ones being Masti and Tere Naal Love Ho Gaya.
Shah Rukh Khan – Gauri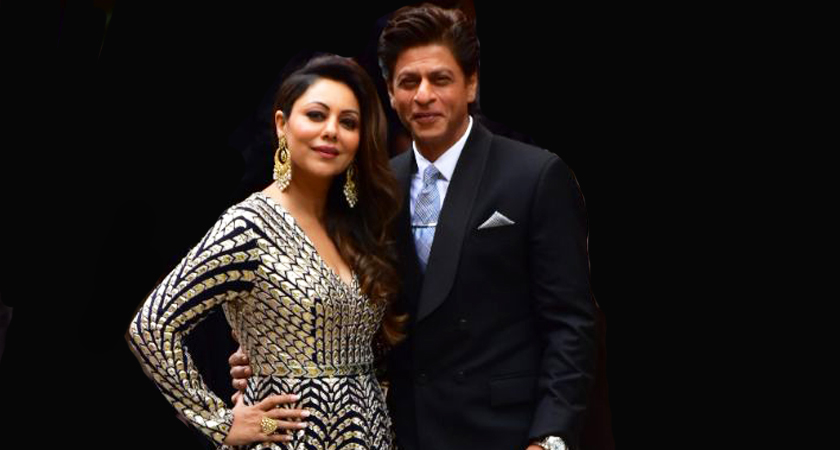 Bollywood Badshah Shah Rukh Khan who ignited romance on silver screen became the romantic king. His marriage with Gauri too became a fairy tale in a true filmi style. Shah Rukh irritates Gauri by getting possessive at times and Gauri irritated with his acts , once even left for Mumbai without telling him. Shah Rukh who got distressed, borrowed money from his mother and went in search of her. Finally they reunited and from then on enjoyed their romance in real life like a true love birds.
Parents of Gauri were against this alliance as Shah Rukh belongs to another religion and he was not an established actor at that time. Shah Rukh however convinced them and both performed registered marriage , wed according to Hindu customs and then had a Nikah.
Sanjay Dutt – Maanyata
While the world knows about the kind of chemistry Sanjay Dutt and Manyata Dutt share, hardly anyone knows how the two actually met and how their relationship evolved initially. The two were publicly spotted together for the first time at Star Screen Awards in January 2007. Though Manyata claimed their relationship to be almost 7 years old at that time, the buzz had it that they had met only in 2006 through producer Nitin Manmohan. The two married in February 2008, but even the Dutt family wasn't aware of the marrieage. One of the most happily married, which even the ups and downs of life couldn't keep apart, the couple are blessed with two adorable children!
Kiran Rao – Aamir Khan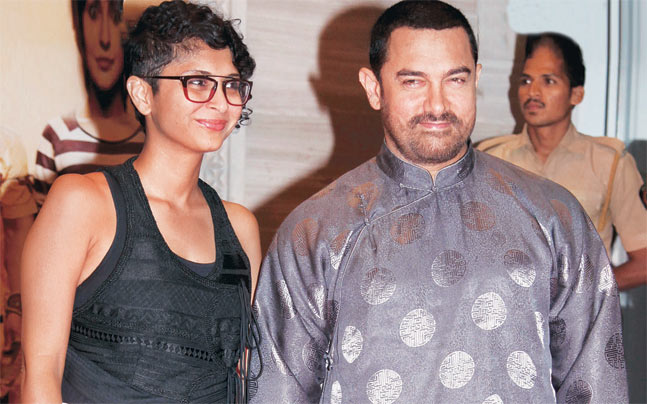 Aamir Khan has romanced innumerable heroines on the big screen, but it was Kiran Rao who made him fall for her hard. It was on the sets of the 2001 film Lagaan that the two met for the first time. While Aamir was the lead actor, Kiran was one of the assistant directors on the film. Soon the two became friends, and in 2005, they tied the knot. Aamir and Kiran have been married for 14 years now, and have a son Azad Rao Khan.
Saif Ali Khan – Kareena Kapoor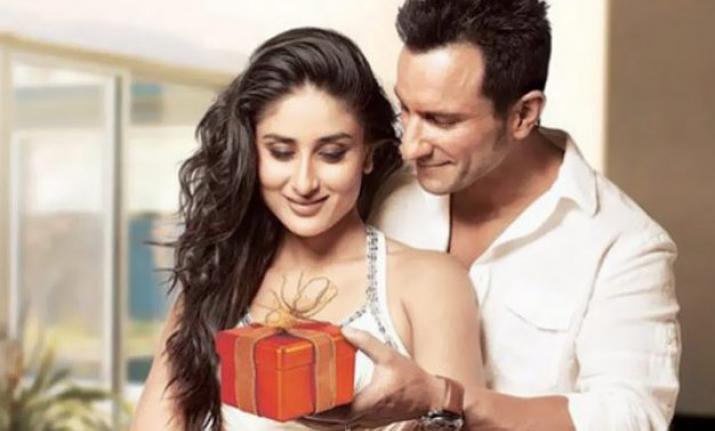 The Top Most Romantic Bollywood couple at No 1. Prince of Pataudi, fell in love with Kareena Kapoor when both were romancing in the film Tashan. Saif started dating Kareena Kapoor, providing moral support when Kareena and Shahid Kapoor's relationship hit rock bottom. This happened in 2007 and after dating for five years, both Saif and Kareena entered into wedlock. Presently blessed with the cutest son in town, Taimur Khan
The post List Of Top Most Romantic Bollywood Couples – N4M Review appeared first on News For Masses (N4M).