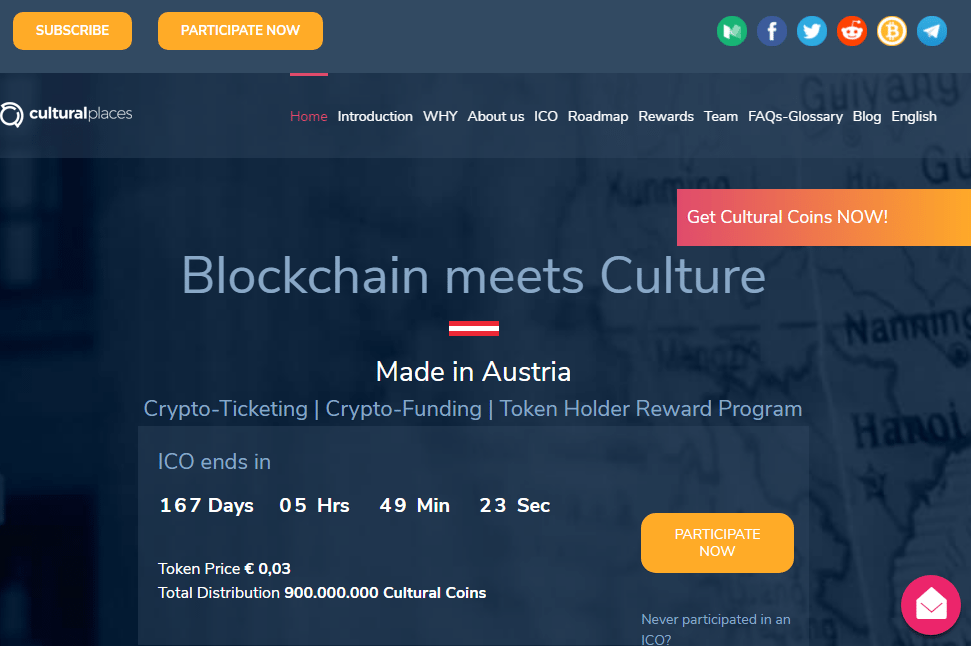 About Cultural Places
Cultural Places (CP) will connect every user interested in culture worldwide as a complete new and holistic cultural ecosystem. Cultural Places will become a social network for every traveler who is planning a cultural related trip, any interested person who wants to buy or sell cultural related items (digital and physical) and everyone who wants to meet other culture lovers, artists and culture professionals. Cultural Places is a multi-way platform that connects and unites consumers and suppliers. Cultural Places creates a completely new interaction environment, help cultural institutions to transform their content to be ready for the demands of a new generation, adds value and creates a new way of marketing.
Basic Information
| | |
| --- | --- |
| Token Name | Cultural Places |
| Token Symbol | cc |
| Social Media | |
| Token Price | .03 EUR |
| Platform | Ethereum |
| Country | Austria |
| Restricted countries | No restrictions |
| Accepting | ETH |
| Whitepaper | Click Here For View Whitepaper |
| Website | Click Here For Visit ICO Homepage |
What we do
Cultural Places Platform
Cultural Places opens up a gate to all aspects of a cultural user journey combining location based information, ticketing, crowdfunding, map & routing and trip planning. All on one platform.
Crypto-Ticketing
Cultural Places provides efficient ticketing utilizing the blockchain, which makes agency intermediaries unnecessary. Result: cheaper tickets, better margins.
Crypto-Crowdfunding
The platform offers a fundamentally new approach to cultural crowdfunding – connecting institutions, artists, patrons and private donors.
Holders of Cultural Coins will benefit from token reward program
Shown token rewards are based on a targeted event tickets market share of 12% (see whitepaper for details). Assumptions: Tokens are distributed on a monthly basis. Tokens can be bought unlimited on token exchange at issuing exchange value of 3 EUR Cents. As the number of tokens is limited to a maximum of 1.5 Bn., the received tokens are dependent on the EUR exchange value of the Cultural Coin in the open market
Cultural Places
Cultural Places is the first holistic platform in the cultural sector that connects visitors, institutions, artists, content creators and donors. Cultural Places will disrupt the cultural sector as it redefines the relations between all stakeholders and creates new business opportunities. The core is its own crypto currency – the Cultural Coin – based on blockchain technology. That reinvents and simplifies cultural financing, sponsoring and ticketing.
Cultural Places – Features
Smart crypto ticketing, crowd funding and payment

Less cost for customers and institutions

Security and transparency through crypto-token (blockchain)

Wide range of offerings and services (content, mobile guides, shop items, etc.)

Easy to use: Ticket and wallet on smartphone (easy refund or resale)

The cultural eco system benefits from several reward programs (also small institutions and artists)

Connecting and targeting all participants in the cultural world.
Cultural Coin Volume & Distribution Structure
Out of 1,5 billion generated Cultural Coins 900 million Cultural Coins (60%) will be offered to the public within the ICO. Unsold Cultural Coins will be burned after the 5th of April 2018. 10% (150 Mil) of the Cultural Coins will be placed in the stability pool. 2% (30 Mil) of the Cultural Coins will be reserved for the bounty program. 5% (75 Mil) will be distributed among the shareholders of the Cultural Places' Oroundo Mobile GmbH. 23% (345 Mil) of the Cultural Coins will be holdback to equip all partners, team members, advisors and early investors with Cultural Coins. The holdback portion is subject to a vesting period until 2019.
Opportunity Program
1% of all spendings on Cultural Places will be transferred to all Cultural Coin holders. This is the reward of being part of Cultural Places ecosystem and making a vision come true. Cultural Coins arised from the opportunity program will be distributed on a regular basis based on the amount of Cultural Coins a user holds in his/her wallet.
Customers Loyalty Program
1% of a user's spendings on Cultural Places (e.g. from ticketing and shop sales) will be transferred back to the user in our loyalty program as Cultural Coins – Cultural Places' own cryptocurrency. Users will therefore collect Cultural Coins, similar to a frequent traveler program, to further use them reducing ticket prizes, donating in cultural projects or purchasing location based content. The loyalty program reward will directly be transferred to the users' Cultural Places wallet in Cultural Coins.
Institution Royalty Program
1% of all spendings on Cultural Places will be put into a royalty program pot for all participating institutions. Every partner institution of Cultural Places will receive a share in Cultural Coins, which is depended on their turnover rate, their simple participation with their profile and their novelty to the platform. This raises the motivation for new institutions to participate in Cultural Places and offering content to the visitors. The distribution will happen on a regular basis.
Project Solidarity Program for Crowdfunding
1% of the collected Cultural Coins for a crowdfunding-project will be distributed to all other projects on Cultural Places. This gives smaller or special interests projects the opportunity to reach their funding goals easier leading to a richer offering of cultural activities powered by Cultural Places.
Video
Team
Member

Patrick Tomelitsch Founder & CEO

Klaus Windisch CO-Founder

Wolfgang Zissernig CMO

Ulrike Lemmerer Authorized Signatory

Stefan Mauracher
Also Read – Click Here for Read All ICO Review
.
Quote This article is writing on 17 July 2018 based on information available online & news portal. If you feel it's outdated or incorrect, please write here to update it. Mail us:
[email protected]
Or Whatsapp Us- +13098896258
Disclaimer:
Not all the websites Which listed in Top List are 100% safe to use or investment. We do not promote any of those. Due diligence is your own responsibility. You should never make an investment in an online program with money you aren't prepared to lose. Make sure to research the website
The post Cultural Places Ico Review : Blockchain meets Culture appeared first on Coinworldstory.