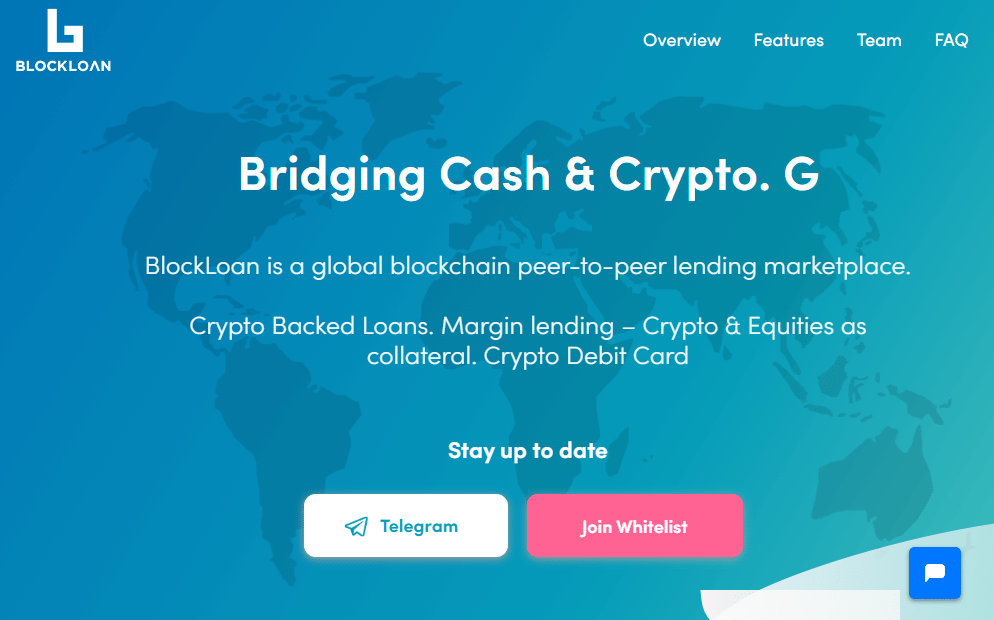 About Block Loan
Block Loan will be a global decentralized ledger technology peer-to-peer platform for crypto loans driven by a new model for Credit scoring. a global decentralized ledger technology peer to peer platform for crypto loans driven by a new model for credit scoring, underpinned by smart contracts, supported by deep industry experience and an existing business model.
Basic Information
| | |
| --- | --- |
| Token Name | Block Loan |
| Token Symbol | BLL |
| Social Media | |
| Token Price | .===== |
| Platform | Ethereum |
| Country | Unspecified |
| Restricted countries | No restrictions |
| Accepting | ETH |
| Whitepaper | Click Here For View Whitepaper |
| Website | Click Here For Visit ICO Homepage |
BlockLoan's Vision
A world with easy access to credit, anywhere & anytime.
BlockLoan's Mission
Create greater global accessibility
Create efficiency
Remove unnecessary transactional costs by cutting out the middleman
Platform Features
Crypto for cash
.Access cash without having to sell your crypto – BlockLoan Margin Loan
Invest in crypto
Use equities as collateral for your loan – BlockLoan Margin Loan.
Global access
Facilitating global access – crypto backed loans and access funds through your Debit Card.
Build your borrowing power
They use multiple data sources to accurately represent your borrowing power.
Giving Customers Control
Consumers own their own data, which is portable and accessible.
Proprietary multi-factor risk assessment technology from social and traditional data sources
Experts in credit risk assessment and leveraging the strength of social data
Benefits for Lenders Seeking Improved Returns
Improved Scoring Methodologies
They use social and traditional data to develop proprietary credit scoring model that provides improved insights into consumer risk.
Smart Contract Pools
Avoid having to bid on every loan – join smart contract pools that execute according to specified criteria.
Global Crypto and Fiat
Move away from local markets and invest globally. Be currency agnostic with crypto and fiat lending models.
Lending Tools
Track your loan portfolios, view live reporting and credit scoring updates.
Failling

t

o Address Market Needs
Traditional lenders have onerous processes that are usually paper driven or manual, with long cycle times and high costs of capital. Recently peer-to-peer (P2P) lenders using online platforms promised a revolution in lending but have been confronted with high customer acquisition costs and have not managed to match borrowers and lenders in real-time in a cost-efficient manner. Traditional and fintech P2P platforms have also not provided a solution to serve consumers with limited credit data or histories (which in the industry is called the "Good Unknown") or the large portion of the world's population that is currently unbanked (estimated at over 2 billion people
A Better Way to Rate Consumers
Additionally, consumers and lenders are reliant on simplistic credit rating systems with often limited data inputs, driven by credit rating engines that are opaque to both parties. BLOCKLOAN's user verification and credit rating system will run off both external thirdparty data, proprietary scoring and a user's social data. They believe this will form a more powerful scoring methodology that is applicable to a broader consumer base. Consumers will also have access to their scoring and personal data and be able to transport this data as desired Borrowers will be able to apply to multiple lenders simultaneously with one single application for the specific loan request.
The Challenge with Traditional Lending Models
Despite growing adoption of digital assets, something as simple as getting access to credit still remains a challenge for many borrowers. Not only are future customer needs not addressed, traditional lending institutions are also heavily reliant on outdated credit rating methods, directly dismissing the legitimacy of digital assets. Even with breakthrough technologies like blockchain, traditional financing is still channel, product and geographic specific with onerous processes that result in long cycle times and increased cost of capital. These issues not only limit efficient flow of assets, but also ignore a large segment of the market that is under-served by banks.
Only a Partial Solution
P2P lending platforms have struggled to truly offer a decentralized solution to the challenge of matching borrowers and lenders and have often had to rely on: Traditional credit scoring which is no better than the banks;
Opaque reporting with limited disclosure of terms and bad loans;
Loan documentation that is just an electronic copy of paper document;
Using traditional lenders to fund their borrowers.
P2P lenders have simply taken the traditional banking model and moved it online – the next phase of disruption is for the true decentralization of borrowers and lenders underpinned by blockchain technology.
Team
Member

Michael Phillipou

Co-Founder & Co-CEO

Bill Kalpouzanis

Co-Founder & Co-CEO

Aisha Hillary-Morgan

Director

Vaihbav Namburi

Rebecca Tait
Also Read – Click Here for Read All ICO Review
Quote This article is writing on 17 July 2018 based on information available online & news portal. If you feel it's outdated or incorrect, please write here to update it. Mail us:
[email protected]
Or Whatsapp Us- +13098896258
Disclaimer:
Not all the websites Which listed in Top List are 100% safe to use or investment. We do not promote any of those. Due diligence is your own responsibility. You should never make an investment in an online program with money you aren't prepared to lose. Make sure to research the website
The post Block Loan Ico Review : A world with easy access to credit, anywhere & anytime appeared first on Coinworldstory.