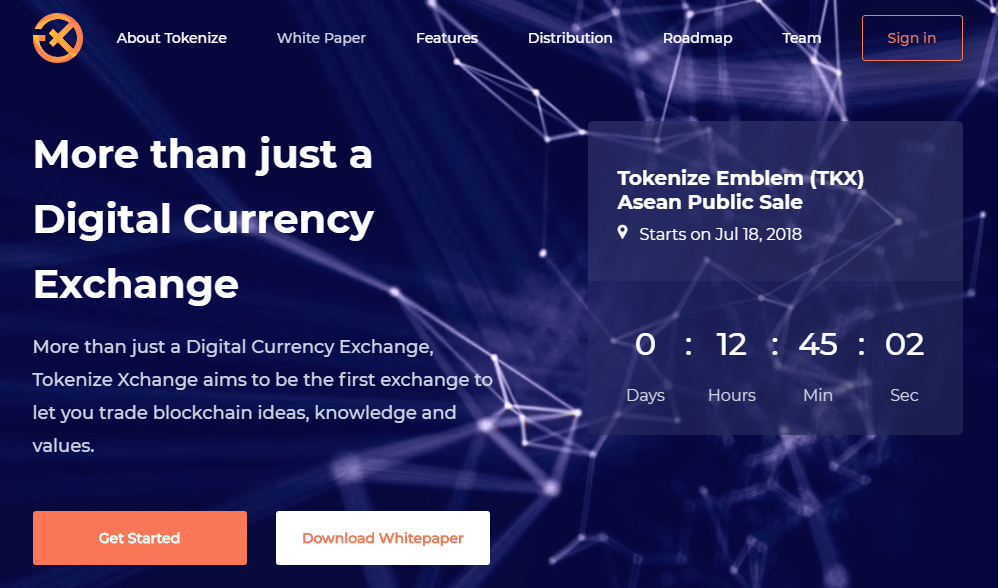 About Tokenize
Tokenize is an established Digital Currency Exchange. At its centre, it is an agile, high-performing exchange platform that offers a simple and user-friendly interface for both individual and institutional investors. Currently a centralised exchange, Tokenize offers vast options for investments in the form of Fiat-Crypto and Crypto-Crypto trading pairs. It is also an Initial Exchange Offering platform that gives anyone access to emerging digital currencies that have high potential. By partnering with reputable new projects, the IEO platform will enable the early investment into up and coming ICOs. As part of core values, Tokenize provides customers with extensive customer support through various channels. Moreover, the platform engages high end security measures that help give the user a peace of mind when storing digital currencies in exchange wallets. The platform will serve as not only a financial tool but also as an educational and communal instrument in proliferating the values and ideas that the blockchain has to offer.
Basic Information
| | |
| --- | --- |
| Token Name | Tokenize |
| Token Symbol | TKX |
| Social Media | |
| Token Price | 0.00125 ETH |
| Platform | Ethereum |
| Country | Singapore |
| Restricted countries | No restrictions |
| Accepting | ETH |
| Whitepaper | Click Here For View Whitepaper |
| Website | Click Here For Visit ICO Homepage |
Tokenize Mission:
1.To deliver the best-in-class localized customer services.
2.To provide a one-stop solution for trading, spending and donating.
3.To propel blockchain innovation forward through the exchange of ideas, knowledge, and values.
How It Works
Register
Register your interest to participate in Tokenize Live Consensus – a live ICO event.
Tokenize Features
Digital Currency Exchange
Competitive rate
Intuitive platform
Intelligent trading algorithm
Personalized customer experience
6-Degree Network
First of its kind Blockchain Marketplace
Trading is facilitated by Smart Contracts
Community of whitelisted companies
In six or fewer steps away from each other
Community
Anonymous profiles online, connected individuals face-to-face
Community rates and reviews tokens
Gamification concept for a new experience
Token Store
First of its kind
Browse tokens before trading
Rate and review tokens
Spend and Earn
Partnership with whitelisted merchants
Easy to spend with TKX tokens
Perks and promotion from time to time
Spending made easy with TKX tokens
Enjoy Regular perks and promotions
Donate and Earn
Partnership with whitelisted non-governmental organizations (NGOs)
Easy to donate with TKX tokens
Earn social status in Tokenize community
Donating made easy with TKX tokens
Access to the new paradigm of the blockchain
Tokenize Xchange is an agile, high performing exchange platform that offers a simple and user friendly interface for both individual and institutional investors.
Problem
Accessibility
The blockchain boom has paved the way for a multitude of new projects to enter the ecosphere. These new projects have the potential to elevate society to new heights through the blockchain. However, there is a huge disparity between those that have digital assets and those that do not. For new individuals, the barriers to entry faced when buying their first cryptocurrency are very high. The general uncertainty with the market is accentuated by the overall complexity of the technology and the accompanying lack of understanding. Purchasing cryptocurrencies is often a drawn out process involving many steps from many different sources.
Security risks
There is an inherent risk when dealing with any sort of asset via digitalised means, exchanges in the space have fallen victim to cyber attacks or security loopholes over the past years. These breaches in security have resulted in millions of dollars worth of cryptocurrencies being siphoned to dishonest parties. Tokenize Xchange utilizes hybrid wallet mechanisms to ensure that the users digital assets are safely kept away from
malicious attacks.
Solution
Addressing a Lack of Accessibility
Tokenize Xchange aims to be more than just a digital exchange, but also a gateway to cryptocurrencies. While maintaining strict KYC/ AML procedures, Tokenize can offer a convenient and frictionless portal for anyone to buy digital assets. They vision for Tokenize is for it to become a leading hub of activity surrounding cryptocurrencies. They intend to curate a definitive listing of the top ICO tokens in SEA and develop a community that allows for easy transfer and liquidation of tokens. By becoming a go-to portal for SEA projects to list their newly minted ICO's, Tokenize will greatly mitigate the barriers to entry for investors and also provide an established dynamic marketplace.
Platform Security
Tokenize addresses our asset security with several mitigating factors:
1. AES128 Security encryption
2. IP whitelisting and 2FA
3. Hybrid wallet mechanism
4. Multisignature confirmation
These barriers are in place in a 7 layer security gate beginning with our web application. This will hinder DNS flooding, UDP amplification and HTTP flooding.
IEO Platform
The Tokenize Xchange partners with rising blockchain projects that have the potential to add value to society and gives its users early access into its crowdfunding rounds. The ability to consolidate early projects in one platform gives the community 2-way dynamic interaction. Not only will the community be granted access to many ICOs at once, but the ICO projects also benefit from tapping into an already established network.
Team
Member

Hong Qi Yu CEO & CTO

Erin Koo Chief Operating Officer

Justin Thio Business Manager

Alson Chia Marketing Associate

Darren Koh Marketing Associate
Also Read – Click Here for Read All ICO Review
Quote This article is writing on 17 July 2018 based on information available online & news portal. If you feel it's outdated or incorrect, please write here to update it. Mail us:
[email protected]
Or Whatsapp Us- +13098896258
Disclaimer:
Not all the websites Which listed in Top List are 100% safe to use or investment. We do not promote any of those. Due diligence is your own responsibility. You should never make an investment in an online program with money you aren't prepared to lose. Make sure to research the website
The post Tokenize Ico Review : Tokenize is an established digital currency exchange appeared first on Coinworldstory.