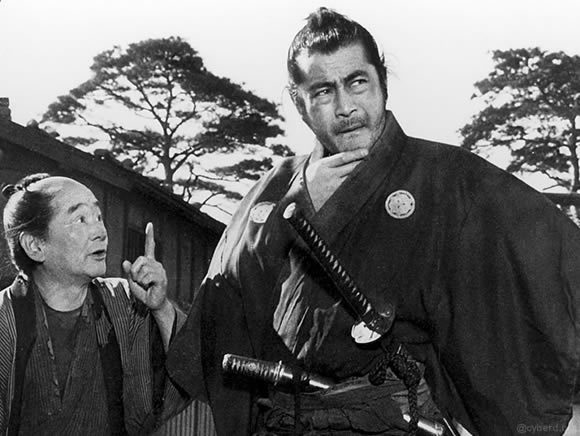 Sanjuro: one of Akira Kurosawa's legendary swordsman masterpieces from the sixties - also a ronin, a samurai without home, who ends up in the middle of a war between clans, and helps the side he stumbles upon first. Fortunately, it just so happens to be the right side.
This, Seven Samurai and Yojimbo (which this one has certain similarities with - and might be considred a prequel to) are maybe the three movies Akira's most known for, and no matter how outdated it is, it still holds. The filming may be basic, but the acting's good, and it's stood the test of time tenaciously. It's a glimpse not into only an exotic culture (unless maybe you happen to be of this culture), but also into a strange time, where everything was expressive, intrigue heavy, and characters both conveying and candid. Maybe it's really not that different now, though scenery and clothing certainly is, and fortunately most people no longer wield their swords in public.
Toshirô Mifune plays Sanjuro, and makes a lasting impression as such. Always vigilant, even if he carries a certain carelessness with him, there's always an air of both tension, as well as humor surrounding him. It's strange how well the tension and humor combines, and how some of the most serious moments somehow seem more objective when he's around them. The story flows well, and isn't as obvious as you might expect from a movie of the time. The action's quick and nimble. The character's fit their roles. The black teeth are an interesting detail (apparently it was trendy back then - among women of the court), the camellia's interestingly enough fake (though the leafs were real - replaced every day while filming as to remain 'fresh'), and if you're looking for other fun facts you'd best visit the IMDB page for a few more. Movies with a history - a story with a story, is always more intriguing somehow.
Overall: it's a classy action flick from a past time! Though if you expect ferocious fights and flashy back flips, look elsewhere. This is authenticity at it's finest, and friendliest. A tale well-told, with strong characters, well-scraped script and a story that goes as it should, but not always the obvious route. Even the surprises are senseful though, and don't feel added just for the element of. It's a classic, with commendable narrative, character and culture. Well done.
rated 4/5: fo shizzle