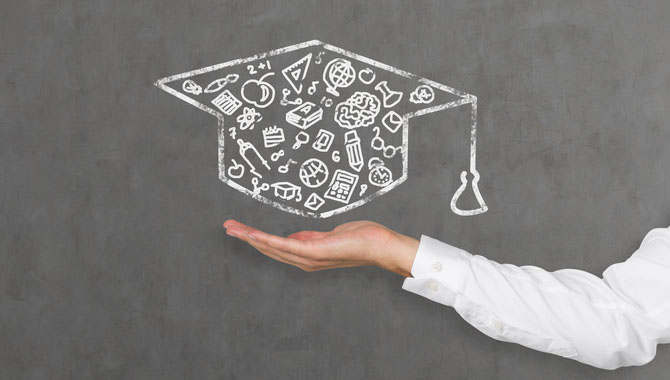 Writing term papers and theses may seem too complicated when you don't know what to expect from this assignment. These great tips and examples given by Ingrid M. Gende, Assistant Professor at the International University of La Rioja, will facilitate this process.
Get ready to end up with a perfect academic paper that will get you an A+!

4 tips to help you get started

Here are four useful tips on thesis writing that will prepare you for the process.
Think well about your topic. It should be a topic that would be interesting for you: you're going to write about it for more than one month.
Try to define the exact boundaries of your work, the more broad your subject is, the more inexact and general will be the result.
Try to outline the period, cycle, or course that the practical part of your paper will or could touch upon.
Think about the title of your work, it will help you define its content. Keep in mind that this is not a title of a book, magazine, or movie: it's an academic paper that should have a clear, concise, and descriptive title.
Look at a few good and bad examples of titles:
Bad examples
"IT in the Preschool"
"IT" is incorrect: titles shouldn't contain abbreviations.

"IT" is too general. Are you really going to discuss all the new technologies and all their capabilities for an entire Preschool stage? Will you refer to all the disciplines? Are you going to write about it on ten or thirty pages of your theoretical part? Obviously, you'll end up with a very poor result then.

"The IT in the Primary"
Use the expanded Primary School or Primary Education instead of just Primary here. In addition, are you going to present practical ideas about using IT during the entire Primary School period? Narrow your topic down to the course and subject.
"The IT in the HE"
In addition to all the comments above: don't use abbreviations in the titles, some of your readers may simply not understand them. For the same reason, if you use abbreviations in your paper, include their definition in parenthesis when you use them for the first time: HE (Higher Education).
Good example
"The use of mobile devices in the English / Science / Mathematics class of the Preschool / Primary School / Secondary School."
This is an example of a correct title. It's clear and concise. A person who sees it quickly gets an exact idea of the paper content.
6 tips for seamless writing
So, you've defined the topic, main focus, and the title of your work.
What's next?
Approach your instructor/professor to ask for more details and establish a fluent cooperation to ensure an effective writing process.
These 6 general hints will facilitate writing a term paper or thesis:
Read all the documentation before it's provided to you to start your work.
Keep in touch with your instructor/tutor constantly. In the beginning, it may seem that you have plenty of time but remember that if you're given that much time, that's because you really need it. Trust your instructor(s): they must have enough experience after guiding more than a hundred of papers writing.
Make sure to respond to your instructor's messages quickly.
Meet the deadlines.
Carefully review all the information you've been given.
Feel free to ask any questions that would arise.
Avoiding common mistakes
Now it's time to actually get down to your researching and writing. To make it smooth and avoid multiple corrections, pay attention to the 5 points below (and make sure to keep to them).
Table of contents. A good way to start your work is to create a clear structure of your future work. Remember that there are two fundamental parts: theoretical part and practical application. Make a draft of your contents including all its subsections from the start and till the end to get a general view of the work.
Writing a paper. If you have issues with your language, or with your word processor, ask for external help. Your instructor should guide you in the issues related to researching and writing, but you can't have them as your proofreader. You're going to perform your final work, so you should already know how to manage all these issues.
The punctuation is another important point: you should know how to use commas, periods, and align the paragraphs, as well as other basic aspects.
Learn from your mistakes. If your instructor corrects your mistakes, you have to consider and avoid them in all your further work, not just in a particular place where it was found.
Think about all the formalities before you start: names of sections and subsections, page numbering, table of contents, reference page, etc. These will be the first things that your assessors will evaluate. These are not the subjective features that one professor might like and the other one might dislike, but those basic issues that create the first impression about your work, along with it's title. Your paper must be consistent and uniform.
Further to the last point,
Here is a table with the most common mistakes that students make in this respect.
Element
Type of mistake
Paragraphs

Not adjusting properly paragraphs from the left and right sides.
Leaving spaces between the paragraphs one time, and not leaving them the other time.

Commas

Placing commas between a subject and a predicate.

Citations/Reference

Presenting citations and/or references in different formats.

Indents

Using indents some times and not using them the other times.
Using different indents throughout the text.
Using distinct indents for titles for the same level sections/subsections.

Typefaces/fonts

Using different font sizes for the titles of the same level sections/subsections.
Using different typefaces throughout the paper.

Spaces

Leaving different spaces before and/or after the titles, citations, paragraphs, or tables.

Numbering lists

Using different labels for numberings.
Using different indents in distinct numbering lists.
Putting some numbering elements with dots in the end and the others without.
Not including the numbers from the table of contents into the paper body, and vice versa.

Titles

Listing different titles of sections/subsections in the paper body and in the contents.
Not complying the pages listed in the contents with the ones actually present in the paper.
Eventually, a basic aspect, which is even more significant than using a correct APA citation style, is the uniformity.
If your paper includes:
Numberings of distinct format,
Unaligned paragraphs,
Different fonts,
Other above mentioned points,–
It all makes an overall impression that your paper lacks basic and essential revision.
You should understand that this project is long and complicated, and, most probably, you haven't done anything similar before, but with the help of your tutor and instructor (and our thesis writing tips) it becomes an achievable goal.
You can complete it, so don't get discouraged!
5 helpful tips for formal writing
Are you still unsure how to write a term paper and master's thesis that will be highly graded?
You should remember that you're not writing an opinion piece, or an article or story describing your personal experience: it's an academic paper so you should keep to formal style of writing.
Bearing this in mind:
Don't write in first person. Some professors don't let their students write in first person plural as well. In any case, using an impersonal form is a common recommendation.
Avoid categorical assertions. If you use categorical statements, which you shouldn't do, at least they have to include the parenthesis specifying what these statements are based on:
Example
Explanation
As everyone has Internet nowadays…
In fact, not everyone has access to Internet today, you have to specify the facts, for example: According to the study (author, year), the biggest part of the Americans/Spaniards, which is approximately 75%, have Internet connection…
People have low level of English in Spain…
You can say so if your information is based on a study confirming it, therefore, you should indicate this data source details in parenthesis.
All the educational centers have Internet…
Can you name the relevant investigation or have you checked all the centers yourself? Does it refer to US/Spain or the whole world?
All the teenagers have mobile phones today…
What's the grounding for this statement? Moreover, you can never refer to "all the teenagers" since in this case you mean all the teenagers of the world. You have to be precise: name the study and outline its subjects.

Don't give your personal estimation. We can't say: the interest of this work is focused on the fact that all the teenagers have mobile phones…

You have to find another way to express it, avoiding categorical assertions with no grounding, e.g.: The interest of this work is focused on the consideration that nowadays mobile phones have become important elements in everyday life of many young people, that's why an opportunity to start using them in classroom is deemed essential.

Many experts consider that the introduction of new technologies is fundamental …
What experts do you mean here? At least, put the parenthesis with a data source: you can even include here a few studies (author, year; author, year).
Don't use colloquial language. This is formal writing, so you should avoid expressions like:
| | |
| --- | --- |
| Colloquial language | Formal language |
| This way, we involve the guys… | This way, we involve the students (teenagers, young people)… |
| It's just a stone's throw away… | It is very close to us… |
| All these things are important… | All these issues problems (aspects, questions) are important… |
| The amount of … is really incredible | The amount of … is remarkable |
| More is meant than meets the eye… | There is more than we can see at first sight… |
Explain an abbreviation when it appears for the first time in your paper. Besides that, you need to use it correctly in terms of orthography and punctuation, keeping in mind that this revision is not your instructor's commitment. Neither they are obliged to teach you how to use Word software.
Don't plagiarize. Plagiarism is a direct reason why some students fail. The work is checked several times by a professor, an examining board, and with the help of a special plagiarism detection software. Keep in mind that it's very easy to detect a plagiarized extract due to obvious difference in style and quality of writing.
Note:
Plagiarism supposes copying not only the text of a paper body, but also the titles, structures, suggestions for use, and bibliography. Using the instructed citation style helps to avoid these inconvenient, and sometimes unconscious, plagiarism issues.
Literature review
Your work will consist of two fundamental parts: theory and practice, or possible practical use.
Normally, the first part includes literature review, the scope of which depends on a type of investigation. It implies that you will discuss your topic based on what other authors and experts have already covered.
It means that:
It will involve researching the work of more than one author, since it's not a monograph: you can't base your work on just one book, that's why this stage is called Literature Review. This section of your work will go after the practical part, acting as its grounding and justification.
Use online resources
How and where should you start looking for information for the theoretical part?
If you have some questions about the resources for your project, you can turn to a library for advice or help, or watch some issue-related lessons. Nowadays, using various academic search engines and websites makes your paper writing much easier than ever before.
Here are some suggestions on online resources.
For English-speaking student
For Spanish-speaking students
Research Gate
Biblioteca UNIR
Academia
DIALNET
Google Scholar
Google Scholar
ERIC
Redalyc
Microsoft Academic Search
Ministerio de Educación
Sparrho
Página de Unión Europea

Google

You can always use this good old engine by entering the direct form of the keyword you're looking for. For example, search for "m-learning" along with "PDF". With PDF placed next to your word, there will mostly pop-up articles.

You can change the keywords you're looking for to get more results: m-learning, mobile learning, mobile devices in education, etc.

Feel free to search for keywords in different languages to expand your results.
Every result, reference, or page that you discover can take you to loads of other sources via the included links or from their own reference lists.
Now:
Visiting Wikipedia (or Rincón del Vago and Monografías for Spanish-speaking students) can help you get more information, ideas, or links to other pages. However, including these resources into your reference list is not advisable: you can't be sure about the credibility of the discovered data sources.
You should also avoid adding to your reference list the authors of master's theses and term papers whatever University they are representing: usually they are not experts.
Going to offline libraries is another option for any student.
Avoid plagiarism
Everyone who decides to visit online collections of academic papers, shouldn't use the structure of these works as a basis. Visiting such websites is not recommended while your idea is still maturing, otherwise, you might end up including the same sections into your paper (which in no case should be done), and you can also be tempted subconsciously to use the same bibliography.
By the way:
Plagiarism is not only about copying content, it also refers to copying bibliography.
Many topics have already been discussed in other papers; the difference will consist in your insight on the issue and your personal point of view. If you review other works on the same topic, they'll inadvertently influence yours.
Nevertheless,
Some instructors may give you the opposite advice.
Develop your ideas logically
The development between subsections should be logical, i.e. it should consist in evolution from general to specific, defining principal concepts that could appear.
In the example about learning with the help of mobile devices, you could present the following subsections in a hypothetic framework:
The concept of mobile learning
History of mobile learning
Features of mobile learning
Advantages and disadvantages of m-learning
Mobile learning in USA/Spain
Mobile learning during the … stage
M-learning in the class of …
Avoid using foreign terms
Another consideration is that you should avoid using foreign terms if the needed words exist in the language of the paper, however two different words with the same meaning may be used to avoid repetition.
Regarding the direct quotations in the languages different from the paper's language, it is recommended to use the latter one, whereas a page footer would include an original quotation version: a professor doesn't necessarily speak other languages. Anyway, ask your professor for special instructions for this case.
3 practical tips on using APA style
As soon as you start writing the bibliography revision, you'll have to follow APA style standards to include the quotations and references correctly.
Here are some tips in this respect:
Every quotation should be listed on a reference page and, vice versa, make sure that your work includes every source listed in your references.
You may also include one section for the recommended or consulted bibliography, in addition to the one used in the work. This point should be discussed with your professor separately.
Using APA style may be somewhat complicated but if you maintain the consistency and are aware of five or six fundamental points, it's easy to use.
When something is unclear to you, your instructor should give you an advice. This is what you need to know:
The meaning of a "quotation" and "reference".
Difference between direct and indirect quotes.
Difference between long and short direct quotes.
The correct citation of one author who is already cited in the book of a different author.
If you speak Spanish, feel free to use the UNIR library or watch this short introduction video for clarifications in regards to your citation style. You may visit this Citation Styles Guide to get help with citing in English.
Practical part and suggestions for use
The theoretical part is followed by a practical part of the work, or a possible suggestion for application. As it was mentioned before, however this section is original, the starting point of this part is a section with theory.
A literature revision part contributes to practical suggestion that you can introduce this way: I'm going to offer this suggestion, based on the previous studies that were analyzed. Your suggestion or practical part doesn't appear from nothing, but you have to base it on that previous study that you have done.
Let's imagine, you are studying the use of Mobile devices in the classroom.
Then, while preparing your literature review, you'll find studies and experts discussing these issues:
How to introduce mobile devices in classroom,
How to avoid problems that could potentially arise,
What kind of use of the mobile devices could be interesting for students.
When you come to the practical part, you can specify your suggestion about the way to use mobile devices in a classroom or about a certain application that can be utilized, basing your proposition on a theory included in this part of your project.
Offer an original idea for practical use
Your suggestion, its parts, or initiatives that you'll present will be based on this theoretical framework–a brief literature review that you have done previously.
Without any doubt:
The practical part of the paper or your suggestion supposes an original idea for use, although you could find its grounding during literature revision. Your imagination and creativity will finally shape an exact form of use.
The practical part offers plenty of variations, but you shouldn't make it too general if it applies to educational context.
The proposition you give should suppose real application that should:
Be adequate for the outlined stage or ages of students,
Be introduced without modifying the educational program,
Require realistic timing,
Stay realistic regarding material and human resources, as well as in terms of economic expenses and space; if the last two ones can be avoided, the better it will be,
Be able to adapt to different contexts and situations,
Consider the diversity,
Consider special needs,
Take into consideration different types of learning and comprehension,
Motivate the students,
Favor mastering the content and develop competencies.
If it's not a suggestion, but a field study, you need to have at least basic knowledge of statistics and never use sentences like most students say that…, you have to be exact, that's what you'll have the data, analysis, and results for.
Final recommendations
To summarize, we have simply provided you with general tips, however you should follow the advice and guidelines that your instructor/tutor/professor provides you.
In any case, make sure to:
Communicate with your tutor/instructor throughout the entire writing process.
React to their messages.
Trust your tutor/instructor.
Ask anything that's unclear to you.
Get acquainted with all the proposed information.
Assist all the scheduled classes.
Correct your mistakes across all your paper.
Stay consistent in formatting.
Organize your time.
Stay constant.
Watch your writing.
Avoid plagiarism.
Avoid other studies affecting your research: your experience should be personal, different, and unique.
It's clear that most of you work, have family, other classes that need your attention, and many other commitments. But you have to be proud that you've come to where you are now. Writing a master's thesis is your last effort.
So keep up your spirits!