In the last academic year (2009/2010), there were more than 670,000 Foreign Students in the United States. If we are to assume that the numbers remained the same for this year (2010/2011) and will continue along the same lines for the next academic year, the number of students from different countries will be substantial.

It's no secret that the US higher education system is one of the best in the world; that's why there so many people come to the States to pursue their degree. The majority of those people do not have English as their primary language. That is why today we are going to address a resource designed specifically for students commonly known as ESL, or with English as a second language.

The name of the resource is Harmani.com and it offers assistance to ESL students, their parents, librarians and school administrators, who deal with foreign students. There are more than 2000 US institutions of higher education, and many, if not most of them, accept foreign students.

Thus, there is a good chance that a lot of ESL students will find this site to be quite useful. The same applies to parents and professionals who interact with such students on daily basis.

It's not the main purpose of this site to offer educational assistance. It's just one of its features, which you can get acquainted with on their website.

Pros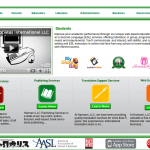 We like the range of educational services that they offer: curriculum development, psychological assessments, teacher training, e-learning design and development, U.S. Ivy League admissions consultation, tutoring support services (reading, math, science, and English), test of English for International Communication (TOEIC) preparation, test of English as a Foreign Language (TOEFL) preparation and many other assisting services.

The company seems to have a lot of experience, as there is a great deal of information online about their work, their offices, etc.

Cons

We haven't been able to find any information on costs, payment procedures, possible payment partners, or vendors that process payments for them. This is quite frustrating, because when the information is not disclosed directly on the site, it somewhat cripples your ability to make the right decisions.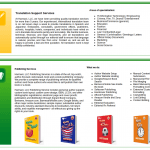 There are also not that many other additional details that might help the visitors of the site to find out more about the company. The only available information on the site, specifically about the firm's educational opportunities, is that which we have already mentioned, under Pros. To find other information, we had to go elsewhere and Google on the company.

In addition, the site looks rather old; the design is somewhat outdated and is very basic and simple. It appears that the people who are maintaining it actually don't care that much. There's also not very much info about their social media presence; no Twitter, no Facebook page, only a community page, which is clearly not enough to run an efficient online media campaign. This seems odd. The copyright year listed on the site is 2011, which means that people actually run the site.

The company is listed in some portions of the site as a start up venture. However, these folks seem rather disconnected from cutting edge marketing and customer contact, as evidenced by the dearth of detail, and the absence of social media destinations,

Conclusion

In the conclusion, we want to sum up everything that has been said thus far. The company reviewed raises more questions than it offers answers – all because of their website: there just isn't enough info. You have to get all information through their contact form.

Maybe this is because they are mostly dealing with foreign students/visitors, and they see no need to update their site. When we tried to use the CONTACT US form, the SUBMIT button did not work, but this could have been a problem on our computer.

The range of offered assistance is truly amazing, although we can't verify the quality. But we can tell you, that there aren't many bad comments/mentions online about this company, which is also great.

In the end, it all comes down to you – you have to use their contact information, get as much info from them as possible before actually paying for anything. They list a physical address in Philadelphia, and a working phone number, so in theory, some of the information is obtainable directly. We especially recommend that you request as much information as possible about payments, and how they are handled. This is a critical issue, to prevent identity theft.