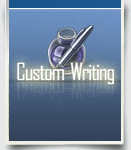 We want to wish you all the best during this joyous holiday season. We hope that you are able to spend it in a meaningful way; with the circle of family and friends that you cherish, and who are always there for you.

We are thankful for all of you, as well, and we will always be there for you, too. We appreciate your continued confidence in us, and are grateful for your feedback. Because you take the time to share your thoughts with us, we can see that our services are making a big difference for many of you. That is the best gift we could ask for this holiday season. It makes the hard work we put into helping you all worthwhile.

Here at Custom-Writing.org we invest care and effort not only in our academic services but also in the advice articles that you can always find on our blog. We hear from many people, often very movingly, about their experience with all of our products, and the positive impact that we have had on their academic careers.

Every comment and reaction that you leave for us is deeply appreciated and very useful in planning for the future. We are working constantly to improve all of our offerings and we wish you success with all of your endeavours and educational goals!