A lot of students face the same problem after graduation – finding the right job, at least for the start. There are also internship opportunities to consider, which provide valuable experience, so much needed for your future career. The bottom line? Landing a good starting job may be decisive for you.

One of the most important pieces of this puzzle is your resume, or more appropriately for this article – your portfolio. The tool that we are going to tell you about today is going to help you in creating your unique online identity , and should become a great addition to your LinkedIn.com page (if you have one). It's called – MyFoliotek.com


But there is more this system than just a service for students – how about a complex system that allows faculty to assemble elaborate student portfolios and evaluate them. Student assessment has never been easier. Read the rest of the article to find out more.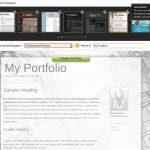 Of course, one of the most convenient options that this service offers is the customization of the portfolio. You can change a lot of stuff; for some of us who used their product, the customization seemed even a bit too complex. It was almost like PhotoShop.

Don't be scared, however. The menu is quite intuitive and should not present problems in learning how to use it. You can use this functionality separately, or you can use it as part of the whole package. There are an attractive range of options in the MyFoliotek.com system.

One of the most important products that Foliotek offers is the 'Student Account' – imagine a place, where all of your academic works are graded, tracked and evaluated. The system is rather simple, and at the same time complex (it has a lot of layers and a lot of key points, which make this a great educational solution). This is a stable, long-term web presence for your work, separate from any school account, which might not last past graduation.

They have everything here – your works, uploaded according to the requirements for a certain academic period, their grading by your tutors and evaluation of your overall progress, and a place for comments and notes, which can help you to improve in the future.

The system covers all bases; imagine it as an online facility, where all of your academic data is stored, both the visual materials, and the assessments. (They also offer institutional and faculty portfolios.) If you want to find out more, you might want to visit their website and check out their video tutorials, which are in-depth and on topic. We've learned a great deal from their product simply by watching the instructional videos, which is rare – most of similar instructional videos that we had to deal with were abstract and vague.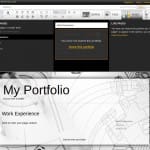 In the end, what a student receives is a comprehensive, complex and beautifully presented portfolio, with all of this papers, presentations, charts, etc. – in one place. What the faculty receives is a convenient data gathering tool, which offers great flexibility and functionality. When it comes time for school accreditation, grant proposals, or job hunting, users will be grateful for what Foliotek has to offer.

We also liked their online presence – they have a number of social media accounts that aren't that popular at this time. But we assume, since this is just a start-up, things are going to change in the future. At this point, the accounts are being updated on a frequent basis and that's enough for us.

Conclusion

My.Foliotek.com – might be a great tool for your personal resume. It can help you with creating a personal portfolio, and it can help your school with managing your data. But we have a persistent concern that the system still looks quite complex for the majority of the users: always assuming, of course, that our reviewers represent the average online user. Good luck with your academic efforts!
As always – subscribe to our updates, follow us on Twitter for great educational and personal advise and join our Facebook community, which is filled with academic tips & tricks and reviews of other useful services and software solutions!