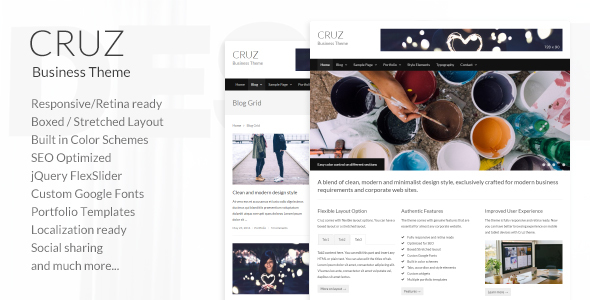 Unser neues Template für den Bereich Corporate Vorlagen für Wordpress. Bitte scrollen Sie nach unten um mehr zu lesen. Beachten Sie bitte die WordPress Version, die das Template unterstützt. Letztes Updates des Templates am 2017-07-04T18:08:04+10:00
Cruz ist ein Premium-WordPress-Template, das für Unternehmenswebsites, persönliche Portfolios, Technologie-Blogs oder kleine bis mittlere Unternehmenswebsites entwickelt wurde
Das Thema ist ansprechbar und Retina bereit. Zu den Hauptmerkmalen zählen die Sprachlokalisierung, RTL-Unterstützung, Shortcodes, Benutzerdefinierte Vorlagen, Themenoptionen, benutzerdefinierte Widgets usw. Der klare und moderne Designstil, der mit den neuesten Codierungsstandards unterstützt wird, ermöglicht es, flexibel genug zu sein, um den meisten Anforderungen Ihres Webdesigns gerecht zu werden.
Live-Demo
Hauptmerkmale
Klares Design, WordPress 4.7+ fertig
Boxed und Stretched Layout
Benutzerdefinierter WordPress-Hintergrund
jQuery-basiertes Dropdown-Menü mit mehreren Ebenen
jQuery Flexslider
– Einstellbare Breite und Höhe für Schieberegler
– Gestreckter Schieberegler in voller Breite
4 Portfolio-Vorlagen (unbegrenzte Nutzung)
2 Blog-Vorlage (unbegrenzte Nutzung)
Unbranded Template Optionsfeld
WooCommerce Plugin fertig
Benutzerdefinierte Bildbanner pro Seite
Benutzerdefinierte Google-Schriftarten über die Themenoptionen
7 Widget-Bereiche
6 benutzerdefinierte Widgets (Flickr, Social Icons, Neueste Beiträge, Beliebte Beiträge, Benutzerdefinierte Kategorien, Mini Folio)
Integrierte Ajax / PHP-Kontaktseitenvorlage mit Formularvalidierung
Zu den Funktionen einzelner Posts gehören Autoren-Bio, verwandte Posts und Kommentare mit Thread und Gravatar-Unterstützung
Stilelemente wie Akkordeon, Tabs, Toggle, CSS3-Schaltflächen, Preisgitter usw.
Sprachlokalisierungsunterstützung (Beispiel-POT-Vorlagendatei und PO-MO-Dateien enthalten)
Beispiel für Dummy-Daten im TXT- und XML-Format zur einfachen Einrichtung
Schrittweise Anleitung und ausführliche Dokumentation zur Installation und Konfiguration des Themas.
Unterstützt alle gängigen Browser
Protokoll aktualisieren
== Apr 14, 2017 - v3.4 ==
* Added compatibility with WooCommerce 3.0+
* Added WooCommerce product gallery slider, swipe, lightbox and zoom support
* Added posts pagination for archives (now WP Pagenavi not required)
* Added slider image size option in Template Options
* Added nonce verification in Template options and improved styling
* Changed breadcrumbs separator to arrow symbol
* Improved styling for Recent Posts, Minifolio and Flickr widget
* Improved styling for WooCommerce products and shop pages
* Improved RTL CSS
== Dec 24, 2016 - v3.3 ==
* Added compatibility for php 7.0+
* Added shortcode buttons in "Visual" mode of editor
* Increased body font size and line height for better readability
Das vollständige Änderungsprotokoll befindet sich im Haupt-Download-Archiv.
---
Bewertung: 4.47
Verkäufe bisher: 820
Quellangabe
LIVE VORSCHAUJETZT KAUFEN
The post Cruz – Modern Business WordPress appeared first on Agentur zweigelb.