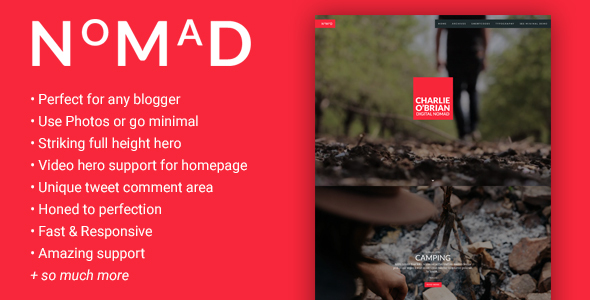 NMD ist das perfekte Thema für den Reiseblogger, Digital Nomad, Food Blogger oder einfach für jeden Blogger.
Schauen Sie sich auch die NMD Minimal Demo an, um die schnelle und aktuelle Version des Themas zu finden.
Warum NMD kaufen?
Es ist frisch, direkt und einfach
Werfen Sie einen Blick auf unseren Tweet-Freigabebereich, der einfach aktiviert werden kann, um die standardmäßigen WordPress-Kommentare zu ersetzen.

Sie können das Hashtag und sogar den Benutzernamen per Post für Post steuern. Perfekt für die Verfolgung Ihrer Tweets und auch für Gast-Blog-Posts.

Jedes Detail wurde verfeinert. Sehen Sie sich die subtilen Übergänge und Animationen an, während Sie die Demo durchsehen.
Suchen Sie eine schnelle Website? Wir haben NMD mit Blick auf die Leistung gebaut!
Einstellungen für Homepage-Helden
Auffälliger Held voller Größe
Stellen Sie eine Hintergrundfarbe für den Helden ein
Laden Sie ein Logo / Bild hoch
Laden Sie ein Titelbild hoch
Laden Sie ein HTML5 hoch Video im webm- und mp4-Format (Bitte beachten Sie, dass mobile / Tablet-Geräte stattdessen das von Ihnen festgelegte Bild erhalten).
Sie können das Video auch stummschalten, eine Stummschaltfläche anzeigen und sogar die Höhe des Helden ändern.
Es wird besser
Integrierte Kontaktformular 7-Kompatibilität
Setzen Sie die Kraft des neuen Gutenberg-Editors frei
Sie können alles ein- und ausschalten, einschließlich: Menü, Fußzeilenmenü, Logo, Site-Titel, Datum, Kommentaranzahl, Auszug, Lesen Sie mehr, Kategorie-Meta, Tag-Meta, Autoren-Meta, Paginierung, Kommentare zu Beiträgen, Kommentare zu Seiten, Autoren-Bio , Fußzeilen-Widgets.
Schöne Autorenseiten
Ändern Sie alle Farben, Schriftarten, Schriftgrößen und Buchstabenabstände
Fragen Sie weg
Wenn Sie etwas wissen möchten, fragen Sie in den Kommentaren nach
NMD Changelog
## Version 1.1.0
- WP 5.1 update.
- Add align wide/full support for Gutenberg editor.
- Improve Gutenberg editor default style.
- Updated footer copyright year to display current year automatically.
- Fix wide dropdown in widget areas.
- Small coding improvements.
- Tweak: social sharer is now hidden by default.

## Version 1.0.1
- New: added in featured image opacity setting for featured image in Customize > Layout Settings.
- Updated language files.

## Version 1.0.0
- Initial release.
---
Bewertung: 0
Verkäufe bisher: 27
Quellangabe
LIVE VORSCHAUJETZT KAUFEN
The post NMD – Ein Template für den WordPress Blogger appeared first on Agentur zweigelb.