Report Entitled "O No, Growth Gone Negative"
Spruce Point Capital Management is pleased to announce it has released the contents of a unique research report on Realty Income Corp. (NYSE:O) ("O Realty" or "the Company"). Spruce Point has conducted a critical business and financial review and believes that Realty Income's same store rent metrics overstate its image as a healthy, growing enterprise. Based on our industry normalized approach, which includes vacancies, we believe that Realty Income is in fact declining organically. We believe the overstatement of approximately 2%, makes the difference between the cosmetic appearance of a growing enterprise vs. a declining one.
As a result, based on our case study analysis of similar REITs that have swung to declining growth, and a detailed valuation analysis, we have issued a "Strong Sell" opinion and a long-term price target of approximately $28-35 per share, or approximately 30-45% downside risk. Please review our disclaimer at the bottom of this email.
Executive Summary
The Allure of Rising Magic Dividends: Realty Income ("O Realty" or "the Company") promotes itself as "The Monthly Dividend Company®" and preaches "The Magic of Rising Dividends" – it even goes so far as to market itself differently to retail investors vs. sophisticated institutional investors. The Company is very dependent on issuing stock at inflated prices to fund its acquisitive growth strategy, keep its cost of capital low, and consistently raise its dividend. The model has worked well for years when times were good, but we believe this magic cycle is about to break down as investors reassess O Realty's growth profile amidst deteriorating tenant quality, rising interest rates, and a more volatile and discerning capital market backdrop
O Investors Not Getting The Complete Picture on Same Store Property Reporting: Our forensic accounting work indicates that the true underlying economic performance of O Realty's properties, as measured by Same Store Rents (SSR) are declining vs. the appearance that it is growing. The Company disclosed its SSR growth rate of 1.2% in 2016. Our industry normalized definition of same store property performance suggests that that SSR declined by 0.8% in that period – an astounding 2.0% overstatement. Once investors come to grips with our differentiated point of view, we expect a major revaluation in O Realty's share price. There are ample case studies to show 40-50% share price declines when investors revalue a REITs declining performance. For example, Wall Street has penalized a few REITS (DDR (NYSE:DDR), Brixmor Property Group (NYSE:BRX), Kimco Realty (NYSE:KIM)) that own retail properties where the same store growth profile has swung from positive to negative growth. We believe that O Realty is the next REIT that is going to be penalized for a deteriorating growth profile by investors.
Dispositions And Vacancies Are Rising And Likely Aiding Occupancy And SSR Metric Inflation: We believe that dispositions and vacancies are likely managed to cosmetically inflate occupancy and aid O Realty's SSR metric. We show dispositions on the rise as well as a larger percentage of property sales coming from vacancies. These trends may indicate more competition from malls as well as the limited alternative use for many of O's real estate properties.
Investors Should Be Concerned By Background of Management and Audit Committee Oversight By Board: We find that O Realty's executive management team is comprised almost entirely of ex-investment bankers, trained in the art of financial engineering. It should, therefore, come as no surprise that O Realty could use financial magic to embellish its performance. We have little faith in the Company's audit committee raising any objections or concerns about management's practices. We find that the audit committee is comprised of a PGA golf professional, and former executives from Wells Fargo and KPMG, two scandal-ridden financial and accounting organizations. Given all the factors we have noted, it makes sense that insider ownership trends are at all-time lows and lowest amongst its REIT peers.
Tenant Quality Deteriorating As Retail Landscape Changes: We conducted a deep dive into the tenant quality and found that O Realty has outsized risk exposure to drug stores, grocery stores and movie theaters -three retail subsectors facing disintermediation. Drug stores (O's largest sector exposure) are consolidating their retail footprint (i.e. Walgreens (WBA) purchase of +2,000 Rite Aid (RAD) stores), while SSS performance at the store front is down. Even worse, headlines such as Amazon (AMZN) teaming up with Berkshire Hathaway (NYSE:BRK.A) and JPMorgan (JPM) to disrupt the healthcare business present a now tangible long-term risk that the traditional drug delivery value chain through a retail footprint could move increasing online. The Amazon risk extends also to the grocery store vertical given its recent acquisition of Whole Foods. We believe that any retail transaction that is done repetitively and frequently (i.e. grocery and drug store) is ripe for online disruption and, therefore, poses significant risk to the traditional brick and mortar chains and their related real estate profiles. Lastly, movie theater trends (both box office sales and attendance) likely peaked in 2015, and theater chains are not expanding screens. Physical movie theater locations are at increasing risk of disruption as Hollywood and media companies (e.g. Netflix (NFLX), Amazon, Hulu) are spending money to produce original content for their own "at home" media streaming offerings, and new releases that skip the movie theater completely.
Interest Rate Tightening Cycle Another Major Negative Backdrop For O Realty: We expect REITs such as O Realty to remain under pressure. Consensus expectations is that the 10 year treasury will surpass 3.0% by 1Q'19 and O Realty's historical stock performance exhibits negative correlation with increases in interest rates. We expect O Realty to underperform the REIT sector (IYR) given our newly documented growth concerns and premium valuation enumerated below
Operating Metrics Have Deteriorated While O Realty's Valuation Remains Sky High: O Realty has lured a dizzying array of analysts to relentlessly promote its story and make it the most expensive Triple Net Lease retail REIT by a wide margin. Analysts see an average of 18% upside to $59/share, yet seem to ignore glaring signs of weakness. Even Janet Yellen warned that commercial real estate prices are "quite high relative to rents." O Realty has the lowest occupancy rate of 98.3%. If it had not sold 91 vacant properties since the beginning of 2016, the occupancy metric might be as low as 96.6%. Furthermore, O Realty essentially has the lowest remaining lease term of 9.6 years amongst its peers and the highest amount of leases expirations (7.8%) versus their peers over the next two years. In that context, we created a dividend sustainability index where we incorporate average remaining lease duration in order to assess O Realty's sustainable dividend paying ability vs. prior year periods. This index now stands at its lowest level since the beginning of our data set in 2005. Metrics like this can be an early warning sign that the underlying fundamentals are not as safe as they had been historically. We expect that once investors come to grips with the fact that O Realty's true growth rate is negative, its multiple will re-rate in line with historical precedents, and its share price will decline by approximately 30-45% or $28-35 per share.
Quick Overview of Key Tenants of the Short Thesis
Capital Structure and Valuation Overview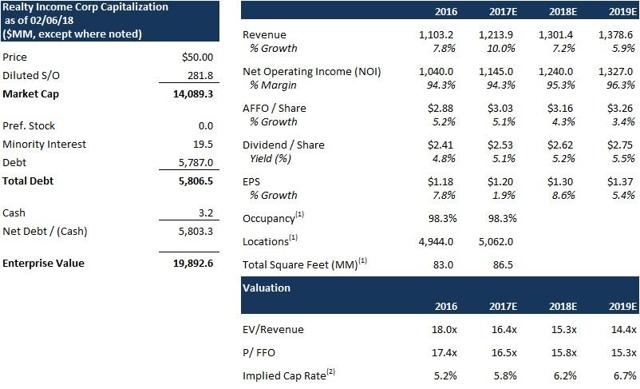 Source: Bloomberg and Company Filings
(1) Data presented for 2017 is as of September 30, 2017
(2) Implied Cap Rate = NOI/Enterprise Value
O Realty's Virtuous Circle Showing Cracks
Entering a negative feedback loop: We believe that O Realty is highly dependent on keeping its stock premium inflated to lower its cost of capital to pursue growth. However, we will illustrate that its growth is declining, which will lead to a lower stock price, higher cost of capital and lower investment spreads.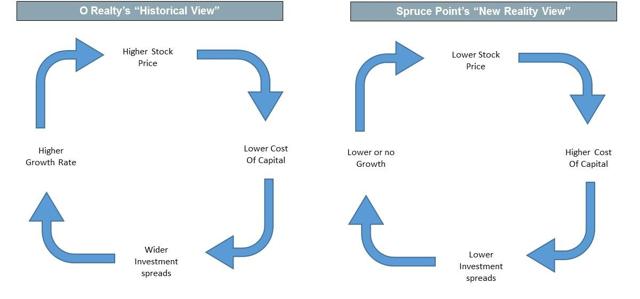 Source: 3Q17 Investor Presentation
Same Property Revenues Are Declining, Not Growing As O Realty Portrays
Our definition represents the true economic performance of the property base and therefore does not ignore vacancies. The magnitude of the overstatement is 2%, which is the difference between growth vs. decline

Source: Company Filings (4Q16 Supplement) and Spruce Point Methodology
Interest Rate Cycle is A Macro Negative: O Realty Stock Price vs. 10 Year Yield
Consensus expectations imply a 3% yield for the 10 year by 1Q19 and 3.5% by the 2Q20. As interest rates rise, O Realty's stock price exhibits a negative correlation.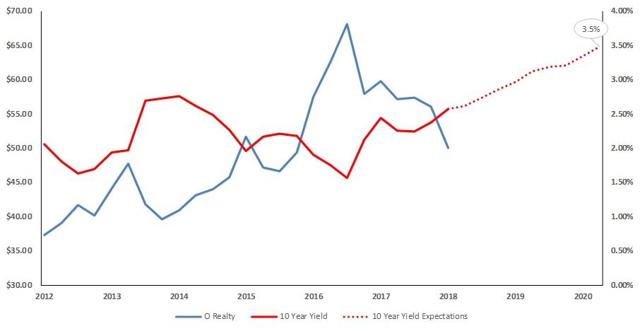 Source: Bloomberg
Dividend Sustainability Index At Its Lowest Level
O Realty's share price enthusiasm has been historically aided by its ability to consistently raise its dividend over time. However, when comparing the duration of the remaining lease terms and current run rate FFO, the dividend sustainability index now stands at its lowest levels since our dataset began in 2005.

Source: Company Filings, Spruce Point Estimates
(1) Dividend Sustainability = (Run Rate FFO x Remaining Lease Term)/Run Rate Dividend
Peer Group – Triple Net Lease Retail
We question why the street is valuing O Realty at the highest amongst its peers when its occupancy, lease duration, and near-term lease renewals all reflect a status at the bottom of its peer group. Further, we will show later in this presentation why the growth profile should be questioned.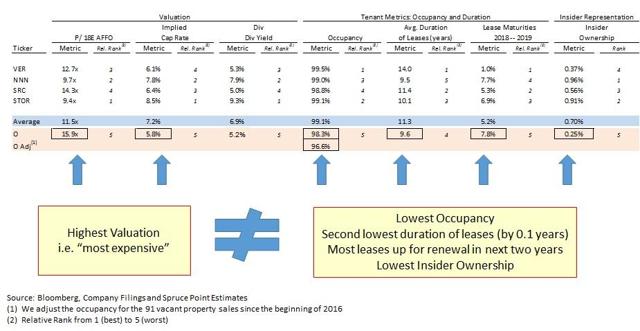 Case Studies: 40-50% Downside When Growth Goes Negative For REITs
Spruce Point has identified three example of REITs recently revising growth estimates from positive to negative (DDR, BRX, KIM). In each case, the share prices corrected by 40-50%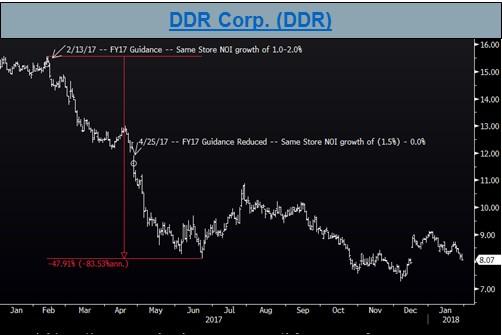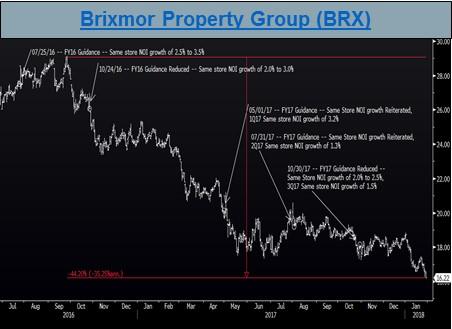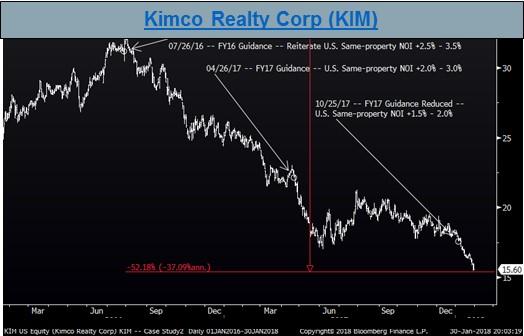 A Closer Look Into O Realty's Same Property Analysis
We believe that the underlying economic performance of a REIT should encompass a "Same Store" metric for all properties owned regardless of whether they are occupied or vacant. O Realty excludes vacancies from their same store pool. This is not standard industry practice as we find a majority of retail peers include vacancies.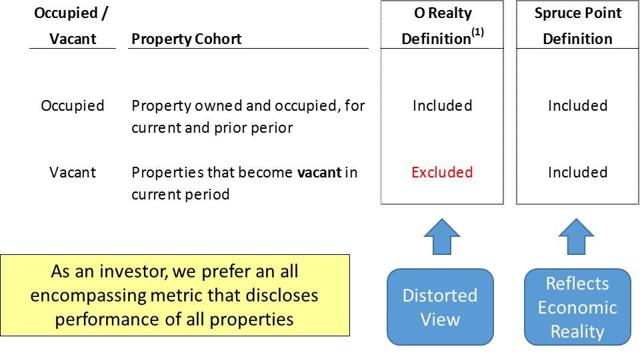 Source: 3Q17 Supplemental, Page 21
(1) O Realty's same store pool also excludes properties under development or involved in eminent domain
Our definition represents the true economic performance of the property base and therefore does not ignore vacancies. The magnitude of the overstatement is 2%, which is the difference between growth vs. decline.

Source: Company Filings (4Q16 Supplement) and Spruce Point Methodology
We rebuilt the 2016 SSR pool by beginning with 2015 SSR pool and then adjusting for acquired properties and properties released after a period of vacancy to arrive at proper comparison to the prior year.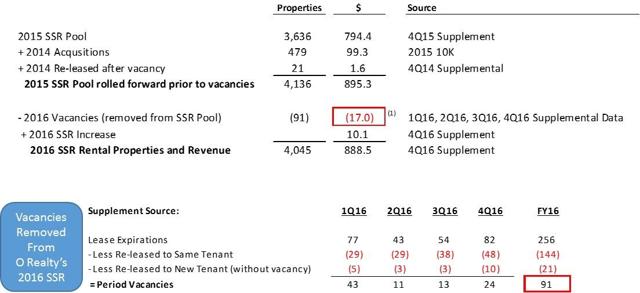 A Closer Look Into Asset Dispositions
We believe that dispositions can be managed to cosmetically enhance aggregate occupancy rates across the portfolio as well as selling properties that may result in re-leased recapture rates that would dilute O Realty's SSRs.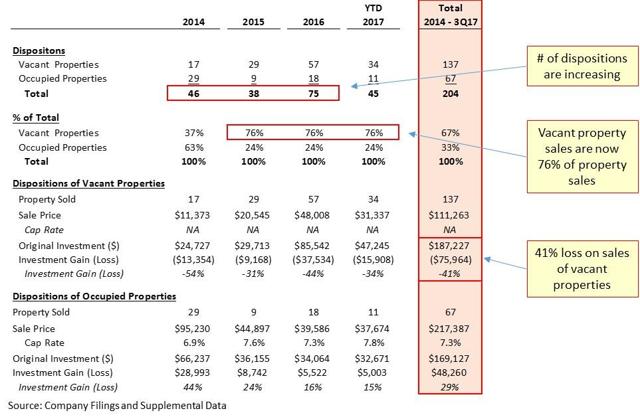 Vacancy trends indicate a tougher triple net lease environment for landlords. Have the recent vacancies issue at malls begun to bleed over to the stand-alone boxes? Are malls and shopping centers now offering leases that typical triple net lease tenants cannot refuse?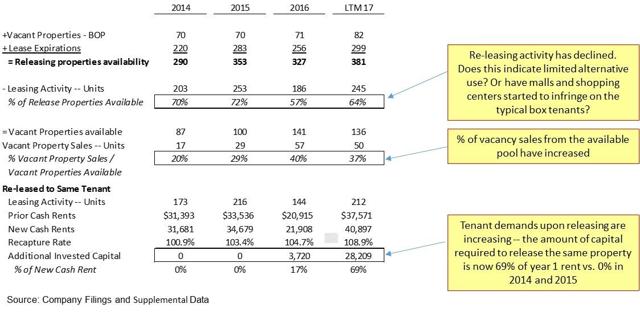 O Realty's Tenants' Exposed To Systemic Disintermediation
Amazon has been rumored to enter the pharmacy business (Bloomberg.com), and the Whole Foods acquisition implies that the expansion of the Amazon ecosystem could pose secular risks to a significant portion of what historically has been deemed safe haven real estate assets for the triple-net lease space. We believe that any retail transaction that is done repetitively and frequently (i.e. grocery and drug store) will move online and poses significant threat to the traditional brick and mortar chains and their related real estate.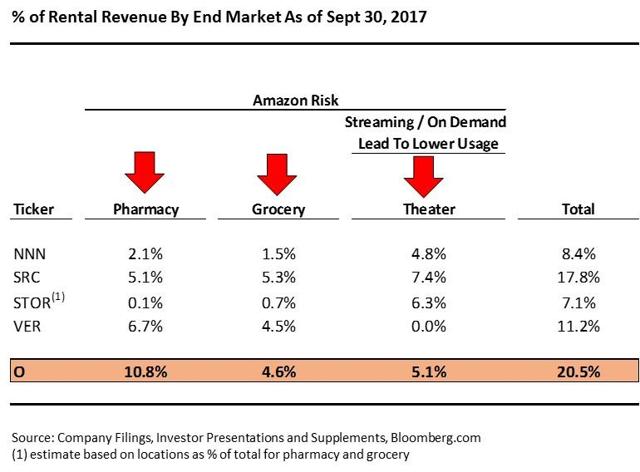 Walgreens' (O Realty's #1 Tenant) U.S. store foot print is suffering with SSS down since the end of 2015. Further, we see looming risk from store closures from their recently closed deal to acquire 2,186 stores from Rite Aid. In October 2017, Walgreens announced a store optimization program where they will close approximately 600 stores.

CVS (NYSE:CVS) (O Realty's #11 Tenant) store foot print is suffering with SSS at the store front down since the end of 2012. Further, CVS's announced acquisition of Aetna is likely competitive positioning in advance of Amazon's entry in the pharmacy business. We believe omni-channel competition poses severe risk for the traditional brick and mortar pharmacy retail footprint.

Industry Box office and attendance trends are both suffering from systemic issues in the exhibitor business. The shrinking window where content can been seen exclusively in a movie theater versus at home has narrowed significantly. Furthermore, some movies are released via an on demand device at the same time as the theater release. Perhaps, even more alarming Netflix, Amazon, Google (NASDAQ:GOOG) (NASDAQ:GOOGL), Apple (NASDAQ:AAPL), and Facebook (NASDAQ:FB) all are devoting more capital to original content. We believe as these trends become more pronounced that they will pose risk to all of the movie theater chains, which have not been investing in new screen growth (bottom right chart). Lastly, there is limited alternative use for movie theater real estate, so releasing to a new tenant will be challenging without significant capital outlays.
Movie Theaters: 5.1% of O Realty's Rent

Source: boxofficemojo.com and National Association of Theater Owners
AMC Theaters: #6 Tenant
AMC's EBITDAR to Rent is well below O's corporate average of 2.7x and has weakened significantly in the most recent YTD period. The equity markets have already identified the theater level risk: AMC's stock is down ~64% from January 2017

O Realty Obscures Tenant Level Disclosure
Investors have asked for tenant level disclosure and now a majority of the retail triple net lease peers are providing detail at the tenant level. Why is O hesitant to provide this level of disclosure?
National Retail (NYSE:NNN): Tenant Level
Spirit Realty (NYSE:SRC): Tenant Level
STORE Capital (NYSE:STOR): Industry only
Vereit (NYSE:VER): Tenant Level
Realty Income: Industry only
Governance and Management Concerns
Investors should not be surprised by our findings that O Realty portrays its results in the best light possible with aggressive presentation of its SSR metrics. O Realty's management team is comprised of a diversified group of investment bankers – skilled in the art of financial engineering. Prior to joining O Realty, none of its top management team have had much experience rolling up their sleeves and managing real estate at the ground level.
Investors should strongly evaluate O's Board of Directors, and in particular, its audit committee members tasked with overseeing management's accounting and financial policies.
Director

Committee

Background

Spruce Point Concern

Greg McLaughlin

Audit/Compensation

Currently, the President, PGA TOUR Champions and a Senior Vice President with the PGA TOUR in Ponte Vedra Beach, Florida (2014-present).

A golfing pro with no stated corporate or real estate experience on his bio

Ron Merriman

Audit (Chair)/Corp. Governance

Retired Vice Chairman and partner of KPMG LLP, a global accounting and consulting firm (1967-1997). At KPMG LLP, Mr. Merriman served as Vice Chairman of the Executive Management Committee.

Merriman was a high level executive at KPMG. In recent years during his departure, KPMG has repeatedly been sanctioned by the DOJ for criminal violations ("Largest ever tax fraud" and "Fraudulent Scheme to Steal Confidential Info"). We do not have direct evidence tying him to either of these investigations.

A. Larry Chapman

Audit/Technology Risk

Retired 37-year veteran of Wells Fargo, having served most recently as Executive Vice President and the Head of Commercial Real Estate from 2006 until his retirement in June 2011, and as a member of the Wells Fargo Management Committee.

In recent years, Wells Fargo culture of greed has been exposed through its fake account scandal. A Vanity Fair article explores the issues:
"How Wells Fargo's Cutthroat Corporate Culture Allegedly Drove Bankers To Fraud"

We do not have any direct evidence to suggest Mr. Chapman has done anything bad.

Kathleen Allen

Audit and Technology Risk

Professor at Marshall School of Business and the founding director of the Center for Technology Commercialization at the University of Southern California.

No real estate experience
Insider Ownership Declining, While Passive Index Buying
Insider ownership levels are at the lowest since inception, while index buyers such as Vanguard represent a disturbing trend of increased ownership. We suspect Vanguard might be taking O Realty's SSR growth figures at face value and plugging them into their financial models to calibrate the share price. We hope our evidence suggesting declining SSR will help to correct the over-valuation issue.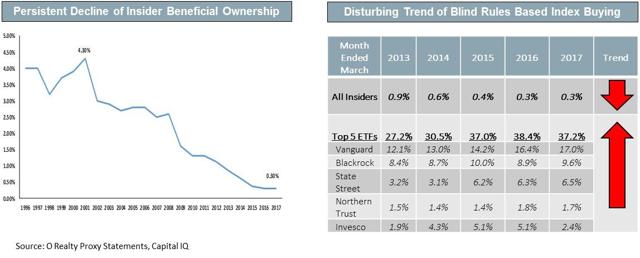 Valuation and Downside Case
O Realty's bullish analysts point to its advantageous cost of capital, and relative balance sheet strength. We believe that the analyst community needs to spend more time analyzing the core "organic" growth profile of the Company.
We also believe that the underlying systemic pressures in some of its major retail sub-sectors needs to be a risk that investors are appropriately compensated for. We applaud Goldman Sachs for being the lone skeptic and below market price target on O Realty.
We expect many analysts to cut their price targets as O Realty's business and financial challenges become much more evident.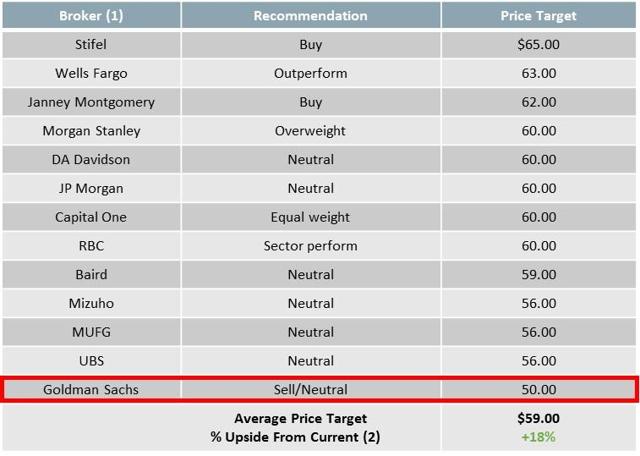 Source: Bloomberg
(1) Includes analysts that provide price targets
(2) Based on $50/share
O Realty looks priced for perfection. O trades at the highest multiple within their retail triple net lease peers. As highlighted below, when the growth profile of a REIT begins to decline, the AFFO multiple compresses significantly.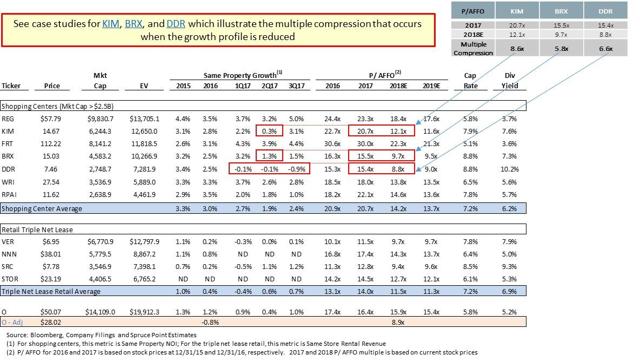 We question why the street is valuing O Realty at the highest amongst its peers when its occupancy, lease duration and near-term lease renewals all reflect a status at the bottom of their peer group. Further, we will show later in this presentation why the growth profile should be questioned.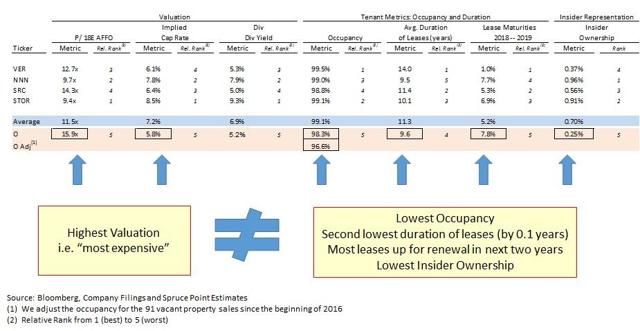 Source: Bloomberg, Company Filings and Spruce Point Estimates
(1) We adjust the occupancy for the 91 vacant property sales since the beginning of 2016
(2) Relative Rank from 1 (best) to 5 (worst)
Spruce Point Estimates 30% To 45% Downside In O Realty
We arrive at our price target by applying a range of AFFO multiples commensurate with precedent REIT stocks going into financial decline (DDR, Brixmor, Kimco)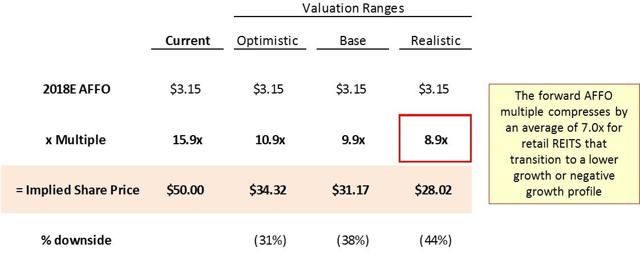 Please review our disclaimer at the bottom of this email.
Disclaimer
This research presentation expresses our research opinions. You should assume that as of the publication date of any presentation, report or letter, Spruce Point Capital Management LLC (possibly along with or through our members, partners, affiliates, employees, and/or consultants) along with our subscribers and clients has a short position in all stocks (and are long/short combinations of puts and calls on the stock) covered herein, including without limitation Realty Income Corp. ("O", "O Realty" or "the Company"), and therefore stand to realize significant gains in the event that the price of its stock declines. Following publication of any presentation, report or letter, we intend to continue transacting in the securities covered therein, and we may be long, short, or neutral at any time hereafter regardless of our initial recommendation. All expressions of opinion are subject to change without notice, and Spruce Point Capital Management does not undertake to update this report or any information contained herein. Spruce Point Capital Management, subscribers and/or consultants shall have no obligation to inform any investor or viewer of this report about their historical, current, and future trading activities.
This research presentation expresses our research opinions, which we have based upon interpretation of certain facts and observations, all of which are based upon publicly available information, and all of which are set out in this research presentation. Any investment involves substantial risks, including complete loss of capital. Any forecasts or estimates are for illustrative purpose only and should not be taken as limitations of the maximum possible loss or gain. Any information contained in this report may include forward looking statements, expectations, pro forma analyses, estimates, and projections. You should assume these types of statements, expectations, pro forma analyses, estimates, and projections may turn out to be incorrect for reasons beyond Spruce Point Capital Management LLC's control. This is not investment or accounting advice nor should it be construed as such. Use of Spruce Point Capital Management LLC's research is at your own risk. You should do your own research and due diligence, with assistance from professional financial, legal and tax experts, before making any investment decision with respect to securities covered herein. All figures assumed to be in US Dollars, unless specified otherwise.
To the best of our ability and belief, as of the date hereof, all information contained herein is accurate and reliable and does not omit to state material facts necessary to make the statements herein not misleading, and all information has been obtained from public sources we believe to be accurate and reliable, and who are not insiders or connected persons of the stock covered herein or who may otherwise owe any fiduciary duty or duty of confidentiality to the issuer, or to any other person or entity that was breached by the transmission of information to Spruce Point Capital Management LLC. However, Spruce Point Capital Management LLC recognizes that there may be non-public information in the possession of Realty Income Corp. or other insiders of Realty Income Corp. that has not been publicly disclosed by Realty Income Corp.. Therefore, such information contained herein is presented "as is," without warranty of any kind – whether express or implied. Spruce Point Capital Management LLC makes no other representations, express or implied, as to the accuracy, timeliness, or completeness of any such information or with regard to the results to be obtained from its use.
This report's estimated fundamental value only represents a best efforts estimate of the potential fundamental valuation of a specific security, and is not expressed as, or implied as, assessments of the quality of a security, a summary of past performance, or an actionable investment strategy for an investor. This is not an offer to sell or a solicitation of an offer to buy any security, nor shall any security be offered or sold to any person, in any jurisdiction in which such offer would be unlawful under the securities laws of such jurisdiction. Spruce Point Capital Management LLC is not registered as an investment advisor, broker/dealer, or accounting firm.
Disclosure: I am/we are short O.
Editor's Note: This article covers one or more stocks trading at less than $1 per share and/or with less than a $100 million market cap. Please be aware of the risks associated with these stocks.
The post An Investigative Analysis Suggests Realty Income Is Now Declining Organically And Faces 30%-45% Downside Risk appeared first on GreatResponder.com.