One of the more under-reported pieces of economic news last year was the surprising weakness of the U.S. Dollar against the Euro. Despite monetary tightening and interest rate hikes in the U.S., in 2017, the dollar had its worst performance in the past 14 years.
It was a particularly bad year against the Euro. Since reaching a high of 0.953 Euros in 2017, the U.S. dollar is now worth under 0.82 Euros, for a 14% decline. Strength in the Euro came as a surprise, especially since the European Central Bank is still much more accommodating than the U.S. Federal Reserve, and economic growth in the U.S. is heating up.
A weaker dollar isn't necessarily bad news — in fact, many large U.S. companies would benefit from a falling dollar. This article will discuss three Dividend growth stocks that generate a large percentage of revenue from Europe, and would see a boost from a weaker U.S. dollar against the Euro.
Weak Dollar Stock #1: Philip Morris International (PM)
Dividend Yield: 4.1%
First up is tobacco giant Philip Morris International, which generated approximately 30% of its total revenue from Europe over the first three quarters of 2017. PM has an attractive dividend yield slightly above 4%, and has increased its dividend each year since its 2008 spinoff from domestic tobacco giant Altria Group (MO). PM is a Dividend Achiever, a group of stocks with 10+ consecutive dividend increases. You can see the entire list of all 262 Dividend Achievers here.
PM sells tobacco products outside the U.S., with brands including Marlboro, L&M, Chesterfield, Parliament, and more. The company enjoys leading positions across its brand portfolio, particularly in Europe.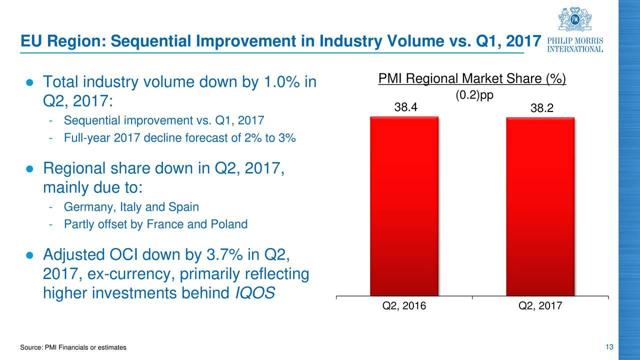 Source: Earnings Presentation, page 13
The strong U.S. dollar had been a major source of stress of PM prior to 2017. To that end, the strong U.S. dollar wiped away $1.3 billion from PM's revenue in 2016. The good news is, the underlying operations of the company continued to perform well in that time — organic revenue excluding excise taxes, and adjusted earnings-per-share, increased 4.4% and 12% in 2016, respectively.
Strength in the U.S. dollar continued to weigh on the company to start 2017. Reported revenue increased 3.8% over the first three quarters, while organic revenue increased 6% in that time. As the foreign exchange market has become more favorable to PM, net revenue growth could see a meaningful boost in 2018.
PM has excellent profitability. The tobacco business is highly lucrative due to economies of scale, as well as pricing power from selling an addictive product. PM operates 48 production facilities in 32 different countries. Going forward, PM's growth will be fueled by its collection of products it refers to as reduced-risk. These are products that do not burn tobacco. According to the company, this results in fewer adverse health effects, and are designed to address changing consumer preferences.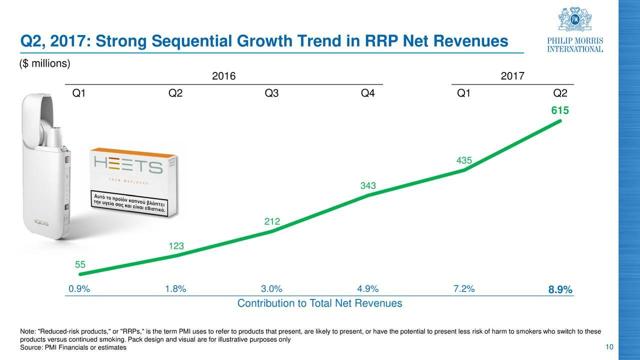 Source: Q2 Earnings Presentation, page 10
The reduced-risk portfolio is steadily becoming more important for the company. The RRP is set to contribute nearly 10% of total revenue, up from just 2% in 2016. PM's biggest growth opportunity is its line of IQOS products, such as HeatSticks, which are growing rapidly. Heated tobacco shipments reached 10.8 billion units in the first half of 2017.
IQOS is already growing market share. Continued growth of the reduced-risk portfolio will help PM counter the decline in cigarette shipment volumes. Plus, a weaker dollar could also add to growth, and help improve the company's dividend growth as well.
Weak Dollar Stock #2: McDonald's (MCD)
Dividend Yield: 2.3%
Next up is McDonald's, which has an even more impressive track record of dividend growth than PM. McDonald's is a Dividend Aristocrat, a group of stocks in the S&P 500 Index with 25+ consecutive years of dividend increases. You can see all 51 Dividend Aristocrats here.
McDonald's is the largest publicly-traded fast food company in the world. It operates over 37,000 locations, in more than 100 countries. The company no longer breaks out revenue according to individual geographic regions. But the last year it reported financial results by specific geographic market, Europe accounted for 40% of total sales. As a result, McDonald's would see a big windfall from a stronger Euro and a correspondingly weaker dollar.
2016 was a comeback year for McDonald's. After a difficult turnaround in the preceding few years, McDonald's global comparable-restaurant sales increased 3.8%. 2017 was another strong year. Revenue declined 6% over the first three quarters, but this was driven mostly by the sale of its businesses in China and Hong Kong, and increased franchising.
However, these initiatives have improved McDonald's profitability. Adjusted earnings-per-share increased 16% through the first three quarters. McDonald's has enjoyed a successful turnaround, driven by increased franchising, and new menu initiatives such as all-day breakfast.
Going forward, higher franchising, cost cuts, and new menu items are expected to drive continued growth. McDonald's will also increasingly utilize digital capabilities and technology, as well as delivery. By 2019, the company expects to cut 5%-10% from its cost structure. From 2019 and onward, McDonald's expects sales growth of 3% to 5% per year, operating margin to expand from the high-20% range, to the mid-40% range, and high-single digit earnings growth.
McDonald's isn't a cheap stock. After its impressive rally in 2017, the stock has a price-to-earnings ratio of approximately 25. Its dividend yield is also relatively low. At 2.3%, McDonald's dividend yield has fallen significantly from its recent highs above 3%. That said, McDonald's will continue to increase its dividend each year. According to ValueLine, the company has increased earnings at roughly 7% per year over the past 10 years. With a payout ratio below 60%, there is sufficient room for high single-digit dividend growth each year.
Weak Dollar Stock #3: Walgreens Boots Alliance (WBA)
Dividend Yield: 2.1%
Like McDonald's, Walgreens is a Dividend Aristocrat, with a long history of dividend growth. Walgreens has increased its dividend for 42 years in a row. It has a current dividend yield of 2.1%, and is one of 350 dividend-paying stocks in the consumer staples sector. You can see the full list of all 350 consumer staples dividend stocks here.
It also has a large presence in Europe, particularly after the 2014 acquisition of Alliance Boots, which made it the largest retail pharmacy in the U.S. and Europe. It operates over 13,000 stores in 11 countries. It also has 390 distribution centers that supply approximately 230,000 pharmacies, doctors, health centers, and hospitals.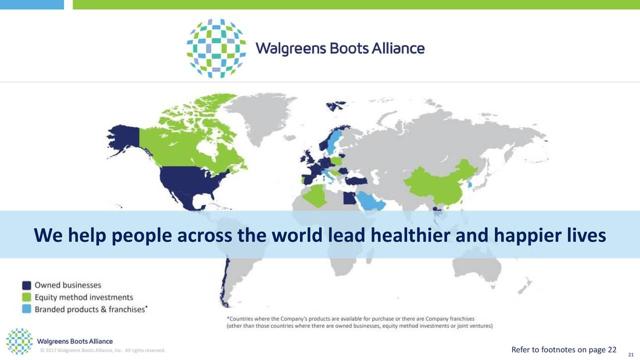 Source: 2017 Earnings Presentation, page 21
In addition, Walgreens has a large Pharmaceutical Wholesale division, mainly operating under the Alliance Healthcare brand. This business supplies medicines, other healthcare products, and related services, to more than 110,000 pharmacies, doctors, health centers and hospitals each year. The business operates in 11 countries, primarily in Europe.
As a result, Walgreens would be a major beneficiary of a weaker dollar versus the Euro. The company is already performing well, so a currency tailwind would only add to growth. Walgreens is firing on all cylinders. Last quarter, Walgreens reported adjusted earnings-per-share of $1.28, up 7.2% from the same quarter last year. Quarterly revenue increased 7.9%.
However, Walgreens is still generating strong growth from pharmacy sales, its most important business by far. Last quarter, Walgreens generated comparable sales growth of 7.4% and 8.9% in pharmacy sales and prescriptions, respectively.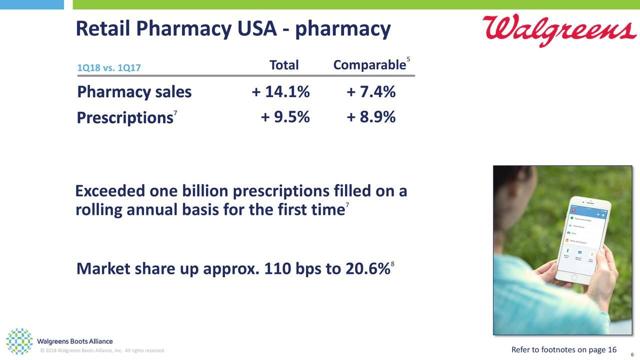 Source: Q1 Earnings Presentation, page 6
Its retail business as a whole did not perform well, with total retail sales down 2.8% for the quarter. Poor performance in the retail segment was due to consumables, personal care products, and general merchandise. Walgreens continues to be squeezed in these categories by e-commerce retailers such as Amazon (AMZN).
Along with first-quarter earnings, Walgreens raised guidance for the upcoming year. For fiscal 2018, Walgreens expects adjusted earnings-per-share in a range of $5.45 to $5.70. This would represent an increase of 6.9% to 11.8% for 2018.
Final Thoughts
The weak U.S. dollar caught many by surprise last year, and there are reasons to suspect further weakness could be in store for the U.S. dollar in 2018. According to a recent article on CNBC, reasons for continued weakness could include President Trump's stated desire for a weaker dollar, and the uncertain fate of NAFTA, which could add to instability of the dollar versus the Euro.
Fortunately, investors can position their portfolio to capitalize on any continued drop in the U.S. dollar against the Euro. Philip Morris International, McDonald's, and Walgreens Boots Alliance all have huge operations in Europe, and would be among the biggest beneficiaries of a falling dollar and stronger Euro in 2018.
McDonald's and Walgreens Boots Alliance are both Dividend Aristocrats. But are they undervalued or overvalued? Find out with our exclusive service Undervalued Aristocrats, which provides actionable buy and sell recommendations on some of the most undervalued dividend growth stocks around. Click here to learn more.
Disclosure: I/we have no positions in any stocks mentioned, and no plans to initiate any positions within the next 72 hours.
I wrote this article myself, and it expresses my own opinions. I am not receiving compensation for it (other than from Seeking Alpha). I have no business relationship with any company whose stock is mentioned in this article.
The post The Top 3 Dividend Growth Stocks For A Weak Dollar appeared first on GreatResponder.com.