Aster – World's safest commute backpack
A Commute Backpack with Integrated bike lights, Turn Signals and Automatic Brake Indication.

This story begins with us cyclists. While we love riding, it can be a little scary when night falls both for us and for motorists. Often, motorists arent able to see us cyclists well enough, even when weve got our bike lights on.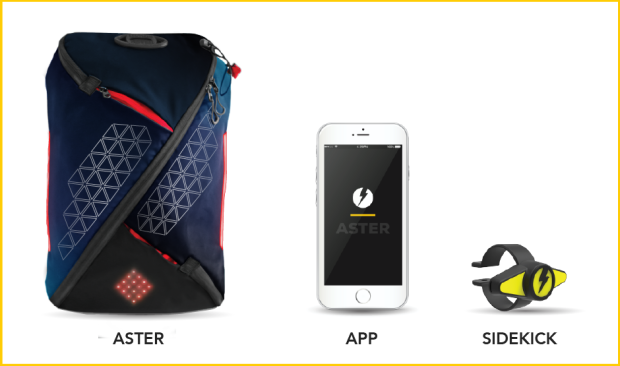 Lumos Design Technology Pvt. Ltd. presents Aster and its accomplices!

Aster improves visibility, reduces accidents and saves lives! With Aster, weve addressed 75% of the causes of bike accidents.
Aster's rear and profile lights make you visible to motorists from all sides, front lights signal your presence in rear-view mirrors and automatic brake lights help you avoid getting rear-ended. Integrated turn signals make sure that drivers around you know when youre making a turn.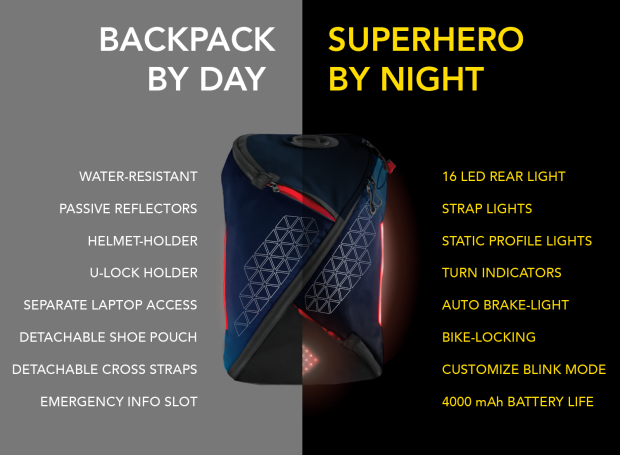 A versatile backpack for your needs.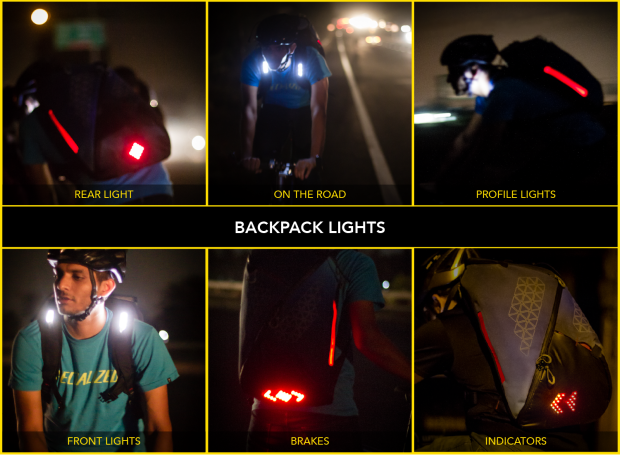 Aster on the streets.
LARGE RED REAR LIGHT
Aster sports a bright red light on the back to alert motorists that a cyclist is sharing the road with them. The 16-LED rear light is visible from a distance of 250 meters and grabs more attention because its in the driver's line of sight.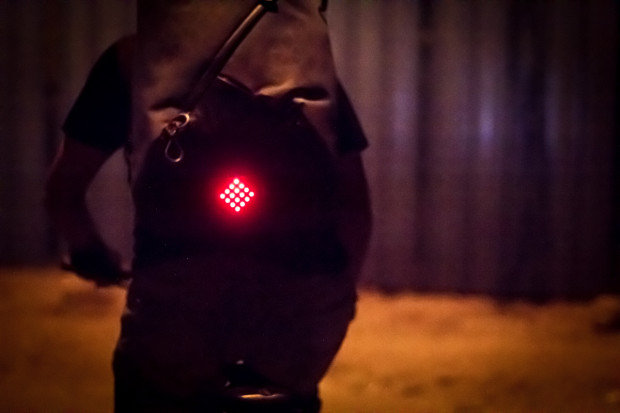 Rear light makes sure you're visible even on the darkest streets.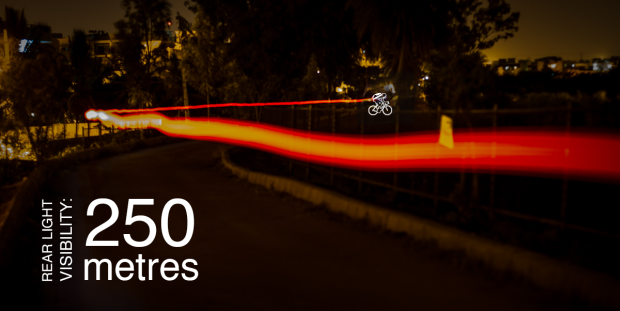 Aster rear lights are visible from up to 250 Meters (800ft).
STATIC RED PROFILE LIGHTS
Aster has a profile light on either side of the bag to highlight the width of the rider. This helps motorists judge your relative speed and distance. Research shows that its easier to judge the relative speed of cars than motorcycles, because they have two lights moving in the same direction when compared to a single light.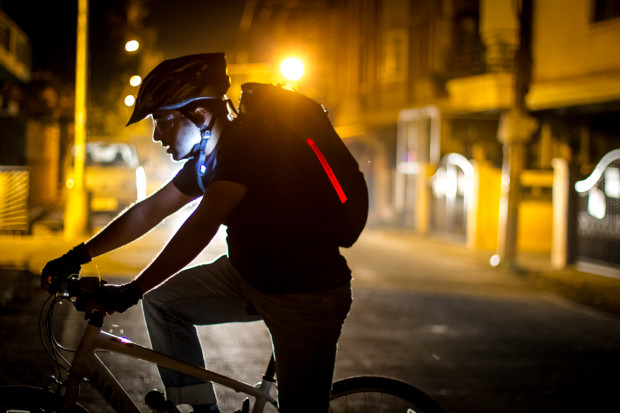 Profile lights make you visible from the sides.
AUTOMATIC BRAKE LIGHTS
Aster has an inbuilt accelerometer in the Handlebar Unit. It senses when you slow down and flares the solid red 30-LED brake lights. The brake lights are 2 times larger and brighter than the regular rear light, to grab the attention of motorists behind you when you brake.
Brake lights get deployed by Sidekick (the handle-bar unit) when you brake.
LEFT AND RIGHT INDICATORS
Aster comes with built-in indicators. Let motorists behind you know which way youll go, whether youre turning or changing lanes.
Indicate using the buttons on Sidekick (the handle-bar unit).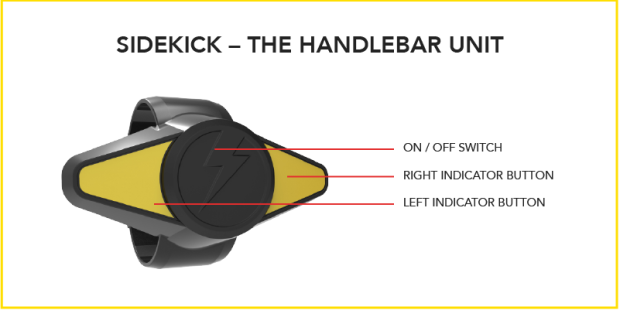 FRONT LIGHTS
Get attention from motorists in front of you when they change lanes, and also prevent 'dooring' accidents. Weve built low-power, high-visibility lights into the straps of the backpack.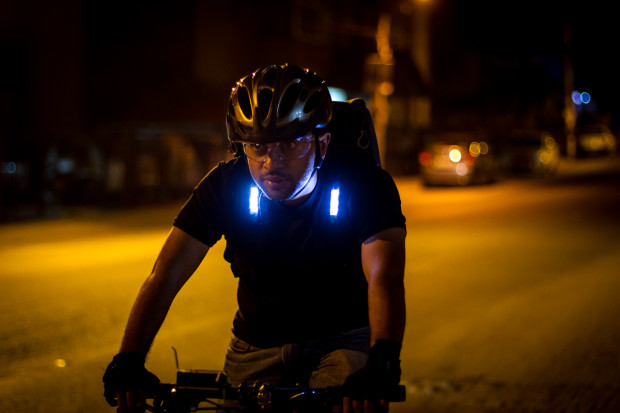 Front lights in action, best for visibility in rear view mirrors.
MOBILE APP CONTROLS
Control Asters light settings and more with our app (called the Lumos Aster app), available for both Android and iOS platforms. You can adjust your light settings to meet the regulations specific to your state or country. The app allows you to see the battery life remaining, both in the 4000mAh USB-chargeable battery and the Handlebar unit. On the default mode, your Aster battery should last for 10-15 hours of riding time.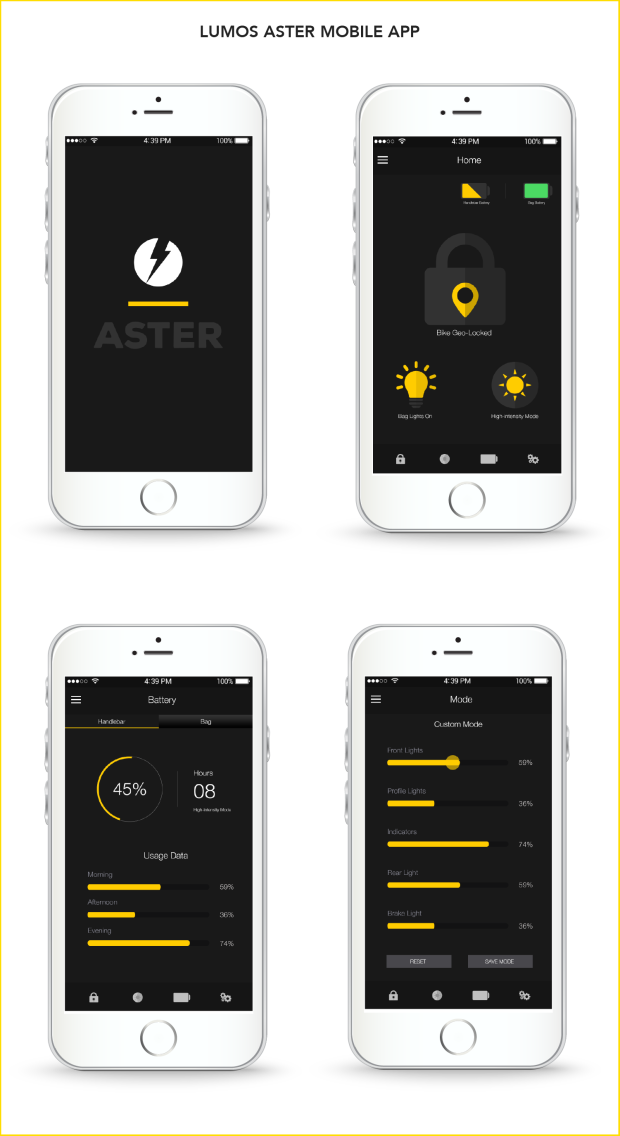 LOCK YOUR BIKE, MIKE!
Aster presents you with an additional layer of security over and above your existing bike lock. Using the Lumos app and the handlebar-unit, you can lock your bike in its place with one tap! If your cycle is moved for more than 5 seconds once locked, an alarm is triggered to attract attention. This functionality is offered through the accelerometer built into the handlebar unit.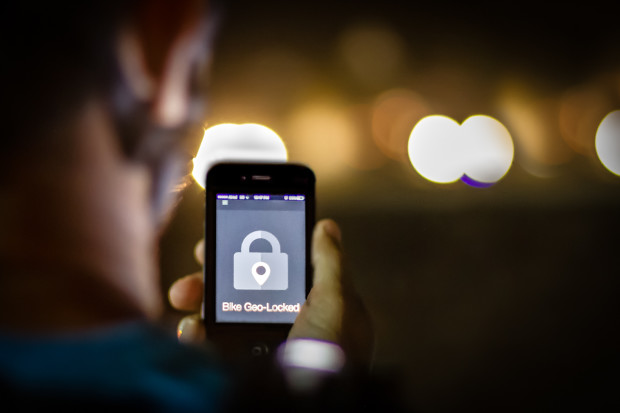 Lock your bike and activate the theft alarm using the Lumos Aster mobile app.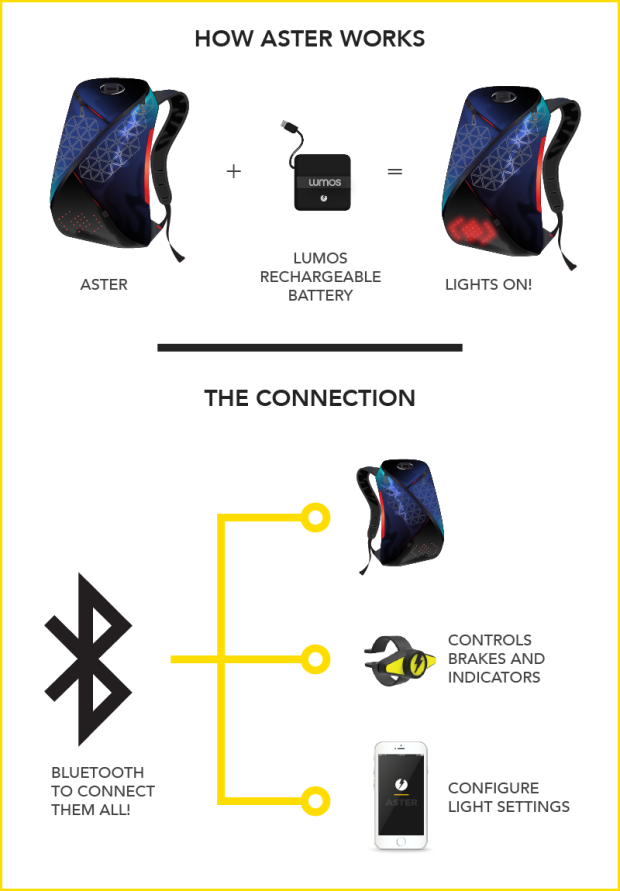 Astercomes in two strikingcolors black and blue.With its sleek shape and discreetappearance, the backpack blends in at the workplace.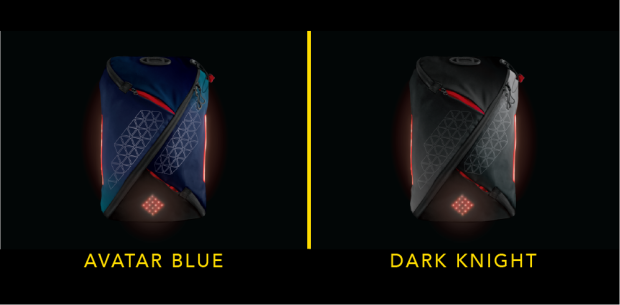 Aster has several commuter-specific compartments a minimalist helmet holder, a whistle buckle, tuck-away U-lock holder loops, zippered bottle pockets, rain-cover and an 'In Case of Emergency' information slot In the event of a crash, important information such as blood type, allergens and emergency contact numbers can be accessed easily.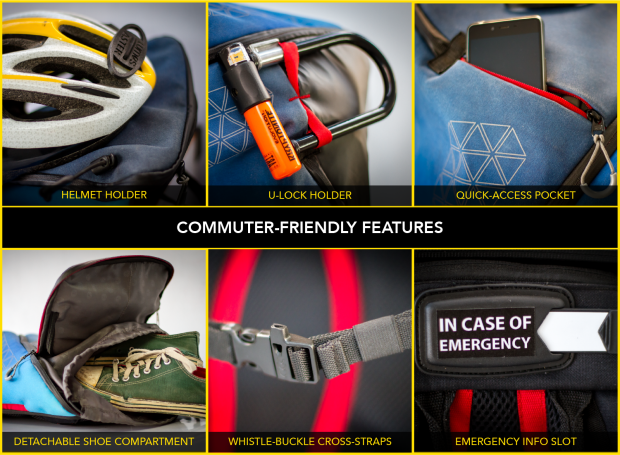 A commuter's best friend!
How to clip your helmet onto the backpack with the subtle helmet holder logo.
The backpack comes in two sizes – 18-Liter and 24-Liter andis designed to securely carry everything you need on your ride.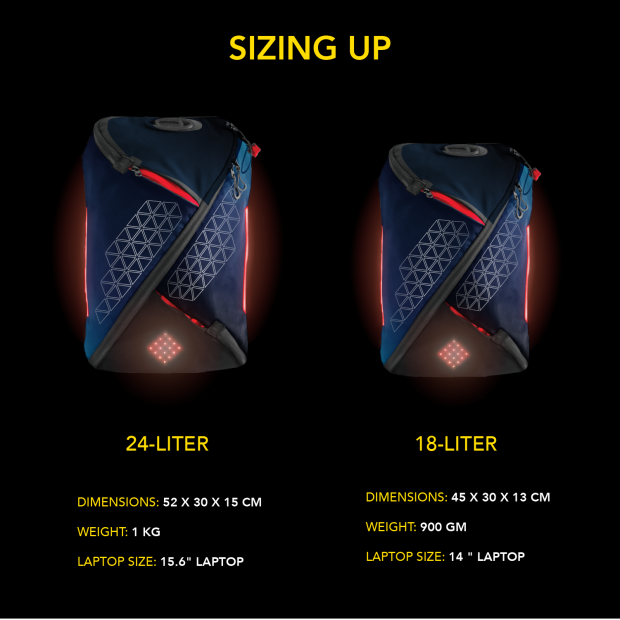 You can pack a 15.6 inch laptop with charger, change of clothes and shoes, smaller gadgets, books, bike-tools and spares, rain-jacket, a 1-literwater bottle and even your lunch!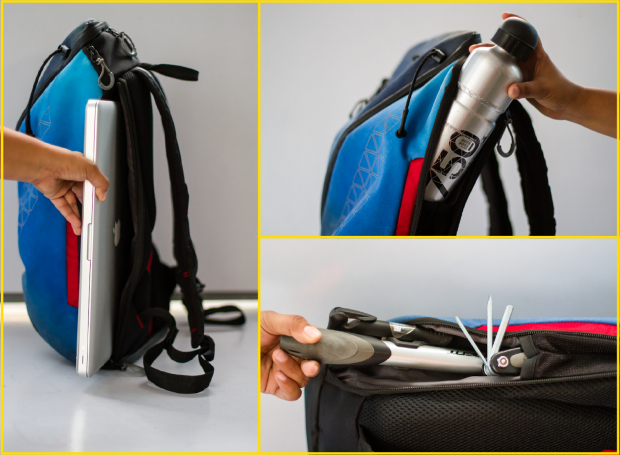 Room for your 15.6″ laptop, 1-Liter water bottle and your bike tools.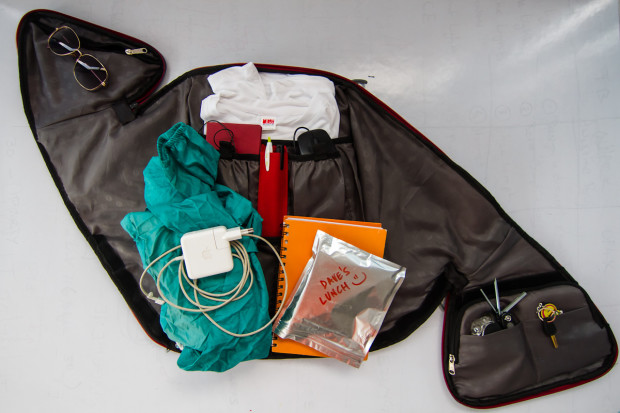 Aster opens up completely, allowing for easy packing and selective access.
The bag is also weather-resistant, with a waterproof TPU coated exterior and rain-resistant zippers that cause water to bead up and roll off the surface.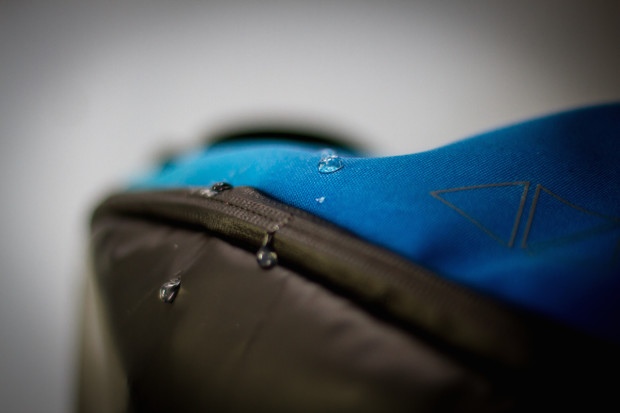 Waterproof zippers keep the water out!

Thank you for supporting us and helping us bring Aster to life! Here's how you can contribute to this campaign: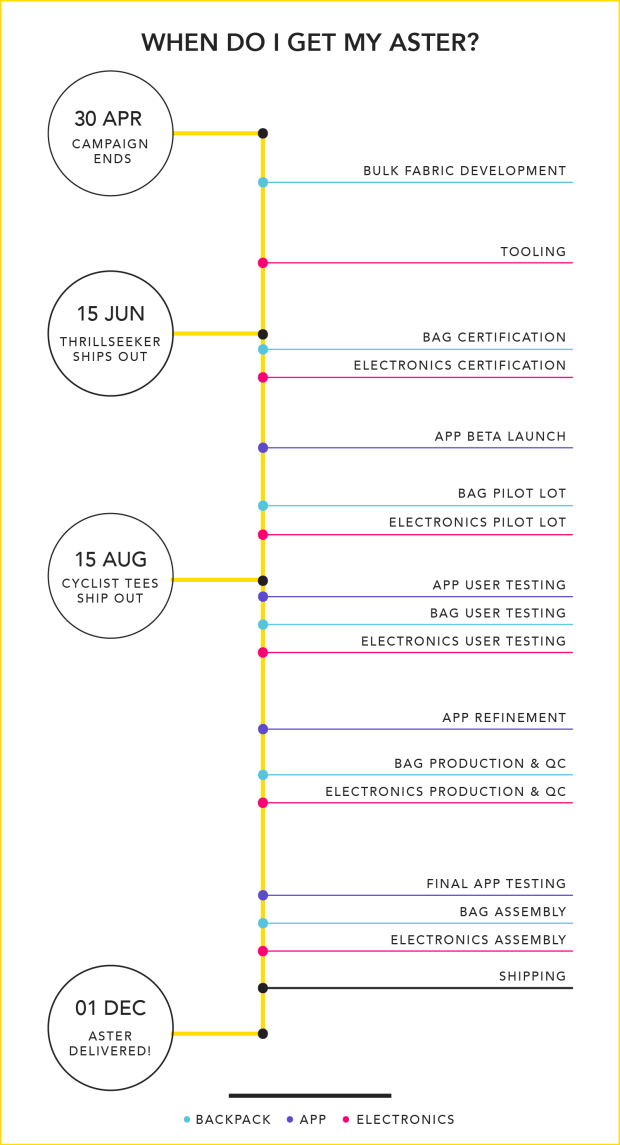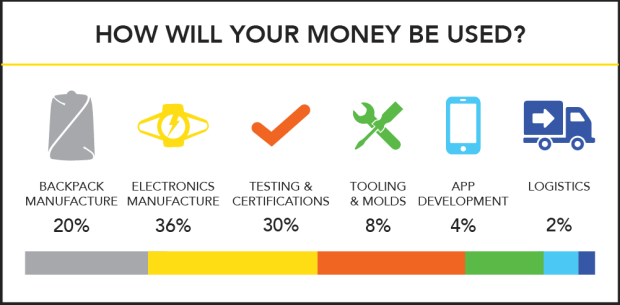 A combination of super-geeky engineers and creative designers who are mad about cycling is what the diverse Lumos team is built of. We believe that an improvement in cycling safety would lead to an overall higher adoption of cycling as a form of commute across the world!








Weve successfully delivered solar-powered cyclist backpacks (the Lumos unPlug Solar Backpack and the Lumos ThrillSeeker Solar Backpack) across multiple countries over the last 3 years. These backpacks have an integrated Solar Fabric (yes fabric, not panels), so riders can charge their devices with the bag, while on the move! In fact, the ThrillSeeker was voted by BikeMagazin.de as one of 15 innovations to watch out for at EuroBike!
We have some very capable investors and have also been mentored by Rajan Anandan, Managing Director of Google India. We know what it takes to take a concept to a final high-quality product and have experience in delivering fully certified electronics as well. Our 1500+ customers across the world are testament to our capabilities.

Any new product brings with it a few risks. We face 2 kinds of risks here:
Product Risk – Aster is a backpack thats also an electronics product. We need to ensure that Aster can not only handle daily wear-and-tear, but also make sure that the electronics are robust enough to handle crashes. Were confident that the pilot lot will help us identify any errors. The prototypes will also be put through more rigorous testing during the campaign, helping us identify vulnerabilities in the design. We will keep you updated as we identify any potential problems.
Delivery Risk – Our team has delivered 2 products from the concept stage to the final high-quality production piece, which will help us avoid common errors that could potentially cause delays in production. Although we work with a seasoned manufacturer, there is a possibility that weve under-estimated the time needed for manufacturing, so weve added a buffer in our timelines. The pilot lot of 50 would also help us correct the manufacturing processes as well.

How bright are the rear lights?
The rear lights have an intensity of 38 Lumens, which will make them visible from a distance of 250 Meters on a clear night.
When do the brake lights come on?
The brake lights detect your speed in intervals of 300 milli-seconds. They detect a deceleration of approx 0.8kilometers per hour/0.5 miles per hour within 300 milli-seconds.
If I lock my bike using the app and the bike falls over, wouldn't it trigger the alarm?
The alarm triggers only if there is a directional motion for longer than 5 seconds. For example, if the bike is constantly vibrating (parked in a shaky ship maybe?), it wouldn't trigger the alarm.
Can I change the color of the lights? Can I make them brighter?
Lumos app gives you control over the brightness of the lights. You can change the brightness within the allowed range. Changing the color is not allowed at this time, and wouldnt be advisable. The colors we have used are carefully chosen to match what other motorists expect. Also, regulations in several geographies restrict the colors of lights while biking.
Would Aster replace my existing bike lights?
No. The Aster adds a layer of security. In some countries, Aster meets the rear lights regulations. But it is recommended that you use the Aster in conjunction with your existing lights.
What battery power comes with the backpack? How often do I need to charge it?
Aster backpack is equipped with a 4000mAh battery. The battery is a portable battery bank designed by us. It should last you about 15 hours of use depending on the brightness and usage.
Is the backpack water-proof?
The bag is made of waterproof TPU coated Polyester fabric, and has a water-resistant zip protecting the main compartment. This means rain droplets will bead up and roll off the surface of the bag. In a very heavy rain shower, however, water may eventually penetrate the seams of the bag. We advise using the raincover provided.
Have you identified the manufacturers?
Yes. We already manufacture both Electronics and Backpacks for another line of cycling products. We have worked with our existing partners to create the prototypes, and have discussed the timelines in detail with them.
In the UK/EU the recognized indication to turn left or right is by hand signal as laid out in the highway code. What is the legal position on using lights as an indicator of turning?
We would advise you to always follow local laws and regulations. Hence, while the indicator would be tremendously useful, we would recommend that you use it in addition to the hand signal.
How do I charge Aster? How long does it take to charge it? Do you provide the charging cables and plugs? Is it harmful to charge it overnight?
The battery has a Micro-USB port that can be charged from any USB cable through a laptop or an adapter. Aster ships with a standard USB to Micro-USB charging cable. You can charge it over-night too.
Is the handlebar unit water-proof? Can it handle exposure to Sun/heat?
The handle-bar unit is being built to be weather-resistant. It will withstand up to 10 cms of rain. In case of heavy rains or prolonged exposure to the elements, we recommend that you remove the unit. The handlebar unit can also withstand long exposure to Sun and heat. Its operational temperature0 degreesCelsius/32 degreeFahrenheitto 55 degreesCelsius/131 degreesFahrenheit.
Can I leave the handle-bar unit on the bike?
Yes, you can. The handlebar unit can only be detached through the use of Allenkey. If used with the theft alarm, attempts to steal the handlebar unit would also trigger the alarm.
How often do I need to change the battery in the handle-bar unit? How do I change it?
The handle-bar unit is a low power device. You can expect about 300 hours of usage from it. Changing the handle-bar unit battery is simple. An instructional video will be prepared for the same – though the instruction manual that ships with Aster will also detail the procedure out.
How do I know if the handle-bar unit battery is low?
The handle-bar unit would independently give you a low battery warning. At any time, you can check the handle-bar unit battery levels through the app. The app will warn you too, when your battery levels go below 15%.
What happens if I lock my bike and then my phone goes out of charge?
The app helps you set a 10-key secret combination on the handle-bar unit. So, instead of the app, you can use the combination of the 3 keys on the handle-bar unit to key in your code, and the bike will unlock!
What certifications would the electronics meet?
The electronics would meet the required and applicable CE and FCC certifications.We will update all backers on status of certifications. Our other product (Lumos ThrillSeeker) is also CE-certified and we sought certification for the same from TUV.
What happens if I lose my phone?
You can continue to use Aster and operate it through the handle-bar unit. Without the phone, you cant configure the lights.
Is the app available for Android and iPhone?
Yes
Which version of Bluetooth does the app work with?
The app uses Bluetooth 4.0 to connect to Aster and the handle-bar unit. If you have doubts, please mail us your phone model number and we can advise you appropriately.
What is the warranty on Aster?
Aster comes with a 3 year replacement warranty (against manufacturing defects) on both the electronics and the backpack itself.
How much will shipping / delivery cost?
The shipping has been calculated per region and will be added before you check-out on the Indiegogo page.
Will I be charged Customs duty or administration fee?
This is complicated and depends significantly on the the country you are ordering from. Short answer is that you are likely to be charged customers in your country and you would be asked to pay it at the time of delivery. You can usewww.dutycalculator.com to get an idea about the customs.
Can you handle the VAT from your end before we receive the helmet?
Yes, the prices include all taxes and that includes VAT. If logistically, we are unable to pay the VAT from India, we might request you to pay it and refund you through Paypal.
Find This Campaign On
Facebook Twitter Website
Summary:
This story begins with us cyclists. While we love riding, it can be a little scary when night falls both for us and for motorists. Often, motorists arent able to see us cyclists well enough, even when weve got our bike lights on.
Youtube:
https://youtu.be/YLtNQ3CyMMk
See Campaign:
https://www.indiegogo.com/projects/aster-world-s-safest-commute-backpack
Contact Information:
Gandharv Bakshi
Tags:
Indiegogo, News Category, Reward-Donation, English, Asia, Global Regions, Crowdfunding, Language
The post Aster – World's safest commute backpack: A Commute Backpack with Integrated bike lights, Turn Signals and Automatic Brake Indication. appeared first on iCrowdNewswire.