Sensor-1: The Tiny Powerful Security System
Place Sensor-1 on items you want to protect, and if they move—you'll know.
Meet Sensor-1
The portable security system that fits in the palm of your hand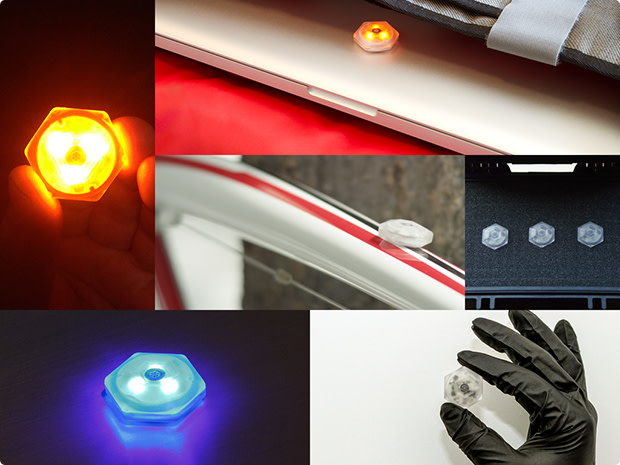 More than a keyfinder . . .
Sensor-1 detects real-time changes in motion and alerts you when your important items move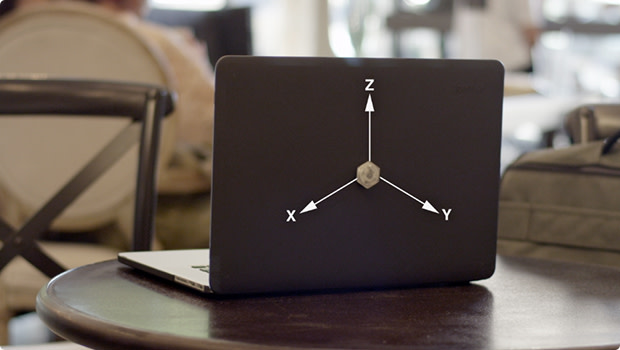 Detects real-time changes in motion and orientation

Arms based on your proximity

Left-behind feature prevents the accidental loss of important items

Operates independent of the mobile app

Communicates with smartphones, tablets, laptops, and desktops

Logs motion events while you're out-of-range

Includes an API to support custom app development
Recent Press
Click the link to read the full article

The Verge SlashGear Popular Science

Smart Home
Receive a notification when something important moves

Airbnb & shared housing Sensitive documents Garage door & workshop

Cabinets & valuables Firearm security Fences
Travel
Finally, have peace of mind while you're away

Luggage Bag, briefcase, handbag Bicycles

Hotel rooms Laptops Office equipment
Technology
1″ wide, waterproof, and easily portable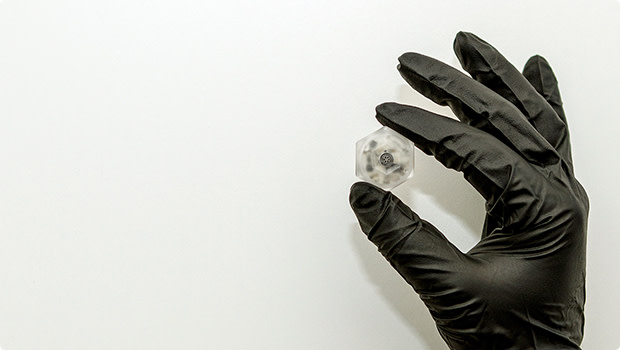 MOTION & FEEDBACK
3-axis accelerometer
3-axis gyroscopic sensor
3-axis magnetometer
Three high-luminosity RGB LEDs
Configurable high-output siren
WIRELESS
Bluetooth Smart
iBeacon compatible
Range of ≤ 300′ line-of-sight
Secure Simple Pairing
Key exchange via ECDH
AES-128 data encryption
Bluetooth firmware updates
PHYSICAL DETAILS
Width: 26mm (1 inch)
Height: 12mm
Weight: 6.63g
Translucent enclosure optimized for LED diffusion
UV and impact resistant polycarbonate
IP67 waterproof to 3 meters
MOBILE APP
Available for iOS and Apple Watch
Android app slated for Q4 of 2016
API available for custom app development
POWER
Replaceable CR2032 coin-cell battery
1+ years estimated battery life (Stealth Mode)
MOUNTING OPTIONS
Cases available for secure attachment
Sticks to surfaces with included 3M Command™ Strips and Glue Dots
Template available for 3D printing cases
MANUFACTURING
Packaging made with eco-friendly materials
Perk Comparison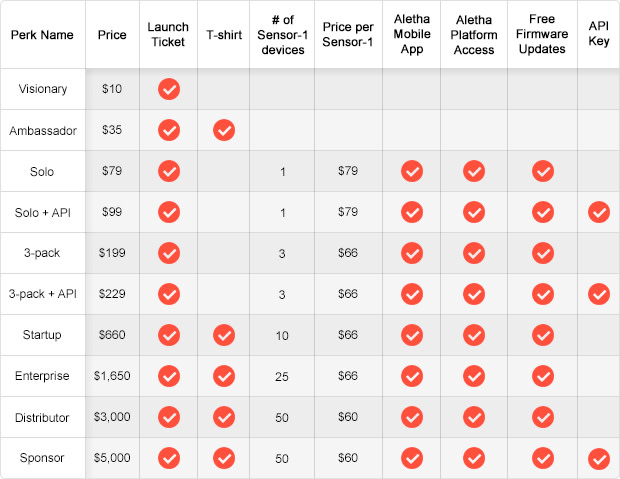 Referral Program
Help us get the word out and receive a FREE Sensor-1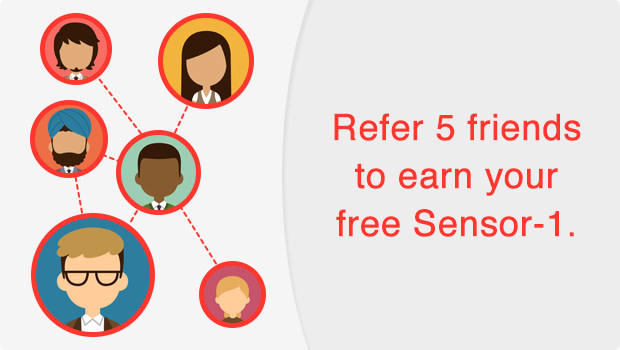 Use the social media links at the top left of this page to share the link to this campaign (while logged into your Indiegogo account). When five of your friends click the link you shared and purchase the Sensor-1 SOLO perk (or a perk of greater value), we will send you a free Sensor-1 SOLO perk.
"MetaSensor is building a platform that tracks everything that moves!"
– Dennis Chan, Lead Investor
Aletha Mobile App
Arm and use Sensor-1 in five seconds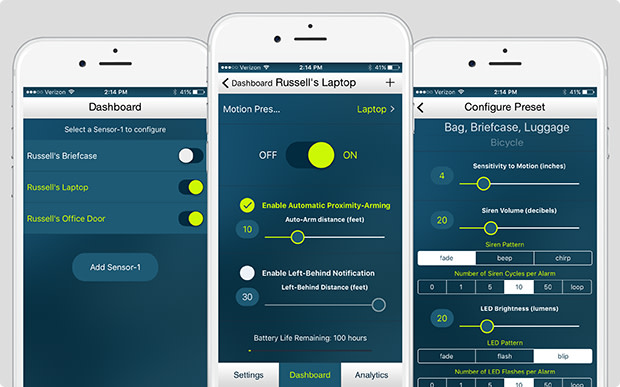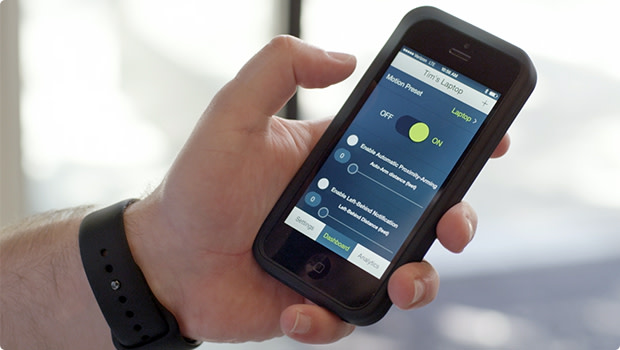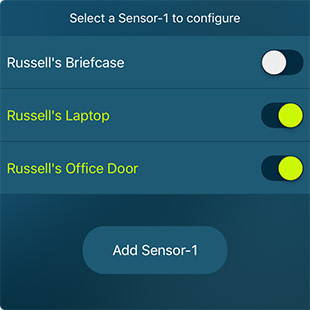 DEVICE MANAGER
Manage up to seven Sensor-1 devices per smartphone
Quickly add and remove Sensor-1 devices
Arm/disarm all your Sensor-1 devices from one screen
DASHBOARD
Select a Motion Preset:

Bag, Briefcase, Luggage
Bicycle
Documents
Door
Laptop
Stealth (no siren or LED lights)
Custom

Manually arm/disarm
Enable Automatic Proximity-Arming (automatically arm when you walk away, and disarm when you return)
Enable Left-Behind Notifications (so you don't leave important items behind accidentally)
View remaining battery life (to the hour)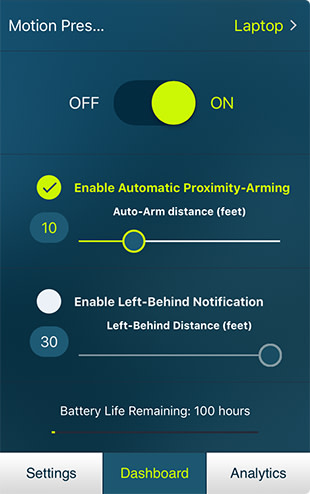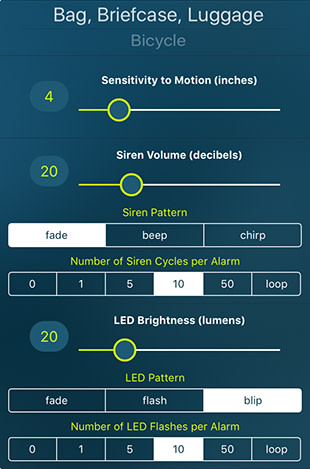 CONFIGURE SENSOR-1
Switch motion presets
Adjust the sensitivity to motion (the amount Sensor-1 can move before triggering an alarm)
Change the siren volume
Select siren patterns and the number of times the siren repeats
Change the LED brightness
Select LED patterns and the number of times the LEDs flash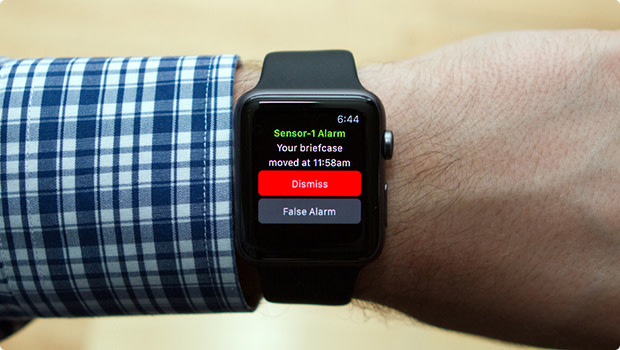 Sensor-1 in action
Check out the gallery tab at the top of this page for more
Sensor-1 API
Use the real-time data from Sensor-1 in your own apps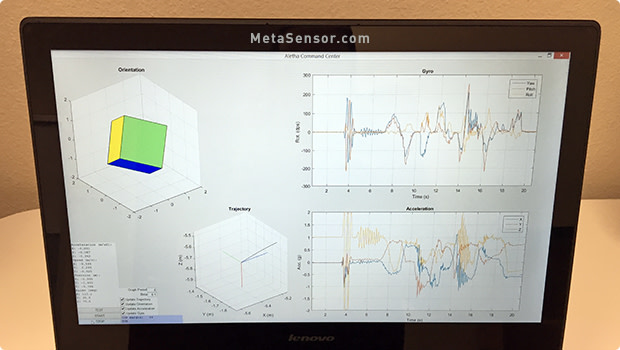 Supporters who purchase the SOLO + API, 3-PACK + API, or SPONSORperks will have access to the Sensor-1 Application Programming Interface (API).
Your Sensor-1 API key can be used to view and analyze the raw streaming data from Sensor-1 via the Aletha Web Platform, Mobile App, and directly over Bluetooth (e.g., with a laptop, desktop, mobile app, or Bluetooth enabled development kit). Sensor-1 can communicate with Arduino (using a BLE shield), Raspberry Pi, Nordic dev kits, or any custom system capabale of sending and receiving BLE communications.
Third-Party Integrations
Develop your own apps that harness the power of Sensor-1

Monitoring shipments
Measuring impact in sports
Robotics & swarm networks

Equipment logistics
Geofencing
Earthquake detection
Aletha Web Platform
Visualize and understand the data from your Sensor-1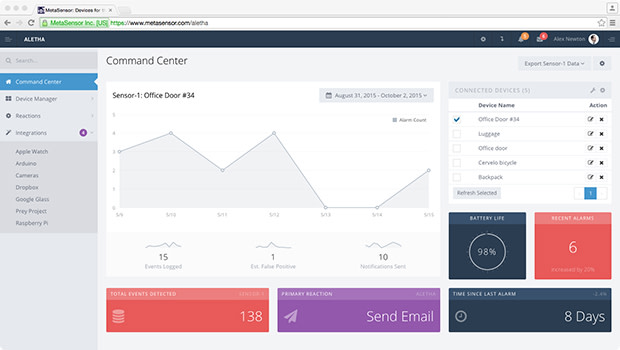 The Aletha Web Platform helps you visualize and understand information from your Sensor-1 devices, and is your primary dashboard for setting up, configuring, and importing data from Sensor-1. Your API key and API documentation will also be available to you through the Aletha Platform if you order one of the Sensor-1 API perks.
Use the drag-and-drop interface to quickly setup autonomous reactions to motion events, so you can monitor the important items in your life. Each Sensor-1 perk purchase includes access to the Aletha Platform.
Delivery Timeline
What to expect after the campaign ends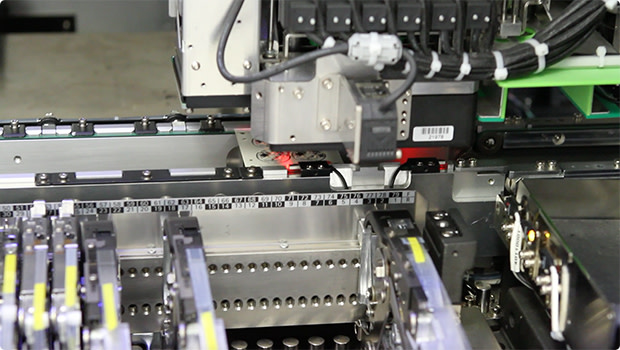 March 20, 2016: Indiegogo campaign ends
March-May: Design for Manufacturing (DFM)
May-July: Engineering Validation Test (EVT)
July-August: Design Validation Test (DVT)
August-September: Production Validation Test (PVT)
September-October: Mass production
October-November: Our anticipated window for global shipments
In order to keep you updated on our status, we will post photos/videos of our progress to our social media pages (Twitter, Instagram, Facebook), and send you regular email updates. We will do our best to ship Sensor-1 prior to our estimated shipping window of Q4 2016.
Our Team
Meet the friendly folks behind the curtain

Nick Warren
Founder & CEO
Katharina Breme
Advisory Board

Dennis Chan
Lead Investor
Michael Hörling
Embedded Systems
Tyler Casselman
iOS Engineer

Lillian Kivel
Campaign Manager
Our Story
Six years to one sensor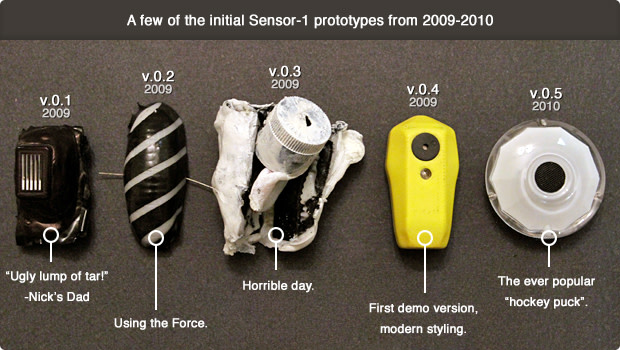 Sensor-1 is the result of a project that started in 2009 when my family's home was invaded and they were burglarized while I was in the process of building a security system to keep them safe. Six months later, a colleague had their laptop stolen while we were working to improve the U.S. education system at the Carnegie Foundation. Both of these events deeply affected me, and fundamentally altered my life's path. I decided at that point to dedicate myself to developing systems to keep these types of events from happening to others. Six years later, I am honored to have the opportunity to offer Sensor-1 and the Aletha Platform to you. We have developed and tested eight generations of prototypes, filed multiple patents, raised venture capital, created a kickass team, and are now ready to bring these revolutionary capabilities to you.
Nick Warren
Founder & CEO
MetaSensor Inc.
FAQs
Questions from our Twitter, Instagram, and Facebook pages
Q: How does Sensor-1 differ from a Bluetooth keyfinder?
A: While a keyfinder and Sensor-1 will both tell you when you've lost Bluetooth communication with your keys, only Sensor-1 can detect real-time changes in motion and orientation using the onboard 3-axis accelerometer and 3-axis gyroscopic sensor—one of the many advanced capabilities that isn't available on a common keyfinder.
Q: @never.everr asks, "How long does the battery last for the sensor?"
A: 1+ years estimated battery life in Stealth Mode. The full tech specs are available higher up on this page.
Q: @hasanelbasri asks, "Does it have to be placed horizontally? Will the alarm be triggered if Sensor-1 was moved in a different way?"
A: Sensor-1 can be placed in any orientation when it is armed. An alert is triggered when the motion sensitivity you set in the Aletha Mobile App is exceeded—here is a short demonstration video.
Q: K.B. asks, "So I know the device connects via Bluetooth, but how exactly would it communicate to me that it's been moved if I'm out of Bluetooth range with my phone? Is there Wi-Fi connectivity? Or does it store the information temporarily?"
A: Sensor-1 can communicate over the Internet if the device it is connected to is online. For example, if Sensor-1 is mounted on your door and connected to a nearby tablet (with an Internet connection), Sensor-1 will send an alert notification over Bluetooth to the tablet when the door is opened. This notification can then be sent to you (while you're away) over the Internet via our Aletha Web Platform using the tablet's Internet connection. This way, we can use a nearby smartphone, tablet, laptop, or desktop with Bluetooth support to relay an alert notification using the Internet over much greater distances. Sensor-1 is designed to operate independently of the Aletha Mobile App, so it logs motion events while you're out-of-range (or if there aren't any Bluetooth enabled devices nearby).
Q: I noticed that some of your earlier YouTube videos referred to a device named "HYDRA". How does HYDRA compare to Sensor-1?
HYDRA, which is an acronym for Helping You Defend Roving Assets, was the early project codename for Sensor-1. During the development of HYDRA, the Captain America movies were released, in which HYDRA happens to be the name of a terrorist organization in the Marvel Universe. We began to notice people leaving comments saying, "Hail HYDRA" when we received press, and decided to change the name to something more . . . appropriate. Alas!
Q: @djd0m asks, "Love the sensor do you have a hub or just the sensor?"
A: Sensor-1 can be connected to any Bluetooth compatible device (smartphone, tablet, laptop, desktop, or dev kit), the device acts as the hub—which can then relay information from Sensor-1 over the Internet or to other systems.
Q: @hasanelbasri asks, "How many sensors can be connected to a phone/tablet simultaneously?"
A: We recommend pairing no more than seven Sensor-1 devices per phone/tablet. This number can vary depending on how many other Bluetooth devices are currently paired, the type of device (e.g., smartphone, laptop, or computer), and the device's operating system.
Q: @hasanelbasri asks, "Compatibility with different standards like ZigBee or Z-Wave would be nice :-)"
A: Developers can use the Sensor-1 API to create custom apps that transmit data via any wired or wireless protocol you desire. The sky's the limit!
Q: @tg_wushiw0lf asks, "Are you hiring?"
A: We are always looking for exceptional people with a passion for changing the world! You can use this contact form to reach out to us if you're interested in joining our team.
Q: @ftmfwb asks, "So Sensor-1 cries out via low power Bluetooth or Wi-Fi if it's moved, but once it's out of Bluetooth range and off Wi-Fi, it stops communicating right? Does it send out a last known GPS coordinate?"
A: If Sensor-1 loses communication, it stores any motion alerts until it reconnects, at which point it updates the user. Sensor-1 needs to be connected to a GPS-enabled smartphone in order to store the last known latitude/longitude coordinates.
Q: @abdulqabiz asks, "Sensor-1 sounds interesting. I would be able to try it out, and probably try to see if I can make it work with LORA's communication protocol. In India, one of the largest telecom companies has announced LPWAN for most of cities. That means, Sensor-1 can work in an entire city or probably country; hence locating missing items gets easier. Wondering if it can be extended? I mean hardware part? Or is that (other than Bluetooth/Wi-Fi) something you plan to do? India could be a good place to test LPWAN based stuff."
A: Sensor-1 has an API that enables the integration of a wide range of communication protocols like LPWAN—so it could definitely be tested in this context.
Q: When will the Android app be available?
A: We plan to release the Android app in Q4 of 2016. If you would like to help beta test the app, please contact us.
Q: When will you start shipping?
A: As anyone who has successfully shipped a wireless hardware product globally will tell you—take your best anticipated time estimate and double it. Keeping this in mind, a realistic estimated shipping window is Q4 of 2016. We will do everything we can to start shipping Sensor-1 as quickly as possible. We would rather set a realistic timeline and do our best to deliver ahead of schedule, than the opposite.
Q: How is shipping calculated?
A: Shipping rates are calculated using the recipient's location relative to our nearest warehouse. We use USPS for shipping an individual Sensor-1 or Sensor-1 3-pack due to cost savings for the customer. Bulk orders will use USPS, UPS, or FedEx depending on the optimal cost savings. Shipping does not include extra fees from customs, or additional costs associated with your country.
Q: Is the packaging made from eco-friendly materials?
A: Yes—the materials used in the Sensor-1 packaging are eco-friendly. We will be releasing an article in the near future with a breakdown of the raw materials used.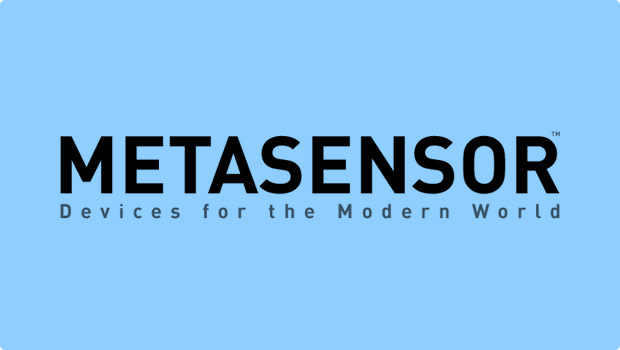 Find This Campaign On
Facebook Twitter YouTube Website
Summary:
Meet Sensor-1: The portable security system that fits in the palm of your hand. Place Sensor-1 on items you want to protect, and if they move—you'll know.
Youtube:
https://youtu.be/wRzAzinIZSY
See Campaign:
https://www.indiegogo.com/projects/sensor-1-the-tiny-powerful-security-system
Contact Information:
MetaSensor Inc
Tags:
Indiegogo, Family, Consumer, United States, Reward, English, Equipment and Services, California, Industry verticals, Regions, Types of Crowdfunding deal, Telecom, Language