Free Proxy Server Sites are rather the best way for anonymously surfing. Sometimes in colleges or schools we have often see that there are many sites like youtube, social media, torrent and other sites blocked by the administrator. Thus, in that condition we aren't able to open blocked sites. But through the proxy server websites we can easily open blocked sites without changing our location. You have to just open any from the given proxy server sites and put the URL of any site you want to open. It will open that blocked site in just few seconds. So you don't have to bother about other settings like change VPN setup, using anonymous proxies in browser. Administrator can easily block VPN settings Therefore, it is not effective way sometimes. But proxy server sites are mainly used tools which are entirely work through browser. So you don't need to download and install any software in computer to access blocked sites. If you don't know about changing proxy manually then learn about How To Change Proxy In Web Browser. Proxy server sites are also called the web based proxies but not all proxy sites are best. Many proxy sites are not secure but here we provide the top best free proxy server sites which are malware free and secure.
Best Proxy Server Sites List.
1. Proxy.org.
Proxy.org gives the best and easy way for anonymously online web surfing. It also provides the online guide for web surfer's to open blocked sites. You can find here the information and you can use tool for open blocked sites like you have just to put the URL in the given bar and click on go and you can open any blocked site on this proxy site.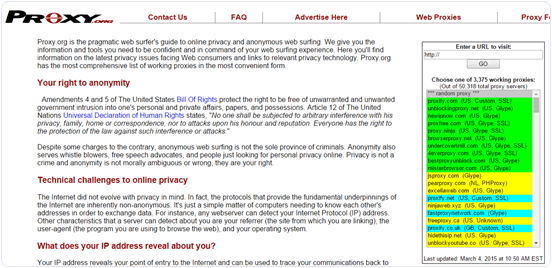 2. Proxify.com.
Proxify lets you open any blocked site and provide service for their users to surf web securely and privately. It is a best choice in proxy server sites. You can open any blocked site you want and it will not let identify and track you because Proxify encrypt your connection and hide your IP address automatically and do not let monitoring your network traffic.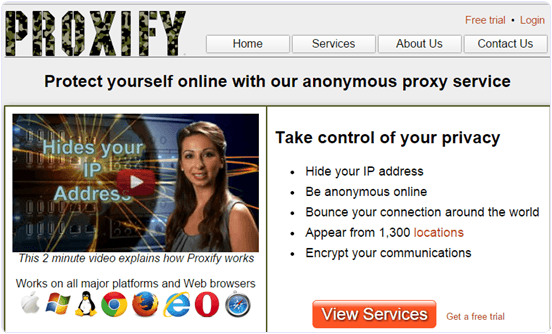 3. XRoxy.com.
Xroxy is one of the best in all proxy server sites which provides you a huge list of web proxies, open proxies and other country proxies which you can use and open blocked sites. It has a large amount of proxy database which updated automatically and provides you best working proxies either you can use tool on Xroxy just put the URL of any blocked site and it will open you that site.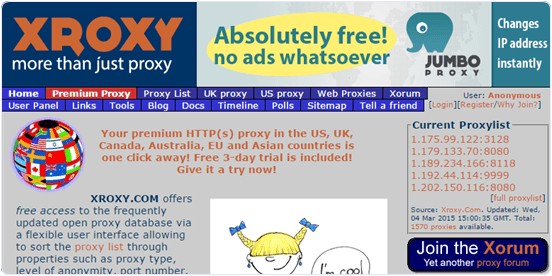 4. BlewPass.com.
BlewPass lets you access all blocked sites like Facebook, youtube, thepiratebay and more in your college, school or any other workplace. It will let you surf anonymously to the target sites and you can easily access blocked sites securely and privately. BlewPass always stay up to date and it also supports HTML5 so you can browsing on your mobile phones also.


5. DontFilter.us.
DontFilter another best of all web based proxy server sites or online privacy tool where you have to just put any blocked site URL which is blocked by your school & college administrator. You can surf on internet through this proxy site anonymously and privately.


6. AnonyMouse.org.
Anonymouse is a fast, easy and free web based proxy site and you can surf here privately and anonymously because whenever you visit any they will save all your information like IP address in log files so they catch your all information but anonymouse lets your information hide and keep safe so you can surf anonymously blocked sites.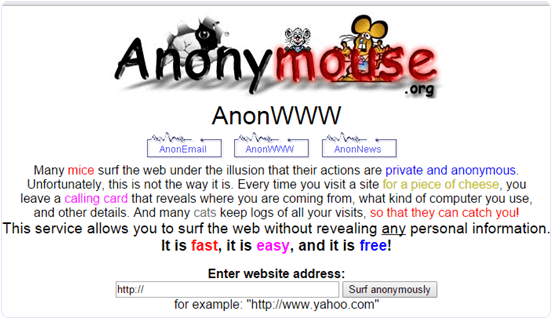 7. kProxy.com.
KProxy lets you access blocked sites and you can surf anonymously on Kproxy and it never show your personal information to the sites and it will hide your IP address so you can surf anonymously, privately and securely open blocked site.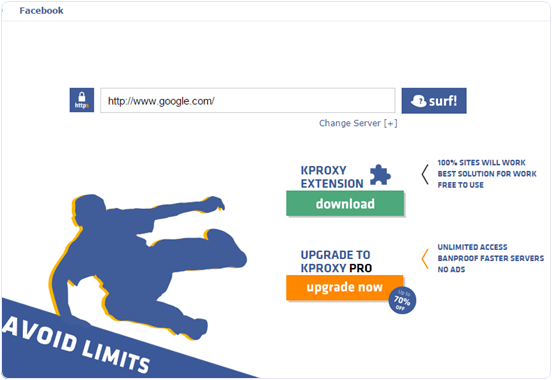 8. ZFreeZ.com.
ZFreez another free, easy and best web based proxy site where you can open open blocked sites like Facebook, you tube and more other. It also provides other proxies like open proxies you can use manually and it will also keep your information hide and you can surf anonymously.


9. Proxysite.com.
Proxysite let you access blocked sites and it will hide your IP address, keep your information private. It doesn't let site to catch your personal information about your IP address. You can surf internet anonymously and privately through this proxy site and open any blocked site by your school, college and country.


10. FilterBypass.me.
FilterBypass is another Best site in the list of best Proxy sites for Anonymous surfing on the internet. It is free to use which provide an option for the people over the world bypass local securities and filters to enjoy blocked sites. It provide easy to use interface. We just have to type the URL of the Website. It is a fast, Reliable and highly secured with 128 bit SSL encryption. The target websites are unable to see our IP address and browser used.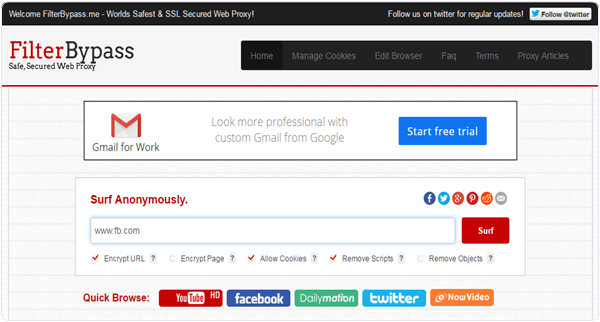 Other Proxy Sites
Unblocker – https://www.unblocker.us/
Unlock My Web – http://www.unblockmyweb.com/
Proxy Site – https://www.proxysite.com/
Hide My Ass – https://www.hidemyass.com/
Fast USA Proxy – http://fastusaproxy.com/
New IP Now – http://newipnow.com/
Anonymouse – http://anonymouse.org/anonwww.html
Hidden Digital Info – http://hiddendigital.info/
Anony Mizer – https://www.anonymizer.com/
K Proxy – http://www.kproxy.com/
Hidester – https://hidester.com/proxylist/
Don't Filter – http://dontfilter.us/
Working Proxy – https://www.workingproxy.net/
Prox Me Call Me Names – http://www.proxmecallmenames.com/
Change IP & Country – http://anonymizer.nntime.com/
VTunnel – http://vtunnel.com/
Ninja Cloak – http://ninjacloak.com/
DeFilter – http://defilter.us/
Quick Proxy – http://www.quickproxy.co.uk/
VPN Browse – http://vpnbrowse.com/
Extreme Proxy – https://www.extremeproxy.us/
Fast School Proxy – https://www.fastschoolproxy.com/
View Youtube – http://www.viewyoutube.net/
Proxay – https://www.proxay.co.uk/
Greatest Free Proxy – http://www.greatestfreeproxy.com/
Stardoll Proxy – https://www.stardollproxy.com/
Proxy 4 Freedom – http://proxy4freedom.com/
Surf Proxy – http://surfproxy.co/
Sporium – http://sporium.org/
Saoudi Proxy – http://saoudiproxy.info/
Proxy Browse – http://proxybrowse.info/
Ca Proxies – http://caproxies.info/
Proxy 2015 – http://proxy-2015.info/
FB Proxies – http://fbproxies.info/
PK Proxy – http://pkproxy.info/
America Proxy – http://americaproxy.info/
Suede Proxy – http://suedeproxy.info/
Korea Proxy – http://krproxy.info/
Brazil Proxy – http://brazilproxy.info
Zacebook – http://www.zacebookpk.com/
In conclusion, These are few working best proxy server sites which offer free proxies and also let you to surf website anonymously. In case we missed any best one please let us know in comment section.
The post Best Free Proxy Server Sites List 2018 (Latest 50+) appeared first on Safe Tricks.