In this article, I am going to introduce 10 best WordPress comment plugins for up and running advanced commenting systems and overwrite WordPress' default comment form.
As you definitely know, WordPress came with a simple commenting feature from the beginning and it might have some enhancements but it still lacks a lot of functional and important features.
Each of the WordPress advanced commenting plugins offers a lot of extra abilities like spam checking, customizing comment form, easy-to-use login with your favorite social media platform account, filtering comments based on predefined sorting options and sharing images through comments.
These features cause more interaction by getting people to share and discuss their ideas more and eventually it makes a community of your site. And after all, the more people stay and interact with your site, the more benefit you'll earn.
I wrote the most comprehensive article on WordPress translation plugins for you, so feel free to read it too: 10 Best Translation Plugins for WordPress (2020)
Best Commenting Plugins for WordPress
Let's take a look at 10 of the best WordPress commenting systems and plugins out there: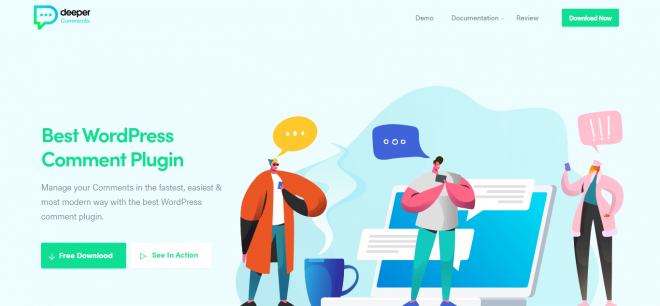 Deeper Comments looks and design are eye-catching and according the developer team (Webnus) they have used the latest UI/UX's methods designing this product and that's why it's the first choice in our best WordPress comment plugins list.
Talking about the functionality, Deeper Comments offers outstanding features like interactive comments, limitation on where to show the comment form, on the flow Ajax loading forms, comment sorting filters, custom avatars for comments authors, customizability, word blacklist for spam or inappropriate comments and WYSIWYG live editor.
The sorting filters comes in forms of "Newest, Oldest, Popular & Trending" and let users to find their desired content in comments faster than ever.
There is also voting features for liking or disliking comments so people can express how they feel about one another's comments.
On the flow real-time Ajax comments form and popup notifications for new replies lets users interact and get engaged in discussions and increases the time they stay on your website.
At the end, it's worth to mention that customization settings lets you to customize the appearances like colors, borders, margins and sizes of almost every element on the frontend's comment form.
Available: Deeper Comments has Ajax real-time functionality on comment forms, quick login & register forms, popup notifications and admin area settings.
Available: Words blacklist in Deeper Comments allows this plugin to detect spam & inappropriate comments and automatically change their status to 'pending'.
Available: With it's TinyMCE live editor (the most advanced WYSIWYG HTML editor) comment authors can benefit from text editing styles, link or image insertion, emoji list, etc. You can actually see some of this live editor options in the comment section below this article; Just click on "Join the discussion" field.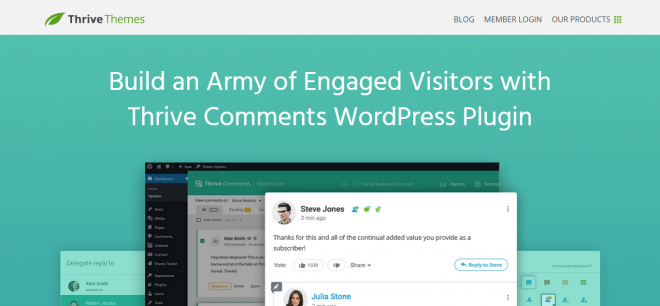 Thrive Comments kinda has the looks and feels of the Disqus commenting system which is totally perfect and proofed as a good user interface for attracting the users.
It offers awesome features like achievements badges for users, voting buttons, featured comments display, social media sign-in integration, subscribing to a post's comments, etc for increasing engagement on your site.
One of the coolest features of this plugin, is comment conversion. You can choose what happens after a comment is submitted, like displaying a message, asking for social share, showing related posts, redirecting to a new URL or even displaying an opt-in Lightbox form (which need Thrive Leads to be installed).
Thrive Comments has the real meaning of real-time on-the-flow Ajax functionality like you don't even need to hit to "save button" in the admin area for having your changes saved.
You can setup a list of keywords that can be automatically hyperlinked when used in the comments text by admins or users.
There is also a useful feature for customizing labels, built-in to the plugin itself so you won't be needed of any translation plugins.
Available: It has a real-time on-the-flow Ajax functionality on comment forms, WordPress default login on an opt-in Lightbox, admin area, and for real-time loading new comments on a post.
Available: There is a field for defining the words that if a comment has them it would be put into the moderation queue and another field for trashing the comments automatically.
Not Available: Unlike all the dynamic features Thrive Comments provided, it doesn't offer any visual WYSIWYG editor.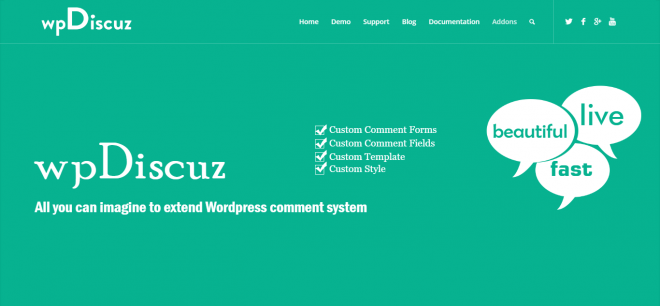 If you don't have any concerns about your budget, your best choice from all of the WordPress commenting systems would be wpDiscuz and it's premium addons bundle with a price of $99.
The core plugin comes totally free with various useful features that you have to pay in order to have them in other premium plugins like Thrive Comments.
I try yo mention some of them in here: social login integration, real-time Ajax comment forms, optimization feature for loading scripts in the footer, editing labels and phrases, controlling comment form components' display, invisible spam protection, automatic image URL to HTML img tag, live comment update, etc.
You can customize a lot of attributes related to looks and designs of your comment form like font sizes, colors and also custom CSS field.
The Gravatar cache makes your comment forms loads faster without the need for sending a request to their servers each time users refresh the page.
And it also has integrations with plugins like BuddyPress, Users Ultra, User Pro, Ultimate Member, MyCred and PeepSo.
Here are a list of some premium addons you can buy to add extra functionality to your commenting system: Emoticons, Online Users, Private Comments, Ads Manager, Users & Comments Mentioning, Comment Search, Google reCAPTCHA, Comment Censure, etc.
Available: wpDiscuz has real-time Ajax functionality in comment forms, admin area, live update for new replies, etc.