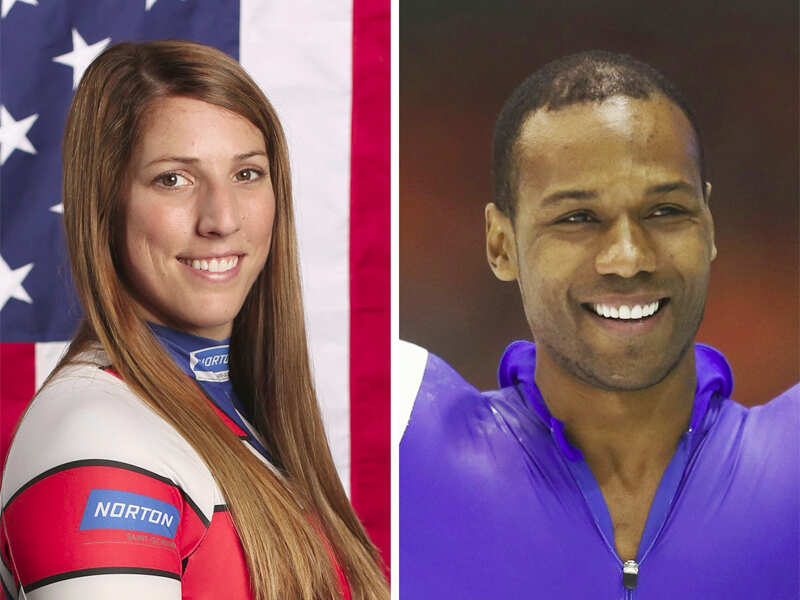 PYEONGCHANG (South Korea): Shani Davis faced a backlash from his US teammates and the American public Saturday after complaining about losing a coin toss to choose the Team USA flagbearer for the Olympic opening ceremony.
The 35-year-old then controversially stayed away from Friday's ceremony after losing the coin flip to US luger Erin Hamlin for the prestigious honour.
The coin was used after US representatives from the eight winter sport federations deadlocked 4-4 in voting.
Davis is the most decorated US Olympian at Pyeongchang with 1,000m gold and 1,500 silver in 2006 and 2010.
But after losing the coin flip, Davis took to Twitter to show his unhappiness.
"I am an American and when I won the 1000m in 2010 I became the first American to 2-peat in that event. @TeamUSA dishonorably tossed a coin to decide its 2018 flag bearer," he tweeted.
On Saturday, Davis put his Twitter feed in "protected" mode, blocking new followers and access to his posts after he received dozens of critical messages from the public.
"Sounds like sour grapes to me. If it were up to me, you'd never be up for this honor in the future," said one US-based Twitter user.
Many accused the African-American of attempting to make his flag disappointment a racial issue.
His Twitter comment had prompted a reply on the website from US Olympic bobsledder Nick Cunningham, who noted the flagbearer role has often not been tied to Olympic success.
"I bet you wouldn't be talking if it went in your favor," Cunningham tweeted. "Carrying the flag goes beyond wins and losses and it's an honor to even be considered.
"You're only proving the coin flipped to the correct side."
Davis had apparently not intended to attend the opening ceremony but would have changed his plans had he been chosen to carry the flag.
Instead, he stayed away to supposedly better prepare for competition in the 500, 1,000 and the 1,500m, his opening race on Tuesday.
Freestyle ski halfpiper David Wise joined the backlash against Davis.
"He or She who bears the flag for @Team USA should conduct themselves with both honor and HUMILITY," Wise tweeted.
"A true Champion would walk by their teammate proudly. Seems to me the dishonorable coin made the right choice.
"As far as 2022 is concerned… you won't receive my vote."
Davis found some support though from the Reverend Jesse Jackson, who called upon the US Olympic Committee to change the flagbearer selection process.
"The choice to represent our country as flagbearer in the Olympics should never be determined by the flip of a coin," Jackson tweeted.
"The Committee should immediately institute a more appropriate system to make such a significant determination."
USOC spokesman Mark Jones noted the selection procedures, including the coin toss tie-breaker, is known well in advance and said: "The Team USA flagbearer is selected using a detailed selection procedure that is fully driven by athletes."
Source : timesofindia
This post first appeared on Daily Kiran, please read the originial post: here