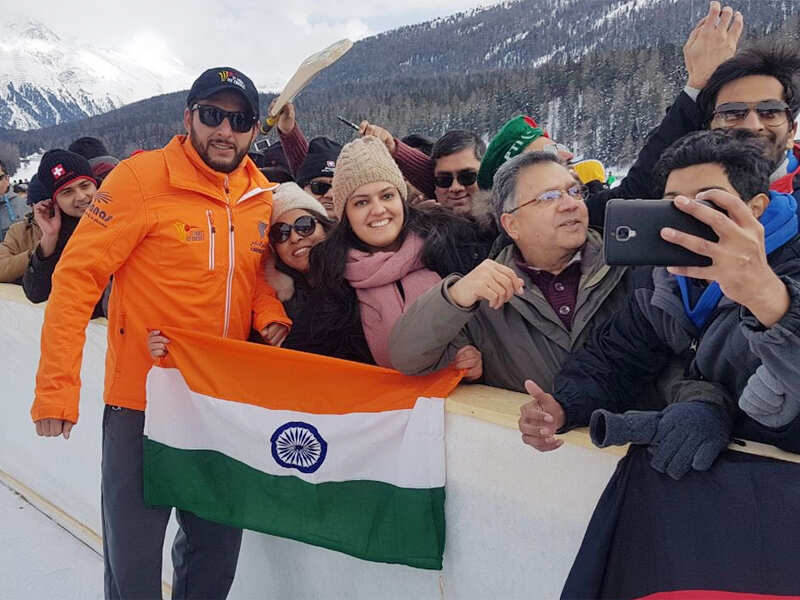 ST MORITZ: Shahid Afridi won many hearts on either side of the border with a touching gesture in which he promptly told an Indian fan to hold the national flag properly while posing for a picture.
"Flag seedha karo apna (straighten the flag)," Afridi asked his Indian fan while posing for a picture on the sidelines of the St. Moritz Cricket Tournament here.
Afridi was among a host of former cricketers who took part in the inaugural event which concluded on Saturday.
The other big names to feature were Shoaib Akhtar, Virender Sehwag, Zaheer Khan, Graeme Smith, Andrew Symonds, Lasith Malinga and Mahela Jayawardene, among others.
Afridi also had the social media abuzz with people from either side of the border lauding the all-rounder's gesture.
A handful of Indian and Pakistani expats gathered at the venue to watch the former players in action.
The tournament was played on a frozen lake in sub-zero temperatures. A matting wicket was used though the players fielded on ice.
Pakistani players including Afridi are loved in India.
"I believe as cricketers we can set examples of how relationship between individuals can be a template for relationship between countries.
"I think after Pakistan, the two countries where I have received most love and respect are India and Australia," Afridi said on the sidelines of the event.
Source : timesofindia
This post first appeared on Daily Kiran, please read the originial post: here