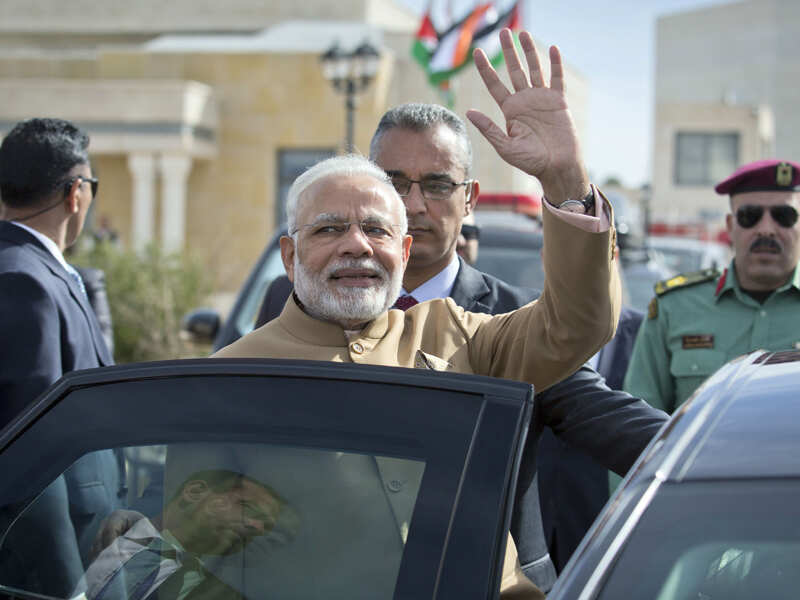 ABU DHABI: Prime Minister Narendra Modi will witness the foundation stone-laying ceremony for the first Hindu Temple in the capital of the UAE, home to over three million people of Indian origin.
Modi, who arrived here tonight, will be visiting the United Arab Emirates for the second time after his 2015 trip to the country.
"The first Hindu Temple in Abu Dhabi will come up on 55,000 square metres of land and the groundbreaking ceremony on Sunday will be a historic event," said Indian Ambassador to the UAE Navdeep Singh Suri.
Modi will flag off laying of the temple's foundation stone during the community event.
"On Sunday, you will see a groundbreaking ceremony, which is going to be live-streamed into Dubai Opera House. It's going to be tradition meeting technology," Suri said.
Modi will hold a meeting with the Indian community at Dubai Opera House, he said, adding that representatives of all major organisations and a number of Indian professionals have been invited.
"The occasion is going to be historic for a different reason because it will also see the commencement of the first Hindu Temple in Abu Dhabi. We are very pleased that we have received 55,000 square metres of land near Al Rahba off the Dubai-Abu Dhabi Sheikh Zayed Highway," Suri said.
The temple will be hand-carved by Indian temple artisans and assembled in the UAE. It will be completed by 2020, and open to people of all religious backgrounds.
It will be the first traditional Hindu stone temple in the Middle East, said a spokesperson from the BAPS.
Bochasanwasi Shri Akshar Purushottam Swaminarayan Sanstha (BAPS), is a socio-spiritual Hindu organisation set up in 1907 that runs more than 1,100 temples and cultural compounds around the world.
The temple will incorporate all aspects and features of a traditional Hindu temple as part of a fully functional, social, cultural and spiritual complex.
It will replicate the BAPS temple in New Delhi and the one under construction in New Jersey, a trust member told Khaleej Times.
The investment from the UAE to India exceeds $11 billion.
Source : timesofindia
This post first appeared on Daily Kiran, please read the originial post: here