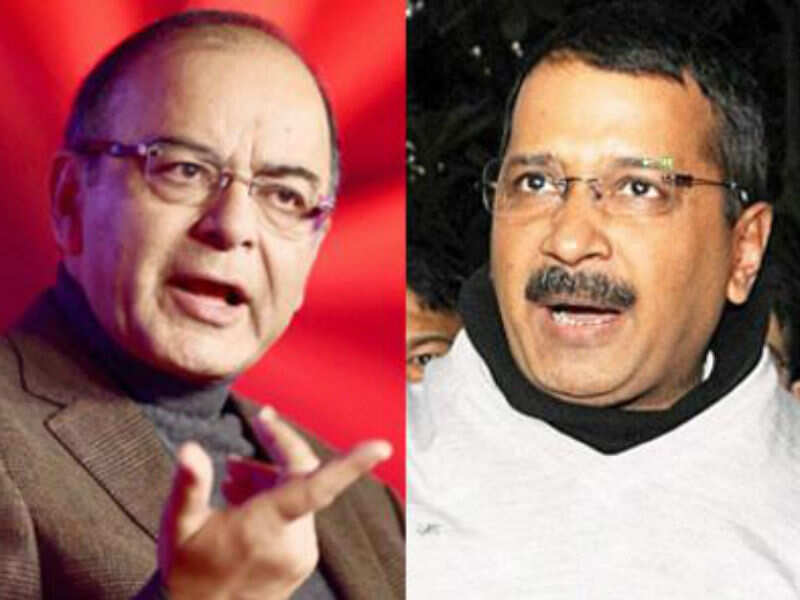 NEW DELHI: The Delhi High Court on Friday decided to transfer from the Joint Registrar to a court the ongoing cross-examination of Arun Jaitley in a defamation suit filed by him against AAP chief Arvind Kejriwal and five other party leaders.
Justice Manmohan said the cross examination of the Union finance minister be done by a single judge of the high court.
He further said the joint registrar's order directing Kejriwal to conclude Jaitley's cross-examination on February 12 becomes infructuous as now the court will decide the time frame and relevancy of questions put to the Union minister.
The court has fixed the matter for February 12 before Justice Rajiv Sahai Endlaw for recording evidence of Jaitley in the case.
The finance minister has already been cross-examined on nine different occasions before the joint registrar.
The court agreed to delegate the cross-examination of the senior BJP leader to the single judge after the counsel for Jaitley and Kejriwal agreed to it.
"I agree to transfer this suit for cross-examination before a court. Let's be practical and allow trial to go on. There are even orders of this court to conduct the matter in a fair, time-bound and speedy manner.
"I got an opportunity to go through some of the cross- examination of plaintiff (Jaitley) by defendant (Kejriwal). The questions put to Jaitley in one of the sessions of the cross-examination were not required," it observed.
The bench also observed that the proceedings be conducted in a time-bound and speedy manner.
The court's direction came during the hearing of Kejriwal's appeal against the joint registrar's February 2 order directing him to conclude the cross-examination on February 12 itself.
The joint registrar said that no further date shall be given to Kejriwal for further cross-examination of the Union minister.
Aggrieved by the direction, Kejriwal's counsel Anupam Srivastava, contended that they are conducting recording of the evidence in the matter in a dignified manner and have put only relevant questions to the finance minister.
He contended that the joint registrar committed an error by limiting their right cross examination of Jaitley.
Senior counsel Sandeep Sethi and advocate Manik Dogra, appearing for Jaitley, opposed the contention of Kejriwal's counsel and said that the union minister was crossed examined on nine occasions and was subjected to almost 275 questions.
"There are five more defendants to this case. It means this case will never end. It is their attempt to stall the proceedings," Sethi argued.
The judge agreed to the submission of Jaitley's counsel, but said that he thinks it's reasonable to give them some time.
"But not till they want to continue the cross-examination of the plaintiff," it said, adding that "let's have cross- examination before the court now".
Jaitley was being cross-examined by Kejriwal's counsel in his Rs 10 crore defamation suit filed in wake of allegations of financial irregularities against him in connection with the Delhi and District Cricket Association (DDCA) of which he was the president from 1999 to 2013.
Jaitley filed the defamation suit against Kejriwal and AAP leaders Raghav Chadha, Kumar Vishwas, Ashutosh, Sanjay Singh and Deepak Bajpai for accusing him of the irregularities and has denied all the allegations.
Source : timesofindia
This post first appeared on Daily Kiran, please read the originial post: here