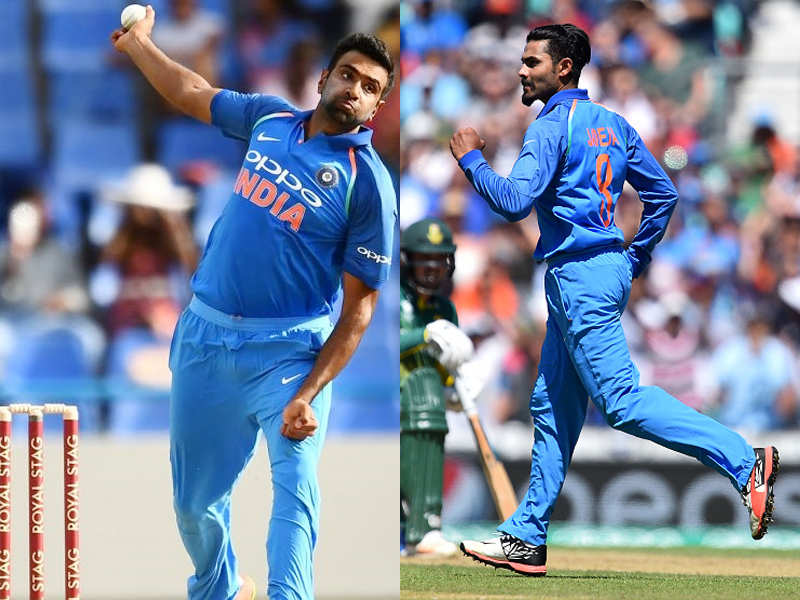 JOHANNESBURG: Indian bowling coach Bharat Arun said the door is not closed on Ravichandran Ashwin and Ravindra Jadeja in the lead-up to the 2019 World Cup, despite the emergence of a red-hot wrist spin duo in Kuldeep Yadav and Yuzvendra Chahal.
Arun acknowledged that newcomers Kuldeep and Chahal have done exceptionally well because wrist spinners do not rely overtly on pitches and conditions.
"They are extremely positive. They are not afraid to flight the ball. They are not afraid to impart extra spin to gain something, and they are not dependent on the wicket," Arun said on the eve of the fourth ODI against South Africa.
"They get a lot out of the air. They have enough skills to beat batsmen in the air and they back their instinct."
India have taken an unassailable 3-0 lead in the six-match series, with Kuldeep and Chahal contributing handsomely.
"The two spinners have been outstanding in the ODIs. They have got lot of talent and lot of abilities. They have troubled the best batsmen in the business back home.
"We were extremely confident that they would come here to South Africa and make inroads into their batting."
They were first introduced to ODIs on the tour of Sri Lanka. Since then the duo have gone on to play 17 matches each and coincidentally they have also picked up 32 wickets apiece.
Yet, the coach said that the World Cup spots are still open.
"We had a good pool of bowlers and given the volume of cricket we are playing, we needed to keep rotating these bowlers and keep them fresh for every format.
"These two bowlers showed a lot of promise. We thought that in these conditions, wrist spinners would do lot more than finger spinners, and they have come to the party here."
The bowling coach further added, "We wanted to look at all the existing talent in the pool and then we wanted to decide who we wanted for the ultimate goal of the World Cup.
"It's not that Ashwin and Jadeja are out of the race. They could still be (included) into the team," he added.
While that will come as good news for India's top ranked spinners, there will be no respite for South Africa who are facing a must-win game on Saturday.
India held an optional practice session on Friday.
Ajinkya Rahane, Rohit Sharma, Shreyas Iyer, Hardik Pandya, Kuldeep Yadav, Shardul Thakur and Mohammed Shami were the players who showed up.
The Proteas have not lost an ODI series at home since losing 2-1 to Pakistan in 2013. Additionally, they have never lost on 'Pink Day', celebrated to create awareness and collect funds for breast cancer.
"It's huge. If I am right, no other team has come to South Africa and won a one-day series. To us, we are on the brink of it. If we do it, it will be really huge. There is always a first time and we hope this is it," said Arun.
"When we came to South Africa, we said this is going to be our home for the next two and a half months. We are going to identify with the culture and be a part of this country.
Speaking about the Pink Day, he said, "We do support the cause. Tomorrow it's a great cause, and from our point of view we will go and play our best cricket and provide the right entertainment for the crowd," he added.
Talking about the Test series gone by, the bowling coach expressed extreme satisfaction with the way Indian bowlers took 60 out of 60 wickets.
"My job as coach is to give enough feedback to the bowlers to understand themselves better. If they do understand themselves better they know their strengths and shortcomings.
"That will help them to go out and perform to the best of their abilities. We said we understood the South African wickets and the lengths that we need to bowl."
The visiting pacers impressed one and all with their exploits in the Test series.
"My job is to give them the right feedback so that they use it to the best. I cannot ask for anything better.
"I think these bowlers have really understood their roles, understood the conditions well and I can only say that they have performed exceptionally well."
He highlighted that Jasprit Bumrah was the pick of the Indian attack during the Test series. He shed light on how the team management prepared him for Tests against South Africa.
"Wherever he has been given chances, he has done really well. In the limited overs he did well enough for us to understand that he could be a handful in Tests as well.
"We had made a conscious decision that we will play Bumrah right in South Africa. We deliberately kept him out of the Test matches against Sri Lanka (at home).
"He was at the NCA working on his fitness and strength, because we knew the workload in South Africa is going to be high. So we prepared him accordingly."
When asked about affording rest to the likes of Bumrah and Bhuvneshwar Kumar, he said it remains a possibility.
"It makes a lot of sense. As we have said earlier we will rotate the bowlers and keep them nice and fresh. After this tour we will take a call. Not just my call, it's a team decision along with physio and trainer who is involved."
Source : timesofindia
This post first appeared on Daily Kiran, please read the originial post: here