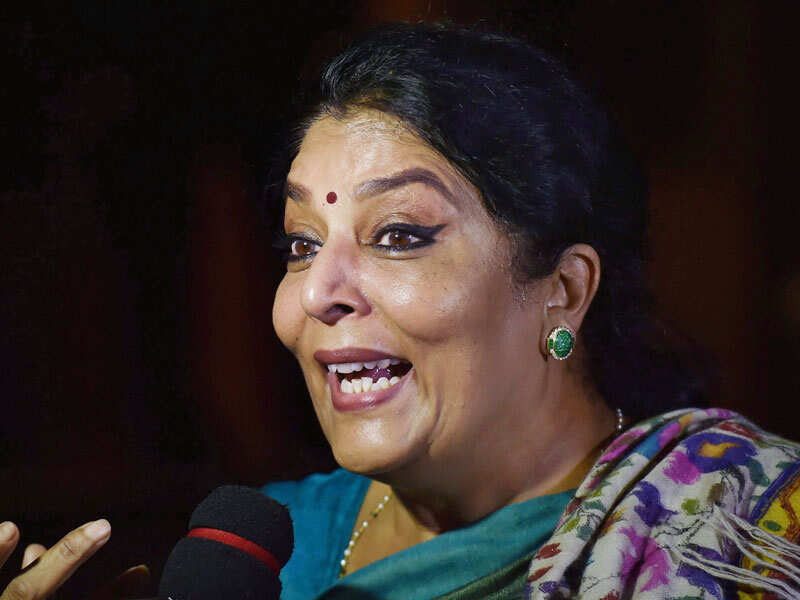 NEW DELHI: Congress and BJP engaged in a 'Mahabharat' over PM Narendra Modi's 'Ramayan' jibe at Congress MP Renuka Chowdhury a day earlier, with the opposition party forcing the Rajya Sabha to adjourn and all women MPs of Congress meeting chairman of the House Venkaiah Naidu to seek an apology from the PM.
Chowdhury threatened to move a privilege motion against junior home minister Kiren Rijiju for tweeting a video of Modi making the sarcastic comment against her. "This is highly objectionable and I am going to file a privilege motion (in the Rajya Sabha)," she told reporters minutes after Rijiju posted the PM's video.
Rijiju, however, clarified that he was only trying to show how the PM had kept his cool. "Despite such (a) vexatious laugh by Renuka Chaudhary, the PM didn't get irritated," he added.
Congress members claimed the PM's jibe was "derogatory". During the second half in the Rajya Sabha, Congress MPs were also seen shouting slogans against the PM and the government for disrespecting women. On a few occasions, Chowdhury led the sloganeering when BJP's Bhupender Yadav spoke during the Budget discussion.
Earlier in the day, Congress MP Kumari Selja had told reporters that all women MPs of Congress met Naidu and demanded an apology from the PM.
In a statement, Mahila Congress chief Sushmita Dev dubbed Modi's comment "utterly sexist" and "downright distasteful".
She demanded that Modi apologise to Chowdhury and the nation "for speaking in a manner that encourages disrespectful behaviour towards women".
Replying to the debate on the motion of thanks to the President's address in the Rajya Sabha on Wednesday, Modi had claimed the concept of Aadhaar was mooted in 1998 by the then home minister L K Advani. As Modi sought to take away credit from the Congress government for Aadhaar, Chowdhury burst into a guffaw that resonated across the chamber and drew the disapproval of Chairman Naidu. Source : timesofindia
This post first appeared on Daily Kiran, please read the originial post: here