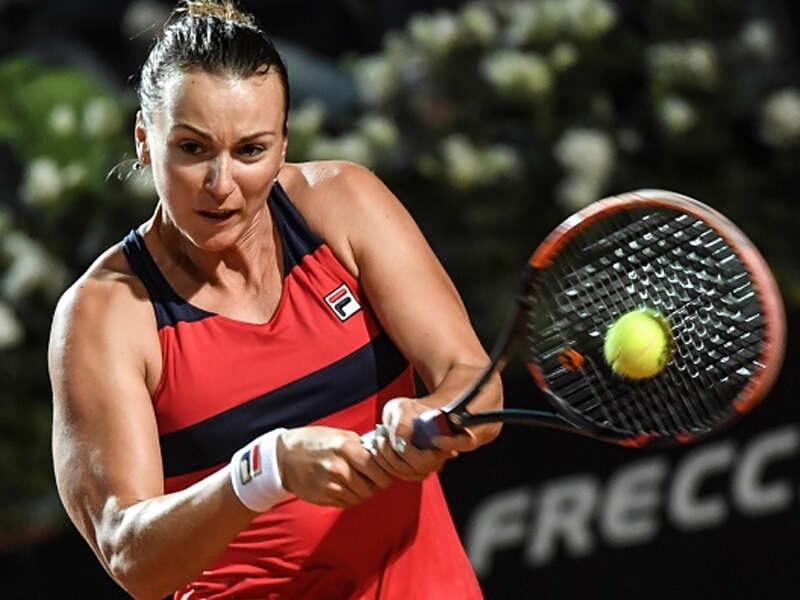 NEW DELHI: The Philosophy of life and death presented in great detail in the epic Gita, India's "beautiful" places, its welcoming people and yoga are what fascinated Kazakhstan's top tennis player Yaroslava Shvedova.
Shvedova's connection with India is quite old as her maiden WTA singles title had come in Bengaluru in 2007 when she beat Mara Santangelo.
She is again back to the country, this time to guide Kazakhstan's Fed Cup team. She, though, is out of action due to an ankle injury.
She is yet to understand fully the teachings of Gita, but Shvedova is convinced that Indian philosophy about life is unique and has much more to offer than any other religious text.
Shvedova shared that it was during a seminar at Astana that she got interested in Indian philosophy.
"A couple of years ago I started doing yoga and this year at home in Astana, there was a seminar, it was about life. There was a guy, he was going deep in religion. I got interested and bought some books," Shvedova, winner of two Grand Slams and 13 WTA doubles titles, said.
"For me, your religion (struggles to pick words) is close to human being. It explains everything about life, not like Bible or Quran. I am hoping to learn it."
Shvedova took time off to talk beyond tennis after her team's 2-1 win over India.
"This book (Gita) is very interesting, it explains through a battle (Mahabharata). I am still new to it, maybe next time you will see me better," she said.
"To get my Indian visa in Astana, the embassy was pleased to see me, they said they have an Indian cultural centre in Astana. I look forward to visiting there."
Her past visits to India have been tennis-related but now Shvedova wants to come back and explore the country and its places.
"I have good memories from Bangalore, because I won a tournament there. I was in Kolkata few times. I still have three or four sarees, I keep rotating (laughs). I am happy to come back because I am also interested in yoga and religion.
"I want to learn more about it. Hopefully I can come back, go around the country and see places. You have beautiful places and nice, welcoming people," Shvedova, whose doubles ranking has slipped to 49 after rising to number three at one stage, said.
Shvedova, was all praise for India's Ankita Raina, who toppled their top player Yulia Putintseva. "They showed fighting spirit, people should be proud of them. Ankita has mental power. Our player is top-50 but she was up and down today.
"She was hoping her opponent will give her something but there was not much because she was fighting till the end though she had played a lot yesterday."
The Kazakh, who figured in top-30 in singles in 2012, further said, "She had problems in breathing but she had no negative thoughts. I congratulate her for this win."
Shvedova said Ankita has huge potential. "She is very consistent and I liked the way she opened the court with angles. She was moving Putintseva right and left. With time and experience she will get better and better. She showed great tennis."
Talking about women's tennis, the Kazakh said the Tour has good depth now and it was getting close to ATP. "It's changing a lot. Number ones are rotating a lot. Number ones without being Slam champions. There is not big gap between them, similar power. Coming close to ATP, few top players are rotating.
"Lets see when Serena comes back, if she will be able to get to top. I am sure she will, because she is a great champion but I hope other girls show some competition." Source : timesofindia
This post first appeared on Daily Kiran, please read the originial post: here