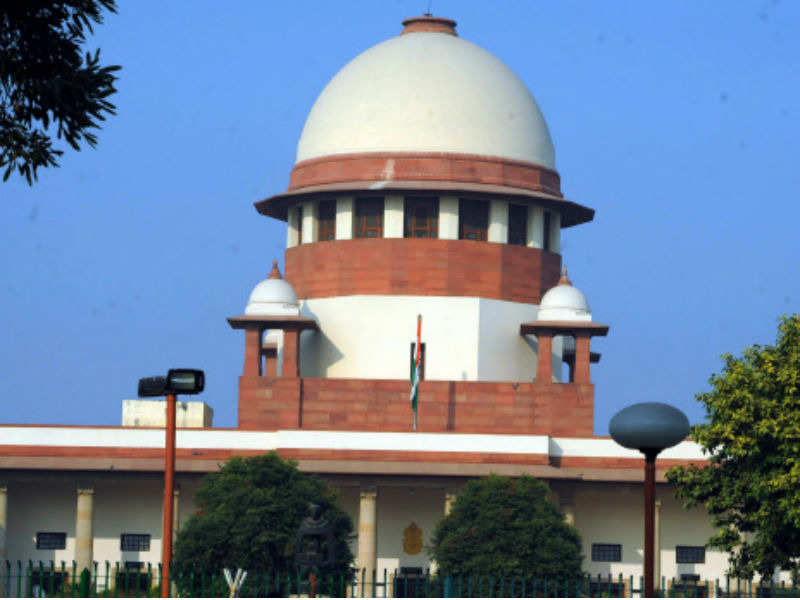 NEW DELHI: In a major blow to Mining companies operating in Goa, the Supreme Court on Wednesday quashed 88 leases granted to them by state government in 2015 saying that the Centre and state acted in undue haste by allowing renewal of leases in violation of law for the benefits of private firms.
The apex court's order will bring the mining operations of iron and manganese ore to a complete standstill in the state. The court directed the companies to wind their operations by March 15. It asked the state government and Centre to take steps to grant fresh mining leases in accordance with the law and also recover amounts from companies for indulging in illegal mining.
A bench of Justices Madan B Lokur and Deepak Gupta noted that state government started process of renewal of leases just a day after the Centre had taken decision to amend the law to take the route of competitive bidding or auction process for granting lease to mining companies. The state renewed 31 mining leases on January 12, 2015, the day when Mines and Minerals (Development and Regulation) Amendment Ordinance came into force.
"The undue haste with which the State granted the second renewal of mining leases particularly after the amendments proposed to the MMDR Act were placed in the public domain by Centre is a clear indication that the decision of the state was not based on relevant material and not necessarily triggered by the interests of mineral development. The very large number of renewals granted over a comparatively brief period is a clear indication that the state did not have mineral development in mind but had some other non-statutory interests while taking its decision to grant a second renewal to the mining leases," the bench said.
The court held that there was no need to take the decision in haste as mining operation was banned for the last two years since September 2012 and the urgency suddenly exhibited by it therefore seemed to be "make-believe and motivated rather than genuine".
"A partial explanation for this hurry, if we may venture to suggest, is that Goa was aware on November 17, 2014 if not earlier, of the policy of Centre to auction the grant of mining leases as the policy was made available in the public domain and suggestions invited. The policy proposed to introduce Section 10B by way of an amendment to the MMDR Act and the proposed amendment made it very clear that if it were to be accepted, auction of mining leases in respect of notified minerals would become a reality if not an obligation. It appears that to circumvent this rather uncomfortable policy, the state pressed the accelerator on the renewal of mining leases from December 2014 onward to benefit Mining Lease Holders," the bench said.
Holding that mining lease holders violated virtually every applicable law or legal requirement, the bench raised question on why even the Ministry of Environment and Forest had overlooked it while giving environment clearances to them. It said that MoEF acted in a mechanical manner without "any application of mind".
It said that there was no social or public purpose attached to the mining operations in the state as entire ore extracted was to be exported to China and Japan and it was not meant for domestic consumption. It said that there was one and only one objective behind the mining activity and that was profit maximization. The renewal of the mining leases would give considerable profits to the mining lease holders well beyond the benefits that could accrue to the state or to the average resident of Goa.
"Unfortunately, the undue haste in which the State acted gives the impression that it was willing to sacrifice the rule of law for the benefit of the mining lease holders and the explanation of satisfying the needs of some sections of society for their livelihood (after keeping them in the lurch for more than two years) was a mere fig leaf. The real intention of the second renewal was to satisfy the avariciousness of the mining lease holders who were motivated by profits to be made through the exploitation of natural resources," the court said.
The bench said that state government should have auction the leases and it sacrificed maximizing revenue for no apparent positive reason and surrendering itself to the commercial and profit making motives of private companies, ignoring the interests of Goan society in general. Source : timesofindia
This post first appeared on Daily Kiran, please read the originial post: here