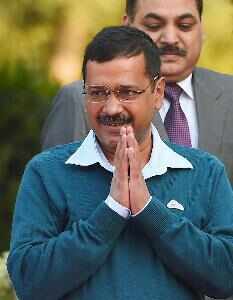 NEW DELHI: Delhi chief minister Arvind Kejriwal today said that he would leave no stone unturned to ensure strictest possible punishment for culprits responsible for the murder of 23-year-old man who was killed by family members of a woman with whom he was in a relationship for three years.
Kejriwal, in a tweet, said that his government would hire the best lawyers to ensure justice for Ankit Saxena.
"I had a word with Ankit's father. No condemnation is enough for what happened. Delhi government will hire the best possible lawyer to ensure justice for Ankit. We will try our best to ensure that the culprits are awarded the strictest possible punishment under the law. May God give strength to Ankit's family. We stand with them in these struggling times," Kejriwal tweeted.
अंकित के पिताजी से बात की। जो हुआ उसकी जितनी निंदा करें उतनी कम है। अंकित को न्याय दिलाने के लिए दिल्ली सरकार ब… https://t.co/jnXIklQ1xh

— Arvind Kejriwal (@ArvindKejriwal) 1517735761000
Saxena, a professional photographer, was stabbed to death on Thursday night in west Delhi's Khyala area. The woman's family opposed her relationship with Saxena as the two belonged to different communities, according to the police.
Earlier, Delhi's BJP chief Manoj Tiwari had questioned the "silence" of CM Kejriwal and said that the CM speaks only when it suits his "political interests".
"It is sad to see such incidents in the national capital. The silence of the chief minister and several NGOs in the matter indicates that these people speak on issues only when it suits their political interests," Tiwari said.
Tiwari met Saxena's family earlier in the day.
During the meeting, Tiwari informed the family about the arrangements his party was making for the treatment of Saxena's mother, who was injured in the attack on her son.
"The family has made several attempts to seek medical assistance by calling on ambulance service telephone No. 1008 but they got no help. Delhi government made no arrangement for the treatment," the Delhi BJP alleged in a statement.
The police arrested the woman's father, mother, uncle and her minor brother in connection with Saxena's killing.
The Delhi unit of the BJP has demanded that the Kejriwal government announce compensation to Saxena's family as it has done in other cases by announcing Rs 1 crore as ex-gratia.
Source : timesofindia
This post first appeared on Daily Kiran, please read the originial post: here