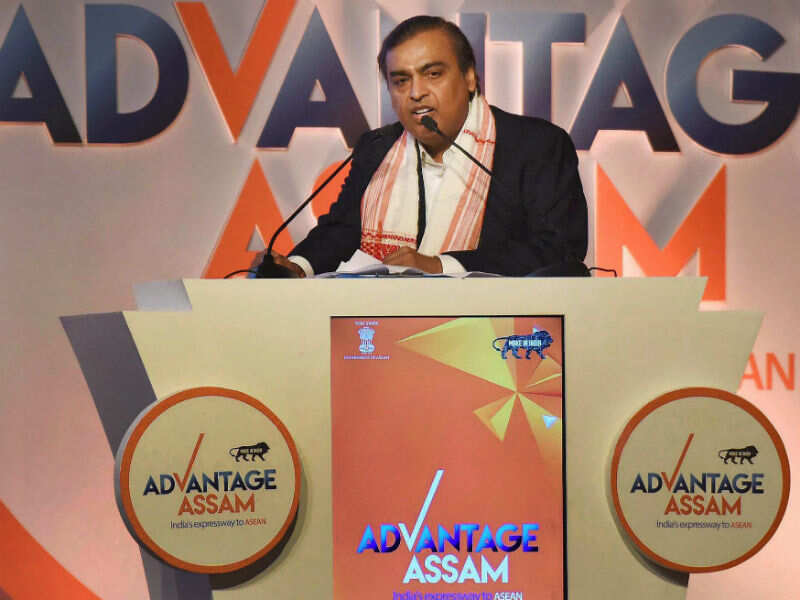 GUWAHATI: India Inc leaders on Saturday extended all their support with investment commitments to Assam's mega bid to reposition itself from a geographically isolated state to India's launch pad to connect to ASEAN region through the Act East policy.
On the inaugural session of the state's first global investors' summit with the eye on all its neighbours, ASEAN and Bhutan-Bangladesh-Nepal region and Asian economy powerhouse, Japan, but China, in attendance were Reliance Industries chairman Mukesh Ambani, Tata Sons chairman, N Chandrasekharan, CEO of Patanjali, Acharya Balakrishnan, MD of Sun Pharmaceutical Industries Ltd, Dilip Sanghvi, CMD, Spicejet, Ajay Singh, MD of Mcleod Russel India Ltd, Aditya Khaitan and local industry captain, MD of Century Plyboards Ltd, Sajjan Bhajanka.
Ambani announced an investment of Rs 2,500 crores in various sectors, including retail, petroleum, telecom, tourism and sports which would open up new job opportunities for at least 80,000 people over the next three years.
Ambani said that Jio retail division's outlets will be increased from two to 40 while a number of Reliance petrol depots will be raised to 165 from the existing 27. He also announced the opening of new 4G branches in all the 145 tehsil headquarters in the state. "Assam has always been a low priority market for other telecom operators, but it is a 'Category A' market for Reliance," he added.
In the tourism sector, Reliance Foundation will partner with Assam government to set up a centre at a university to promote "wildlife protection and eco-tourism", he added.
"In football, ISL is a huge success in Assam. We have decided to establish a top-class football academy in partnership with Government of Assam to produce global players from the state," Ambani added. He said that Reliance Industries has become the largest private sector investor in the state with Rs 5,000 cr investment over the last few years, he said.
Ambani said, "Assam's development potential is limitless. In 50's, the state was a developed one with its per capital income more than the national average." He also praised Prime Minister Narendra Modi for his government "presenting one of the best budgets in recent times" by focusing on all segments of the society, including the farmers.
Khaitan said his company will be investing Rs 700 crore, out of which Rs 200 crore in the Eveready Industries.
SpiceJet announced its plans of investing Rs 1,250 crore worth in transportation of food and fruits from the region besides starting flights to Myanmar and Bangkok from Guwahati. He expressed willingness to run seaplanes.
Tata Sons chairman said that the company is working with Assam Government for setting up cancer hospital facilities and plans to touch nearly two million lives in Assam.
Source : timesofindia
This post first appeared on Daily Kiran, please read the originial post: here