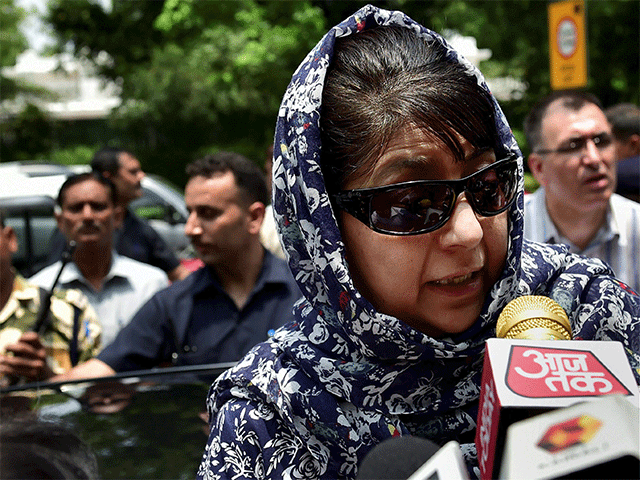 JAMMU: Jammu and Kashmir Chief Minister Mehbooba Mufti on Friday said that this was not the right time to revoke Armed Forces Special Powers Act from the state and praised Indian Army as one of the most disciplined forces in the world.
Mufti said that a black sheep in any institution has to be dealt with, as per law but Army as an institution can never be undermined.
The chief minister was responding to opposition leader and National Conference legislator Omar Abdullah's concerns regarding the fate of FIR registered against Army in Shopian over killing of three civilians last month. Abdullah said that Government of India since 2000 has rejected J&K government's 47 out of 50 requests for prosecution of armed forces personnel involved in human rights violations and three requests are still pending.
"In this situation, where people from four to five villages get together and pelt stones at forces near encounter site, is it even realistic to call for revocation of AFSPA at this point of time. There may have been that sort of situation when there was possibility of revocation of AFSPA from few places in past but not today," said Mufti in Assembly in winter capital Jammu. Mufti was a votary of revocation of AFSPA from the state and organized huge protests to press the demand, while in opposition.
The increase in stone pelting incidents and gun violence Mufti said would only increase footprints of armed forces on ground. 'This is a bitter truth. This is the vicious cycle.' The mistake of one man in Army, Mufti said, doesn't make everyone of them a criminal.
She reiterated that J&K's decision to join India in 1947 cannot be changed and pro-India political parties have to strive for making that decision 'likable and beautiful' for the people of the state. "Separatists won't do it. Let us leave Azadi to them, whenever that happens," she added.
Earlier Abdullah, in his speech discussing state home department which Mufti heads, said that PDP has surrendered its political soul for temporary power through an alliance with BJP. Invoking German legendary character Faust, who made a pact with Satan, Abdullah alluded that PDP has also signed a pact with Satan. And if PDP doesn't introspect and take corrective measures he said they would also land in hell.
To this Mufti replied, "Omar sahab has left after announcing a fatwa against me that I would go to hell. Let me tell this house, if I have to go to hell to save this heaven and make it heaven again, I am ready to go to hell hundred times for people of the state."
Abdullah also took a dig at Mufti for her remarks saying she will take the FIR against Army in Shopian incident to logical conclusion.
"Keeping in view out track record, tell us how have you got the confidence that in this one case action will be taken against Army. I doubt, because of track record, your words have no weight. A high level special investigation team should be formed immediately as it is no more a routine investigation," said Abdullah.
Source : timesofindia
This post first appeared on Daily Kiran, please read the originial post: here