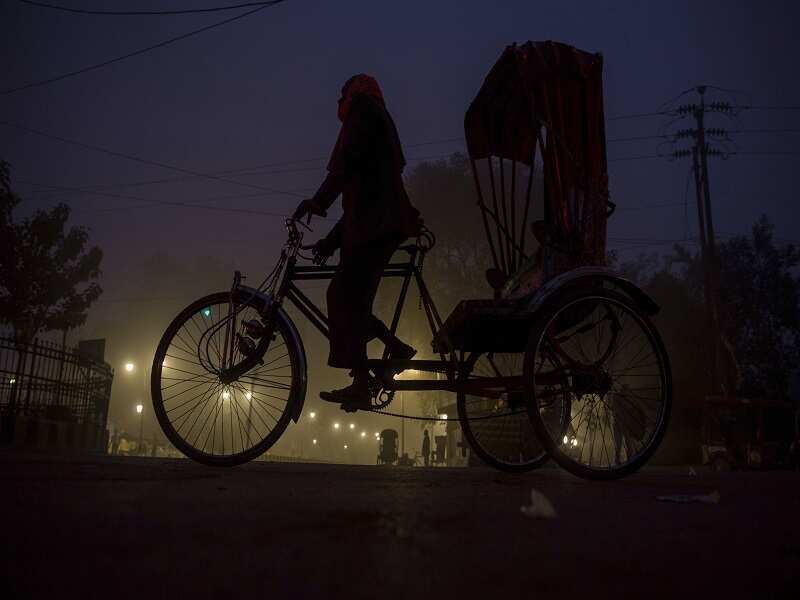 NEW DELHI: The bone-chilling cold wave continued in Himachal Pradesh and other parts of north India, even as the Kashmir Valley heaved a sigh of relief on Monday.
Poor visibility due to early morning fog in the national capital, Uttar Pradesh, Punjab and Haryana troubled commuters.
The sun came out to chase the fog cover prevailing in Delhi even as the mercury rose by a few notches to settle at 7 Degrees Celsius.
"It was dense fog in the morning, with Palam observatory registering visibility at 300 m. There was no rainfall recorded overnight," a MeT Department official said.
At 6am, as many as 10 north-bound trains stood cancelled, 35 were running late while five were rescheduled, a senior railway ministry official said.
Residents of Srinagar got much-needed reprieve from the cold wave as the night temperature rose by three degrees but the minimum temperature stayed below the freezing point across the valley and Ladakh region.
Srinagar recorded a minimum temperature of minus 1.6 degrees Celsius last night, up from minus 4.8 degrees Celsius the previous night, an official of the MeT department said.
Kargil town, in Ladakh region, saw the mercury rise by a degree, to settle at minus 15.0 degrees Celsius, the official said.
He said Kargil continued to be the coldest recorded place in the state.
The nearby Leh town was the second coldest as the mercury there settled at a low of minus 14.0 degrees Celsius, down two degrees from previous night.
The night temperature in Qazigund town in south Kashmir was minus 3.8 degrees Celsius while nearby Kokernag town registered a low of minus 2.5 degrees Celsius last night, the official said.
He said Kupwara in north Kashmir recorded a low of minus 3.4 degrees Celsius, up nearly one degree from the previous night's minus 4.2 degrees Celsius.
The official said the night temperature in Pahalgam, the famous health resort, which also serves as one of the base camps for the annual Amarnath Yatra, settled at a low of minus 2.3 degrees Celsius compared to the low of minus 5.6 degrees Celsius the previous night.
Gulmarg, the famous skiing resort in north Kashmir, recorded a low of minus 5.6 degrees Celsius. It was the coldest recorded place in the valley last night.
Kashmir has been going through extremely dry and cold weather conditions this winter, leading to health related problems among the children and elderly.
Although the MeT department has predicted fairly widespread rain or snowfall in the valley today, the sun shone brightly since morning, putting a dampener on the hopes of people for an end to the dry weather conditions.
In Uttar Pradesh, cold weather conditions prevailed across the state with Fursatganj recording the lowest temperature at 2.9 degrees Celsius.
Dense to very dense fog occurred at few places over eastern Uttar Pradesh and at isolated places over the western parts of the state.
The night temperature was below normal in the Faizabad, Lucknow, Moradabad, Gorakhpur, Varanasi, Allahabad, Bareilly and Agra divisions.
Punjab and Haryana too reeled under cold. Narnaul was the coldest place in the two states with a low of 2.5 degrees Celsius.
A thick blanket of fog enveloped the region, reducing visibility and causing inconvenience to commuters. Chandigah, the joint capital of Punjab and Haryana, braved cold weather at 7.1 degrees Celsius.
Among other places in Punjab, Amritsar's minimum temperature was 4.9 degrees Celsius while Ludhiana and Patiala experienced cold conditions at 6.6 and 7.1 degrees Celsius, respectively.
In Haryana, Ambala's minimum temperature was 7.9 degrees Celsius, one degree above the normal while Hisar, Rohtak and Karnal experienced cold weather at 5.8, 6.7 and 6.6 degrees Celsius, respectively, up to three degrees below the normal.
In Himachal Pradesh, the intense cold wave sweeping most parts of the state continued unabated even as day temperature rose marginally.
The minimum temperatures rose marginally at some places but high-altitude tribal areas reeled under biting cold wave conditions with the mercury staying between minus 13 and minus 20 degrees Celsius.
Keylong and Kalpa in tribal Lahaul and Spiti and Kinnaur districts and key tourist resort of Manali recorded a low of minus 8.9 degrees Celsius, minus 3.0 degrees Celsius and minus 1.2 degrees Celsius, respectively.
Bhuntar, Sundernagar and Manali shivered at 0.4 degrees Celsius, 1.2 degrees Celsius and 1.8 degrees Celsius, followed by Una at 3.8 degrees Celsius, Palampur at 5.5 degrees Celsius and Nahan at 5.8 degrees Celsius.
Shimla was the warmest during the night with a high of 6.8 degrees Celsius, while Dharamsala recorded a maximum temperature of 6.2 degrees Celsius.
The MeT office in Shimla has predicted rains or snow at isolated places in mid and lower hills on January 30 and 31 and dry weather in the state over the next six days from February 1.
Keylong was the coldest during the day with maximum temperature at 4.9 degrees Celsius, while Kalpa, Manali, Dharamsala and Shimla recorded high of 11.2 degrees Celsius, 14.0 degrees Celsius and 15.6 degrees Celsius, followed by Palampur at 17.5 degrees Celsius, Nahan at 20.2 degrees Celsius, Bhuntar at 22.4 degrees Celsius, Una at 24. 4 degrees Celsius and Sundernagar at 24.7 degrees Celsius.
Thick fog occurred at many places reducing visibility while ground frost hampered vehicular traffic.
Source : timesofindia
This post first appeared on Daily Kiran, please read the originial post: here