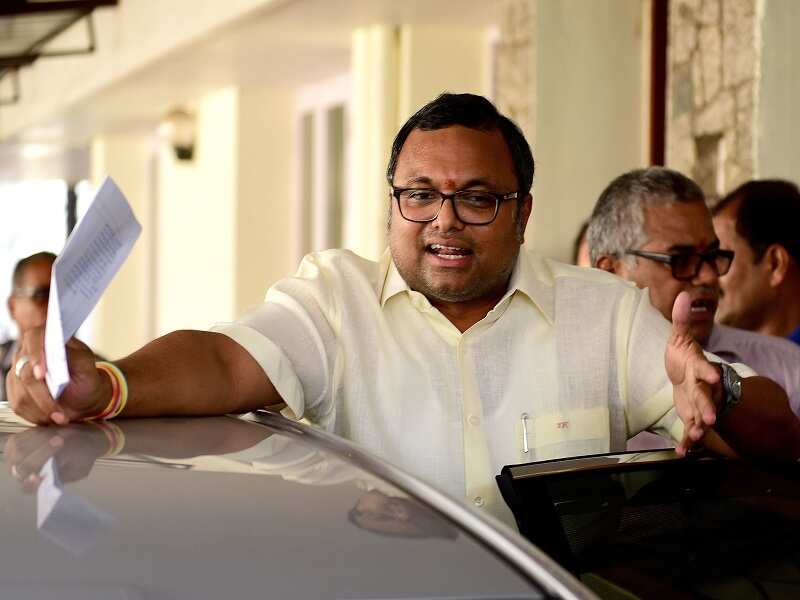 NEW DELHI: The Enforcement Directorate (ED) has issued fresh summons to Karti Chidambaram, son of senior Congress leader P Chidambaram, in connection with the Inx Media money laundering case.
Official sources said Karti has been asked to depose befre the investigating officer (IO) of the case on February 2. He was earlier grilled by the agency in the case on January 18.
Talking to reporters, Karti said he told the investigators what he had earlier "clearly stated in his petitions in the court" (in the case).
The former Union minister's son was referring to his moving various courts, including the Madras High Court and the Supreme Court, in response to the ED's action against him.
The central probe agency had registered a case against him and others in May last year.
It had registered an Enforcement Case Information Report (ECIR), the ED's equivalent of a police FIR, against an accused named in a CBI complaint, including Karti Chidambaram, INX Media and its directors–Peter and Indrani Mukerjea.
The ECIR was lodged under the provisions of the Prevention of Money Laundering Act (PMLA). The sources said the ED was probing the alleged "proceeds of crime" generated in this case.
It was the Enforcement Directorate which had provided information about the alleged illegal payments made by INX Media, based on which the CBI had filed its FIR.
The CBI had also carried out searches at the houses and offices of Karti Chidambaram across four cities for allegedly receiving money from the media firm owned by the Mukerjeas to scuttle a tax probe.
The Chidambarams, however, have denied all the charges made against them.
The CBI had filed the FIR against Karti and the Mukerjeas on charges of criminal conspiracy, cheating, receiving illegal gratification, influencing public servants and criminal misconduct.
The agency has alleged that Karti received money from INX Media for using his influence to manipulate a tax probe against it in a case of violation of Foreign Investment Promotion Board (FIPB) conditions to receive investment from Mauritius.
The CBI has said that it also seized vouchers of Rs 10 lakh which were allegedly paid for the services. The vouchers were issued in favour of the Advantage Strategic Consulting (P) Limited, a firm "indirectly" owned by Chidambaram's son.
Former finance minister P Chidambaram, after the CBI searches on May 16, had issued a strong statement against the raids, saying the government was using the CBI and other agencies to target his son.
"The FIPB approval was granted in hundreds of cases," the senior Congress leader had said.
The CBI FIR was made out against Karti, his company Chess Management Services, the Mukerjeas (currently in jail on charges of murder of their daughter Sheena Bora), INX Media, Advantage Strategic Consulting Services and its director Padma Vishwanathan.
Some weeks back, the ED had also searched the premises of Karti and those associated with him in a separate money laundering case pertaining to the Aircel-Maxis deal.
Source : timesofindia
This post first appeared on Daily Kiran, please read the originial post: here