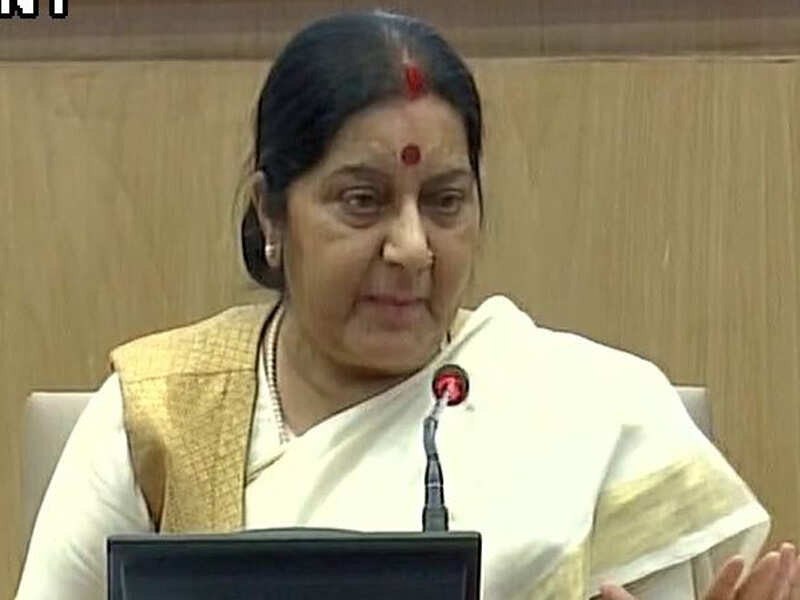 NEW DELHI: External affairs minister Sushma Swaraj will travel to Kathmandu on Thursday to hold discussions with Nepal's Political Leaders on issues of "mutual interest", the external affairs ministry announced on Monday night.
Swaraj's two-day visit, which comes ahead of the formation of a new government by a Communist alliance which is expected to be headed by CPN-UML chief and former prime minister KP Oli, is also seen as part of India's efforts to improve relations with the new regime.
"The upcoming visit will provide an opportunity to hold discussions with political leaders of Nepal on issues of mutual interest, and to advance age-old, special ties of friendship between India and Nepal," the ministry said in a release.
It further said that the visit is in keeping with the tradition of regular high-level political exchanges between India and Nepal, and reflects the expanding bilateral partnership and the importance that the two countries attach to further strengthening it across diverse sectors.
Earlier, India in its reaction to the outcome of the polls in the Himalayan nation had said, "We look forward to working with the next democratically elected government in Nepal to advance our close and multifaceted partnership across all sectors and to support Nepal in its pursuit of peace, stability, economic prosperity and all round development."
The clear victory to the Left alliance — CPN-UML led by Oli and the CPN-Maoist led by former premier Prachanda — was not seen as a positive development for India given that Oli had publicly criticised New Delhi for interfering in Nepal's internal matters and accused it of toppling his government last year.
Swaraj will be the first senior Indian minister to visit Nepal after the conclusion of elections to local bodies, provincial assemblies and federal Parliament.
Source : timesofindia
This post first appeared on Daily Kiran, please read the originial post: here